Reach vs Impressions: What Are They And What To Track?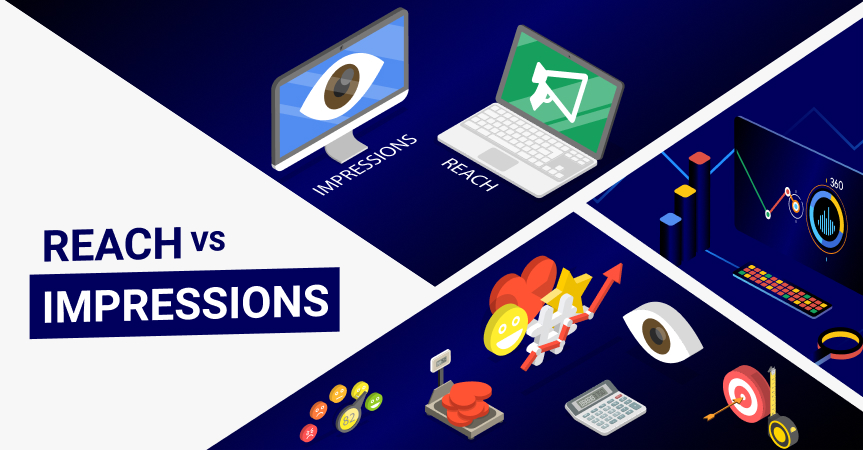 Analytics play a huge role in digital marketing providing data required to improve your promotion strategy. However, sometimes it's difficult to understand what social media metrics you should focus on. In this article, we are going to compare reach vs impressions.
In digital marketing, it is very important to know what's going on "inside" your campaigns. Therefore, marketers always gather data and analyze this information to understand what content works best, when they should post in order to reach maximum results, or what audience reacts to advertising better.
You have probably heard these two terms before – reach and impressions. But many beginner entrepreneurs can't say for sure what they mean except it has something to do with brand awareness. In the meanwhile, knowing the difference is the key to developing a better strategy.
Reach vs. impressions: Understanding the difference
Reach is the total number of unique users who have seen your piece of content or ad. For example, if your Facebook ad "reached" 500 users, it means 500 people saw it.
Impressions is the total number of times your piece of content or ad was displayed. For example, 500 users saw your ad but 200 of them saw it twice, which is 300 + (200 x 2) = 700. And that's the number of impressions.
Whenever users see your content in their feed, both your reach and impressions rise by one. If the same content is displayed again (for example, after sharing), the reach will stay the same, but the number of impressions will grow.
Which one is more important to your business?
Ok, there's a slight difference between these two concepts, so what? But both of them reflect how many views your content was able to achieve. Obviously, businesses want both these metrics to be as high as possible. But they usually have to focus on one. Which one is more beneficial depends on your goals.
When you compare reach vs impressions, you could say that one metric is an extensive parameter while the other one is intensive.
Since reach reflects how many unique users saw your content, the higher it is the more potential customers or followers your business gets. If it hasn't been long since you launched your dropshipping store and you still need to tell as many people as possible about your brand, you want to focus on reach.
But if you consider the number of followers you currently have as sufficient while their level of interaction remains low, you want to raise impressions. To put it simply, even if you raise your reach it won't change the percentage of the target audience who engage with posts, convert into site visitors or actual buyers.
So instead of showing content to more people, you want to show more content to people.
After a user sees something in the news feed, he or she may just pay no attention to it since there's nothing special in it. But when people meet the same post or ad at least one or two more times, they may change their minds and click on it thinking that maybe it's worth checking.
By showing content to the same audience multiple times, you increase the quality (so to speak) of your social media activity.
Besides, your audience will gradually grow even if you focus on impressions and pay little attention to reach thanks to shares.
However, you should be careful here. Since increasing the number of impressions actually means that people see your posts more often, it is very easy to go too far. Showing an ad three times is Ok, but stuffing your audience's feeds with ads and posts endlessly would rather harm your business.
In other words, reach is about expanding your social media audience and attracting new followers, while impressions are about raising the audience's interest in your content and your brand. Or you could say reach is about width, while impressions are about depth.
Knowing this, you can develop better social media promotion strategies to increase your sales. But keep in mind that there are slight differences in how popular social networks define and calculate these metrics.
Reach vs impressions on different social media platforms
Facebook reach vs impressions
Facebook defines reach as "the number of people who saw your ads at least once". The metric is a sum of three data types:
Organic reach (unique users who saw your posts for free in their news feeds)
Paid reach (unique users who saw your paid content)
Viral reach (users who saw your posts because their friends interacted with them)
Facebook defines impressions as "the number of times that your adverts were on screen" and divides them into two categories – served and viewed impressions.
According to Facebook, served impressions are those that were "delivered" by the system regardless of whether such posts or ads were actually seen by users. Viewed impressions are those that appeared on the screen. It doesn't mean the user actually noticed it: there's no way to know this. But at least the ad was there.
Facebook uses viewed impressions to calculate this metric.
Instagram reach vs impressions
As for Instagram, the opposition of reach vs impressions here is very similar to that on Facebook. Reach is the number of unique users who saw your post or story. Impressions refer to the number of times they were viewed.
Twitter
Twitter doesn't track reach. As for impressions, Twitter counts them as any time a user sees one of your tweets.
Google Analytics
Google Analytics uses different terms. "Users" (reach) is defined as the number of users who visited your site at least once. "Page views" (impressions) refer to the number of pages viewed by all site visitors.
When comparing reach vs impressions, keep in mind that neither of them measures engagements. Marketers raise them to increase brand awareness or attract new followers. If you want to convert more social media users into buyers, you need effective product ads. Consider ordering Facebook and Instagram video ads made by AliDropship specifically for your unique dropshipping products.