Pop-Ups On Websites: Everything You Need To Know To Make Them Work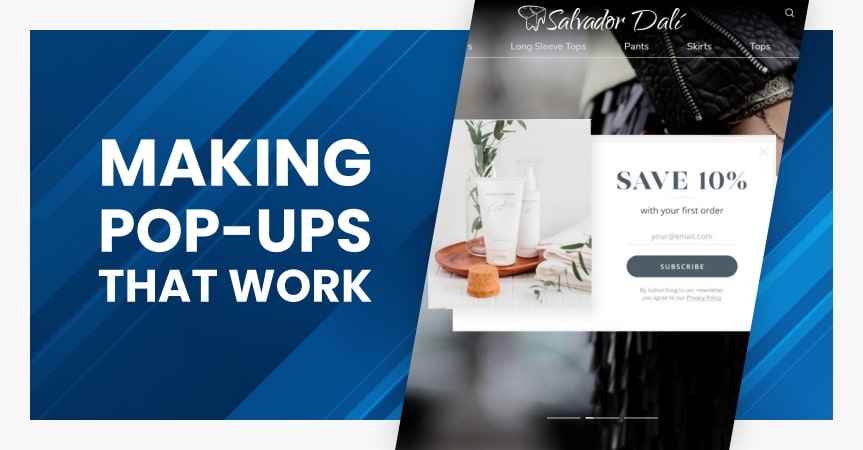 Pop-ups show up on many pages and websites we're looking through. This fact probably makes you wonder if this marketing tool is really that powerful… The answer is yes! Over the years, pop-ups have proved themselves as the most effective way to gather emails and gain loyal customers. That's why we've collected all the insights you need to know to put a truly efficient pop-up on your website.
What a pop-up is, exactly?
Pop-up is a screen that appears over the website page a person is browsing. It is used for both generating leads and advertising the company's services and products.
How can a pop-up on a website boost my business?
Even if you're a newcomer to dropshipping, you might have already noticed that the majority of people visiting your website for the first time leave it without making a purchase. Actually, 98% of first-time visitors do this! That's a huge number – and lots of money spent on advertising in vain. The good thing is that you can return these people to your website with the help of a pop-up. You see, some studies have proved that 75% of these visitors still have an intention to buy something from you, they just need to be reminded of it. So, once you collect your visitors' emails with the help of a pop-up, you can easily keep them updated on your most enticing products.
Apart from the short-term advantages and positive influence on sales, pop-ups can be a part of your long-term email marketing strategy. Create a powerful email sequence and let your customers know about your wonderful products and keep them engaged with entertaining follow-ups.
How to make the pop-up on your website work for the business benefit?
To begin with, remember that pop-ups are shown to every visitor of your website! They can be closed down, of course, but most definitely, they cannot be ignored 🙂 While, for example, your footer subscription form can be easily skipped, pop-ups simply can't go unnoticed.
Of course, your customers can get annoyed if your pop-up is the first thing they see on your website. They just want to get to know your store, and can't do this because of the big screen ad.
This is why your main task is to choose an irresistible offer you'll be displaying on your pop-up. You should think of its value for your visitors – there should be something tempting enough to make them share their personal information.
There is one more secret that makes pop-up work. Usually, your visitors get engaged when they see this window. Moreover, some studies claim that the reason behind pop-ups' efficiency is their ability to draw and grab attention instantly due to the effect of pattern interruption. Browsing your site, your future customer is doing something very familiar, and then – Woah! – something surprising happens.
Again, this strategy works especially well in case your pop-up offers real value to your customer.
In case you do everything right, a pop-up will be a great addition to your set of marketing tools and won't influence the bounce rate negatively. Moreover, it will allow you to increase the number of subscribers who can purchase your products in the future.
Types of pop-ups that convert best
So, a pop-up is a strong marketing tool that can benefit your store in the short-term period and in a long-term perspective. Now, let's choose the pop-up type you can use for your store!
Basically, pop-up types can be divided into 2 groups. The defining feature of the first group is the timing of the pop-up appearance. For the second group, it's the value you offer to your clients. Let's review these two groups one by one!
Time-specific pop-ups
Exit-intent pop-ups
If you choose this type, that means your visitors will see your pop-up only when they're going to leave your website. If they are leaving empty-handed, sadly, that means they're either not interested or not convinced enough to continue shopping.
Many first-time visitors simply surf a site with no intention of buying. However, a pop-up with a nice discount or a voucher can entice them to visit your website once more. So, your task is to persuade your visitors to subscribe, giving them something in return. Moreover, once you have their email addresses, you can start your email campaign and convince this visitor to return and complete their purchase.
Scrolling triggered pop-ups
You might have seen this type of pop-up quite often. It is widely used in blogs and on other kinds of entertaining websites. In this case, a pop-up appears once your visitor has scrolled the page down to a certain extent. This way, your visitors have a chance to get to know what you're talking about and see the quality of your work. The minute they're most interested in, you can offer them to subscribe.
Time-sensitive pop-ups
If you're an owner of a dropshipping store, this is the type of pop-up which might be the most interesting for you. It doesn't depend on any user activities and gets shown to every visitor of your website.
As our experience proves, the best time to make your pop-up appear on the website is between 15 and 30 seconds after a person visits it. This way, you will allow your visitors to get acquainted with your products and be ready for an extra offer you've prepared for them.
Value-specific pop-ups
When it comes to the specific type of value you need to choose to display on your pop-up, you've got lots of options. We'll be looking at website pop-up types that are both seamless and rewarding for your visitors.
A first-time buyer discount
The reason this pop-up is effective is that it delivers the relevant value when the website visitor wants it. You probably agree that a 10% discount on the store products is a good reason to leave your email address on the site! It's especially true if you like the products and are genuinely curious to learn more about them – or, more likely, get more deals down the line. A good trick is to offer a discount code only valid for a specific time. That will create a sense of urgency to convert more leads into sales.
Lead magnet download
If you're trying to grow your email list, you should be using a lead magnet. This could be an eBook, infographic, special blog post, and more. It's a great time-tested technique to engage with your site visitors as you're not asking for an email address directly, but offering a piece of valuable, interesting, and free information instead.
Gamified pop-ups
When visitors arrive on your site, they can spin the wheel for a chance to win certain rewards or discounts, such as free shipping or 10% off. Not only is it fun, but also emotionally charging! Winning something will make your visitors feel special, like it's their lucky day. Whether it's free shipping or a percentage off, giving your visitors a "chance to win" can increase the likelihood of coupon redemption. There are lots of various tools and add-ons for creating gamified pop-ups you can find on the web; however, you should be careful. You should spend quite a bit of time on research and then, on customization, to make sure the new pop-up doesn't ruin the user experience for your store visitor.
What to do if the pop-up on your website doesn't seem to be working?
If you're already using pop-ups on your website, but the results aren't forthcoming as expected, don't worry. Try following these simple tips.
Ask to fill in no more than two fields
The easiest way to convert pop-up viewers into buyers is to make the process of signing up easy. Your goal is to collect just the first name and email address or, better yet, just the email address of your visitor. Let's admit, we are all lazy. And when we see too much unnecessary work, we prefer to just leave. So, the simpler you make your pop-up, the better.
Have a clear exit method on your pop-up
Pop-ups MUST have a clear exit method, whether that be a small "X" in the corner or an amusing negative call-to-action button: "No, I Hate Discounts" is a great example! It gives your customers a freedom of choice, yet makes them rethink their decisions. By improving the usability of your pop-ups, you save your visitors from hair-pulling frustration and improve your bounce rates over time.
Use a clear call-to-action (CTA)
Concise CTAs will drive traffic, grab users' attention, and guide them through the action you'd like them to take, be it signing up for your newsletters or downloading an eBook. Some well-working examples of CTAs are "Subscribe", "Buy Now", "Register", "Learn more", etc.
Make sure the pop-up design is attractive to users
To be highly effective, a pop-up has to blend perfectly with the overall design of your website and attract users' attention without annoying them. One of the best options to opt for is to use lightbox pop-ups. When a lightbox pop-up appears on the screen, the webpage is darkened in the background so that users can focus on your pop-up message.
Display your pop-ups at the right time
You need to find the right timing that works for your visitors. That's where analytics steps in. Track how users interact with your pop-ups, and test different delay settings to find what works best for your visitors.
Beware of your mobile experience
Remember: mobile users are extremely demanding when it comes to the mobile experience. Before launching any new pop-ups on your website, take some time to check your mobile version and see if anything could be improved. Do not display pop-ups that cover the main content or hamper the user experience.
If you are eager to try a pop-up on your website but don't have time for testing and optimizing, check out our Pop-up Setup service! We'll set up a nice engaging pop-up for your website and prepare a welcome letter for your customers to make sure they come back.
To sum up, hate them or love them, pop-ups work. They grab the attention of visitors aimlessly browsing the web. A pop-up on the website commands action: whether that be to claim your offer or close the window, an action is a must. Implementing pop-ups will help you not only grow your email lists, but also ultimately increase your conversion rate. If you use pop-ups for your dropshipping business benefit, you are welcome to share your results and insights in the comments below!