Phygital: What Is It And How Can It Help Your Business?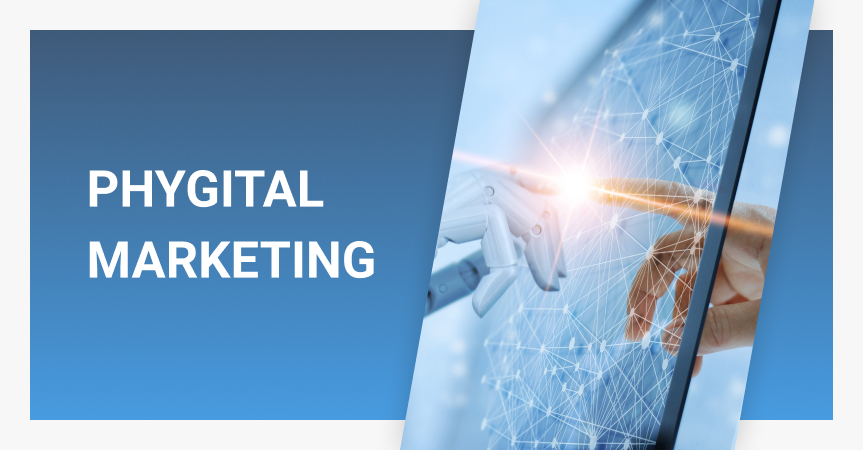 Phygital. One very scientific-sounding word. Is it the newest anti-virus software? Is it the latest fitness app for sharing workout routines? Not quite. So what's in a word?
Combining "physical" and "digital," phygital is a hot term to describe the combination of physical and digital experience – and it's essential to marketing to create a convenient and memorable shopping experience, where elements of online and in-store shopping coexist. Today, let's take a more detailed dive into what is phygital and what aspects and examples of it are out there, so you can try incorporating elements to your website.
Phygital in customer experience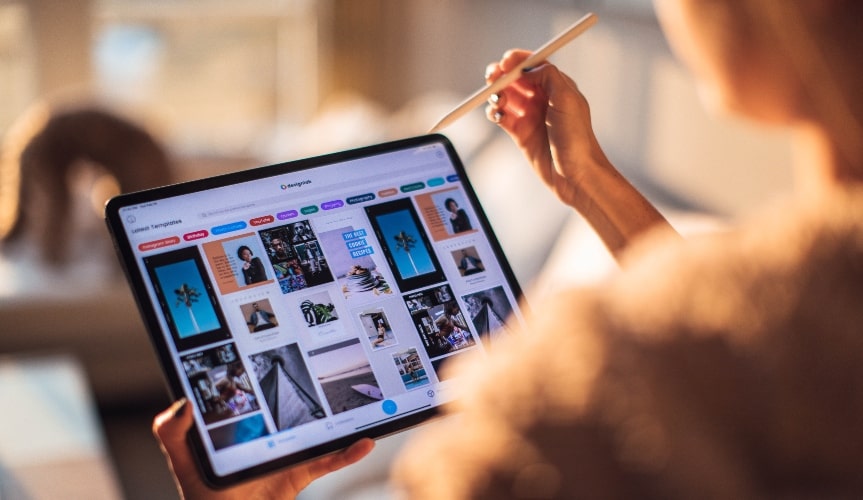 Bringing phygital into the online space starts by recognizing three crucial components to in-person shopping: immediacy, immersion, and interaction to better the customer experience.
Immediacy:

works to ensure things happen at an exact moment in time.

Immersion:

ensures the user is part of the experience through elements like imagery, copy, and site elements and features.

Interaction:

the presence of emotional and physical communication during the buying shopping and buying process.
When all three of these elements come together, you end up with an experience where the shopper feels included, trusted, and more deeply connected to your brand.
Phygital in online shopping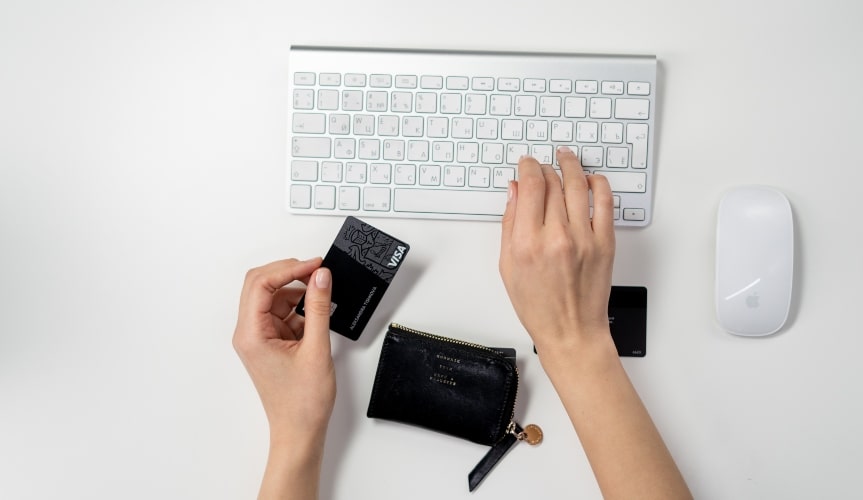 So how do you bring an in-person feel to your website? This is where design and technology comes into play.
Ensure the layout to your website is easy to use. And have designers and copywriters have eyes on the buying journey on your website, from landing page to product page to checkout (and even post-checkout).
In respect to the three parts of in-store shopping described above, here are some things you can do:
Make sure your website is running smoothly. When a customer adds something to his/her shopping cart, it should be there immediately. Ensure images load properly and landing pages are centered and displayed properly, whether desktop or mobile. Are certain pop-up windows supposed to generate if something is clicked? Make sure those are functioning properly (we can help with all this). If there are delays for shipping or fulfillment, have messaging up on your website's homepage and checkout pages immediately. If something is out of stock, see to it that your website will automatically strikeout an item for purchase. Immediacy is all about maintaining your online store as if it were a real brick-and-mortar store.
From brand videos to eye-catching graphic collages of an item, imagine the posters and visual messaging of a real store – but bring it onto your website. Have dynamic close-up videos of a new USB charger for smartphones? Integrate that onto the product's landing page. Is there an app that can take a customer's photo from his/her device and allow the customer to digitally try on glasses or sunglasses, for example? Find a way to bring that onto your website – perhaps it can be an online try-on feature on each item's landing page.
Ever see a chat window pop up when you visit a website? What does it remind you of? It's like a store employee greeting you the second you walk in a store, right? If you can imagine any way that a store employee would interact with you inside a store, find ways to replicate that into your store. Whether it's through conversational copy or pop-up messaging, create a site-browsing experience where it makes the user feel like there is a presence of someone to help him/her. Interaction (and well as immersion) go very hand-in-hand as they both relate to the sensory part of an online experience. Since you can't smell or feel items like you can in-person, it's important to create functions or tools on your website to mimic the physical aspects of in-store shopping.
Examples of phygital on ecommerce sites
So we've put a lot of phygital into words, but there's nothing greater than visualizing, right? Let's take a look at some examples of phygital aspects on online shopping websites:
Home Goods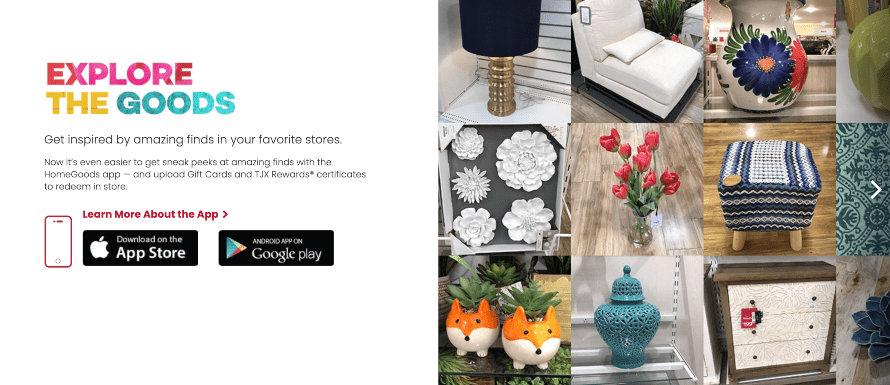 The popular U.S.-based home decor store brings snippets of real in-store product shots to its homepage by advertising its app. The imagery use brings user-taken images while the copy for the app connects the in-store experience of finding great items to the digital (an app).
Amazon Go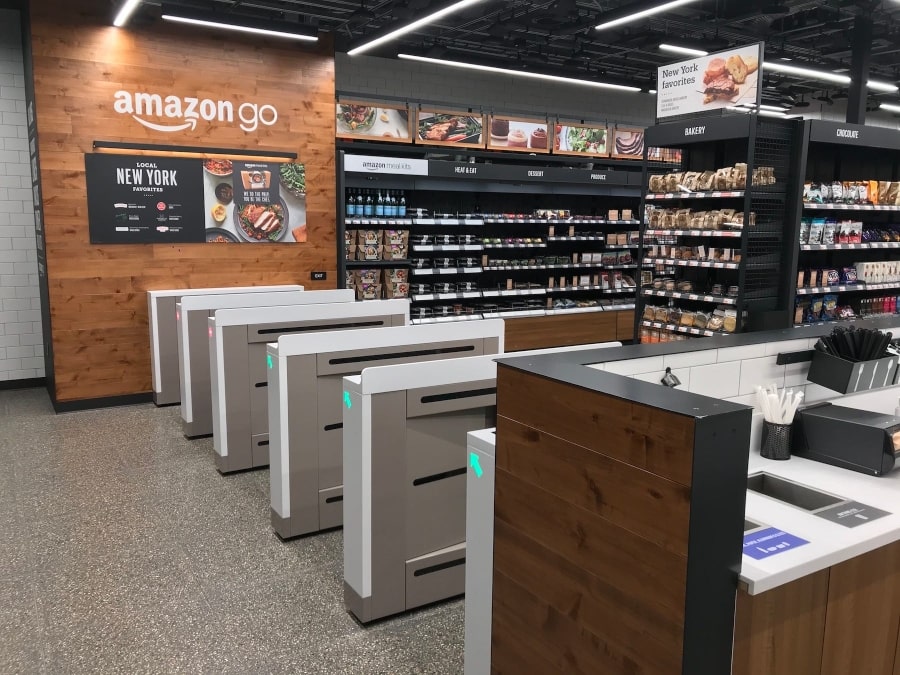 Image courtesy of Buontempo/Business Insider
Perhaps one of the most famous and widely-cited examples of the phygital experience, Amazon's Amazon Go stores are grocery stores where a customer can shop in-person and pay for everything digitally via their Amazon account. No cashiers, no checkout stands – just scan your app when you enter the store. Launched in 2016, the chain boasts 26 locations as of this year. Amazon Go is an example of bringing the digital experience to a brick-and-mortar store.
SmartBuyGlasses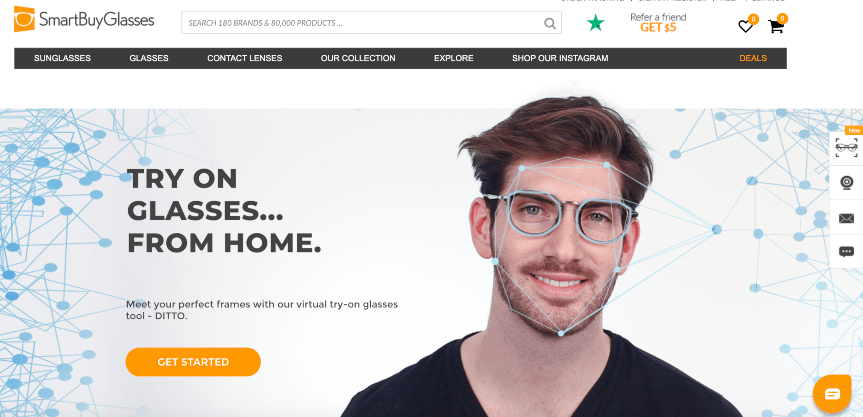 Have a hard time guessing if a particular style of sunglasses or glasses will suit your face? That's where A.I. technology comes in. SmartBuyGlasses, an online retailer for eyewear and lenses, adds a try-on system that utilizes the site browser's laptop or phone camera to superimpose sunglasses/glasses onto their face. This helps give the user a visual idea what certain styles will look like on their face – without needing to step into a store.
Audi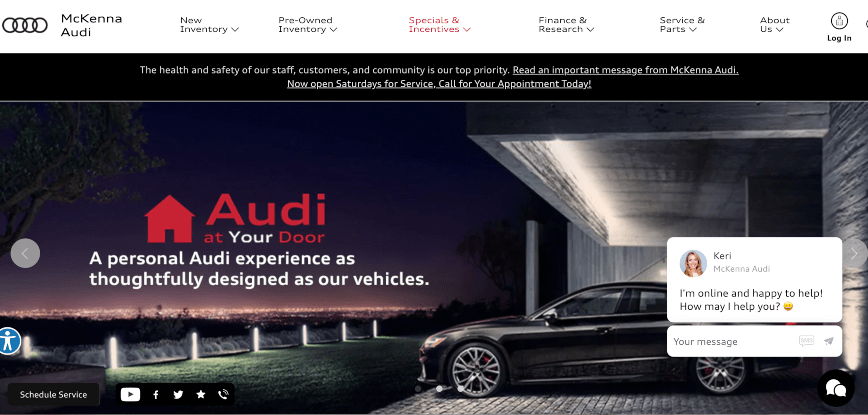 Remember how we mentioned a chat function earlier under the Interaction section of bringing phygital to online websites? An Audi dealership here does just that, with an automated chat pop-up that greets a user when he/she lands on the website. It mimics the feel of an in-store sales associate greeting you and being ready to help. This, in turn, can make a visitor feel like there's an interpersonal connection to the dealership.
Other ways to go phygital
Of course, not every brand or company is as large scale as some of the ones shown above. But just because you're not big-budget doesn't mean you can't incorporate elements of the phygital experience. Here are some ways to elevate your game (if you have physical stores):
Social media offers
Ever see a brand offer an exclusive savings on their Facebook, Twitter, or Instagram? You can do that too. Offer a certain percentage or dollar-amount off an in-store purchase or give away a freebie with a tagged post. This ties a digital experience and exclusivity into your physical store.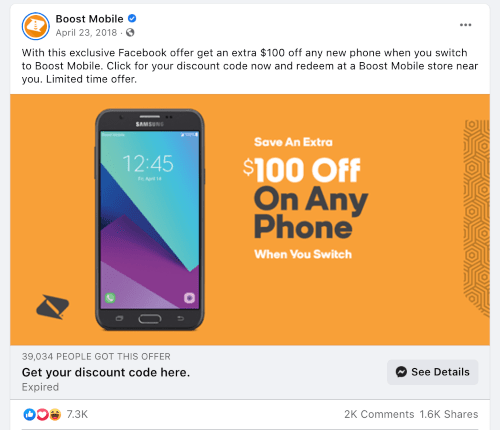 Example of an exclusive Facebook offer.
Yelp & Google Business offers
Yelp is great (especially for restaurants) for an exclusive savings or free giveaway. If you sell items or services, you can also give an exclusive offer on Yelp as a check-in offer or exclusive on the platform. Google Business is also a great platform to market your business and monitor your business information that shows up in Google search results (store hours, special offers, brand bio).
Example of a Yelp check-in offer.
Example of a Google Business offer.
SUMMARY: Whether you have physical stores for your business or not, enhancing the customer experience is important – and it starts with the concept of "phygital" to merge in-store and online experiences together as one. Finding ways to incorporate technology onto your website or into your physical store can elevate your brand's connection to your customer. If you have brick-and-mortar stores, you can also utilize social media for exclusive offers to tie in digital with your physical business.