Persuasive Ads: 14 Marketing Tricks That Will Boost Your Sales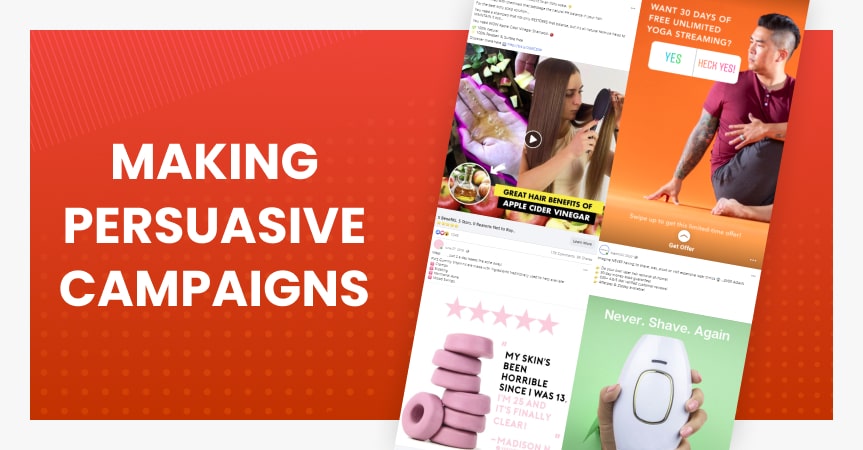 The primary goal of every dropshipper is to get profit, right? In order to be successful here, you need to promote your store and advertise your products. There are many different ways to jump-start your business and make your customers buy, and in this article, we'd like to tell you about one kind of effective advertising – persuasive ads.
What are persuasive ads?
Persuasive ads are aimed at encouraging a potential customer to buy a specific product and increasing customers' loyalty. Persuasive ads use emotive, value-oriented ideas rather than information about products and tend to be user-oriented.
It's always great to learn from the best, that's why in this article we will show you ads from dropshippers as well as some cool and creative examples from well-known brands. Any idea can be applied to your own business if you aren't afraid to be creative. So, below, we list and explain the most effective techniques that will make your ads persuasive and irresistible for customers.
Persuasive ads techniques
#1 Master short persuasive ads texts
There's no need to write 4 sentences when you can tell everything in one. For example, Revolve, a clothing brand, used a pretty short, however, convincing, text in one of their successful campaigns: "If you love it, buy it <3 (before someone else does)".
Why does it work? This text creates a sense of urgency and appeals to the desire to be a part of a community.
#2 Try one message per ad
Spotlight the main benefit or feature of your product – it will be easier for your clients to understand its value and increase the likelihood of their conversion.
For example, in one of their campaigns, Land Rover focused on one feature and used a super strong visual to create an attention-grabbing, clever and smart ad.
Why does it work? You don't overload customers with excessive and unnecessary information, instead, you're sticking to one message.
#3 Write in the second person
Your potential clients will primarily look for some kind of solution to their problem or the way to better their lives. Therefore, when you use pronouns like "you" and "your", you're engaging your customers on a personal level.
What's more, when you're writing ads in the second person, you can instantly capture customers' attention and help them imagine a future with your product.
#4 Demonstrate people using your product
It's vitally important to show the product usage, not the product itself. This way, it's much easier for customers to imagine this item in their lives. As an example, if we see a lovely model in a nice dress, we imagine this dress will look dashing on us as well and buy it.
#5 Use strong visuals
You won't even need to write captions to your ads if your ads have strong visuals. When planning your ads, use the idea of minimalism again, without overloading your potential customers with excessive information. Let's have a look at Lenor fabric softener ad. The focal point of the image – the bear transforming into a teddy – is a simple, strong, and clever visual.
It might seem to be super complicated to create visual ads like these, but don't exclude this technique at all! You don't have to be a Photoshop expert, just find high-quality bright images of your product from AliExpress suppliers, and think of a way to include them in your ads. The main idea here is to show your product at its best.
#6 Include a call to action
CTA, or a call to action, is a part of a copy that urges customers to do something you want them to do. While lots of advertisements include such CTAs as 'Buy Now' or 'Order Now', there are ways to use it more effectively.
As an example, don't straightforwardly invite your customers to purchase something from you and bring you money. Instead, encourage them to get something that will solve their problem and benefit themselves.
#7 Show, don't tell
The main rule of successful advertising is using visuals instead of words: that's why video ads work so well. Yes, you can describe how sharp the razor is, which will result in your customers getting it and so on, but the video will tell everything for you and would be much more persuasive.
#8 Include social proof
Social proof is a very powerful and persuasive tool because people tend to listen to recommendations, whether they are coming from strangers or their friends. That's why don't hesitate to use real people in your advertising.
#9 Make it more than an ad
Well, people like helping and feeling good about themselves, and nothing serves this purpose better than charity merchandise. Give your customers an opportunity to help others while purchasing goods, and they will be your fans.
#10 Generate emotions
If you can make your customers laugh, shed a tear, or smile, that means you have won their hearts because nothing is more powerful than emotions. Don't hesitate to use concepts and values that work well, such as family, pets, friends, and so on.
#11 Let a color speak for you
Color is a very powerful design tool that can set up mood or conjure a certain emotion, that's why it works pretty well for promoting fashion items. Using coloring in design makes it all about vibes and a desired sense of self rather than products. This, again, makes you sell emotions instead of items that can be compared by price, quality and so on.
#12 Benefit from clickbaits
Yes, this tool is quite contradictory, but if used carefully, it can work well for your business. This effect works thanks to dopamine. Once we see something compelling, we want to know more about it and the 'itch' lasts until we obtain the info.
#13 Make them believe they are losing something
According to psychologists, people are more afraid of losing a chance rather than willing to get a benefit. This is the reason why such things as 'limited time offer' or 'limited stock' motivate customers to buy.
#14 Tell a story
Storytelling might be a difficult persuasive technique to master, but it's absolutely worth it. It actually works so well because you plant a seed and give your customers an opportunity to learn more about you, sympathize and become interested in you. Eventually, this leads to buying from you.
How to create winning persuasive ads?
Here we combined a few elements you need to consider when creating your ad:
Headline: a brief summary of what you're selling
Post text: a short and powerful text below or above your media content
Media: here goes the image or video of your product. Usually, it's the largest part of the ad, so keep in mind above mentioned tips when designing the media part of your ad
Call-to-action: a button under your ad which directs customers on what to do after they viewed your ad
Quick tip: include words like "you", "because", "instantly or now", "new" in your ad as they proved to show higher conversion rates. However, don't forget that you need to use these words only if it makes sense for your specific message.
To sum up
Persuasive ads intend not to present a rational argument, but to make customers choose your store because they love the presentation, design, and ideas of your brand.
When creating your ad, you can combine several effective techniques, but don't overuse them. Look at your product, look at your brand, and try to use the techniques that suit your brand the most. Remember, the effectiveness of the ad comes down to creative thinking and daring to be different. That's why the more you experiment, the more successful you get!