Buying An Established Business: Established Stores VS Custom Stores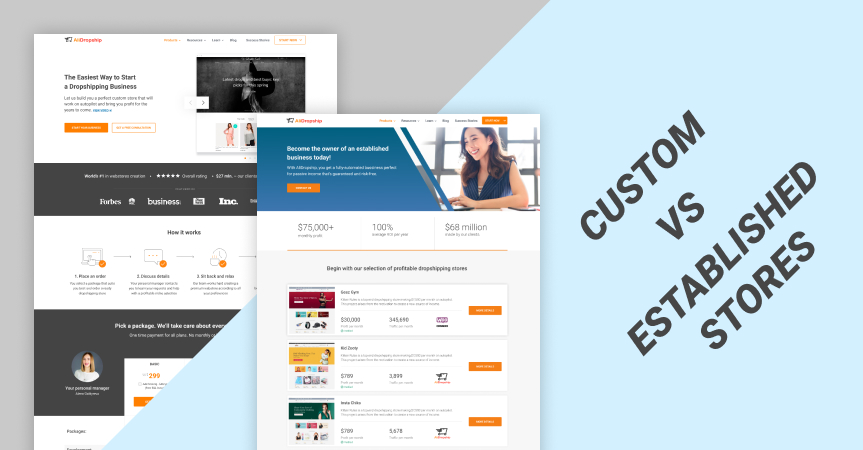 Interested in buying an established business? AliDropship now offers several types of dropshipping stores for sale – Custom Stores and Established Stores are some of them. However, these names often cause confusion. In this article, we will explain the difference between the two options as well as their pros and cons.
Buying an ecommerce business presents a tempting opportunity, especially when compared to the larger investment of a traditional brick-and-mortar store. Among the ecommerce models, dropshipping stands out for its minimal initial investment and reduced risk. AliDropship, in particular, provides several distinct types of business for sale.
Imagine walking into a meticulously arranged dinner table, your favorite dishes steaming and inviting — that encapsulates the experience of acquiring an established store. Conversely, think about having the freedom to craft every dish, selecting each ingredient, and perfecting its presentation; this embodies the allure of a custom store.
The decision lies in your hands: would you prefer to immerse yourself in an already thriving market? Or do you have the desire to start a venture from scratch, infused with your personal touch? AliDropship offers both paths: Established Dropshipping Stores with a proven track record, and Custom Dropshipping Stores that echo your individual business aspirations.
Buying an established business or a custom store are the perfect ways to dive into ecommerce and make a fortune. How to choose what suits you best? Both Custom and Established Stores are anchored on the AliDropship plugin, enabling you to venture into dropshipping products from AliExpress to various global destinations. However, they're distinct in their offerings. To truly grasp the nuances between these types of businesses, it's imperative to delve deeper into how the plugin operates.
Dropshipping, AliDropship plugin, and how it all works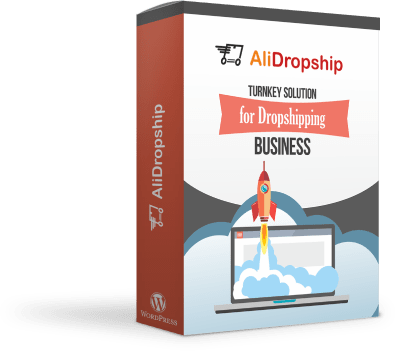 AliDropship is an ecommerce plugin for the WordPress content management system. Simply speaking, the latter is just a platform for building websites.
The plugin allows you to create not just a standard website but the one designed as an online store. It also has a rich set of tools and functions that allow you to dropship products from Sellvia, AliExpress, etc. This is how it works.
Dropshipping is a business model that implies selling products without having to manufacture or store them. You find an interesting product on Sellvia, AliExpress, or from any other reliable supplier, and import it to your newly created store. You simply copy the product information (title, variations, description, photos, videos, etc.), but you don't buy the product in advance — that's important!
When a client purchases the item, you place this order with AliExpress but you ask the seller to send the product directly to your customer. Since you always sell goods for a higher price, you get the margin as a profit.
In theory, one can do all this manually, but with the number of orders rising, it'll eventually become impossible to handle it on your own. That's why you need an automation tool.
The AliDropship plugin allows you to import and edit goods from suppliers, quickly and easily process orders, and automate most of your work. You also get some free imports from AliDropship's database of pre-edited products.
However, before actually starting a business, one has to create the store, import and edit products, as well as connect the site to social media accounts, which takes time and effort. And that's where our ready solutions come in.
What are Custom Stores?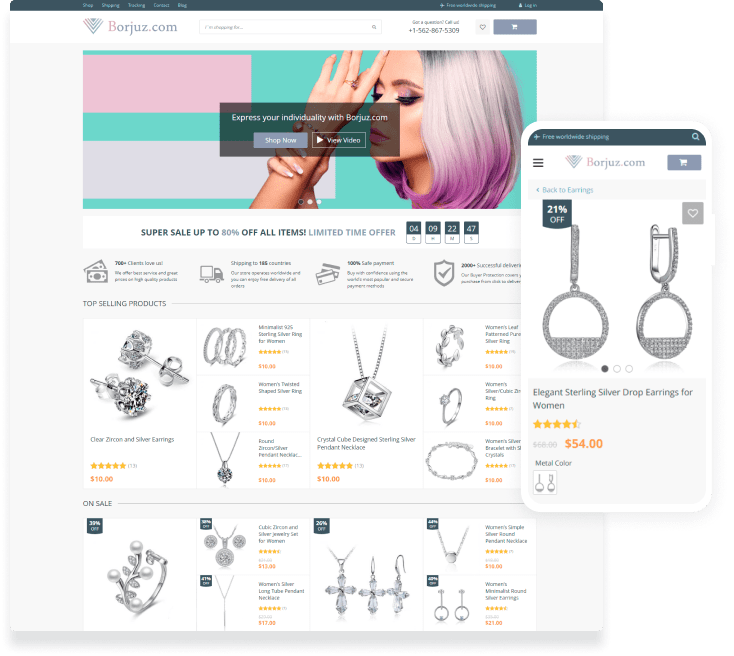 Custom Stores are dropshipping sites the AliDropship team creates for customers on request. Although building an online store isn't that difficult, it still takes time, effort, and require you to have some specific skills. So, instead of doing everything on your own, you can delegate this task to us — we are happy to help you start your business and grow your own financial empire!
Before the work begins, your personal manager contacts you to discuss all the details including the niche, design, preferred package, etc. After that, you only need to wait for your store to be completed.
As a result, you're getting an online store professionally made according to your individual preferences.
Pros:
You choose the niche of your store (yet, expert niche selection is included)
You pick the name, theme, and design of the store
Three packages to choose from – Basic ($299), Advanced ($499) and Ultimate ($899)
Turnkey promotion: AI automated promotion, SEO article, on-site SEO, social media accounts, promo videos, and SMM tool (depending on the package you choose)
Cons:
You purchase a business ready for launch, but the store requires you to start promotion. It will not bring profit until you take promo action.
How to get a Custom Store from AliDropship?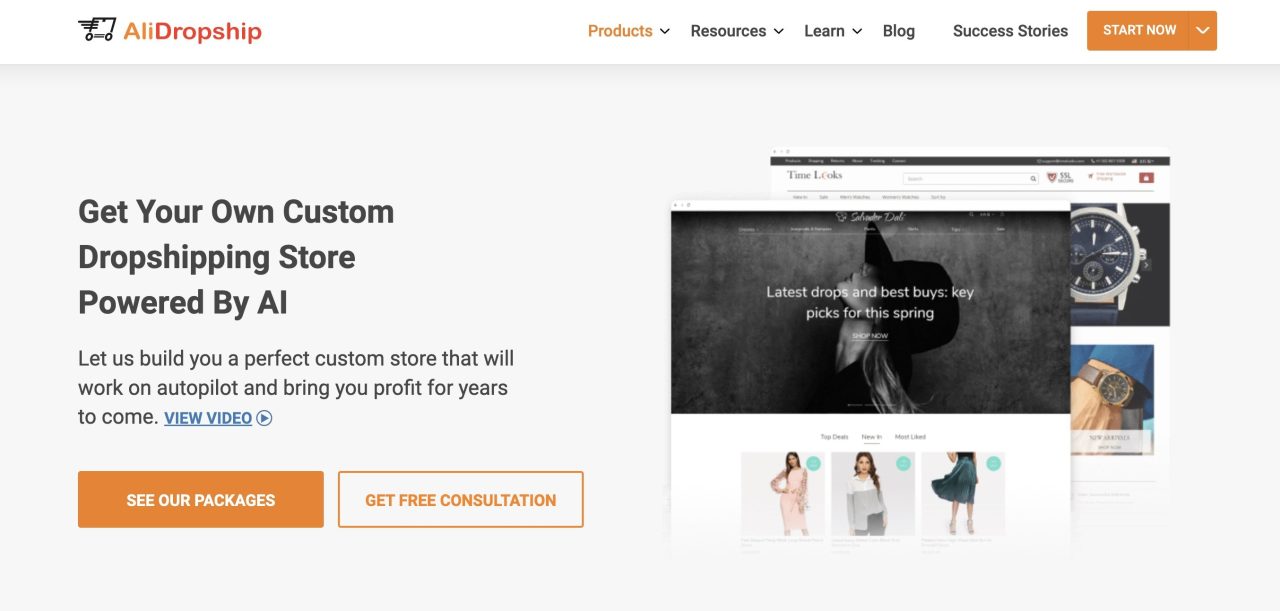 1. Click and pick:
Browse through and find the package that vibes with your needs.
Make the move and order that custom dropshipping store.
2. Let's chat:
Your new buddy (aka personal manager) gives you a ring or a ping.
Chat about what you're envisioning, and get some cool advice on a killer niche.
3. Kick up your feet:
While you're chilling with your favorite drink, our team's diving deep.
They're crafting a swanky store, keeping in mind all the details you shared.
4. Tadaa! store's yours:
And just like magic, you're now the proud owner of a dropshipping store.
Best part? You didn't even have to break a sweat.
5. Unleash the AI Magic:
Set the AI free and watch the wizardry unfold.
With a sprinkle of auto-promotion strategy, your traffic and sales are about to skyrocket.
There you go! Five easy-peasy steps, and you're in the dropshipping groove. 😎🚀
What are Established Stores?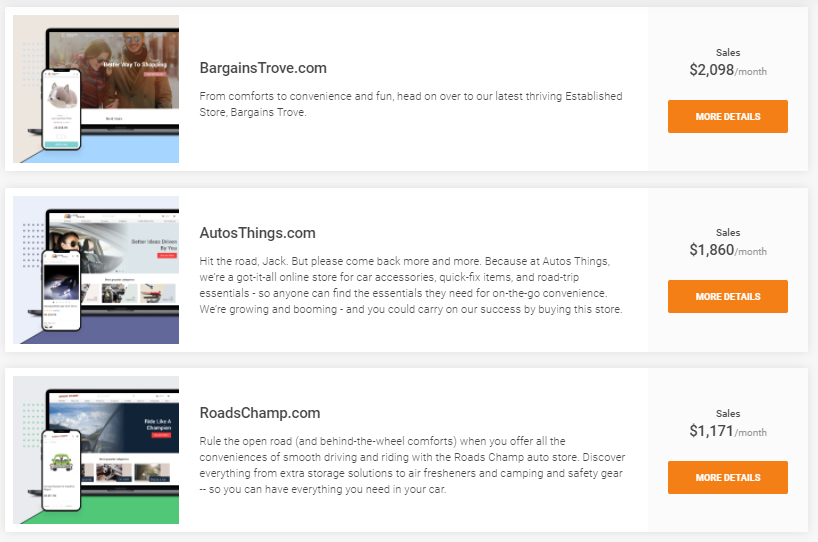 Established Stores are built on the AliDropship plugin by our team just like Custom Stores or the websites made by our clients. They are technically identical. However, these stores are managed and promoted by AliDropship's Ecommerce Department. You could say, they're just our own stores.
It all starts with an idea. The team permanently monitors the market to discover promising niches. So we choose a niche that promises to be profitable; then we create the website using the plugin. After we import products and everything's ready, we start promoting the store.
Our experts promote it on different channels, try out our best promo strategies, customize the stores for better results, etc. After a while, the website gets its own customer base, a certain reputation, active social media accounts with real subscribers, and so on.
When we see that the business is bringing stable profit, we list it for sale. In other words, a person buying a dropshipping store like this gets a small business that is already running successfully. You still need to promote and develop it, but it's much easier than starting from scratch — you have a customer base, repeat purchases, promotional strategy that is proven to be high-converting, etc.
Pros:
Built by experts, the store is fully completed, with no issues to solve and fix.
You are buying an established business that is already successful, that has its followers, and brings profit.
Along with the site, you also get a detailed guide, social media marketing materials for promotion, and everything you need to start your own marketing campaigns.
Plus, you get free lifelong post-sale support and training from your personal manager.
Beyond that, you get a turnkey Amazon business as a bonus when you buy an established store (a ready-to-go Amazon account filled with hot products from your store).
Cons:
Customers can't choose the name, niche, and design of the store — they get a pre-built store with the appearance, products, and strategy chosen by our ecommerce experts (sure, you can buy an established store and completely rebuild it; but what's the point of changing what performs great?).
The price of an Established Store is calculated according to its annual profit and, therefore, high-performing stores can be quite expensive (yet, there are cheaper stores with a bit lower performance — for every taste and budget).
How to buy an Established Business from AliDropship?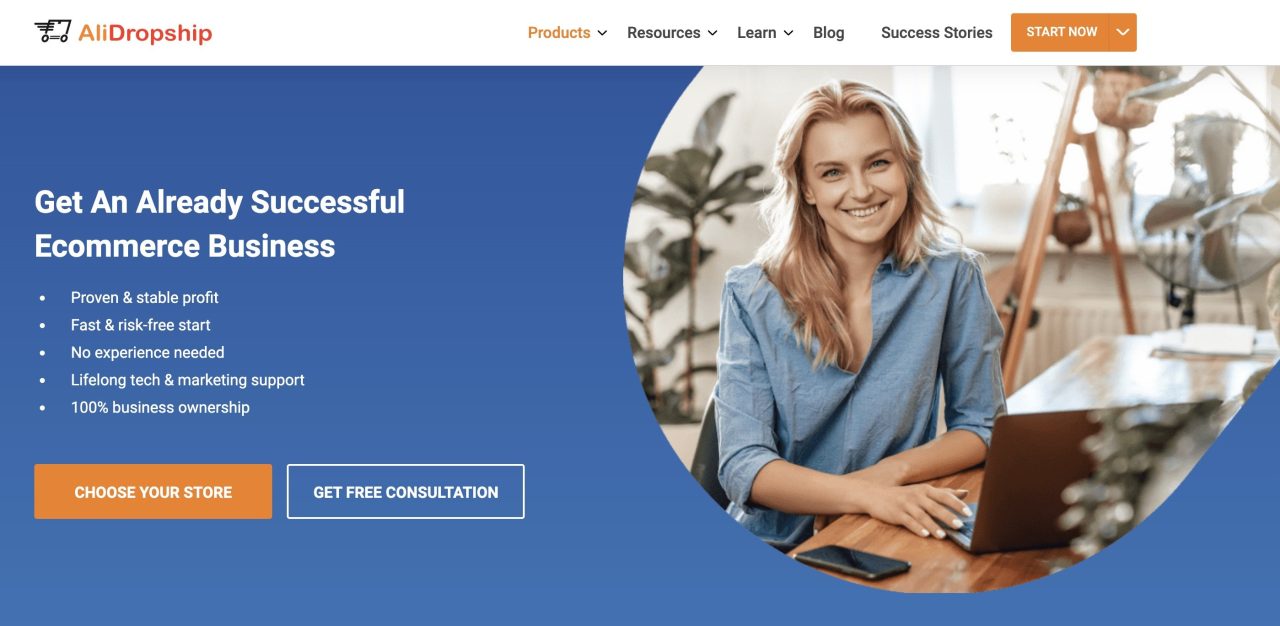 1. Choose a store you like on the Established Stores page and click "More Details".
2. After redirecting to the single page of the store chosen, click "Get A Quote" on the right.
3. Leave your contact information to let our business advisors contact you as soon as possible.
4. Finish the order to get your established store.
Or simply book a call from our business advisors willing to give you the details at any time convenient to you!
Who could benefit from Custom and Established Stores?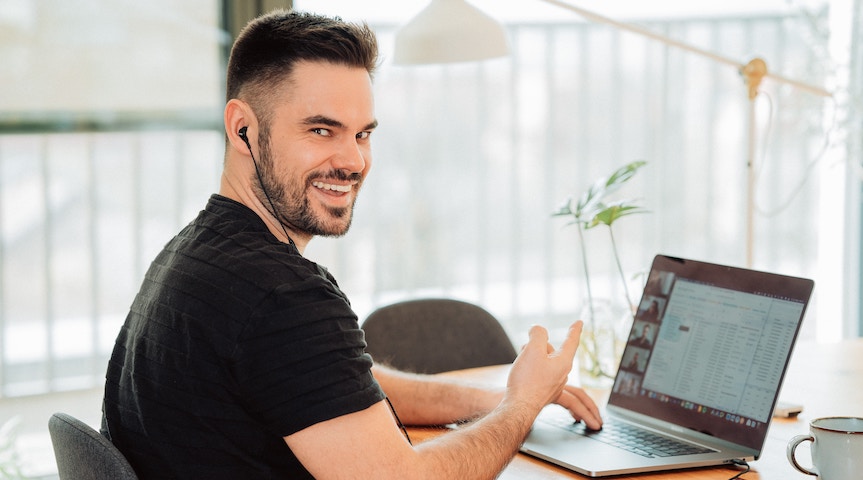 While these two offers may seem similar, they will suit different purposes.
Buying an Established Dropshipping Store: the thriving marketplace
If you're the type who's keen to dive straight into the action without the preliminaries, then an Established Store is your bustling marketplace. It's akin to walking into a successful café with its signature brews and a loyal clientele.
Who's it for?
Entrepreneurs who prefer to hit the ground running.
Those who value a proven track record and existing profitability.
Anyone keen to sidestep the initial grind of building a customer base and prefer to take on a business with an already established reputation.
Buying a Custom Dropshipping Store: your blank canvas
For those with a specific vision, a thirst for creativity, and a dream to craft something truly unique, the Custom Store is that untouched piece of real estate. It's about building your café from the ground up, choosing every brick, every brew, every vibe.
Who's it for?
Visionaries eager to create a store precisely tailored to their preferences.
Entrepreneurs who enjoy the journey as much as the destination, from niche selection to design aesthetics.
Those who appreciate complete creative control and are ready for the challenge and rewards of nurturing a brand from scratch.
Buying an Established business V.S. Custom store: final thoughts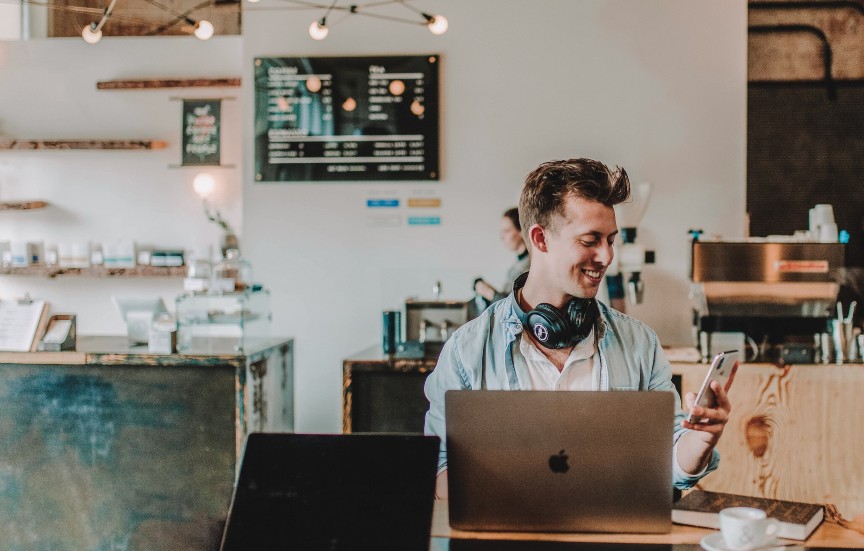 In essence, both paths offer rich rewards. Your choice simply depends on your entrepreneurial style and where you want to begin your journey. Choose wisely and thrive! 🚀
When buying an established business, you get a store that's already running and bringing a profit. Thus, one doesn't have to spend months promoting it from scratch or risk failing.
On the other hand, those who buy a Custom Store get to choose plenty of individual business details. It is the buyer who, after a detailed consultation with a personal manager, decides what to sell in this shop, what it should look like, etc. Customizable features are its main benefit, so this option will suit someone who wants to see their dreams take shape. Custom Stores are much more affordable than Established Stores, but one has to promote them from scratch.
Embarking on an ecommerce venture has never been easier. Whether you opt for an established store or a custom creation, AliDropship is your trusted partner every step of the way. Still unsure? Let our expert business advisors guide you towards the best choice tailored for you.
Thus, buying an established business and purchasing a custom store offers different privileges: Custom Stores allow you to start promoting right away without having to build the website on your own while Established Stores allow you to start enjoying profits right away without having to develop a reputation.