Dropshipping Coffee Supplies And Tools: 55 Product Ideas To Try Today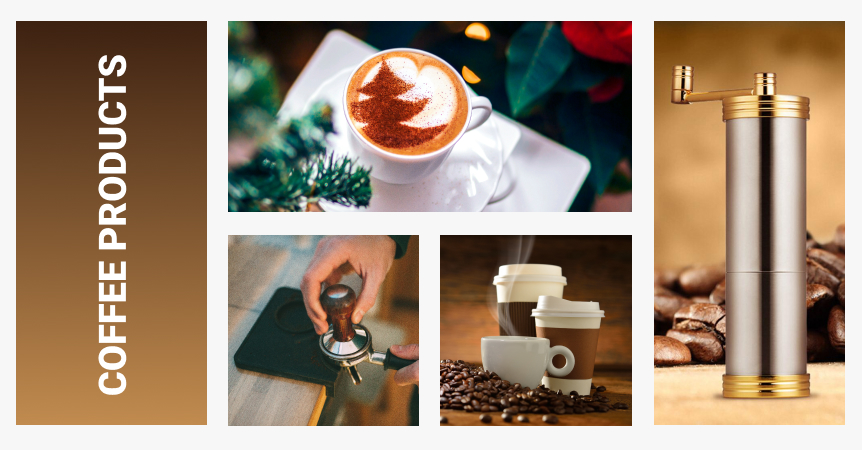 If you're looking for a promising niche for your online store, how about dropshipping coffee tools and equipment? There are plenty of products in this category that enjoy high demand.
Is dropshipping coffee a good idea?
Coffee is one of the most popular beverages worldwide. As Statista reports, the average coffee consumption is over 40 liters per person and year!
In 2019, the global coffee market was valued at $102.15 billion. The largest coffee market by revenue is the United States: one of the most attractive regional markets for dropshipping business owners. Plus, as many consumers have switched to purchasing groceries online, the compound annual growth rate of the ecommerce coffee market reached 38.6%.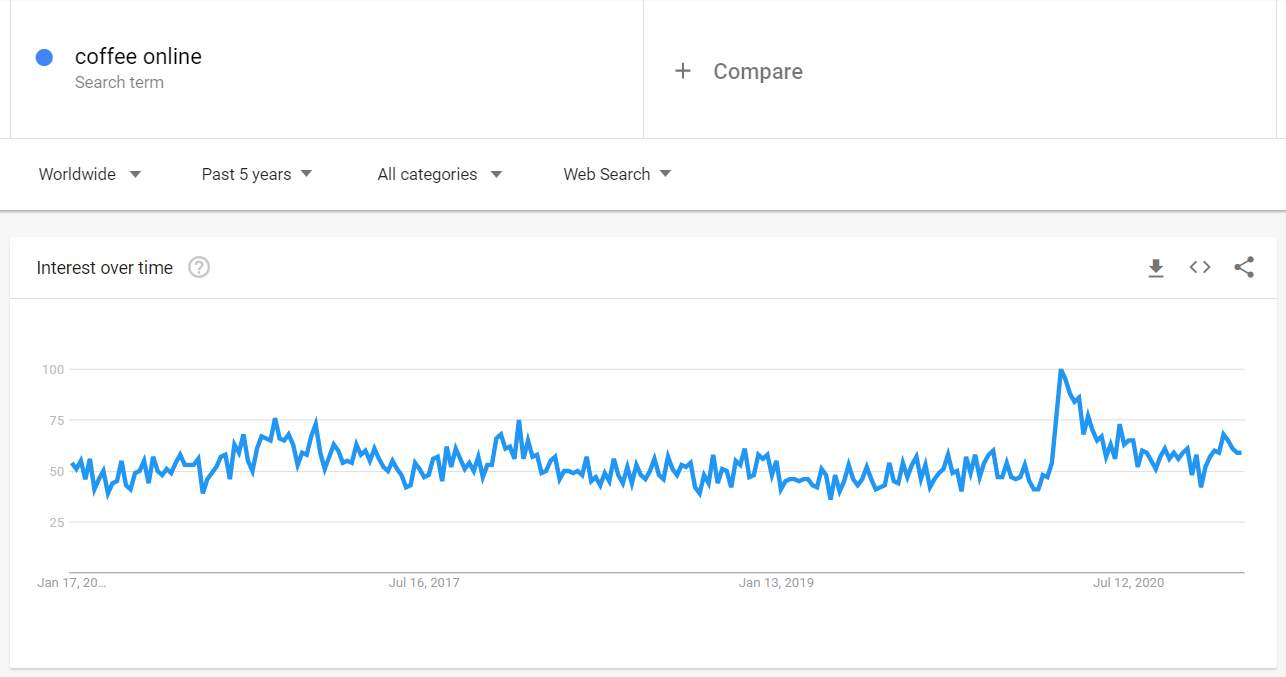 Therefore, dropshipping coffee seems to be a good idea, right? Unfortunately, it's not all that simple. There are at least three reasons why selling coffee can be problematic.
1. International trade is difficult
Selling phone cases abroad is one thing. Selling food is another story. Most countries require all kinds of certificates confirming that your products are safe. That's why selling food is always hard.
2. Shipping must be really fast
Let's assume you're allowed to import bean coffee to your target country. You'll face another problem. When people buy coffee online, they expect to get the order within hours. But delivery from China-based warehouses takes a couple of weeks at best. From this perspective, you can hardly compete with big coffee brands and supermarkets.
3. You won't find coffee on AliExpress
And most importantly, due to licensing issues, foods and beverages were banned on AliExpress several years ago.
So, does it mean that this niche is unavailable for dropshippers? Not at all! Instead of coffee, you can sell a wide range of coffee related products.
How to sell coffee-related goods?
Coffee isn't just a beverage. Of course, today one can buy a can of coffee in a vending machine or drink a cup of cheap instant coffee.
But there are plenty of people who prefer expensive varieties.
Drinking coffee is a ritual for them. And this ritual requires various tools. That's where you can make a profit. Here's the search dynamics for "barista tools" over the past 10 years on Google Trends: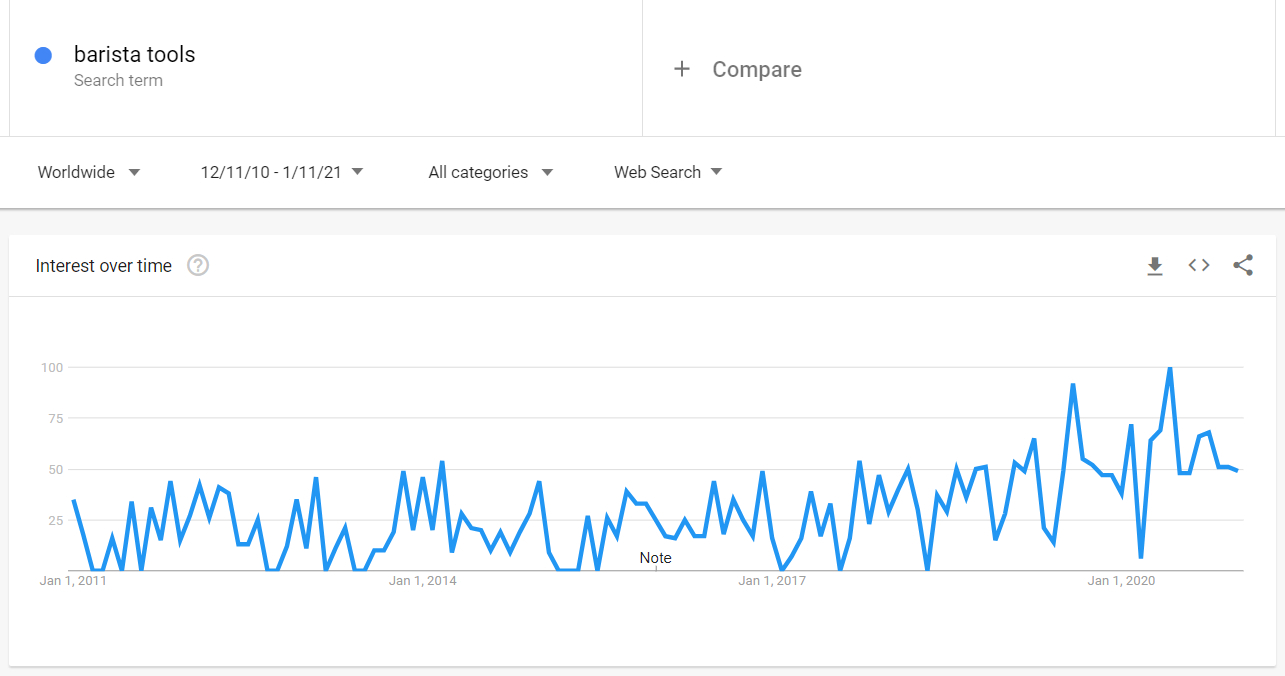 When dropshipping coffee related products, you can target a wide range of audience. It includes common people who buy mugs and cups, coffee fans, and semi-professional baristas. Here are a few product categories to interest your potential buyers.
Coffee mugs and cups
Let's start with something simple and obvious. Try dropshipping coffee mugs and cups. These are the goods that every person on the planet buys from time to time. Besides, on AliExpress you can find not only standard mugs, but plenty of unusual cups as well.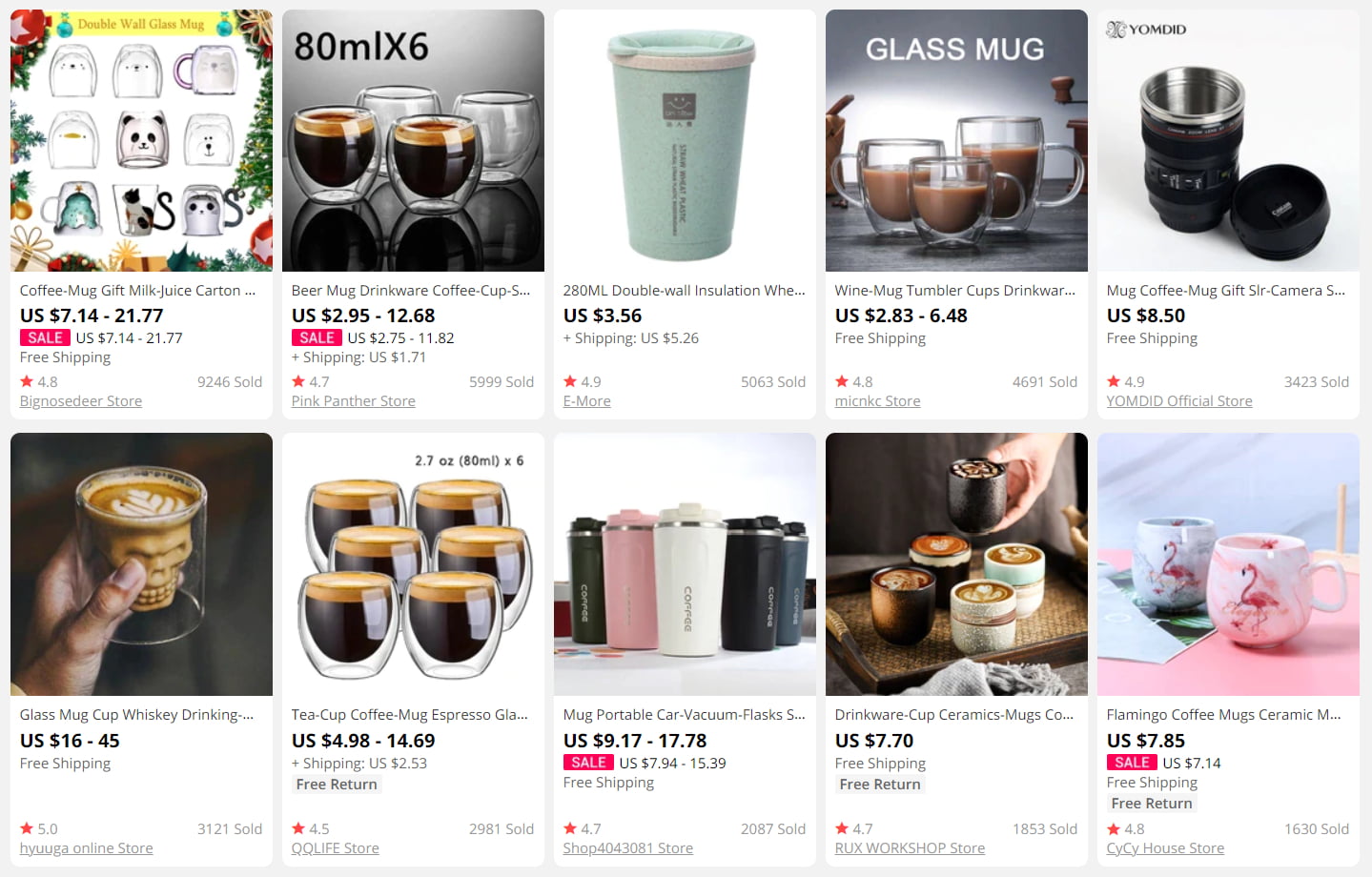 In addition, you can focus on certain mug types – for example, portable coffee mugs.

Coffee tamping tools
Tampers are used to pack ground coffee to make espresso. Although modern coffee machines do it automatically, some people prefer pressing the grounds manually. Sellers on AliExpress offer tampers, tamping mats, and even espresso sets.

Electric milk foamers
Cappuccino is one of the most famous coffee making methods. The secret is to froth the milk properly. Today, instead of doing it manually, one can use electric milk foamers. These devices are quite simple, so dropshipping them shouldn't be a problem.

Coffee pitchers
If you consider dropshipping coffee related products, this is another category for your online store. Pitchers are kettles in which baristas foam milk. The gooseneck lets you pour the milk into a cup to make latte art.

Latte art tools
You can also offer potential clients a number of other latte art tools. They usually include latte art needles, stencils and chocolate dust shakers.

Coffee scales
Another way to surprise your customers is to offer coffee scales. Professional baristas know how much coffee you need to make a cup of a certain volume. That's why precision is important here. So, coffee-lovers will surely appreciate these products.
But make sure to find a reliable dropshipping supplier on AliExpress: shipping electronic goods is generally riskier compared to regular products.

Reusable coffee pods
With environmental issues getting more serious each year, younger generations prefer using eco-friendly products. That's why it's a good idea to dropship reusable coffee pods instead of standard disposable ones. Millennials and Gen X will surely appreciate this.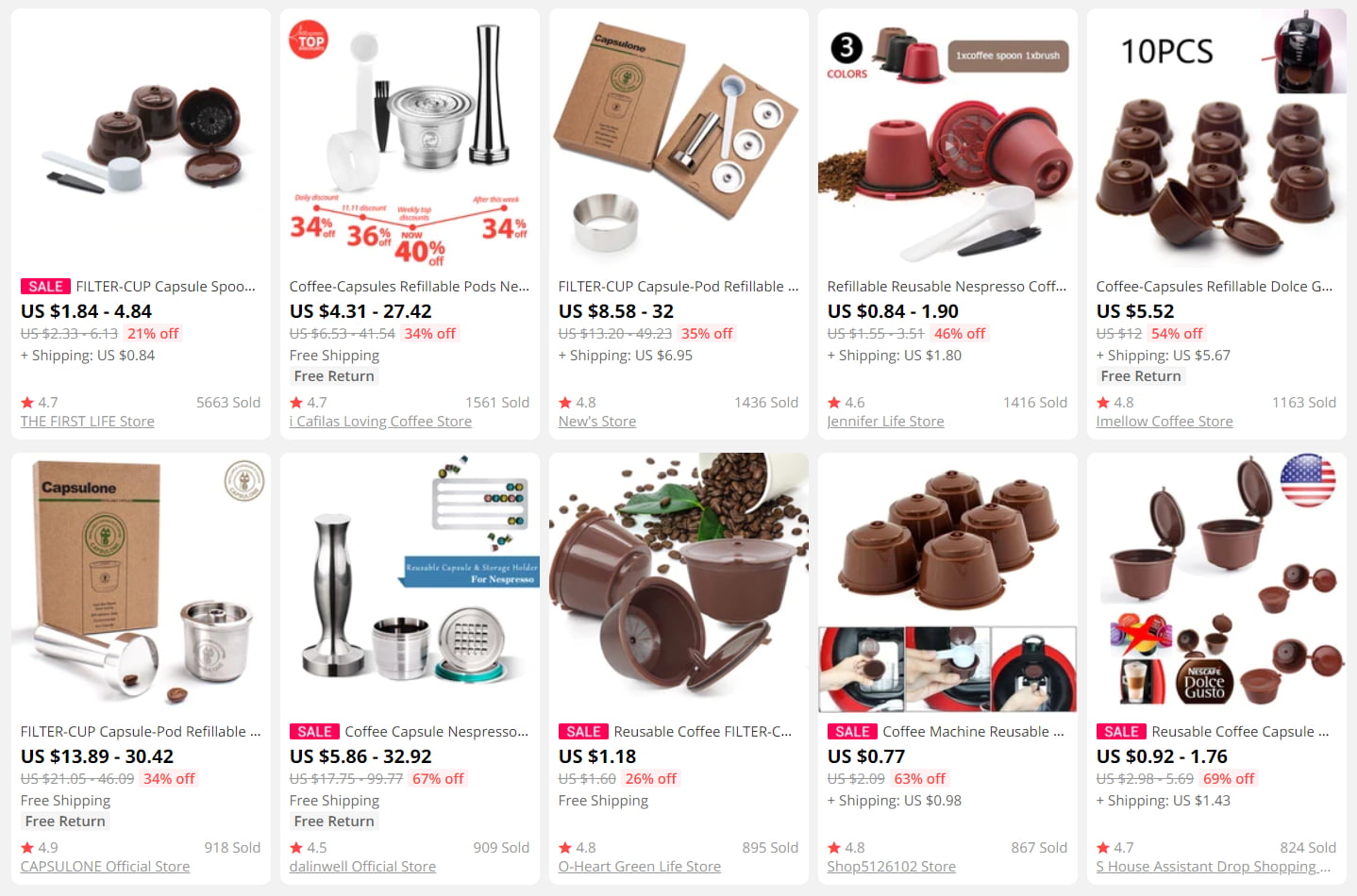 Coffee related décor products
And lastly, you may want to offer your customers a number of décor products related to coffee. These wall stickers and posters can completely change the atmosphere in a kitchen. Besides, they're really affordable.

As you can see, although dropshipping coffee itself from AliExpress is impossible, you can still make money in this niche. Simply offer a variety of coffee-related goods! Remember, drinking coffee isn't just about consuming a product. It's an important tradition – and even a specific ritual for many people!
Did you like the idea of dropshipping coffee related products? The best way to build an online store around this (or any other!) niche is to order a custom dropshipping store. With your individual preferences in mind, a dedicated team of developers, designers, and marketers will create just the right store to make your business dreams come true!