How To Dropship Handbags And Where To Source Them: Market Insights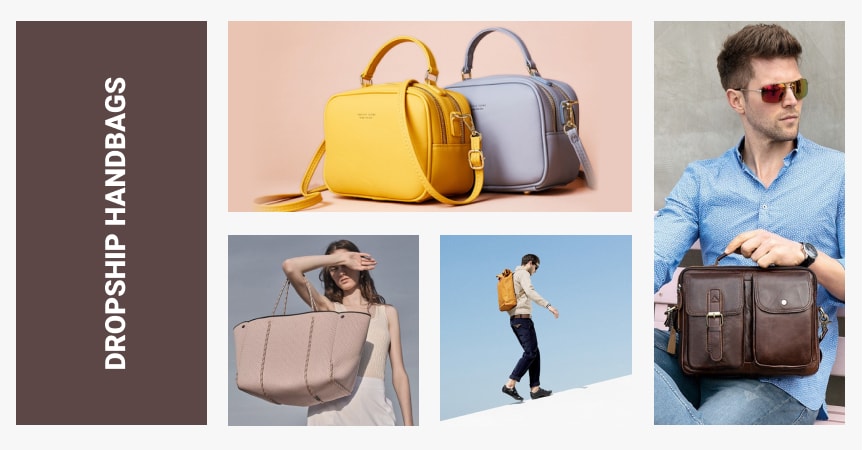 Do you want to create an absolutely cool online store? Are you looking for a promising and increasingly popular niche for your business? Then, it's a great idea to dropship handbags!
It doesn't matter whether you're an ecommerce newcomer or experienced entrepreneur, it's always a bit challenging to choose a niche for your online store. What's more, you are supposed to pay lots of attention to this aspect since it's choosing a niche at an early stage that determines the success of your business later.
In fact, there are lots of niches in ecommerce. It's up to you to sell pencils or technically complex devices for a highly specialized industry. However, WE are looking for a niche that is the easiest to start, most profitable to run, and SUPERB to provide your potential customers with product range, right?
And today we are going to present to you one of the best ecommerce niches in 2020. It's all about dropshipping handbags!
Is it really profitable to dropship handbags?
There are lots of increasingly popular and promising niches such as smart home electronics, pet products, etc.
So why should you start dropshipping handbags RIGHT NOW?
You have definitely paid attention to the fact what bags are sold in offline stores and how much they cost. And here come the reasons why dropshipping handbags is going to be profitable.
As a rule, bags cost a lot in offline stores. And we are not speaking about the ones made of leather. Even leatherette bags can cost too much in a regular store.
That's why consumers often prefer to buy bags online. In fact, original prices of leatherette bags are not as high. It's due to the fact that high-quality materials are available on the market, meanwhile, at a low price.
Beyond this, if adding such an item to your online store, it's going to be lower than the ones in offline stores even with a markup. So it remains for you to choose the most demanded products and sell them. However, we will talk about it a bit later.
Sometimes, offline stores can offer you an extremely expensive product even if it's of poor quality. Why does this happen? Actually, offline store owners have to pay rent, wages, keep items in stock, etc.
That's why they have no other choice but to sell low-quality products at high prices. Otherwise, their businesses will not pay off.
However, if you're going to dropship handbags, it will be different for you!
You don't have to pay rent, wages, etc. It's even not necessary to purchase products in advance and be afraid that nobody will buy them. Due to the dropshipping business model, all you need to do is to import the product info into your online store. When somebody places an order on your website, you will order it from your supplier, and that's it!
That's why you're not supposed to risk anything. Meanwhile, your hands are not tied, and you don't need to sell low-quality products at high prices. So choose only products made of premium materials from time-tested suppliers, and your customers will be grateful to you.
Again, the product range in offline stores is usually strictly limited because a store owner has to keep items in stock. In case of dropshipping handbags, there are no limitations for you!
You only import products into your online store and that's it! That's why the product range of your online store can be a lot wider. What's more, it doesn't cost anything for you to add only premium products to your online store, and sell them at good prices!
Well, do you still have any questions on profitability of dropshipping handbags? If you don't, let's speak about particular types of bags to dropship and make the most of your ecommerce venture!
How to dropship handbags: strategy, products, suppliers
When starting to dropship handbags, it's essential to pay attention to several important aspects.
Dropship handbags: the best strategy
We recommend that you start to dropship leatherette bags. It's due to a number of reasons.
First of all, genuine leather bags have a high initial price. For you as a business owner, it means that it's not so profitable to deal with them.
Moreover, it's very challenging to find suppliers who can provide you with genuine leather bags. In most cases, you can find bags made of leatherette. However, suppliers are highly likely to claim that they sell only genuine leather bags.
What's more, nowadays there is a growing segment of people who are concerned about ethical consumerism. And in case of dropshipping leatherette bags, you can easily target them!
So it's more lucrative to deal with leatherette bags. If you find reliable suppliers, you will easily provide your customers with high-quality leatherette bags that look just like the genuine ones.
Dropship handbags: trending products
Well, what particular types of bags are the best to dropship?
Actually, there are lots of different bags on the market. And most of them are promising in terms of dropshipping. First of all, pay attention to the handbags themselves.
Handbags
However, you should not consider handbags only. You can also sell backpacks, crossbody bags, briefcases, etc.
Top handle bags
Wristlets
Backpacks
Shoulder bags
Evening bags
Wallets
Crossbody bags
How to Dropship handbags: choosing your suppliers
Well, you also need the list of time-tested dropshipping suppliers in order to resell only high-quality products.
But where to find them? Fortunately, AliDropship is glad to provide you with a large database of trusted suppliers, bestsellers, and most promising niches – it's AliDropship Insights!
ATTENTION: your access to Insights from AliDropship is FREE, so hurry up to use priceless information from the database for your business growth!
So meet reliable bags suppliers and don't forget to swipe right!
Do you want to see more suppliers? Then, feel free to use Insights from AliDropship. It's absolutely free-of-charge!
Before you start to dropship handbags: final thoughts on how to make the most of your store
If you are an ecommerce newcomer and you're looking for a promising niche to start your own profitable business, or if you are an experienced entrepreneur who just wants to expand your business, it's high time to start to dropship handbags!
Dropshipping handbags is, actually, a highly-converting business idea since it has lots of advantages:
Low initial price = high markup
High-quality products made of leatherette
Huge amount of products on the market = wide product range in your store
And so on, and so forth. Sounds tempting, doesn't it?
Well, do you already have an online store or you are just looking for a way to start your business with 100% OWNERSHIP? In fact, it doesn't matter since if you dropship handbags, you're highly likely to succeed!