AliExpress Dropshipping Q&A Series №1: AliDropship Plugin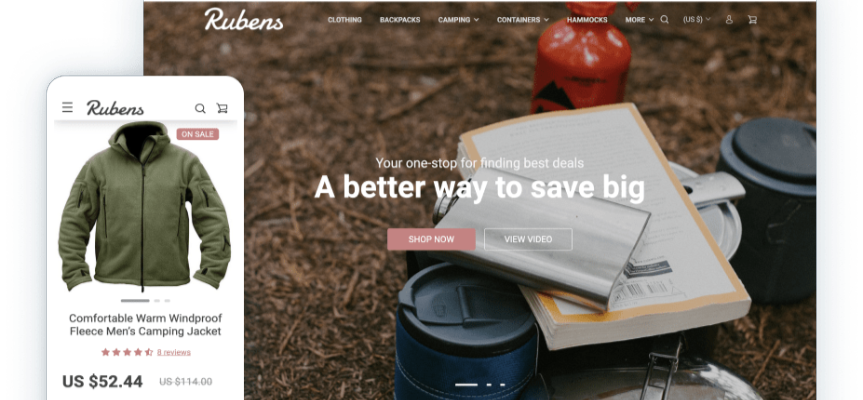 AliDropship plugin is an amazing tool that lets you create good-looking websites like the one in the picture above! Even if you have no background experience, you'll work with it easily. Let's go over the most common aspects of launching a successful online business with its help!
This series of our Q&A session is all about AliDropship plugin – we have collected top 10 questions that we get from our clients and readers most often.
Can't find the answer to your question here? Feel free to refer to our Knowledge Base!
So here we go!
1. What is AliDropship plugin?
Simply speaking, AliDropship plugin is an additional piece of technology that you can install on your WordPress website. It will work with WooCommerce as well!
With the help of this plugin, you can easily build your own dropshipping store.
What can you do after you've installed the plugin?
Filter and search

products on AliExpress and

import

them to your website in a few clicks
Get the product

info updated

automatically
Quickly and easily

set a price markup

for your items

Automatically

get in touch with AliExpress sellers to fulfill your clients' orders

Track orders

and automatically notify your clients about their current status

Customize

your store and make it look unique and memorable
Get access to all-in-one dashboard helping you

manage the whole thing

See the live statistics

about your store performance
And many many more!
With the plugin, you are fully independent with your business choices.
It's up to you what products to sell, what markup percent to add, and how to run your store.
Basically, you're your own boss now!
2. Can I start a dropshipping business living in my country?
OF COURSE!
The whole model of dropshipping business means that you are free to do it from ANY point on the globe. AliDropship plugin has no limitations as well – you can use it in any country.
Speaking of the geography, it's important to say you can use AliDropship plugin to customize your store if you're targeting some specific country.
Maybe you just want to go global, and this is awesome.
But if you want to work with people from some exact country or region, you can easy make your store appealing for them.
How?
Well, first of all, you can set any currency you like. US dollars, euros, British pounds, etc. – you are free to choose any national currency to make your store visitors comfortable. They will see this currency in items' price, and also on the checkout page when they are ready to make the payment.
Secondly, remember that the language matters! For example, when you're editing single product pages to make them look good, you can import customer reviews from AliExpress. That's a really good thing because people trust other clients' reviews, right?
Thanks to the plugin, you can automatically translate the reviews left in any foreign language. Or alternatively, import only the reviews left by a citizen of a specific country – the plugin can do this, too.
3. What is the difference between AliDropship plugin and AliPlugin?
Oh, we're speaking of 2 really different things now, so be attentive!
AliPlugin is an affiliate plugin. You can't build an independent store with it.
Yes, AliPlugin lets you import products from AliExpress, but your site will NOT be a marketplace. When your store visitors click on a product, they are redirected to AliExpress, and that's where they make a purchase. With this type of business, your profit is the commission for every purchase that happened on AliExpress with your help.
At the same time, AliDropship plugin is the thing that helps you build your very own dropshipping store. You're a full owner, and all the purchases happen in your store.
4. How many sites can I create with the Plugin?
When you buy AliDropship plugin, you get your own personal license key.
This key is valid for one website/domain name. But if you decide to create another webstore in future, you can transfer your license to it for free.
5. Is $89 a one-time payment?
Yes, it is!
You only need to pay ONCE.
When you buy AliDropship plugin, you get a lifetime license. You make only one payment to get the plugin, there are no regular payments or any hidden fees.
6. Can I use AliDropship plugin with WooCommerce?
Sure!
AliDropship plugin has 2 different versions: the original AliDropship, and AliDropship Woo.
So, if you need a plugin for WooCommerce, it is better to choose AliDropship Woo.
Check out this guide to learn more about AliDropship Woo.
7. Can I switch to AliDropship Woo plugin in the future?
Yes, you can.
Please remember that all of your settings will be lost in this case.
The original AliDropship plugin and AliDropship Woo are not compatible with each other. So, you will need to reinstall your WordPress, and start your website from scratch.
On the bright side, you won't have to buy another license key! Just let us know, and we will reset the license you already have.
8. Is AliDropship plugin compatible with Shopify?
No, it is not. AliDropship only works on WordPress-based dropshipping sites.
9. What are the payment gateways available?
These are payment gateways integrated with the original AliDropship plugin:
PayPal
2Checkout
Stripe
net
PayU
Payubiz
PayU Latam
PayPlug
DusuPay
Pin Payments
If your store is based on WooCommerce, there are tons of gateways to choose from! Please check out this guide to learn which payment gateways you can use.
10. What themes & design can I use?
Again, there are differences.
The original AliDropship supports our built-in themes only – you can take a look at them here.
AliDropship Woo plugin is compatible with any existing WooCommerce theme – feel free to use anything you fancy!
Read more about themes and design of AliDropship stores.
Well, this is it.
These were the top 10 questions about AliDropship plugin we most commonly get.
And the topic for our next Q&A series will be…
…DROPSHIPPING STORE MARKETING AND PROMOTION!
So if you have any questions related to the topic, feel free to leave them in the comments section below.
And if you have any other questions, don't hesitate to ask them as well!