Tips On Advertising A Landing Page With A Single Product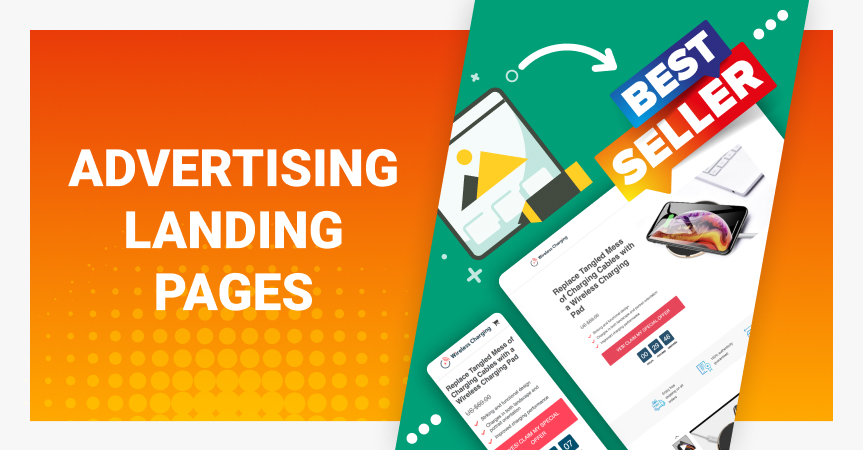 Advertising a landing page completely dedicated to one product is a bit different from promoting standard product pages from a catalog of items. In this article, AliDropship's marketers share their experience in promoting the pages created with our Landing Pages add-on on Facebook.
What are landing pages?
A landing page is a stand-alone web page that potential buyers get redirected on after clicking on your ad.
Traditional ecommerce websites have catalogs that contain dozens of items. In this case, each of them has its own product page. After coming to the site, visitors can switch to browsing the catalog, come back to product categories, the home page, etc.
In digital marketing, advertisers also use landing pages completely dedicated to one particular product. It's more difficult to leave these landings to view a home page or see other products. It increases conversions, which is why in marketing campaigns, a lot of attention is paid to landing page design.
What are the benefits of landing pages?
An owner of an ecommerce store can boost the business performance with landing pages in a number of ways.
Using landing pages can help you test a new product or service.
If you conduct a niche research, you can focus on a high-potential item without having to look for other goods for your inventory. It can be done later, after defining the niche and target audience more clearly.
Landing pages can be useful for advertising high-ticket or complicated items.
It's a good way to promote limited-time offers.
With landing pages, you can focus their efforts on audience segments that will probably show no interest in other products in your inventory.
You too can benefit from these advantages by getting the AliDropship's Landing Pages add-on. With our drag-and-drop builder, creating and customizing landing pages is really simple.
Advertising landing pages
Advertising one of the products from your inventory and advertising a landing page have a lot in common. Still, AliDropship's experience has shown that when you deal with landings, there are certain differences.
1. Quantity breaks
Quantity breaks are price tiers that let customers get a better discount when they purchase more products. For example, a buyer can get a 30% discount for 2 items, 40% for 4 items and 50% for 6 items.
When advertising dropshipping products on social media or other platforms, you have to pay for every time a person sees your ad. Let's suppose you sold an item for $50. But you also had to pay $15 for the product on AliExpress, another $5 for shipping and $30 was your cost of conversion. That means your profit is zero!
But what if that same person buys not one but several products? In this case, all these additional goods will bring you a profit.
When promoting regular goods, one can expect customers to also purchase other products from the inventory. But when advertising a landing page with just one product, your only option is to make people buy more of the same item. That's why offering quantity breaks is a good strategy.
To make your ad copy more attractive, make sure your creatives (for both marketing and remarketing campaigns) warn potential buyers about the discounts. A simple inscription like "Up to 70% off!" can make wonders.
To create such offers for our winning Premium store, the team uses the Bulk Discounts add-on which easily integrates with Landing Pages. Moreover, if you subscribe to Landing Pages, you get the Bulk Discounts add-on for free!
2. Budget and optimization
When advertising a landing page with quantity breaks, it becomes really difficult to calculate your break-even ROAS. This term means the return on advertising spend you need to cover the expenditures.
On the one hand, the more items a buyer orders, the bigger discount you have to offer. That means your profit from one product gets smaller. However, the volume discount increases the store's average order value, so the profit from one customer grows. And the cost of conversion stays the same.
You're going to see a slightly lower cost per unique purchase in comparison to standard ads which don't have such a motivation.
When testing audiences, you can also set daily budgets equal to your product's minimal price. After a day or day and a half, don't be afraid to turn off the audiences whose conversion cost is higher than the product's minimal price. Keep only those audiences that show the maximum ROAS and the minimal Cost Per Purchase.
If the minimal product's price is higher than $50, you can use the checkout cost to optimize the budget. In this case, the checkout cost should be about 50% of the product's price.
3. Scaling
Since the ROAS is much higher when you promote landing pages with a single product, so shall be your budgets. Other than that, scaling your ads should be the same as with standard promotion.
Here's an example. The initial daily budget for target audience testing is $20 for a standard ad and $30 for a landing ad if the minimal price of the product equals $29. After that, you double the budget at every step.
Thus, your first budget rise will result in $40 for the standard ad and $60 for the landing ad. At the next step, the budget will rise to $80 and $120 respectively. Thus, your budget will rise pretty quickly.
When the audiences show high activity and "eat up" the budgets by the second or third campaign, there are two things you can do. Either create a new campaign (with Campaign Budget Optimization) with 2-4 audiences in each ad set; or create several ad sets, with each targeted at one particular audience.
The team also recommends using Campaign Budget Optimization when advertising a landing page. It lets you raise budgets once per two days with almost no limits and you don't have to worry about breaking the campaign's efficiency.
Facebook often provides useful tips in your ad sets' status. If it says, "Learning limited", this particular group of audiences probably needs a larger budget to show better results.
4. Remarketing
The team uses a different approach in remarketing as well. The Landing Pages add-on has two templates:
A two-page funnel, with the first page containing an article and the second one containing the product details.
Lead generation consisting of only one page.
The team uses the two-page funnel template. So, the first page contains an article describing the product.
The second page lets you see the image gallery and customer reviews, choose between the variations and the number of products, and contains the link to the checkout.
In remarketing campaigns, the team leads the audience who only saw our ads to the first page. If the audience has already visited this page, we lead them to the second page.
First of all, the people from this audience segment have probably read the article and saw the comments. There's nothing new for them. Second, if they decide to come back, we want them to get closer to the checkout link.
Besides, it's logical to offer an additional coupon to those who have already visited the page and saw our prices.
Therefore, landing page remarketing campaigns consist of two ad sets:
The first audience consists of users who have visited the first landing page over the last 14 days, excluding those who have purchased something over the last 180 days.
The second audience consists of users who have watched 95% of our video ads over the last 14 days, excluding users from the first audience (who visited the first page and made a purchase).
The team uses Campaign Budget Optimization for remarketing to maximize the efficiency of these campaigns.
Follow these tips when advertising a landing page created with AliDropship Landing Pages add-on! If they work so well for our top-performing dropshipping store, your own business can benefit from them as well!