What Success Stories Of Entrepreneurs Can Teach You About Dropshipping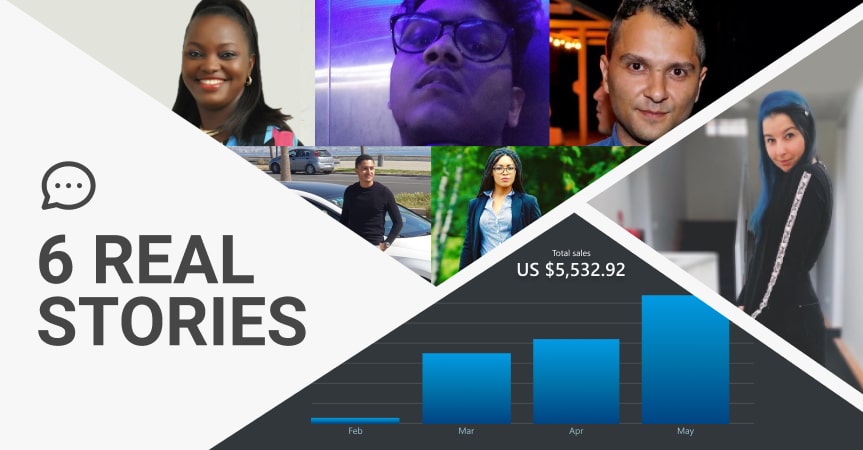 Is there a reason to look at success stories of entrepreneurs when you're planning to start an ecommerce venture yourself? Of course!
It's normal to have doubts when making any decision, even when it's not something that can potentially change your life. Imagine how thrilling it is to consider launching a business that can turn your daily routine upside down!
In this case, understanding other people and their business experiences can play a crucial role in making a final decision. That's why we're summing up different success stories of entrepreneurs in this article. We hope it will be helpful for both aspiring newcomers who are deciding whether they should try dropshipping or not and well-established business owners who just need a piece of advice!
All success stories of entrepreneurs start with a bold decision
Choosing a product is one of the vital steps of creating a store, no matter if it's a brick-and-mortar or an online one. We recommend our clients to go for the niche that they're genuinely interested in. That way, they'll have enough energy, knowledge, and enthusiasm to work with that kind of business for a long time.
But some people don't want to limit themselves and don't mind selling something they haven't previously heard about — as long as it's a profitable product type! Ankit, for example, suggests paying attention to Google Trends in order to have a better understanding of what's in right now. The key to success, as he says, is a good product and high perceived value.
He also says that you don't neсessarily have to spend money on any courses – YouTube is a gold mine and you can learn everything there. The AliDropship channel with its free courses and how-tos is a great example! 😉
Dropshipping can be a profitable side hustle
Running a business can be a time-consuming thing. Because of that, many people are simply afraid to leave their stable 9-to-5 jobs, and invest all their time into a business that might not meet their expectations. This is NOT about dropshipping. You can try yourself in a dropshipping business and still have a safety cushion of a regular job. Tammy, a successful newcomer to online business, proves it!
Being a regular worker at a liquor store in Australia, Tammy has 1 running store that brings about 1,500 AUD in monthly profits. She keeps her business processes simple by running paid ads and promoting her store on Instagram through commenting, following, and partnering with influencers. And she only spends up to an hour a day on her store! That's less than most people spend on social media!
The right audience is vital
When you know your target audience, promoting your goods gets much more productive. If you happen to target the wrong audience on the wrong platform, you might get an outcome that's totally different from what you expected.
That's why Valery, one of AliDropship plugin users, is so careful about the mediums she chooses to advertise her store. As she can't invest much into paid ads, she has to pick a platform that offers her the best value for money in terms of attracting the most interested audience.
According to her experience, when it comes to promoting crafty items, the go-to destination is Pinterest – the place where all the aesthetic lovers are!
Organic traffic can work magic for your store
Many people are concerned about spending money on ads and attracting customers to their stores. Some are scared of losing money, some just want to lower the costs. Whatever the reason may be, getting organic traffic is not something out-of-this world (even though it may appear to beginners). That can be just the right solution for anyone who wants to boost the visitors' number for little to no cost!
Angel's success story is the perfect example. He yields a substantial amount of organic traffic from Instagram. Angel easily runs this account himself as he uploads at least one post and one story per day. And, as he has a baby products store, Pinterest also brings traffic to his website: it's the cuteness lovers' magnet!
Do research before launching a paid ads campaign
If you do choose to pay for ads and decide to use Facebook as the platform for your campaigns, pay attention! Anas recommends not to do Facebook ads if you don't have any traffic yet. Why is that?
Facebook works with data, and if there's no data – there's no result! That means, if your website doesn't have any visitors, you'll just waste money.
That's a great piece of advice from a student entrepreneur who is surely interested in cutting down the business expenses as much as possible! And we guess that's exactly the attitude that helped Anas make $64K+ in just a year and a half of doing ecommerce!
Communication is key to the success stories of entrepreneurs in ecommerce
They say words are free, but how you use them may cost you. It's true for every aspect of our lives — and business as well.
Proper communication is instrumental to success, and Mary, an owner of a dropshipping store that brings $10k+ a month, says that you need to talk to your customers to build a trusting relationship. It will make them return to your store!
Having a good relationship with your suppliers may give you great offers you wouldn't have gotten the other way around. And interacting with other dropshippers can give you a ton of valuable knowledge and inspiration. So, use the power of words!
What can you learn from the success stories of entrepreneurs?
Everyone has their own story. But when looking at the stories of our clients, we can say that there's a unique path for everyone. It's all about finding the right approach that will suit you, and simply trying. You will never know if something works or not unless you try it, right? Test, experiment, and keep the basic things in mind to avoid making beginner mistakes.
Don't be afraid of them, though! Every success story of every entrepreneur has some ups and downs. No one has started a business and got it running smoothly from day one. People tried and learned from their mistakes, and that's what got them to where they are right now.
Any successful business owner can say that the worst mistake you can make is not giving it a try. Experiments are an essential part of the journey, and we need to embrace them so we can benefit from them. So, you are welcome to look through the success stories of entrepreneurs we collected for you, take notes, and use them for inspiration and new knowledge!