Top Online Marketplaces In Asia: AliExpress vs Lazada vs Shopee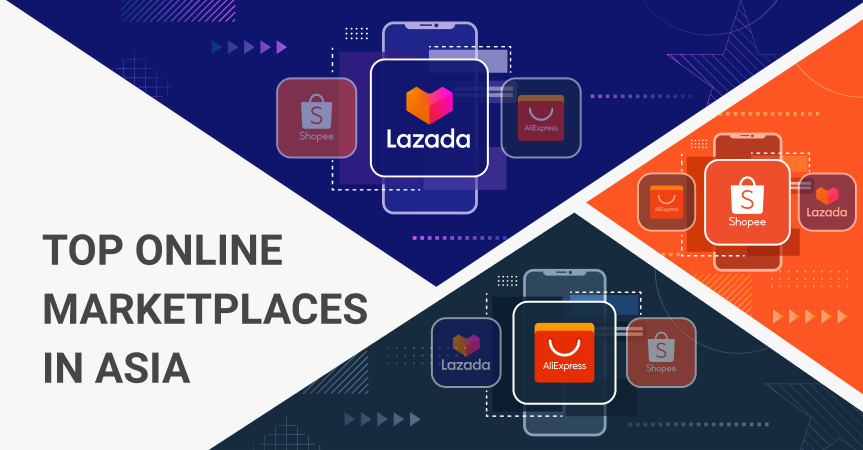 In this article, we will compare some of the top online marketplaces in Asia, AliExpress, Lazada and Shopee, in order to understand the differences between them and benefits they can provide for a dropshipping business.
In 2019, online retail sales exceeded 3.5 trillion dollars globally. And the number of people who buy products and services online keeps growing.
As ecommerce keeps developing, young entrepreneurs seek for alternatives to traditional business models. Dropshipping has become one of such alternatives.
It requires less starting budget and less investments to run the business. Even people who don't have a lot of savings can succeed in dropshipping and start making thousands of dollars each month.
Dropshipping is based on reselling goods from suppliers (manufacturers or wholesalers) to customers. In order to earn a margin, dropshipping businesses look for products with low prices. No wonder many of them choose ecommerce marketplaces in Asia as the source of their goods. Historically, this is where manufacturing facilities and warehouses of the world's largest corporations are located, so that's where everyone goes when looking for a smart business deal.
In this article, we are going to compare top online marketplaces in Asia – AliExpress, Lazada and Shopee – to see which one is the best for a dropshipping business and why.
Top online marketplaces in Asia: AliExpress vs Lazada
Lazada Group is an ecommerce platform in Southeast Asia founded in 2012. In 2016 it was purchased by Alibaba Group which turned the platform into Alibaba's regional "flagship".
Lazada's shops sell a wide range of consumer goods just like online sellers on AliExpress. The list includes electronic devices and accessories, health & beauty products, clothes for men and women, etc. You could say it's a Southeast-Asian version of AliExpress.
Hence the question: why not dropship from Lazada? Let's see what this platform has to offer.
1. Shipping coverage
One of the benefits of dropshipping is that your business doesn't need to buy inventory in advance. Dropshipping suppliers send products to customers directly. Therefore, your business can work with any destination as long as the platform's shipping serves this particular destination.
AliExpress serves dozens of countries worldwide, which is a huge benefit for a beginner dropshipper. However, Lazada operates only in six countries: Indonesia, Vietnam, Malaysia, Thailand, Singapore and The Philippines.
Moreover, each of these countries has its own site version. For example, if you want to order a product in Singapore, you'll have to buy it from www.lazada.sg. This makes dropshipping from Lazada limited to only one destination.
It's still possible to create a dropshipping website that can pick products from different site versions depending on the shipping destination customers choose. But even in this case, the shipping will be limited to six destinations.
2. Shipping cost and time
Many goods on Lazada come from local brands. That's why delivery time usually takes 3-7 days. It's much faster than what AliExpress can offer. In most cases, shipping costs about $0.74-2. Some sellers offer free shipping. Free delivery is also available in exchange for Collection Points.
But when it comes to products from abroad, the price can get a bit higher. Free shipping is still available, but in this case delivery can take up to several weeks.
3. Product prices
AliExpress and Lazada have very similar product categories. One can find the same goods on both these ecommerce marketplaces. Take a look at these two products:
As you can see, these are two totally identical plush toys. But let's look at the price. The toy on Lazada costs about US$37.7 while its price on AliExpress is US$33.55. The original price on the screenshot is in Singapore dollars. If we forget about the claimed discounts, the prices will be US$50.2 and US$38.12 respectively.
On the other hand, there are many brands on Lazada that you can't find on AliExpress. Moreover, since Lazada operates only locally, it sells groceries and pet food among other things – something AliExpress had to give up a few years ago.
Summing up Lazada's potential as an online marketplace for dropshipping
Being one of the top online marketplaces in Asia, Lazada has a lot of products to offer (including goods you won't find on AliExpress). But the prices there can be a bit higher than on the Chinese marketplace.
As a rule, shipping cost is lower and delivery takes less time on Lazada. On the other hand, the platform only serves six countries in Southeast Asia.
Top online marketplaces in Asia: AliExpress vs Shopee
Shopee is another popular internet retail platform in Asia. It was initially launched in Singapore but is now serving a number of other countries. It sells consumer goods just like the other two platforms.
1. Shipping coverage
As of now, Shopee can sell products to Singapore, Indonesia, Taiwan, Vietnam, Thailand, the Philippines, Malaysia, and Brazil (the only country outside of the region).
Just like on Lazada, customers need to buy goods from their national version of the ecommerce site to get parcels.
2. Shipping cost and time
When it comes to local products, shipping doesn't take very long. Delivery usually takes about 3-7 days even for the Brazilian version of the site. However, shipping goods from abroad can take up to several weeks. For Brazil, delivery time can take more than two months.
Shipping cost isn't high. For most products, customers have to pay not more than US$1. Many sellers offer free delivery in exchange for larger orders.
3. Product prices
The prices on Shopee are generally similar to those on AliExpress. Moreover, sometimes one can find even technically complex products that are cheaper on Shopee compared to AliExpress.
As you can see, these are identical drones (probably made by the same manufacturer). Still, its price on Shopee is lower than on AliExpress. In addition, you can find lots of local brands on Shopee that don't sell their goods on AliExpress.
Shopee stores also sell groceries which you can't find on the Chinese platform.
Summing up Shopee's potential as an online marketplace for dropshipping
Shopee offers a wide range of goods, as well as relatively affordable and fast shipping compared to AliExpress. On the other hand, the platform serves only 7 destinations in Southeast Asia and one country in South America.
Should you choose Lazada or Shopee as an online marketplace for your dropshipping activity?
Being among the top online marketplaces in Asia, these two platforms seem like a good choice for someone who wants to resell goods from AliExpress. The fact that you can find identical products on AliExpress, Lazada and Shopee confirms that some people do it.
However, if you consider building a WordPress dropshipping store using AliDropship solutions, neither Lazada nor Shopee a good idea, and that's why.
1. Limited market
First of all, I have already mentioned that the two ecommerce marketplaces ship products to 6 and 8 countries respectively. I'm not saying that Southeast Asia is an unattractive region for dropshipping. But the largest online retail market in the United States. Excluding this destination from your target list is a huge mistake.
2. No benefits from automated ecommerce tools
There is a range of helpful tech solutions for entrepreneurs, like AliDropship plugin, designed to let you build standalone dropshipping websites and ship goods to any country with the help of your suppliers. However, the plugin cannot dropship products from AliExpress to Lazada or Shopee.
In order to sell right on Shopee or Lazada,you will have to register as a regular seller there, pay listing fees and comply with the local policies – or find alternative dropshipping tools.
3. Smaller scope of action
Often people who want to dropship goods choose to sell products on ecommerce marketplaces such as Lazada, Shopee, eBay, Amazon, etc. They think that these sites work as advertising platforms.
Yes, these platforms do attract a certain audience and you have a chance to sell a product or two. But they cannot compare to social media marketing, especially Facebook. It is advertising on Facebook that brings you the highest portion of profit. Simply having your goods listed on Amazon or another platform can hardly beat Facebook promotion.
Which of the top online marketplaces are suitable for dropshipping?
Both Lazada and Shopee sell similar types of products. Therefore, it would be logical to consider dropshipping from these ecommerce marketplaces.
First of all, you could notice that in most cases delivery Lazada and Shopee takes less time compared to AliExpress. Even goods imported from abroad get delivered within a week or two since most such products come from neighboring China.
In addition, product prices aren't that different from what you see on AliExpress. Sometimes goods on Shopee are even cheaper.
However, there are several reasons why AliExpress is a better alternative.
1. Free shipping
On AliExpress, there are thousands of products that can be delivered for free. Yes, you can find free delivery options on the other two platforms as well. But in most cases this benefit is offered in exchange for larger orders.
As a rule, free shipping from AliExpress takes much longer than delivery from Lazada and Shopee. But it's mostly because the goods have to travel to other countries and continents. Dropshippers working with AliExpress usually solve this problem with the relatively fast and affordable ePacket.
2. International shipping
Picking Lazada or Shopee for dropshipping can be a good idea if you want to resell products in Southeast Asia. However, these platforms cannot deliver goods to the world's largest markets located in North America and Europe. For example, when developing our own Established and Premium Stores, The AliDropship team always targets the US market as the largest one.
Dropshipping from AliExpress gives you more choice in terms of shipping options.
3. Digital solutions for the top online marketplaces
Another important benefit of dropshipping from AliExpress is that there are plenty of digital solutions for creating and running such dropshipping sites.
Some entrepreneurs successfully dropship goods on Lazada and Shopee. But if you wanted to resell goods from these platforms in Asia with your own site, you'd have to do everything manually.
On the other hand, with the AliDropship plugin, you can not only build a dropshipping site and import goods from AliExpress, but also automate most parts of the sale process.
Moreover, AliDropship can offer a wide range of add-ons for the AliDropship plugin. They can help you customize your online store, create lucrative offers and a sense of urgency to raise sales, run social media pages and many more. In other words, there's a whole range of tools designed to make AliExpress dropshipping faster, easier and more profitable.
There's no doubt AliExpress is one of the top online marketplaces in Asia, so it's not surprising many entrepreneurs choose this platform for dropshipping. Today you even don't have to build your site from scratch. The AliDropship team can create a Custom Dropshipping Store for you. Or you can simply buy one of our ready-made businesses – Established and Premium Dropshipping Stores.