How Apple iOS 14 Update Will Affect Your Facebook Ads (And How To Survive It)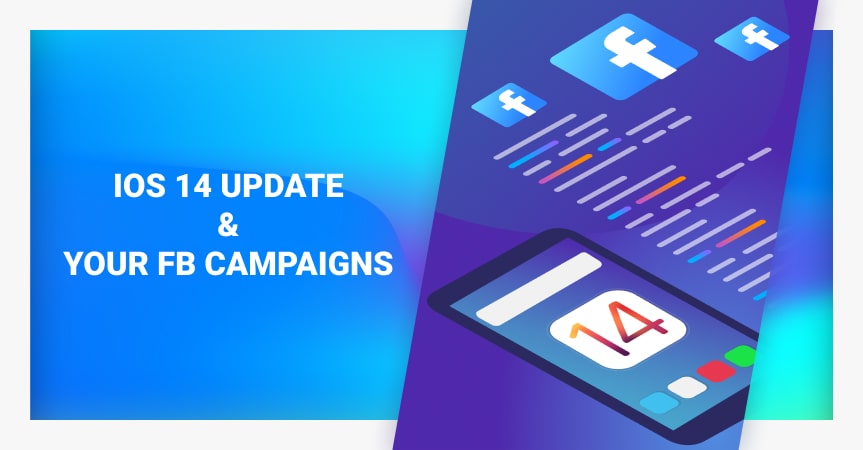 Is new always better than old? If we're talking about this certain Apple iOS 14.5 update, it's not true. Welcome the most challenging (hope, ever) update in Apple's policies that will probably give you a pretty hard time running and optimizing your ads and measuring the results. Let's find out what consequences we'll face and how to cope with them. So, it's iOS 14 VS Facebook ads! Fight!
Apple iOS 14 update: what's that?
First of all, what's the concept behind the iOS 14 update?
In simple words, Apple decided to improve the users' digital privacy. So, each app available in the App Store will have to show the iOS 14 users a pop-up asking if users allow tracking their data.
Fun fact: according to Statista.com, 79.9% of Facebook users only access it through the Facebook app on their mobile phones.
Among that 79.9%, there will definitely be a huge portion of those who will opt-out of data tracking. And for a reason: this pop-up is kinda creepy. Seriously. Would I like apps and companies to see what I'm doing and access info about me? No way!
If users opt out, it means that Facebook won't be able to access those users' data, and you won't be able to properly deliver your ads to them.
So, what changes in the advertising routine should you expect from the iOS 14 update?
What will Apple iOS 14 update mean for Facebook ads?
Less efficient ads
As Facebook is not able to track the opted-out users' behavior properly, the effectiveness of Facebook Pixel tracking drops, and all your advertising activities related to Pixel can go to waste. This will happen, for example, to conversion events, lookalike audience generation or retargeting (the size of retargeting audiences will shrink over time).
Less effective ads
Unfortunately, loss in ad personalization is expected as targeting options are getting weaker – which can result in 60% fewer website sales. As you're just unable to adjust your ad creatives properly for the audience, it means your ads won't be as effective as you'd like. Add more wasted ad spend to the pile.
Limited optimization
With iOS 14.5, you can use only 8 pixel events per domain for optimization. So, it's time to prioritize events you'd like to track on your site.
However, this cap limits only the number of events you can optimize towards. So, you can still track more events for reporting and audience creation.
Delayed measurement
The new default attribution window will make measurement a bit more complicated – it will contribute to under-reporting on organic as well as paid channels. And expect a 3-day delay in ad reporting data display.
What's the attribution window? It is a finite period of time during which conversions can be credited to your ads and used to inform campaign optimization. Read more about attribution windows here.
Anyway, despite all the "now you can't"s, we're sure you can work things out and still run effective ads on Facebook!
How to deal with iOS 14 Facebook ads 'innovations'?
Here are some actions you need to take now to be able to advertise properly:
Verify your domain with Facebook

Decide on the 8 conversions you'll be tracking
Click here for the instructions by Facebook OR keep reading for the detailed instruction with screenshots 🙂
And here are some extra actions you can try:
Exclude iOS devices when you run Conversions campaigns
When you create a campaign with the Conversions objective, the Facebook algorithm does its best to learn and optimize the ad process to be able to get more actions from users that you desire (e.g. purchases). So, to give the algorithm some room for optimization, try running ads for Android devices only. We're people, too! (guess what phone model I own :D)
Of course, it's just a temporary solution.
Start using UTM-marks if you haven't yet
In times when you can't fully rely on Facebook Pixel, evergreen UTM-marks will tell you if a sale or conversion occurred as a result of this or that ad. A UTM-mark is a small addition to the link that helps you track all user activities in Google Analytics.
Read here to learn more about UTM-marks.
Get hands on users' data yourself
If not you, who else? Ask for users' personal info (e.g. first name, last name, or email address) right in the conversion process. How? Inspire people to create an account or set up a subscription pop-up on your site (we can assist with it). Probably, you'll need to offer something in exchange – like a discount promo code. Later, you will simply upload these users' data on Facebook and be able to generate custom audiences and lookalike audiences for advertising purposes. Bingo!
iOS 14 Facebook ads countermeasures: step-by step explanation in detail
Listen, we truly want this article to be useful, not only some chit-chat about theory. So here are the practical steps you need to take to verify your domain on FB and set up Facebook Pixel events according to this new Apple policy for iOS. Probably you've already seen a warning in your ad account that you need to do that. So, let's verify your domain name!
Verifying your domain name with Facebook
Go to your Facebook Business settings > Brand Safety > Domains. Add your store's domain name there and verify it by one of the three methods.
We'd recommend "Meta-tag Verification" as the easiest. Just copy the short piece of code (together with the "<>" brackets!):
Then, go to your WordPress admin area > Customization tab > Head field. Paste the code and click "Save". If you already have a Google Analytics tag there, just insert the domain verification code below and click on "Save":
Then, you should add the needed events to your Pixel.
Adding the necessary events to your FB Pixel
Go to Facebook Events Manager, choose your store's Pixel there and click "Aggregated Event Measurement":
Click on "Configure Web Events":
Then, click on "Edit Events":
Click on the "Add Events" button:
Very important! Choose the correct Pixel (the one you use in your Facebook Business add-on/on your site):
Add 4 events and place them in this order: View Content > Add to Cart > Initiate Checkout > Purchase (from lowest to highest). The lowest events are of the lowest priority and the highest – of the higher priority.
Now, you're ready for the iOS 14 update! It is very likely that there will be some ways around discovered soon anyway – which will let Facebook advertisers sleep with a peaceful mind.
Hope this article was helpful and we didn't discourage you much and you still want to advertise on Facebook 😉 Moreover, as it's still one of the best platforms for advertising, it's our duty as dropshipping business educators to discover and explain how to conform and work with what we have. Now you know what to expect from the Apple iOS 14 update – forewarned is forearmed! Happy dropshipping, and may luck and big profits be with you.