How To Dropship Fashion Accessories With Fast Shipping Across The US?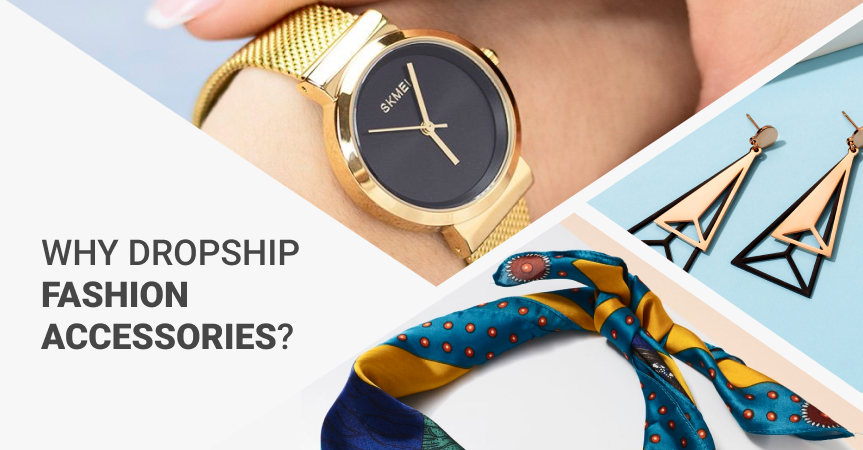 Fashion accessories are quite popular in many markets including the United States which is one of the largest markets in this industry. So, it's a good idea to dropship fashion accessories as long as you can offer high-quality products and fast shipping. Let's take a look at this niche and analyze its potential.
Why dropship fashion accessories?
We've already talked about beauty products and apparel as potential products for your online store. Both these niches are related to the fashion industry, but there's another category of products we haven't mentioned. I'm talking about fashion accessories.
It's a broad niche that includes such goods as watches, jewelry, sunglasses, handbags, gloves, scarves, hair accessories, headwear, and more. Although some of these goods aren't really suitable for a dropshipping business, many still feature the qualities of a profitable product.
They generate impulse purchases
Being fashionable items designed to complement one's outfit, accessories tend to generate impulse purchases. In other words, people tend to buy such goods simply because they liked them the moment they saw them. And as long as there's nothing stopping them from this impulse (such as too high prices or a complicated purchase process), shoppers will buy the item right away.
Another important quality of fashion accessories is the fact that they're easy to transport. Most accessories are small and weigh little, which is why delivering them will hardly cost a lot of money.
Besides, there's little chance a belt, or a bracelet, or even a pair of glasses won't survive transportation. With proper packaging, everything will be delivered undamaged.
Of course, some accessories can cost a lot. I mean jewelry made of precious metals or handbags from popular brands. But people rarely buy such products online.
At the same time, most accessories don't have to cost a fortune. A simple and cheap yet good-looking accessory can do the job well enough – especially if you're selling something unique that's difficult to find in a brick-and-mortar store.
And finally, it's a good idea to dropship fashion accessories because it's an evergreen niche. Yes, a particular piece of fashion jewelry or a handbag can go into and out of fashion. But the overall demand for this category of goods is stable. Therefore, a customer who liked your offer will most likely come back after a while to check new offers and trends.
The United States is one of the world's largest fashion accessories markets which also features a highly developed ecommerce segment. According to Statista, the revenue in the US accessories market is expected to grow annually by 2.57% in 2021-2025 (from $94.3 billion in 2021). And 17% of total revenue in this market will be generated through online sales in 2021!
Moreover, by joining Sellvia (a US-based fulfillment center and product supplier), you can provide US customers with super-fast shipping. Sellvia offers hundreds of goods including fashion accessories that you can dropship to US customers. And it'll take just 1-3 business days (+1 day for order processing), so you can compete even with huge businesses.
So, does it sound like a highly profitable market? Would you like to benefit from this niche? But first, you're going to need an online store!
How to dropship fashion accessories: building an online store
One may think that building an ecommerce website isn't a big deal. As long as it showcases your products and can process payments, any kind of website will do. However, today it's not enough to make a working website to attract customers.
Every little detail matters! The site's structure influences web usability and how long it takes visitors to get to certain pages. The choice of colors and banners defines whether visitors will trust your business or not. The quality of product images, the urgency elements you use, and the time it takes to place an order will either make a visitor buy something or leave your site.
If you possess the required knowledge and experience, you can build a WordPress-based dropshipping website on your own by using the AliDropship plugin or the WooCommerce plugin. Both these solutions work as site-building tools.
If you want to dropship fashion accessories to the US with Sellvia, you can simply subscribe to it after building your store as it's compatible with both AliDropship stores and WooCommerce shops.
Alternatively, you can order a Custom Store from Sellvia. In this case, the team will create a website according to your vision, set up payment gateways, and do everything you need to launch the store.
If you don't have the necessary skills or time to build an ecommerce website on your own, this is your best choice.
But let's get back to our niche and talk about what kind of products you can sell to potential customers.
How to dropship fashion accessories: selecting products
Accessories
In this category, you will find a wide range of products including such accessories as scarves, belts, ponchos, wristwatches, and more. For example, a wristwatch is just an accessory today when we all can check the time with our smartphones. Nevertheless, according to a 2018 Statista report, 62% of Americans who came from households with an annual income of less than $50,000 regularly wear wristwatches. As the level of income rises, so does the percentage of people who regularly wear watches!
Bags and wallets
The North-American handbag market was estimated at $10.34 billion in 2020. By 2028, it will reach $17.91 at a compound annual growth rate of 6.8%. Thanks to the high disposable income and the increasing influence of the fashion industry, the demand for this product type is going to grow in the nearest future.
Fashion jewelry
If you want to dropship fashion accessories, you simply cannot do without fashion jewelry. Many such products are very affordable and easy to ship, which makes them ideal for dropshipping. Besides, they are easy to buy online as you don't need to try them on. As of 2019, the US fashion jewelry market's size was estimated at $15.6 billion and is expected to grow at a CAGR of 5.3% (2019-2027).
Hats & hair accessories
Also, don't forget about another popular segment in this niche – hair accessories. In many ways, such products are similar to fashion jewelry, except they can be not only nice but also useful accessories for people with long hair. Various hats will make your offer even more interesting.
Sunglasses
And finally, consider selling sunglasses to American customers as most revenue in this segment is generated in the United States ($4.14 billion as of 2021) and the segment is expected to grow at a CAGR of 6.66% in 2021-2025 according to Statista. Here you can offer various models for both men and women as well as related products.
So, why dropship fashion accessories? Such products perfectly suit the dropshipping business model as they are mostly affordable, stimulate impulse purchases, and are easy to deliver. Moreover, with Sellvia's fast shipping across the US, you can expect more thankful and loyal customers.