How To Dropship Car Accessories And Benefit From Sellvia?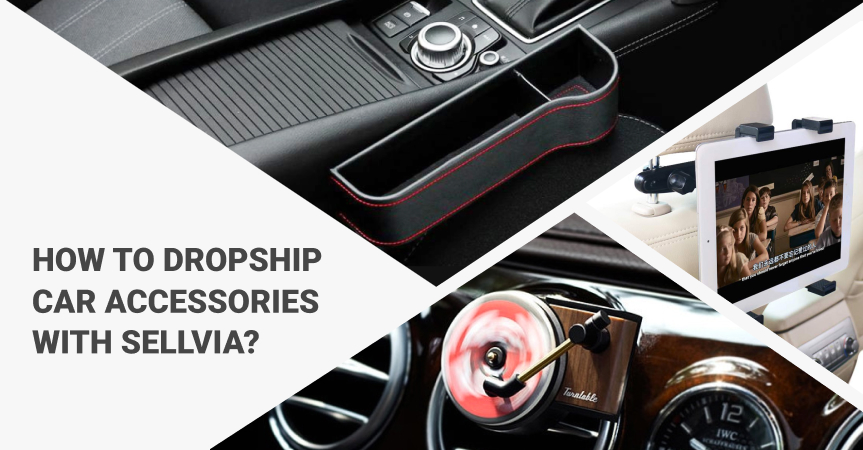 If you want to launch an online store and are considering selling products to customers from the United States, it's a good idea to dropship car accessories. Furthermore, those who want to target the US market can benefit from Sellvia's super-fast shipping that takes just 1-3 business days!
Why dropship car accessories?
Picking a niche for your dropshipping business, you need to consider lots of factors. The specific features of your target market is one of them!
Owning a car in America isn't a privilege but a necessity. According to the US Department of Transportation, there are 276 million vehicles registered in the country. That's 91% of all American households! Therefore, it's a good idea to sell car parts and accessories to all these drivers.
But wait a minute! A small dropshipping store can hardly sell auto parts. Such products are expensive, technically complex, and probably require a license. Besides, what kind of driver would buy a car part from a no-name online shop?
True. And that's why, instead of selling auto parts, you should dropship car accessories!
There are plenty of things a car driver may need both during a long journey and everyday commuting. Smartphone holders, essential oil diffusers, USB-charger ports, leather repair gel – these are just several examples of car accessories to dropship.
Such products are perfect for dropshipping for a few reasons.
Car accessories are useful
Most of these items are designed for particular functions – to make driving more comfortable or safe or to help drivers clean or repair their vehicles. A product with a clear function is easy to advertise because there's no need to convince potential buyers that they need it. Showing how easily a tool removes ice and snow from car windows is enough to get people interested.
Car accessories are not technically complex products
As you probably know, it's a bad idea to dropship fragile or technically complex goods since they can break easily. As for car accessories, even if it's an electronic device, such accessories are quite simple and can hardly break during transportation.
They are small and lightweight
Such items don't weigh much, so shipping them won't cost much.
There's a wide range of goods to choose from
And finally, when it comes to car accessories, there's a wide range of products to sell online. Moreover, with so many useful tools in stock, it's relatively easy to raise your average order value by offering related goods.
Therefore, if you want to sell to the United States, car accessories are a very promising niche. After all, one of AliDropship's most successful dropshipping stores was built around it, and now it makes over $500,000 per month!
Products to choose for dropshipping car accessories
An ideal product is a high-quality item that solves an issue and doesn't cost much. Fast shipping will also be a pleasant surprise for customers and a serious advantage for your business.
The products available on Sellvia have all these traits. So, let's take a look at what kind of products you can dropship from Sellvia.
Car electronics
Smartphones always run out of power at an awkward moment – for example, when you drive to work in the morning. So, having a USB charger port or a wireless smartphone charger will solve this. And if you're going on a trip, such devices are a must!
Car safety
Safety is another issue that worries many drivers, especially those who have children. Car accidents cause over 5,000 permanent injuries every day! That's why we tend to choose safer cars, drive carefully, and stick to speed limits. But if an accident happens, getting out of the car can be difficult or even impossible without the help of emergency response groups. Or without this emergency tool with a glass window breaker and other useful functions.
Car wash & maintenance
Most car owners take good care of their vehicles. Everyone wants his or her car to look shiny. Besides, good care extends a car's life cycle, so products for cleaning and maintenance enjoy high demand. The global car care products market is expected to grow from an estimated $4.2 billion in 2021 to $5.5 billion in 2027.
So, compact cleaning tools will make a good offer in a car accessories store.
Goods for comfortable driving
Today car manufacturers make vehicles as comfortable as possible. Nevertheless, it's difficult to keep pace with all the devices and trends that emerge every year. Besides, often comfort is a private matter.
Therefore, if you want to dropship car accessories, it's a good idea to offer various items for comfortable driving.
Car interior accessories
Along with useful products that make driving safer or more comfortable, one can also offer a range of decorative accessories. Goods like magnets and charms can evoke strong emotions and lead to impulse purchases.
Travel & roadway products
And finally, those who travel a lot and cover long distances by car can benefit from various products that will make such trips more comfortable. After all, more Americans go on road trips lately, and they can make use of trash bins for cars, tablet holders, dog seat covers, pillows for your neck, etc.
Final thoughts on dropshipping car accessories
Car accessories are a very interesting and promising niche. Its products are relatively affordable and mostly useful, which makes it fairly easy to advertise them. On top of that, the sheer number of car owners in the United States guarantees high demand for such goods in this country.
The only problem one can face is delivery time. American consumers are used to getting orders in a day or two, so they often find waiting for two, three, or even four weeks unacceptable. And this is where Sellvia can help your business.
Since Sellvia's warehouse is located in the US, this wholesaler can deliver goods to American customers within 1-3 business days (+1 day for order processing). So, if you want to dropship car accessories to the United States, launching the business with Sellvia will bring you unquestionable advantages!