How I Started My Online Business From Ukraine: Vladimir's Story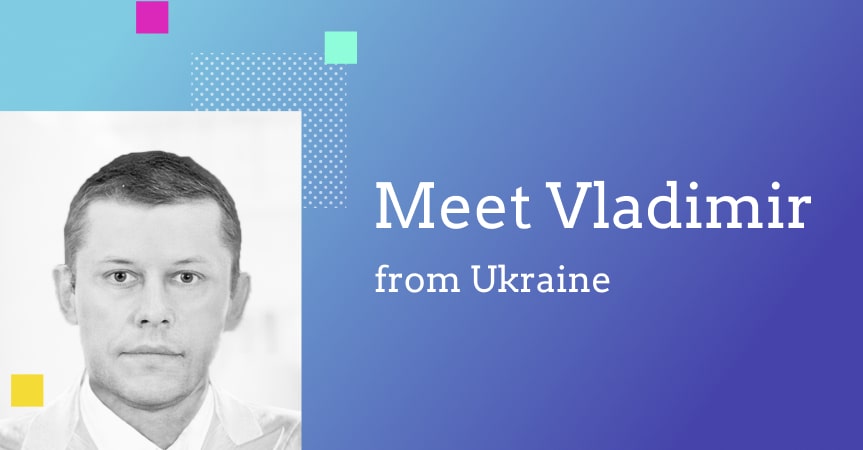 How do you start an online business if you live in Eastern Europe? Who do you target it at and what promotional channels do you use? How do you make it legal? There are many questions that an ecommerce newcomer needs to deal with!
Today, we're talking to Vladimir, an owner of 2 online stores, and discussing his personal experience in the field. As a successful dropshipping entrepreneur, he surely has some bits of wisdom to share. Let's welcome him and ask how he started his business from Ukraine!
Disclaimer: all the success stories published in AliDropship blog are the results of interviews conducted in the written form. Even though the editors may make some minor changes to the grammar, spelling, and/or punctuation, the respondents' writing styles, views, opinions, stores screenshots and personal photos are left unchanged.
Hi, please introduce yourself!
Hi, I am Vladimir, born and raised in Ukraine. I've been working online for over 12 years and making money from online marketing and advertising on the Internet. 3 years ago I also started my own dropshipping business.
Can you tell why and how you started your business in Ukraine with the dropshipping model?
I chose the dropshipping business model because it's one of the few ecommerce strategies that lets you make decent profit without experience and spending much time and money. My education is technical and I wasn't taught how to be a businessman. But my long history of doing digital marketing was more than enough to help me start.
I first heard about dropshipping quite a long time ago but didn't initially consider it as a serious business. It was only in 2017 when I changed my mind after I came across some AliDropship materials explaining how this business model works. I liked that there are instruments that make dropshippers' life easier and a qualified support service that helps a lot. The knowledge base was also detailed and priceless for a beginner with no experience. So that's what convinced me to try it.
How did your dropshipping journey begin?
My first dropshipping sale happened in 2 days after my store started working. It was a client from the USA who bought a multifunctional screwdriver set. My net income from this order was almost $20. I was really happy and satisfied with it.
In fact I did nothing extraordinary or complicated to achieve this first sale. All that I did was buy a domain, pay for hosting, import products from aliexpress.com using the free extension from AliDropship and post links to these products on social networks. And the result was not long in coming.
Now I have 2 dropshipping stores. Here are their recent performance numbers:
What is your product strategy?
When I was choosing business niches, the most important things for me were the products' demand, popularity and price. Now I constantly monitor aliexpress.com to see new arrivals and add them to my stores if I like them. I pay attention to suppliers' rating, number of orders and customer reviews when I choose products. A reliable and proven supplier is very important if you want the business to work well.
Usually I double prices and get a 100% price markup. But sometimes it's less than 100%: I compare final prices to Amazon and eBay prices and try to make them not very high.
How do you manage your business on a daily basis?
I spend 1-2 hours every day on management. Mostly I spend this time to create interesting video reviews for my products. Sometimes there are business tasks that demand a lot of time and I look for solutions to help me complete them quicker. For example I use AliDropship plugin, Social Rabbit plugin, Google Merchant and Facebook Business. These instruments are of great help when I need to import new products, create ad materials and see detailed analytics on store visits, sales and profits.
How do you promote your stores?
When I started my business I was placing paid ads in Google Merchant and Facebook. Now I try to step away from paid advertisements. I mainly promote my stores through social media: Facebook, Pinterest, Twitter and some others. Mostly I post video reviews of the products on social media. And I have a very diverse target audience. Even my returning customers are people from different countries, of different ages and genders.
How do you deal with difficult customers if there are any?
I set up my business in a way that minimizes customers' complaints. So buyers don't usually have any problems with their orders.
There was a difficult case last year. A person mixed my store with some other store where he previously bought something and got scammed. So he wrote to me and demanded to return his money and insisted on it even after I explained that he's wrong. He then wrote a complaint to PayPal but PayPal didn't take any actions on me because I truly never received any payments from this person. And he even wanted to sue PayPal after this!
I asked him to make a screenshot of his payment with the name of the product he bought. After he sent it to me, I typed the name of his product in Google search. From the search results, I selected several sites with products matching the product name from the screenshot and sent them to him. I asked him to look at them and remember which one he really bought. In a few days, he wrote to me and said that he really was wrong and apologized a lot.
Did you register your online business officially?
Yes, my business is 100% legal. I registered it in the USA, in Wyoming. There are simple requirements, especially if you are a non-resident. Now I only have to pay the registration fee and the payment for intermediary service. It is about $200 per year.
After you started a business, how has your life changed?
In many ways! First of all, I earn more now. I am not dependent on a fixed workplace, I have no boss, I plan my free and working time on my own, and I am emotionally satisfied with this business.
I plan to keep working on the business, develop it further and improve my sales and profits. Also I am thinking about new strategies that I can try to promote my products better.
My family helps me run the business and my friends are also interested. They constantly ask how it's going but none of them have yet decided to start their own business.
What can you advise our readers – those who already run their stores and those who didn't start the business yet?
If you already have a store, I wish you the best of luck. And if you are only thinking about how to start an online business, stop worrying and doubting and start making money!
Now, you know much more about how to start an online business with little experience – and what to expect from it! And if you want more detailed, step-by-step guidelines to help your online business idea come to life, you are more than welcome to check this free in-depth guide for newcomers!