Home Security Products To Dropship: The Best Items To Add To Your Store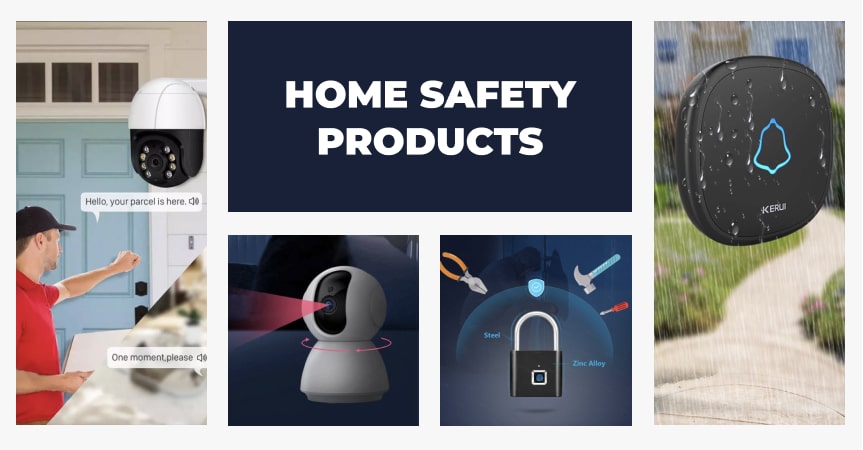 It's no secret that everyone wants to live in a safe and secure home environment. In the past, however, not everyone could afford various home security devices to create comfortable circumstances in their home. Although, now, home security products are accessible and affordable to practically anyone.
Nowadays it is incredibly easy to buy and install all the needed home security items. Every year, new trends pop up, the technology improves and as a result, home security products become more effective.
In recent years, the demand for home safety products has increased and it's no coincidence. It is a result of a growing trend of implementing smart homes where the security systems are an integral part. At the same time, with how easy it is to control and manage gadgets for home security nowadays (you can do it even from a regular smartphone device), it makes it a very unique product offer that many consumers can easily afford.
How is it so affordable? By sourcing products from AliExpress, you can find great items at beneficial prices.
Furthermore, not all consumers implement expensive security systems in their households, some consider installing certain individual pieces such as alarms, cameras, or simple lockers to ensure their protection and security of their possessions. And you can create a dropshipping store offering these products!
So, let's jump straight into it and find out why you should start a dropshipping business selling home safety products!
A general overview of the home security market
Smart home security is not something new: security and control systems have been among the most popular smart home devices over the last several years. And from what's being projected, it is only going to continue to grow. According to Statista, by 2026, the US smart home security market is expected to reach $8.95 billion in revenue.
Analyzing Google Trends, home security is a rather popular search query and the demand has been steady over the last several years.
Where do most of the search queries come from? What market is the most prosperous?
The most amount of search requests comes from the United States. Moreover, according to data analysts, 38% of US households own a security system.
Let's look at what home security products consumers in the US want to purchase.
Evidently, many people are considering the purchase of a home security system. Most of them don't even require professional installation. And you can hit the jackpot by convincing these people to buy these products on your online store!
Moreover, almost all of the mentioned above products can be ordered from AliExpress!
However, you must keep in mind that home security products are a pretty technically complex category of products. That means, this niche will be great for those who understand and can clearly explain the various characteristics of certain products. And of course, as the owner of the store, you must be willing to learn the basics of installing and managing these items if your customers come asking for your help. Being an expert in your field of work can only bring you benefits and what's most important – happy customers.
So, what kind of products can you include in your online dropshipping store?
What home security products can you dropship?
Surveillance cameras
You don't have to focus strictly on whole systems, you can also offer cameras by piece.
Surveillance systems
On AliExpress, you can find all kinds of security systems in different price ranges.
Surveillance accessories
You can broaden your product range by offering different accessories for surveillance products, such as holders, adaptors, and even separate cameras.
Baby monitors
Watching over the little ones is especially convenient with baby monitors that can be placed anywhere. With the help of baby monitors, it is possible to watch over the babies even from a separate room!
Security alarms and sensors
AliExpress also has different types of alarms and sensors that are supported by various smart home devices. All you have to do is connect via Wi-Fi or Bluetooth.
Smart doorbells
Your customers can forget all about those old peepholes and seamlessly install wireless doorbells for more comfort.
Audio doorbell
Video doorbell
Useful home safety products
Some of the items can be used for personal protection and keeping your personal belongings safe as well.
Smart padlocks
Smart trackers and alarm sensors
Self-defense alarm
Safes and lockboxes
Should you dropship home security products: Final takeaways
Home security products are getting more and more popular in the households of ordinary people. And with the market growing annually, you have a chance to establish a profitable dropshipping business selling these products. Although we tend to suggest staying away from technically complex niches, here you don't need to make things too complicated. You can offer a broad range of products that don't require, you or your potential customers to be technical experts.
With that said, we hope that with the insightful information provided in this article, this niche will help you create a beneficial dropshipping business and make you an impressive amount of profit. If you want to learn more about what niches and products can bring you a hefty income, check out our blog!
If you want to start your dropshipping business, AliDropship provides you with an opportunity to do so. All you have to do is order your store, and our specialists will make one catering to your specific preferences and needs. And why wouldn't you want to launch a dropshipping business? It's the most risk-free and cost-effective way to start your own ecommerce venture!