Fantastic Affiliate Marketing Success Story: Eartha Shares Her Life-Changing Experience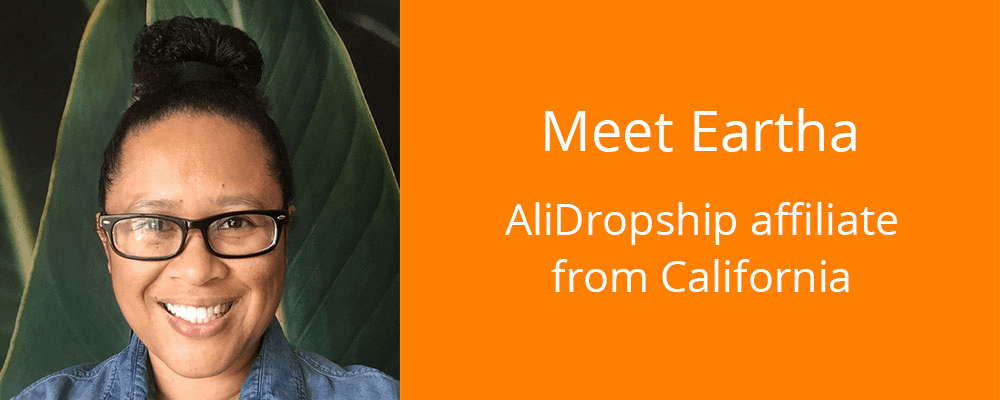 Some people believe affiliate marketing success is unrealistic. Traditional affiliate programs don't give the participants the opportunity to earn their living, and sometimes, cause more trouble than benefits. Still, there is an exception to every rule.
The volume of profit you receive from participating in any program of this kind (and therefore, your affiliate marketing success) heavily depends on the terms and conditions dictated by the merchant.
This is why various affiliate programs offered by AliExpress, Amazon, etc., don't really have a future: commission fees are so humble and payment restrictions are so abundant that hardly anybody would rely on these programs in search of a stable source of income.
But, there still is something valuable that you can get out of these programs: I'm talking about knowledge, experience, and, most importantly, courage.
For thousands of people around the globe, the world of online business is unfamiliar and somewhat scary. For them, getting registered in an affiliate program means making their first steps in the ecommerce field – and later on, these steps can turn into a full-scale online business journey.
Understanding this, our team has developed its very own, independent affiliate program that both serves our interest and introduces entrepreneurs worldwide to the concept of dropshipping.
The best part? It's more generous that you would expect!
How AliDropship supports your affiliate marketing success
To begin with, AliDropship affiliate program is free to join: even if you've never been the client of AliDropship before, or if you have absolutely no idea about the dropshipping mechanism at all, you can still register in the program – it will cost you nothing to participate.
After you get registered, you get your special affiliate link – you can freely put it in any type of the content you're creating online (for example, the posts in your social media accounts, or the articles you're writing in your blog, or the videos you're adding to your YouTube channel, etc.).
What is more, you also receive a ready package of professional advertising materials from AliDropship marketing specialists. If you don't have enough experience in promotion yet, you can safely use the ready-made banners, texts, etc.
So, your aim is to raise awareness about AliDropship solutions, and motivate your followers/readers/viewers on purchasing something from the company. Our specialists can track and see every purchase that occurs through your affiliate link. Therefore, as the result, you receive a lucrative commission for every order that happened because of your effort.
Yes, you've read it right.
You receive 50% commission for every purchase of AliDropship plugin, Social Rabbit plugin, AliDropship themes and Premium Stores that has originated from your affiliate link.
You earn 30% commission for every sale of a custom store, supreme store, or add-on that happened thanks to you. In fact, it means that you can get up to $869 from a single sale: it happens if a person orders the supreme custom store package via your affiliate link.
This way, AliDropship affiliate program gives you the following:
An online business with zero startup costs
Many people just can't afford launching their own ecommerce business as they literally have no financial savings for this purpose. For them, this program is an affordable way to source the money for the venture of their dreams.
Extended knowledge in dropshipping
While creating promo materials to put the affiliate links in, the program participants eventually learn more about the essence of dropshipping, and, as they gain both the knowledge and the financial backup, they gain the opportunity to go further.
Motivation to get a self-owned business
When the affiliates feel confident and knowledgeable about the niche they're taking, they naturally want to build their own, independent businesses. For them, AliDropship affiliate program becomes the first step on the ladder to success.
And, speaking of affiliate marketing success, I must surely mention Eartha. This is one of the most prominent participants of AliDropship affiliate program. She does an incredible amount of work to spread the word about our solutions. Needless to say, her earnings are quite impressive, too.
So, let's listen to her first-hand experience!
How to be a successful affiliate marketer: Eartha's story
Hi, please introduce yourself!
My name is Eartha and I'm from sunny San Diego, California. I have a background in web developing. My previous job involved creating WordPress websites for attorneys.
Did you have any previous experience in e-commerce/affiliate marketing?
My only experience with eCommerce was when I did freelance web work. I installed and helped manage an eCommerce store for a former client. I had a tiny bit of experience with affiliate marketing from learning about it many years ago.
Why did you choose affiliate marketing, after all? How did it all begin?
Years ago when I got my very first web job, I decided to search for a new job that was closer to home. I was commuting two hours a day (to and from work) and was tired of it.
One job interview I went on was linked to a company which owner made millions selling an eBook teaching people how to make money online.
I didn't get the job but it was my first exposure to affiliate marketing. Once I learned about affiliate marketing, I was hooked. I immersed myself in the topic and I knew that I wanted to pursue it full-time.
Unfortunately, I didn't take affiliate marketing seriously until I was laid off from one of my previous jobs. It was then that I decided to pursue my dream of being an affiliate marketer.
I had to get another job in the meantime. However, I also found an online course that I liked, followed the training, and worked hard on my websites. I was able to transition into working for myself fifteen months after starting that job.
How did you learn about AliDropship products and AliDropship Affiliate Program?
I am always on the lookout for different types of online business models. Dropshipping was interesting for me, but I wanted to find a WordPress solution. I read about the AliDropship plugin online, visited the website, and liked what I found immediately. So, I purchased the plugin right away. In my blog, I wrote an article about the plugin and began to get traffic to that article. I searched to find out if AliDropship had an affiliate program and it did! I signed up and have been promoting it ever since.
Do you participate in other affiliate programs?
Yes, I promote other affiliate programs. Primarily, it's products and services that I use in my own online business.
What are the most difficult challenges of being an affiliate? How do you deal with them?
One of the biggest challenges is self-discipline. When you work for yourself, it is easy to slack off. I could easily spend my days wasting a lot of time hanging out, browsing social media, etc. To deal with this challenge, I create a work schedule for myself. I wake up at the same time each morning and follow a routine. I know that the work I do today will pay off 6 months down the line. However, I still enjoy the flexibility of working for myself. It is nice being able to go to my appointments without asking permission from an employer. It is also great to take days off when I want.
How much time does it take you every day to manage your blog/Youtube channel? Which task(s) demand more time than others?
I probably spend an unhealthy amount of time on my computer. Some days I can work all day and into the night. However, on most days I work between 4 and 6 hours. That includes writing content for my blog and creating YouTube videos.
How has your life changed? What do your friends and family think about your business?
I am a lot happier as I get to spend my time working on projects that I love. I am able to be creative and it is a lot of fun to see the work I've done create income. My family and friends have always been supportive. They don't necessarily understand what it is that I do but they are happy because I'm doing what I love.
What are your plans for future?
I want to create a large portfolio of websites in various niches as well as create an online course of my own.
What can you advise our readers – those who already work as affiliates and those who didn't become an affiliate yet?
My best advice for new and experienced affiliate marketers is to stay consistent. I wasted a lot of time jumping from one thing to the next. I didn't find success until I focused on one thing and put in consistent effort.
We are sincerely grateful to Eartha for such an honest and extended feedback, and we hope it will inspire you to join our program: your affiliate marketing success will open the door to new opportunities in your professional and personal life!