How We Use Facebook Ad Optimization To Make The Most Efficient Campaigns [9 Examples]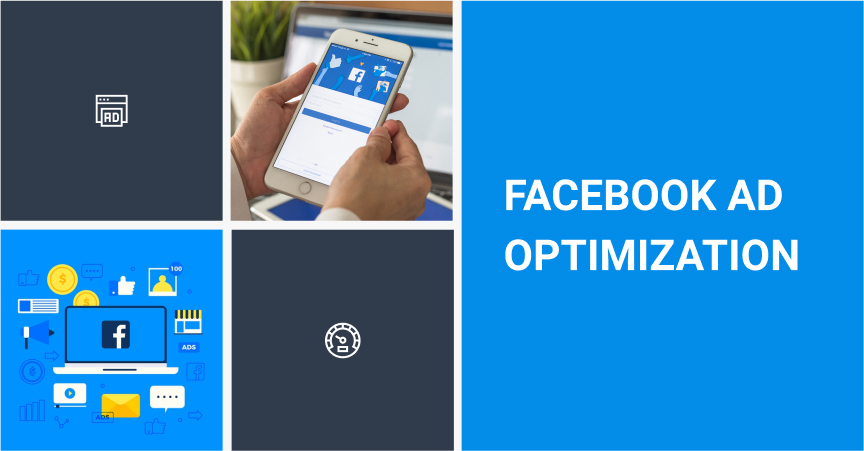 How can Facebook ad optimization help you reach your business goals, and how can you do it? We are thrilled to share our own experience!
Our company and the majority of our clients use Facebook ads for stores promotion. If you set up targeting in a right way and make catchy ads, a large audience of this social platform can respond positively to the promotion of your products.
Unfortunately, it's almost impossible to predict which ads will be the most appropriate for your audience. That's why we use Facebook ad optimization to test all the versions and ideas (even the most ridiculous ones), and try to understand which ones are actually going to perform better. The ad campaign optimization allows us to reduce the cost per click (CPC), improve ad's click-through rate (CTR), and, finally, increase the number of sales with the same advertising budget. Here are 9 strategies we'd love to share!
1. Facebook ad optimization: modifying ads text
Gone are the days when ads were written only in a formal language which gave no room for creativity and emotional engagement. Today you should be inventive, and your ads on social media platforms shall conform to the format which implies the lingo usual for this audience. Besides that, there should be some emojis which are not to be overlooked.
Emojis are designed to express emotions or actions in the graphic form. The following are the most frequently used emojis for online stores. 👍🤳🏃‍♂😍💥🔥🌟🗯💕💰💸🛒🎁🛍👗👜💄💍💯‼❗🆒🆕🆓💲📣. To find more of them click here.
To test how emojis actually work in online stores promotion, we decided to experiment with our own stores.We took one of our products and made two kinds of ad for it. The first one was short and simple with a lot of emojis. The second was very long one written more formally. By the way, the second ad was based on our competitors' advertisement that has shown a high audience engagement.
The cutest air humidifier you've ever seen! 😍 Keeps your skin moisturized and air fresh 💧🌎 FREE DELIVERY ✈️
VS
Meet the new humidifier. Where minimalistic design meets the countless benefits of a humidifier. Tap "Shop Now" and add a sleek and health-improving touch to your home!
The outcome is obvious. The short ad with emojis has the CTR (the ratio of users who click on a specific ad after seeing it) that is twice as high as the longer one! Meanwhile, the CPC of this ad is almost two times lower. Therefore, we got twice as more click-throughs from Facebook to our store for the same budget.
2. Facebook ad optimization: explaining discount
It's better for you to make ads during sales events or provide a discount on a particular product you want to promote. Human nature does not give us a change to skip one more drop-dead bargain, though we all are oversaturated with the messages about unprecedentedly high discounts.
The next test is to optimize the ad text on FB to figure out what is more attractive – the message with the discount rate or the one with the product final discounted price.
That feeling when your iPhone case is a work of art 💙😍 Get yours now with 50% OFF and FREE delivery 😱
VS
That feeling when your iPhone case is a work of art 💙😍 Only today $14,49 + FREE delivery 😱
The result clearly shows that ads should contain the discount rate because such messages assure higher CTR and lower cost of click-through from FB to the store.
Nevertheless, we recommend you to test both variants in each specific case because if the discount rate is not impressive and amounts up to 5-10%, it would be more appropriate to highlight the final price.
Moreover, those clients who click the link in the message with a final price are more likely to buy that product. Summing up, we draw your attention to the fact that it's necessary to evaluate not only CTR and CPC, but also sales from advertising.
We have one more message variant that we have not tested yet. It sounds like "you save $$". It means that you may indicate not only a discount rate and final price, but also a sum to be saved in case of buying the product at a discount.
3. Optimization for ad delivery
Facebook suggests us to optimize our ad campaigns automatically. If you want to use this opportunity, you need to find the option that is called Optimization for Ad Delivery in Ad Sets and choose one of the optimization ways:
Conversions

– Facebook analyses those users who have converted (for this purpose you should instal FB Pixel on the website and set up conversion targets – buying, adding to cart, etc.). Then, it shows your ad to those who are more likely to buy your product according to FB. This option in Facebook ad set optimization is available only if you have accumulated sufficient conversion statistics.

Landing Page Views

– Facebook will show your ad to those who are more likely to click on a link in the ad and go to your website.

Link clicks

– optimization for the audience that will click on your ad

Daily Unique Reach

– optimization for demonstrations; in this case one person is going to see an ad no more than once.

Impressions

– optimization for the maximum number of your ad demonstrations (and specifically, the same person may see an ad several times a day). This scenario is perfectly suitable for new advertising campaigns (after that you may move to Optimization for Conversions or Link clicks)
As a matter of our FB Ads optimization we've decided to test Link Clicks in comparison with Impressions.
Link Clicks
VS
Impressions
It's better to choose the optimization for clicks if we do not want to waste money. Facebook will choose those who are more likely to go to our website. CTR therefore is going to be higher while the CPC will be lower. However this strategy won't suit completely new campaigns because FB won't have enough statistics on clicks. That's why FB won't be able to draw any logical conclusions.
4. Facebook ad optimization: dividing by age or gender
We have also decided to optimize Facebook ads set depending on the audience age. We were wondering whether to divide the audience into different age groups or unite them all together.
18-65+
VS
Split test: 18-49 vs 50-65+
Perhaps this is our most unsuccessful test (sometimes we have such ones). The audiences divided into the age groups demonstrated poor performance, that's why we had to turn these ad groups off. Apparently, we got too narrow audiences.
As for division according to gender, we can say that in most cases an advertised product itself tells us the gender of the target audience, that's why we don't need any tests. However, it's necessary to divide the audience into gender groups for some specific product types and test different versions of advertising for each group.
5. Facebook ad optimization: dividing by locations
One of the most efficient strategies of advertising campaign optimization on FB for us is the division of the audience by location. We allocate a fixed budget and test different variants of advertising for each region (sometimes even for each country). It's quite interesting to observe a situation when the same ad is more than efficient in one region, and demonstrates the lowest CTR in another one.
One more reason to divide the audience by regions is that FB always goes the easiest way and shows your ad only to the audience that can cost the least for you. If your campaign is not optimized for conversions, you will spend your budget on those who click on your ad but buy a little or don't buy anything at all.
6. Facebook ad optimization: choosing ad placement
Facebook offers a huge amount of spaces for you to place an ad. You have an opportunity to choose a space in 4 sections: they are FB, Instagram, Audience Network, and Messenger. Facebook can offer 7 sections in total (each includes 3-7 points):
Feeds
Stories
In-stream
Search
Messages
Contextual Spaces
Apps and Sites
If you want to test all the variants, you will need a significant budget. At first, it's necessary to divide campaigns for FB and Instagram because these platforms require different pictures and texts. Then, you may place your ad separately in Stories. When you finish up with the testing of multiple ads, highlighting the best ones, and finally reach the point when advertising campaigns finance themselves, you may start to expand the coverage through the additional ad placements – in Audience Network and Messenger.
7. Excluding the users who have already converted
It's essential to divide your audience into new clients and those who have already converted (bought something from you, subscribed to the group on FB, visited the landing page or took some other intended action). Repeat clients should be attributed to the separate audience (in the menu, click Audiences – Create Audience – Custom Audience). But note that you need to exclude those who are already your clients. You can do this in Ad Set: Audience section – Custom Audiences – EXCLUDE people.
8. Facebook ad optimization: retargeting
The audience that has already converted must be excluded from the group which gets your standard ads. Such users must get absolutely different ones. This is called a customizable retargeting.
Retargeting means targeting consumers based on their previous online activity.
You may provide loyal clients with additional discounts, novelties ads, etc. The most important thing is that CTR and click cost of this audience are always higher. Moreover, loyal clients are likely to convert quicker.
9. Facebook Automated optimization
It becomes difficult to monitor the results regularly if you launch a large number of ad campaigns, ad groups, and provide each group with at least 3-4 ads. FB has a special feature – Automated Rules. Here is what you may customize using this feature:
Turn off the ads automatically if CTR is lower than 1%
Turn off the ads automatically if CPC is higher than $2
Turn off the ads automatically if Frequency (average amount of ad demonstrations to one person) is greater than 2
Enhance the ad group budget by 10%, if cost per result is lower than $5
Reduce the ad group budget by 10%, if cost per result is higher than $7
These are just some examples of Automated Rules which you may customize and use for your campaigns. In fact, you may find a lot more such options.
Summing it up
We strongly encourage systematic Facebook ad optimization, testing all possible ideas and hypotheses, highlighting the most efficient ones, and, finally, getting more cheap sales from advertising.
Follow this Facebook ad optimization checklist to succeed with your promotions:
Test different ads text
Provide different types of discounts
Use Optimization for Ad Delivery
Optimize Ad Sets in accordance with ages, gender
Optimize for locations
Try all the variants of ad placement
Separate new clients and those who have already converted
Customize retargeting
Use Facebook automated rules
We hope these Facebook ad optimization tips will make a difference in your promotional campaigns! Feel free to leave your comments and ask us about other experience-based tips on running a dropshipping business successfully.