Why Dropship Travel Products And How To Make It Right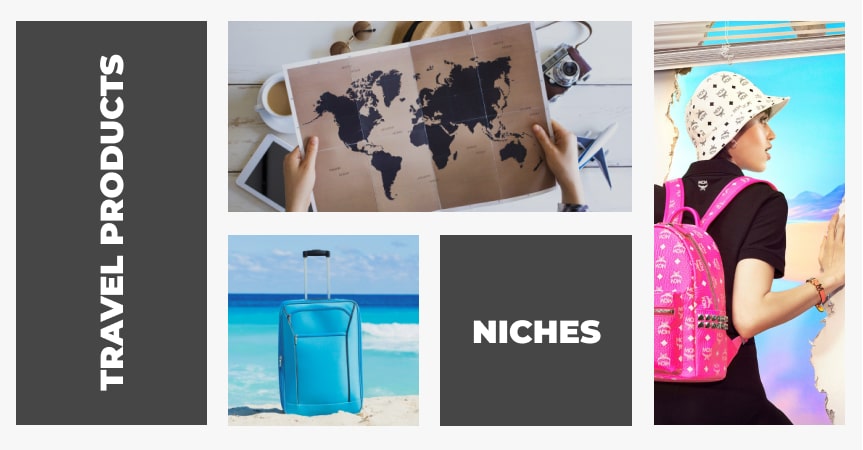 Do you know a trending niche that is great for a successful dropshipping business launch? Can you come up with the idea that will work for broadening the product range of an already existing store, too? When you dropship travel products, you easily meet these challenges – let's find out why and how!
Travel is increasingly taking over the world! Hiking in the mountains, water trips, tours to big cities, weekend journeys – the range of these activities is expanding and many people get interested not only in beach holidays, but also in active types of travel. In general, many people set the goal to visit as many countries of the world as possible.
Bloggers can also be thanked for the growth of tourism: by posting beautiful photos on social media, they inspire more and more people to start travelling.
And we can not leave all these facts aside! As business owners who follow the trends, you should definitely consider adding these products to your dropshipping store.
In this article we will talk about the benefits of dropshipping travel products, the aspects you should pay attention to when you start working with these products, and show some product examples that are highly demanded by travellers.
Why dropship travel products? What makes this niche so promising?
If you choose to dropship travel products, you have several great competitive advantages. There are 6 reasons to consider this product category when you are thinking about your dropshipping store offer. Let's look at them:
The ability to test different products
Today tourists are offered lots of opportunities. People can travel to the mountains, spend vacation by the sea, go to other countries to see their historic centers or visit popular points of interest. Even backpacking can be considered as a type of tourism.
With more directions opening every year, a dropshipping store owner can experiment with different sub-niches and product types.
The opportunity to attract a larger audience
Everyone prefers one or two travel destinations. Each category has its own products. And here we enter the game!
Just imagine how many people can benefit from your products! Depending on the niche you choose, you will be able to target your marketing activities at different audiences.
As you know, many destinations have a high season when they serve the majority of visitors and a low season when the tourist flow goes down. In most cases, tourists stop coming when winter comes.
However, when winter starts in the Northern Hemisphere, summer somes to the southern part of our planet. Therefore, one can sell the same products to different markets, thus maintaining a more or less stable demand level.
The ease of adding these products to other niche stores
Another advantage of dropshipping travel products is that you don't have to create an online store directly related to this niche.
In fact, all such goods can be included in other niches. For example, a travelling bag is a bag; a portable feeding bottle is a pet product. Therefore, you can benefit from dropshipping travel goods even if your store has a different niche. Simply add a couple of such products to the corresponding category.
Chance to create a travel niche store
Here we also turn to the variety of the products in the travel niche. Their number will be enough for a full-fledged store where you will start selling only travel products.
And if you want to create your own store from scratch, feel free to contact our specialists at any time.
The possibility of advertising through major travel bloggers
We mentioned the bloggers at the beginning of this article. Let's give it a little more time.
They popularize travel and we can take advantage of the growth of its popularity, too. Perhaps they will be able to advertise your store. Start small – look for blogs, contact the owners of accounts and offer them favourable partnership terms. Perhaps this marketing trick will lead you to a bigger profit margin!
Amazing benefits, aren't they?
Special things to consider if you dropship travel products
Working in this niche, you should also take care of some specific business aspects that require your close attention. Let's look at them, too:
You need to prepare your store and advertisements for certain products in advance
Even though the travel niche has a year-round demand, some products have particular peaks when the interest in them skyrockets. Explore these peak points and prepare your ecommerce store for this season in advance: update items and offer discounts (don't forget about delivery time).
You need to choose goods carefully
This point is really important in the travel niche. If you dropship travel products for extreme tourism (for example, snap hooks, paracord ropes, tents, etc.), you must be confident in the reliability of your dropshipping suppliers and high quality of the products. The same goes for the products intended for even more 'vulnerable' users (let's say pets' car seats and seat belts, children's safety vests and anti-lost backpacks, etc.). It is also necessary to minimize the delivery time for the buyers' convenience.
If your customer receives a faulty product that was a must-have for their long awaited vacation, you risk getting negative reviews and returns. What's even worse, such items can pose a real threat to your buyers' health and safety! Do you really want it?
Stay safe and use this exceptional Top Suppliers Insight to find the most reliable AliExpress suppliers!
Pay attention to your product offer
What can attract visitors to your store? One of the important aspects is the products you sell. The more attractive they will look, and the more reliable your suppliers will be, the more sales you will be able to get.
Find manually picked and pre-edited best selling dropshipping products in our exclusive database!
Are you excited about the opportunities? Let's take a look at the sample thematic selection of trending travel products!
Travel products to dropship: travel bags
Let's see what are the great deals you can find on AliExpress in this category!
For example, if your buyer wants to travel in style, this adorable set will most definitely be the best choice.
And with this one, it's hard to forget what's exactly is kept inside! 🙂
Looks adorable, doesn't cost much – what else you'd want from a great dropshipping product?
For a conscious traveller who likes working on vacation, this one is a real catch!
Can be shipped from the United States? Great! Certainly, it will make a great difference to the order's delivery time.
Tropical print doesn't seem to be going out of fashion – seems like it's quite a timeless bag!
Gadgets for travellers
In the 21st century, staying connected is a must – especially if you're travelling to a totally unknown destination.
Here's a little something that will come in handy to your customers!
Enthusiastic travellers will totally adore his space-saving gadget: taking one charger only, they can let their whole family power up their smartphones!
There is no doubt: an item with a 4.9 star rating will make a great addition to your dropshipping store!
Oh, and without a reliable adapter, it might turn out to be nearly impossible to use power sockets when you're travelling abroad.
Travel products to dropship: personal safety products
Let's admit it: accidents happen, and it's not always easy to cope with them. When you're far away from home, dealing with unpleasant surprises gets even more challenging. So, offer your customers a range of products that might prevent them from getting in trouble!
For example, this holder will help your clients keep all their necessary documents in one place, and have no worries about losing any of them.
This wrist wallet has similar functions, and helps its owners be less anxious about their cash and smartphones safety.
And with this colorful luggage tag, it would be nearly impossible to grab someone else's suitcase by mistake.
For an extra safety of the suitcase contents, let your buyers consider this item, too!
And this is a wonderful solution for those who don't might working right at a seashore 😉
Products for comfortable travel
Road trips are fun and entertaining – right until they become a pain in the neck (both literally and figuratively).
With the following items at hand, you can easily promote your store as the shopping destination that supports and promotes relaxing and convenient journeys. Here's what we've got!
A lightweight steel thermos is just the perfect thing to keep a traveller warm on the road.
And with a lovely sleeping mask, it will be much easier to enjoy the long awaited sleep hours!
On-the-road dining has never been fancier: just look at this neon-colored cutlery set!
Travel products for pets
When you're travelling with pets, the list of must-have items grows beyond your expectations 🙂 These products will make the life of a travelling pet owner much easier!
The easiest way to keep an eye on your pet is to keep it as close to you as possible 😉
Or, there's a alternative way: make a good use of this tracker and be able to check the pet location at any moment!
For pets, warmth and comfort are as important as they are for people. Don't forget about it!
Travel products to dropship: camping gear
Finally, let's review a sample selection of products that see a strong demand from the fans of extreme tourism and camping.
Though actually, a portable flashlight will be useful to everyone!
Paracord is a much more specific product type, but, judging by the number of orders, it sees a huge demand anyway!
Even though this tent is quite sophisticated and costly, it has an exceptionally high rating – so, it's totally worth the money!
Rain can't stop or scare experienced hikers: they have it all covered 🙂
And these carabiners can come in handy on multiple occasions. Why not carry a bunch of them just in case?
Now, you have much more exciting ideas about great travel products to dropship. We hope it will motivate you to create a stunning product offer in your own dropshipping store!