How To Dropship Kitchen Products And Benefit From Essential Items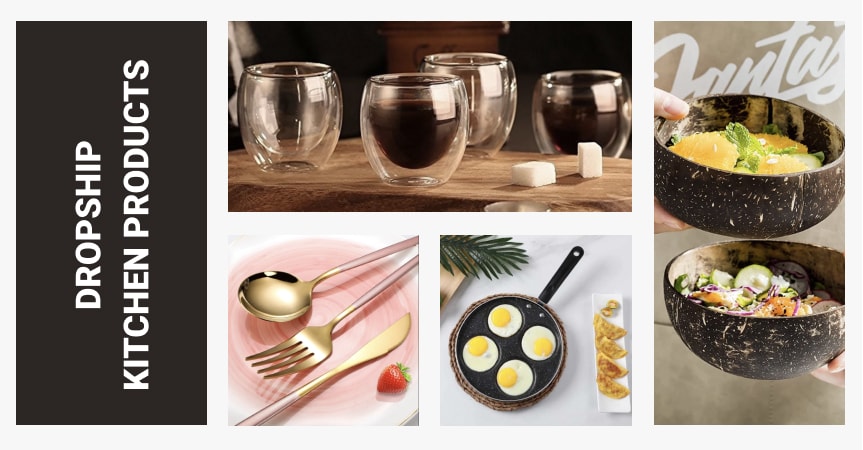 Ever pondered about diving into the dropshipping business, but felt overwhelmed by the countless product options available? Allow us to shine some light on a niche that's always simmering with demand – Kitchen Products! Whether you're an aspiring entrepreneur taking your first step into the ecommerce world or a seasoned veteran, this niche can be a recipe for success.
Why so? The kitchen niche is an evergreen one, simmering with demand all year round, because let's face it, we all need to eat! With the growing wave of home cooks and food enthusiasts worldwide, this niche is an ecommerce hotspot.
Sure, this popularity implies competition, but who says that's a bad thing? Embrace the challenge and focus on finding your unique selling proposition. Offer high-quality kitchenware at competitive prices to the right audience, and you're all set to stir up a successful business. And, if you're a foodie or cooking enthusiast, then this venture will not only be a business but a passion project.
In this article, we'll delve into why dropshipping kitchen products can be your golden goose, how to make it work, and the best products to dropship from AliExpress. We have meticulously scanned AliExpress to bring you the cream of the crop in kitchen equipment.
So, let's get cooking!
Why dropship kitchen products?
Kitchenware is one of those product types that every household is not complete without. Let's look at some notable statistics about the kitchen equipment market.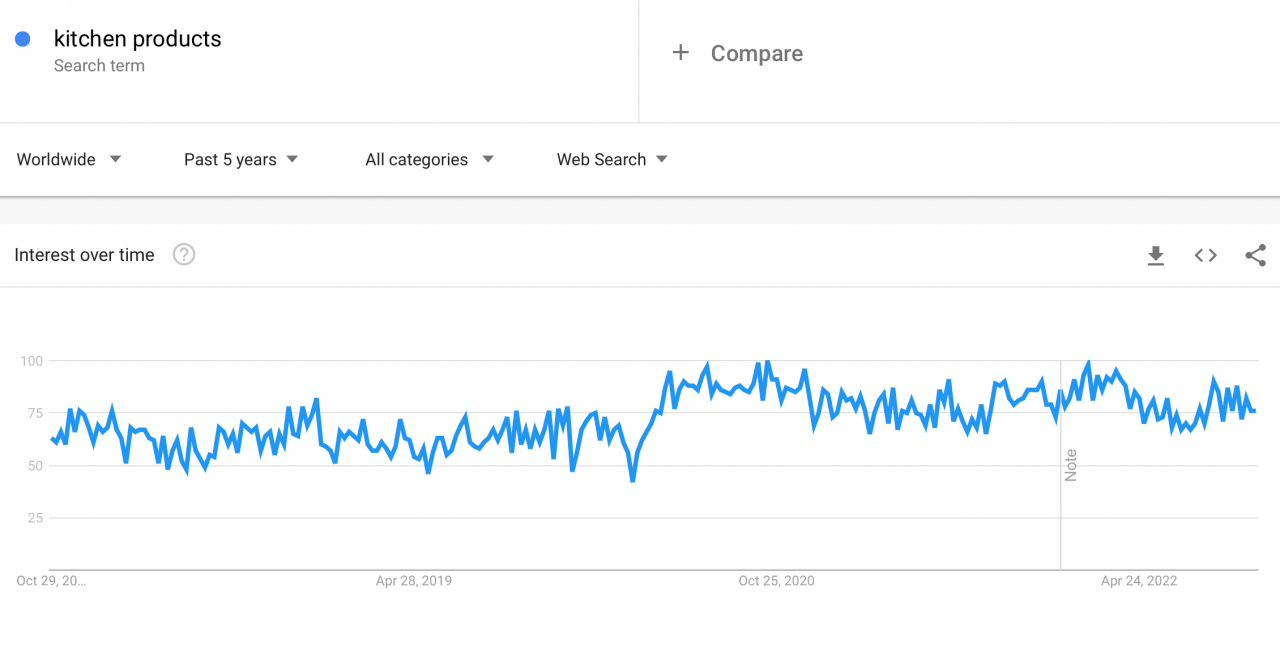 Looking at the Google Trends results, we can clearly establish that there is a constant level of interest for kitchen products.
Furthermore, according to recent studies, the kitchenware market is worth $56,8 billion. It is expected to expand by 4.5%, and by 2025 it will amount to $77,4 billion.
The countries experiencing constant growth of demand for cookware are the United States, the United Kingdom, Germany, China, India, Brazil, and Saudi Arabia.
What's more, according to Statista, more than 30% of consumers are extremely likely to make a kitchen tools purchase in the next 12 months! And that's just in the United States alone. It's not hard to imagine that many other countries will have the same results. The main point of it all is that this market is growing and you can be a part of it!
Benefits of dropshipping kitchen products
We've shown you the statistics, however, what are the actual benefits if you choose to dropship kitchen products?
Kitchen products belong to a niche that will always be in demand because cooking and eating are fundamental human necessities. From basic utensils to advanced gadgets, the need for kitchen products is perennial and spans across all demographics.
The kitchen products sector offers a massive array of items, each with a potential market of its own. Whether it's everyday essentials, specialized tools for gourmet cooking, or trendy gadgets that simplify kitchen tasks, the diversity in this niche ensures that you'll always have new and exciting products to offer.
Potential for high profit margins
Kitchen products often come with high perceived value, especially those with unique features or designs. This perception allows for substantial markup possibilities, leading to attractive profit margins.
Most kitchen products are compact, lightweight, and sturdy, which makes them easy and cost-effective to ship worldwide. These characteristics lower the risk of damage during transit, leading to satisfied customers and fewer returns or refunds.
Seasonal and year-round sales opportunities
While kitchen products enjoy steady demand all year round, they also lend themselves perfectly to seasonal promotions. From holiday cooking to summer barbecues, there are plenty of opportunities to boost sales throughout the year.
Global culinary curiosity
The world is filled with food lovers and home chefs exploring international cuisines. Catering to this audience with regional kitchen tools or unique cookware can carve out a niche market for your business.
Influence of lifestyle trends
Current lifestyle trends like healthy eating, veganism, or gourmet home cooking have driven demand for specific kitchen products like juicers, salad spinners, or pasta makers. Staying on top of such trends can give your business a significant boost.
Most of the products that you can add to your dropshipping store have a very low price.
First of all, this allows you to markup the price as you see fit. And this will ensure your high income! In some cases, you can double the price and still, it will be far less than that of the product that is selling in a brick-and-mortar store.
Second, a low price will be extremely appealing to your potential customers, making attracting customers much easier. Moreover, a great pricing strategy can distinguish you from the competitors and let customers choose your product offer over others'.
Since most of the products you are going to offer are low priced, you can count on people making impulse purchases. Impulse purchase is a thing when a customer buys something they didn't plan in advance.
Ready to capitalize on these benefits and carve out your success story in the dropshipping world? Dropshipping kitchen products might be the key ingredient you've been looking for!
How to dropship kitchen products effectively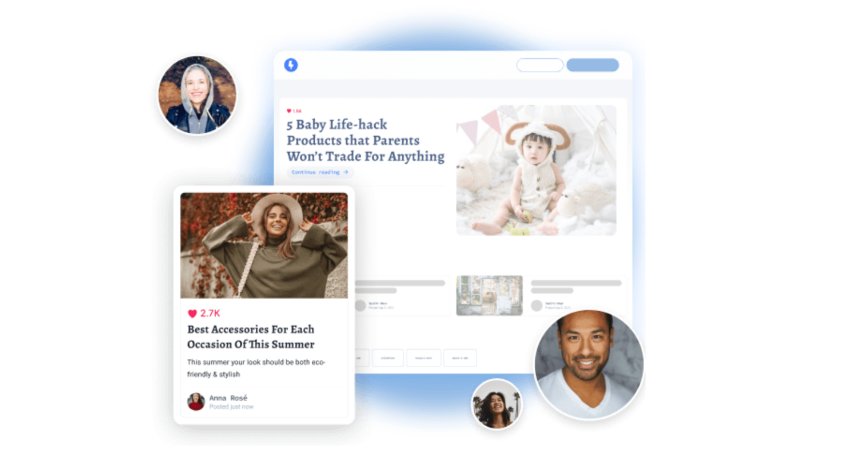 To make sure you start your dropshipping journey in the right way, we have prepared some essential tips you need to keep in mind before you start to dropship kitchen products.
Choose your dropshipping suppliers carefully
A major part of your dropshipping business lies in the hands of your suppliers. They are solely responsible for the products to be packaged and delivered. In terms of suppliers, AliExpress has tons of them.
To select a trusted supplier, we advise you to pay attention to the seller's AliExpress store rating, as well as the feedback left by real customers. Generally, if the store's been running for several years, has a sufficient amount of followers, and has a high store rating, you can consider cooperating with that seller.
Cautiously select the kitchen products
Some kitchenware items can be quite fragile. So, to avoid any unnecessary inconveniences, we recommend you to choose the products that won't easily break during the shipping period. Hence, you need to carefully select the items you are going to import to your dropshipping store.
If you wish to find the items on your own, we recommend you choose those that have a high rating of at least 4 stars, includes the free shipping option, and what's even more important, have at least a 1,000 orders or close to it.
Research the market to find the right target audience
Perhaps one of the most important aspects of any ecommerce business is finding your target audience.
We've pointed out the countries with the highest demand for this market, however, there are still certain aspects that you have to take into account. Such are the growing tendencies of the kitchen market. While there are different types of cuisines in the world, people have different lifestyles, as well. Some prefer to maintain a vegetarian diet, while others love to eat meat and so on.
Remember there are also different demographic groups: think about the age, gender, location and interests of your potential customer.
All of this will amount to your ideal customer.
Top kitchen product to dropship from AliExpress
Now, let's look at what kitchen equipment you can dropship from AliExpress. Keep in mind, we selected only the most popular products in each category. You are free to visit AliExpress and choose the products you like.
Cooking tools
Baking and pastry spatulas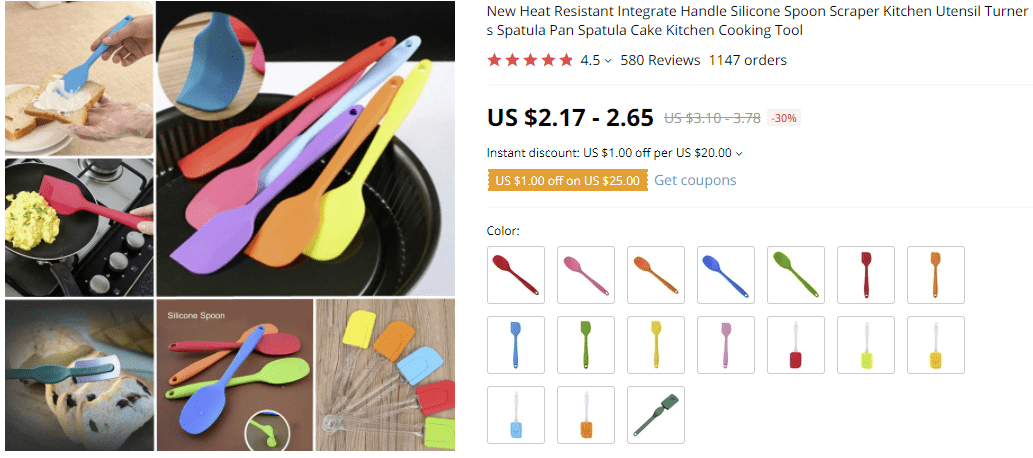 Non-stick mats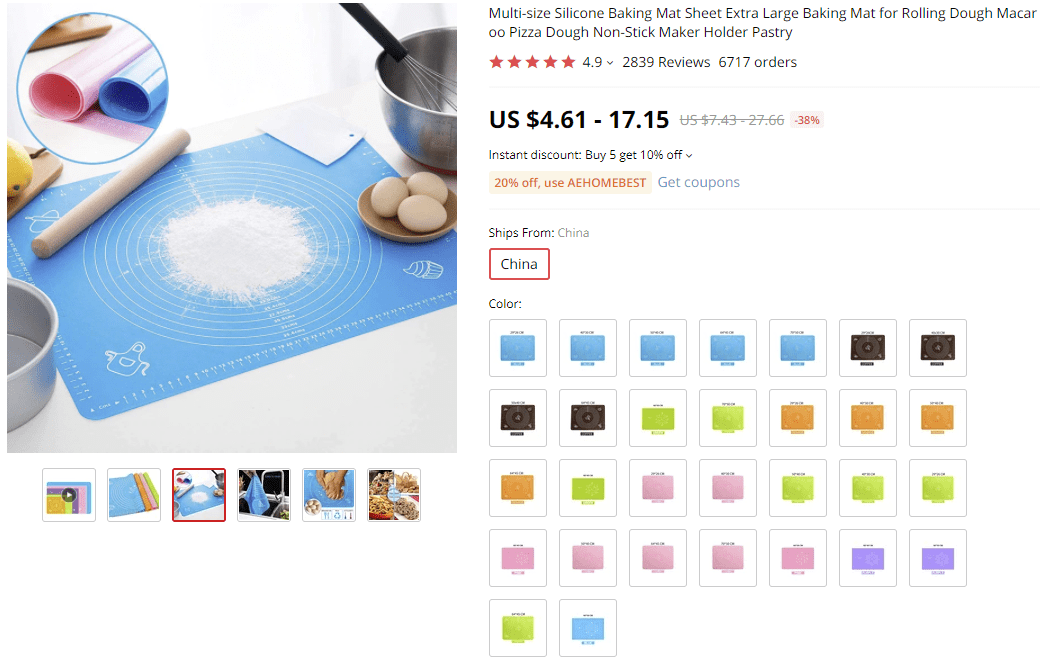 Pastry and cooking molds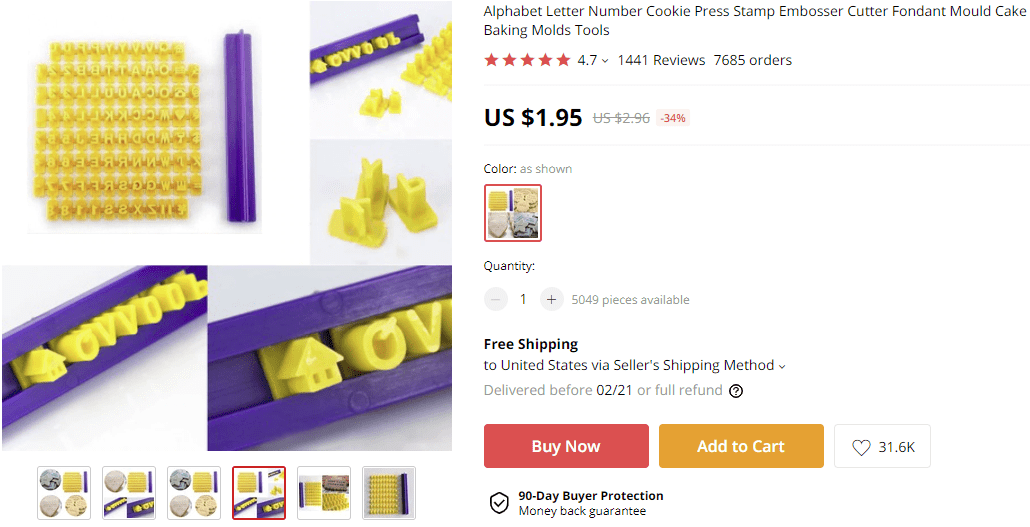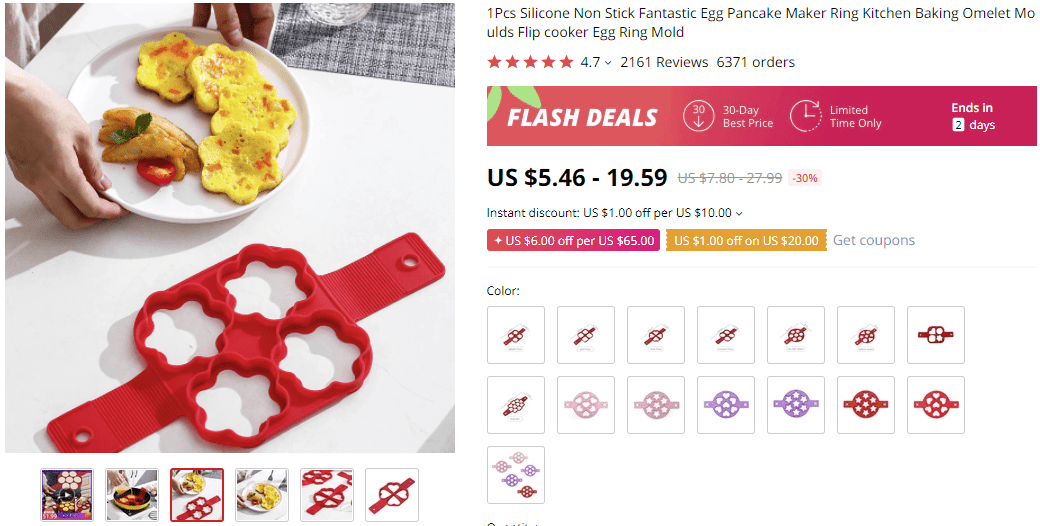 Cutters
Can openers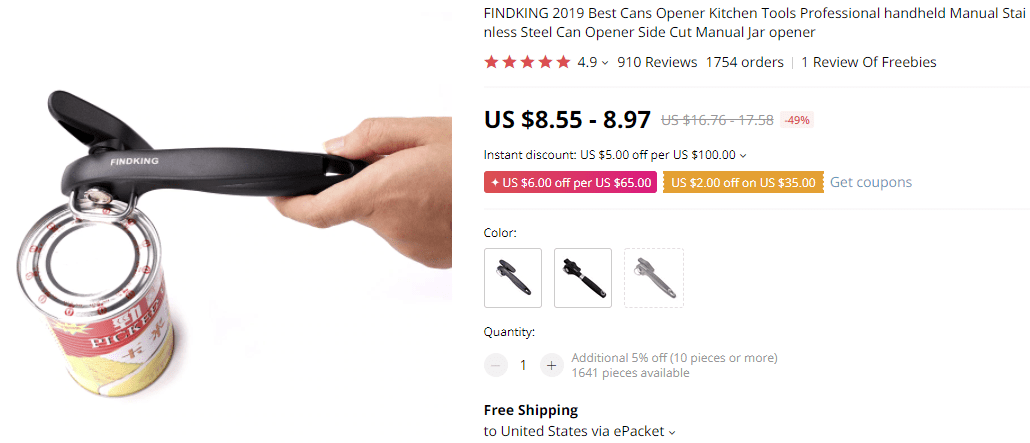 Cheese graters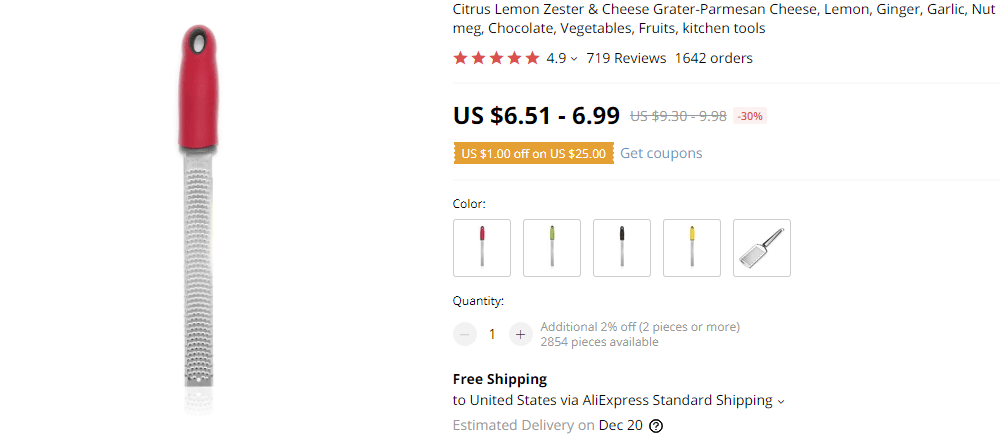 Cookware lids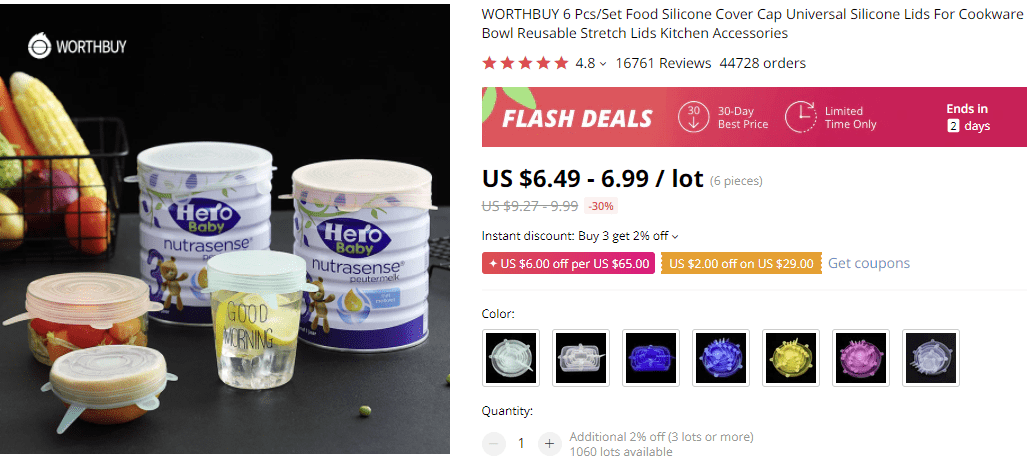 Dessert decorators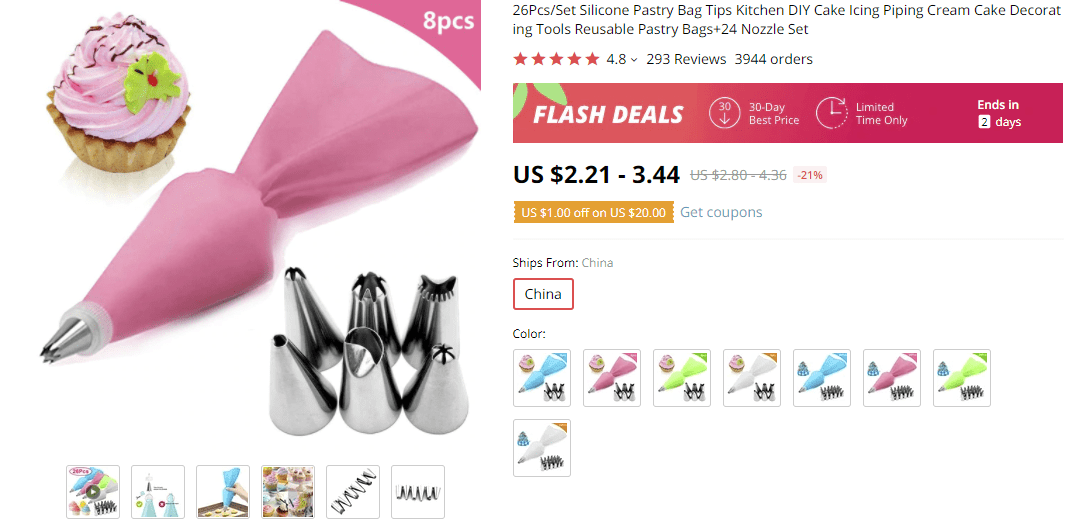 Egg items
Beaters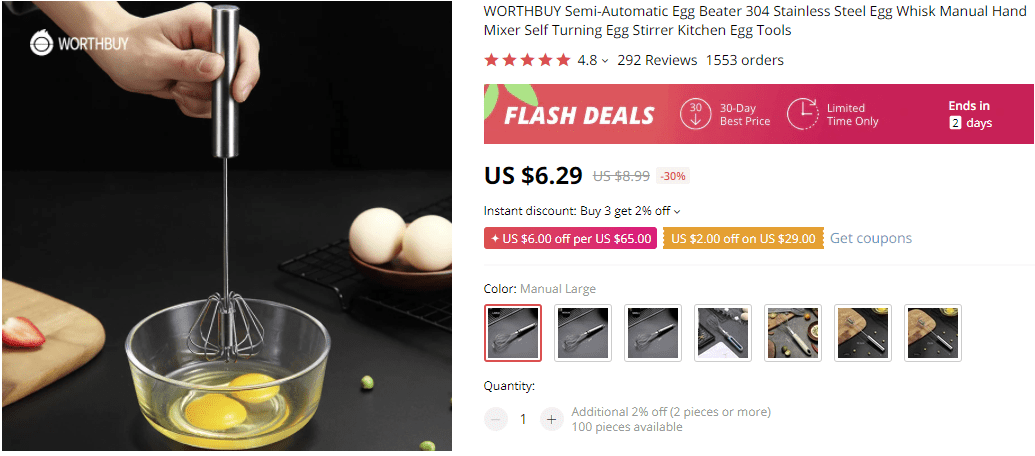 Separators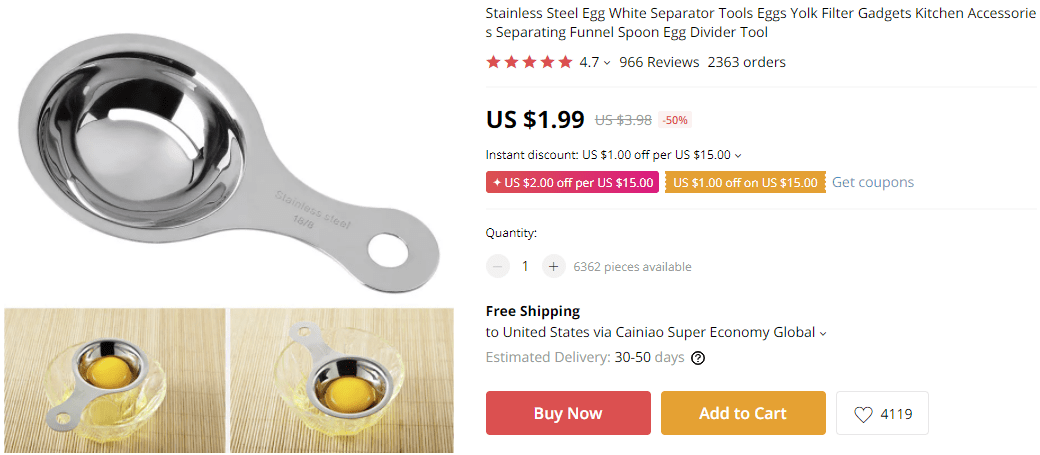 Slicers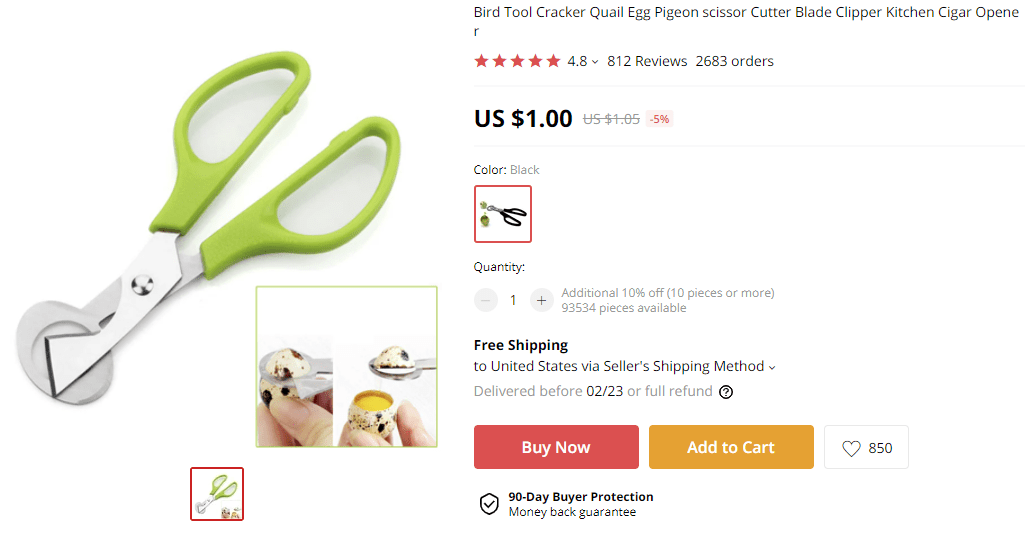 Fast defrosting trays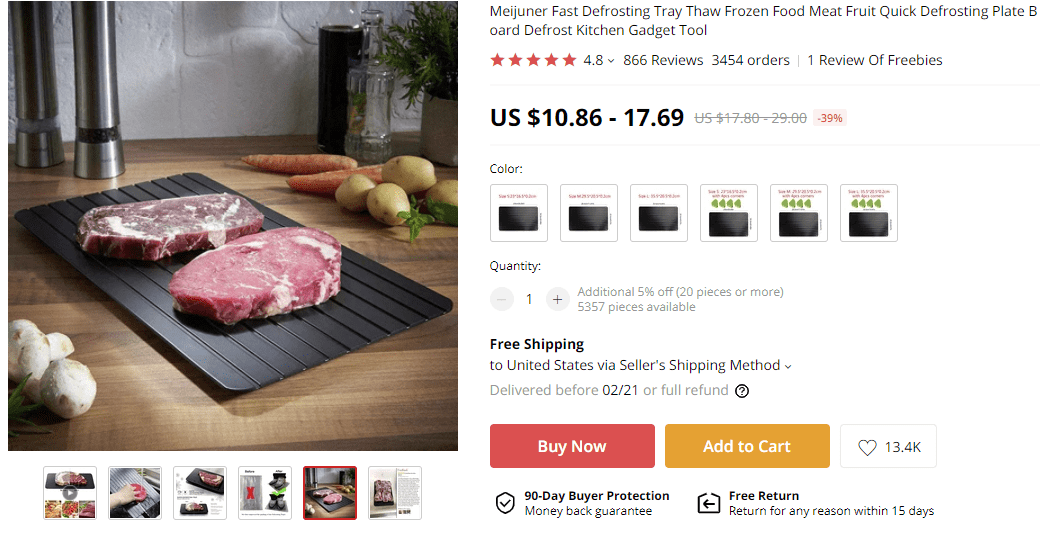 Fermentation baskets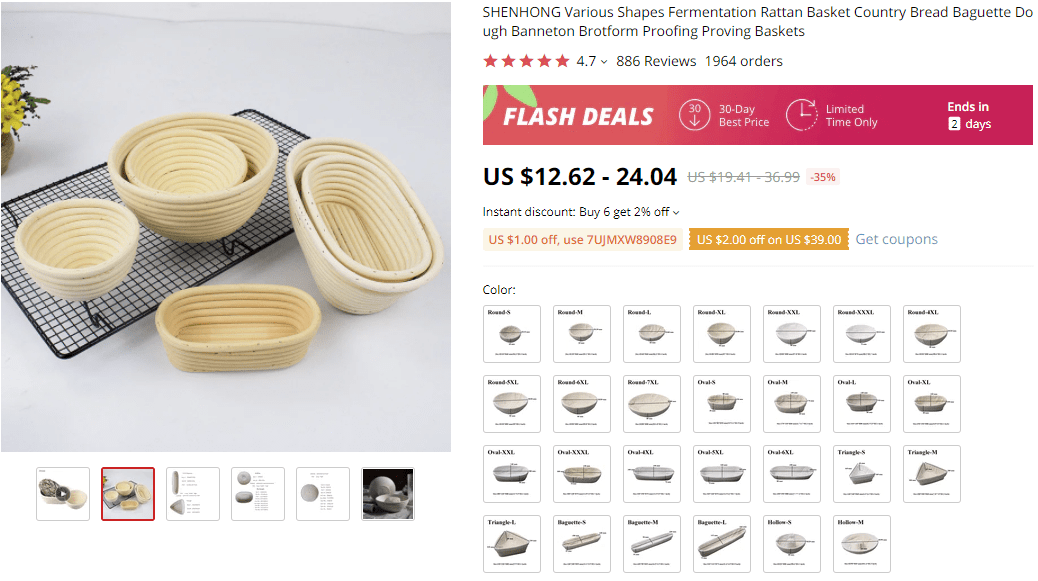 Frying pans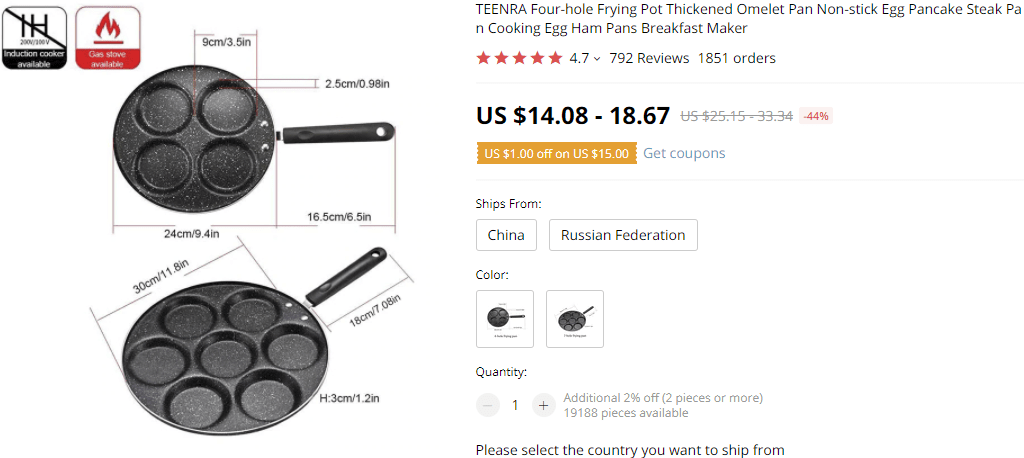 Funnels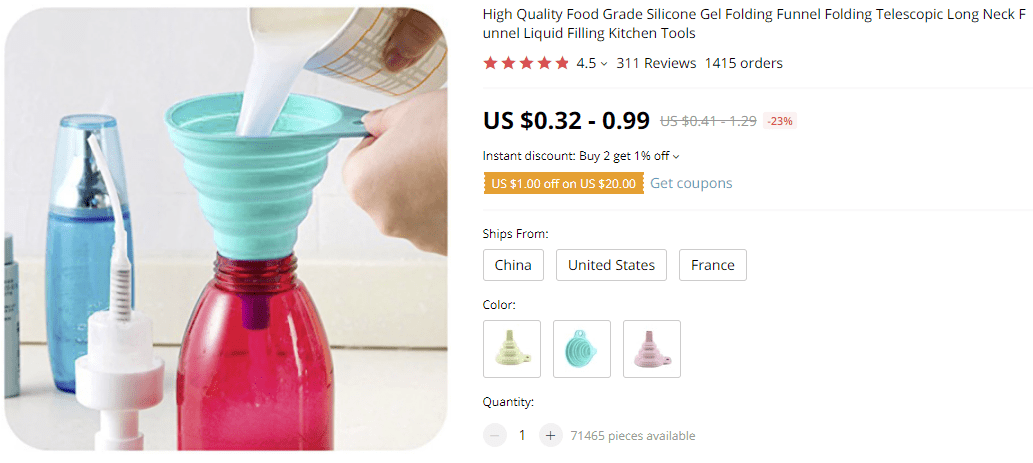 Hamburger presses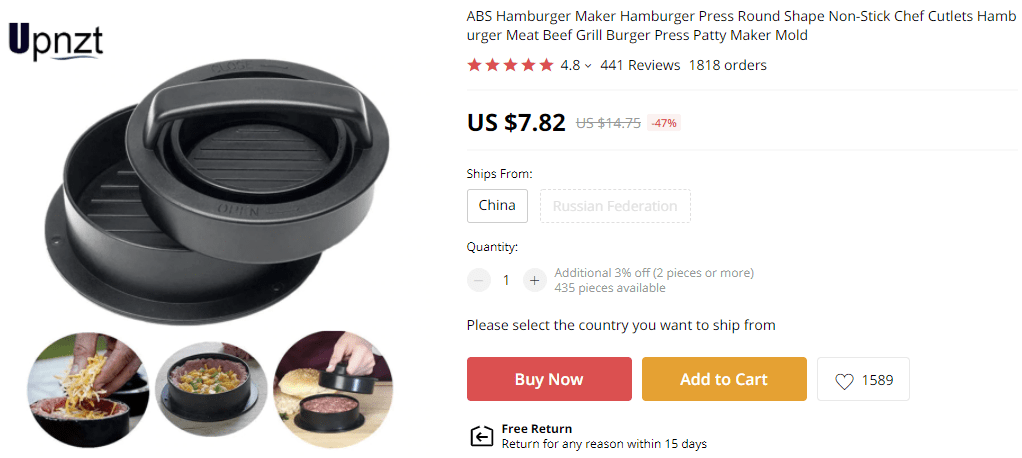 Ice cream scoopers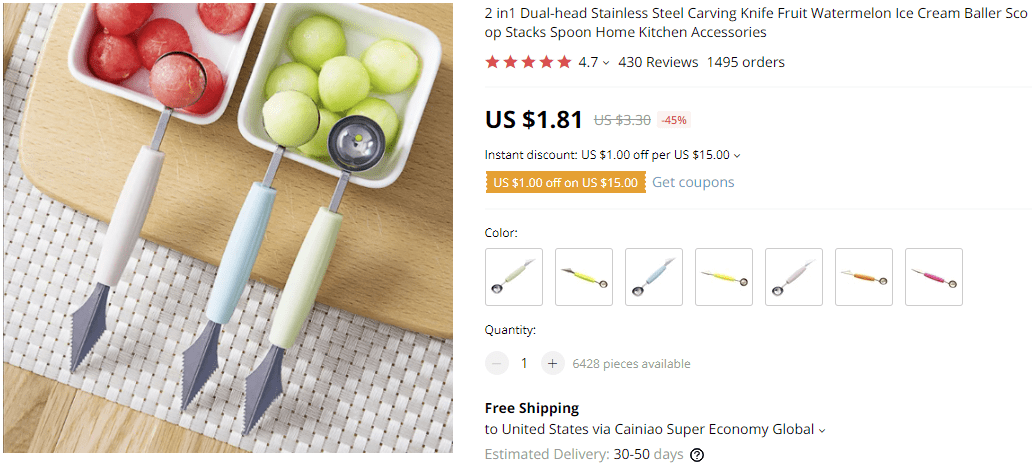 Kitchen tongs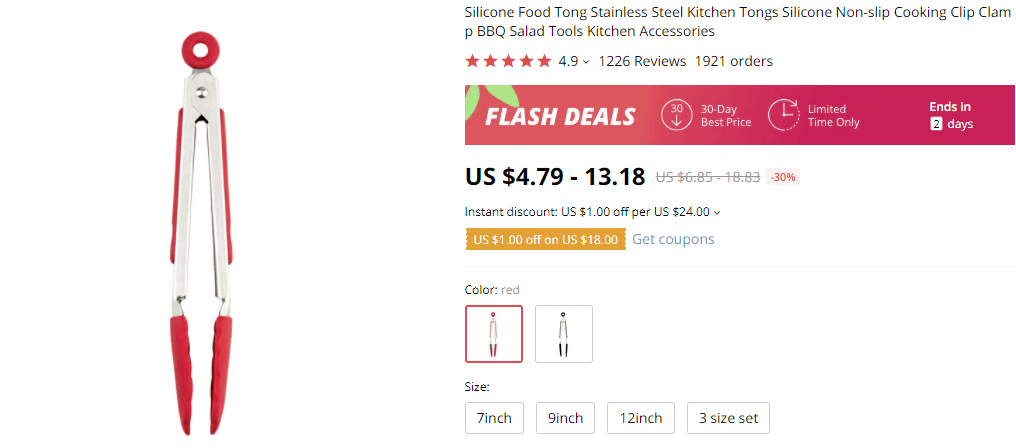 Oil sprayers
Pastry blenders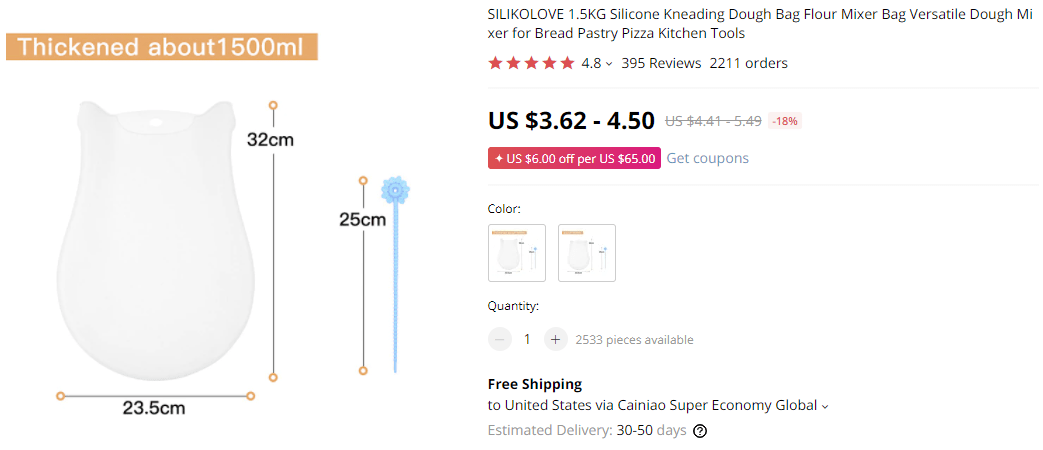 Wooden crepe maker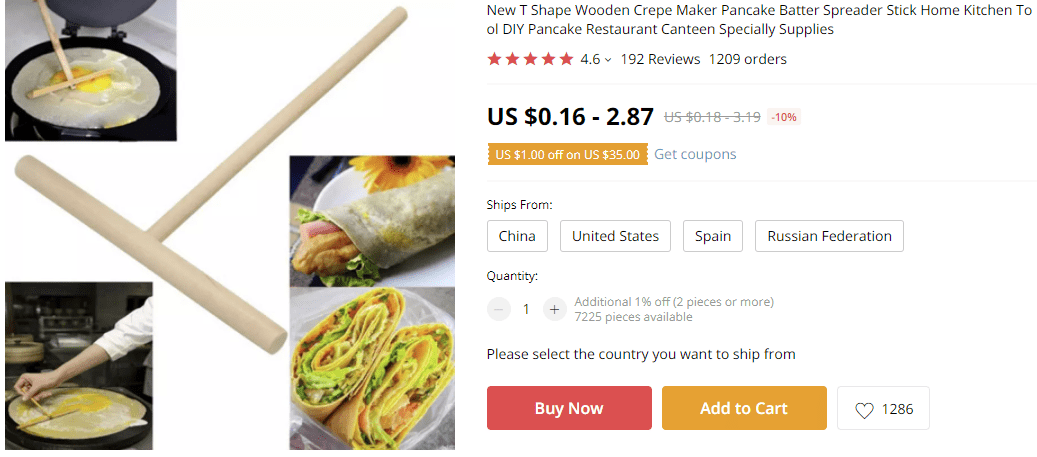 Rolling pins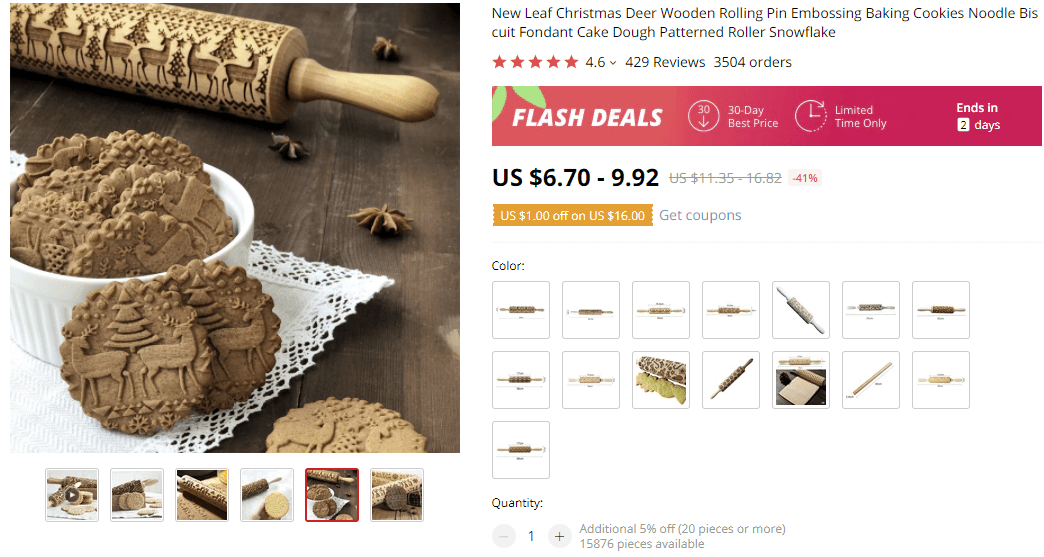 Turntables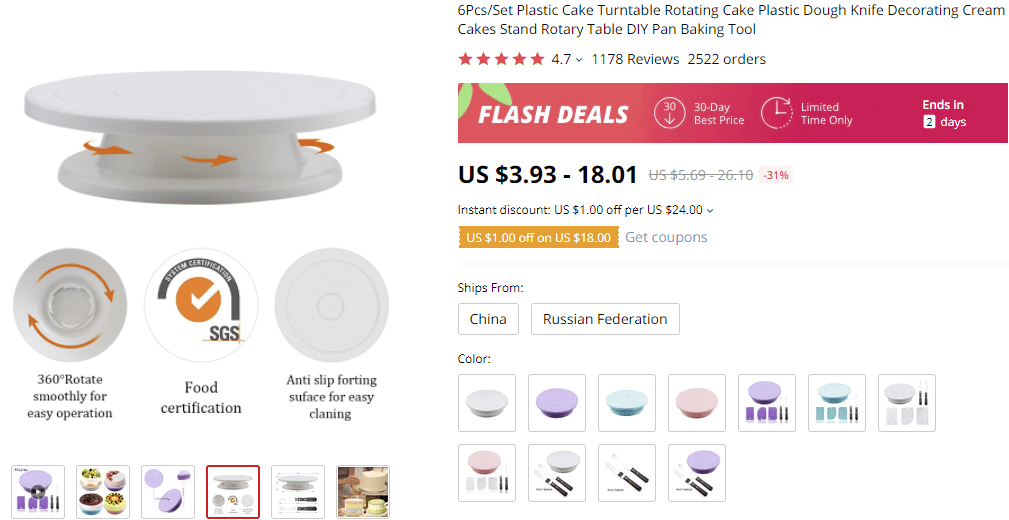 Dinnerware
Bowls
Chopsticks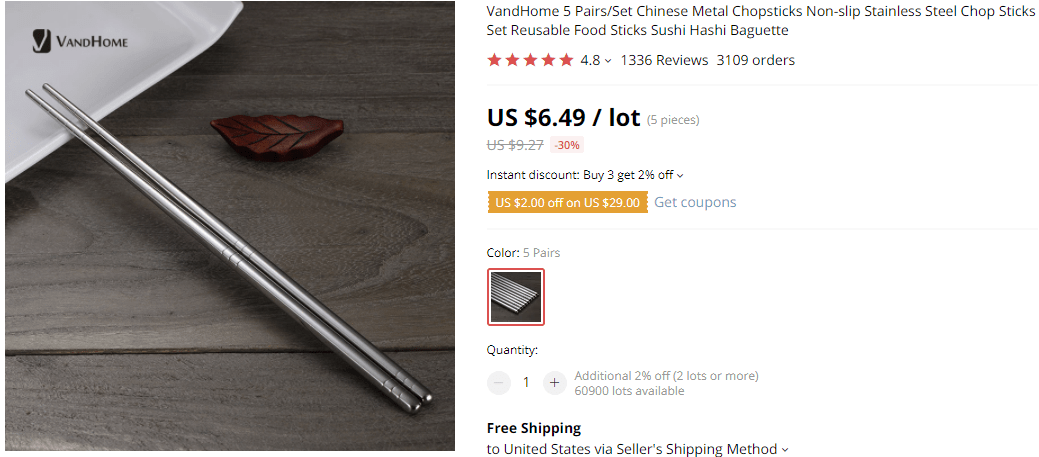 Dinnerware sets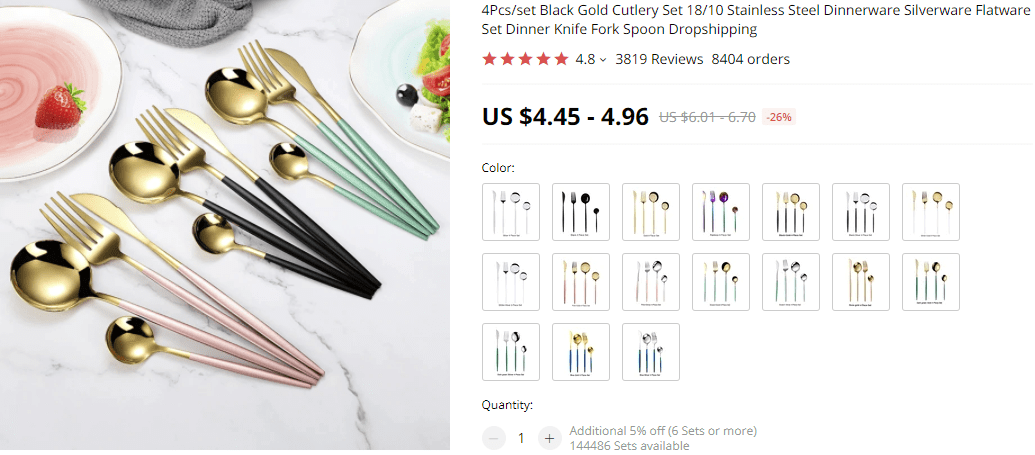 Spoons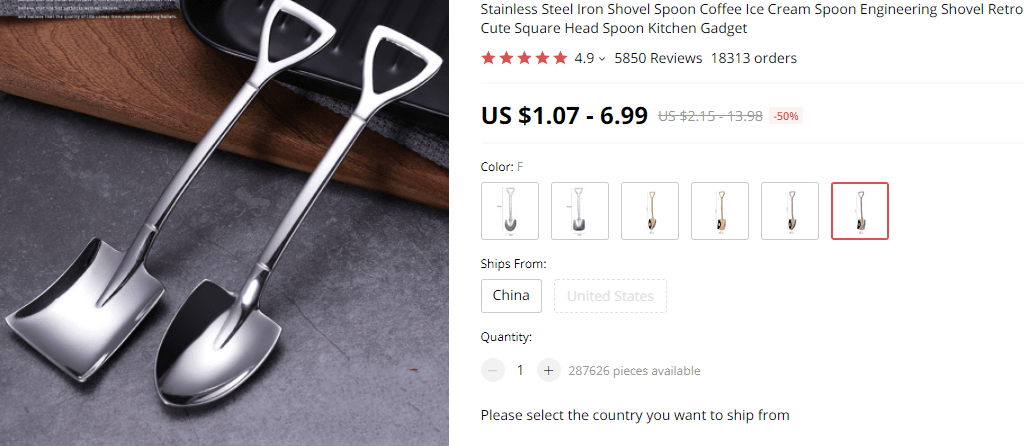 Lunch boxes
Wooden plates
Drinkware
Soda dispenser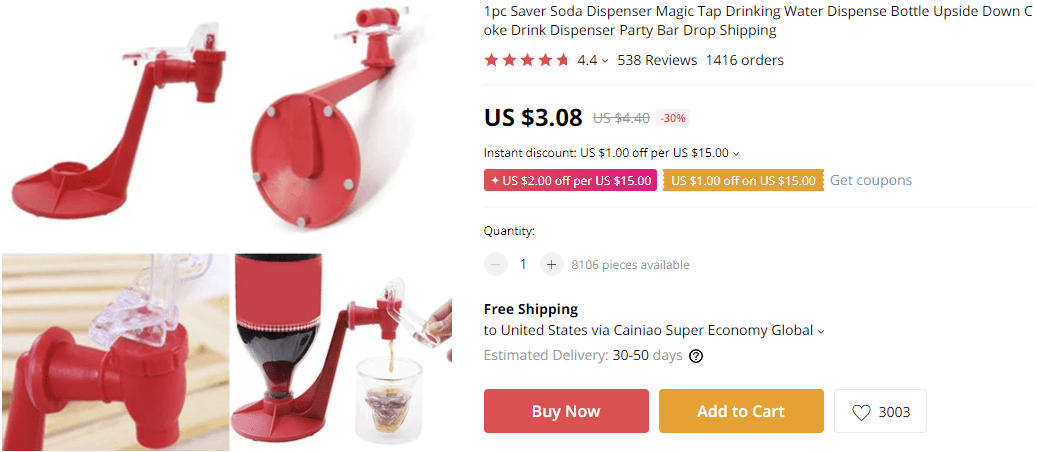 Thermocups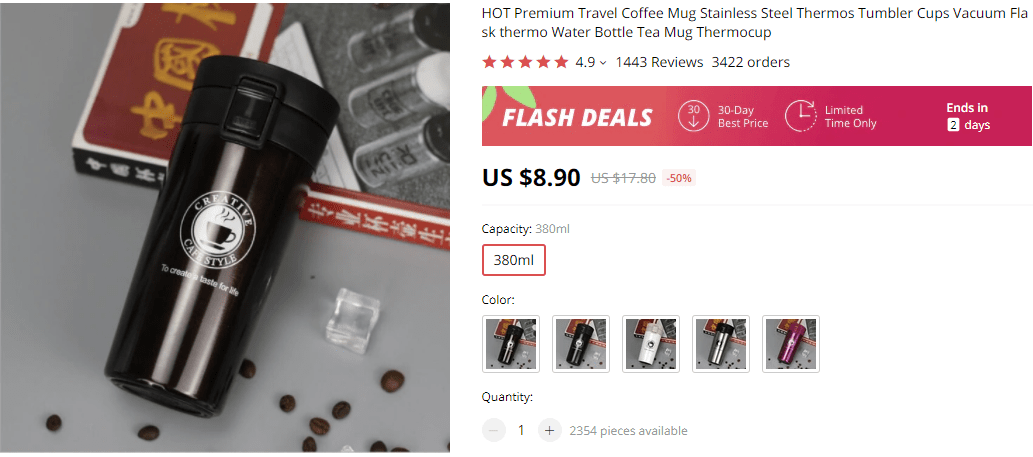 Transparent glass
Knives accessories
Finger protectors

Knife sharpeners
Knife strips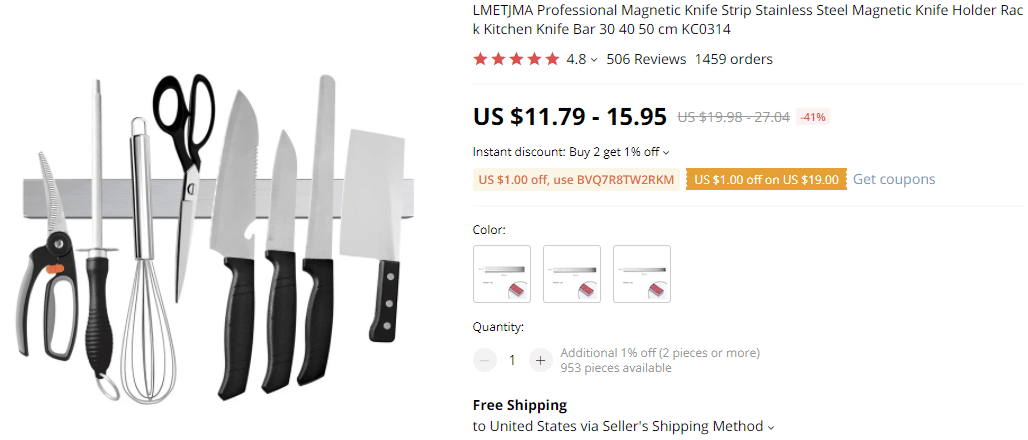 Table decoration
Leather coasters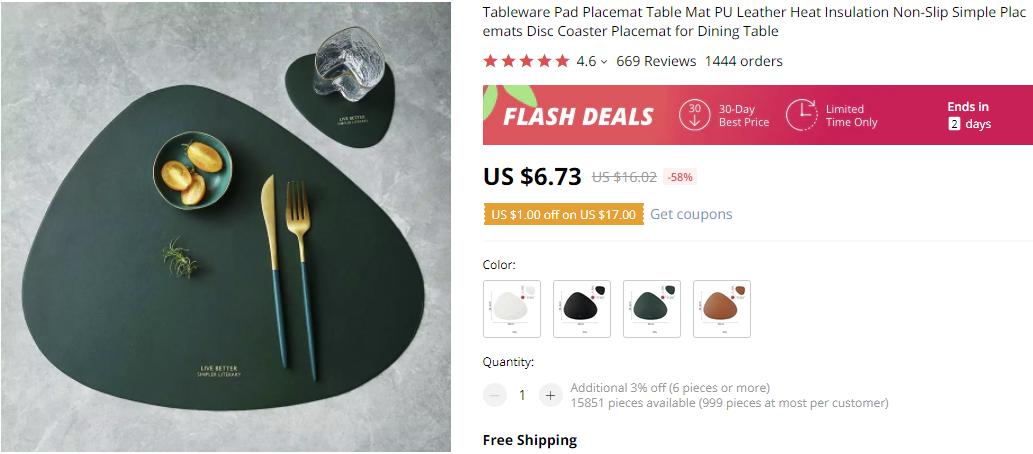 Napkins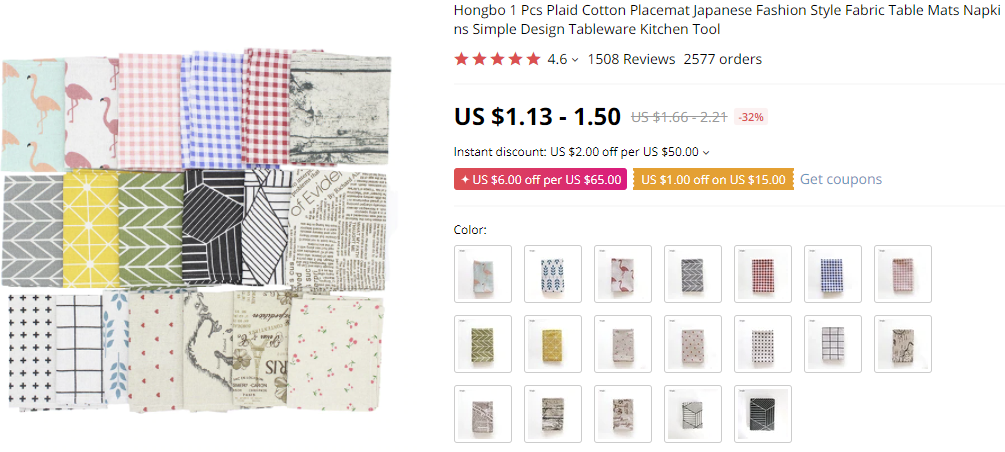 Table mats
Kitchen accessories
Adjustable and automatic mills
Bottle openers
Cocktail shakers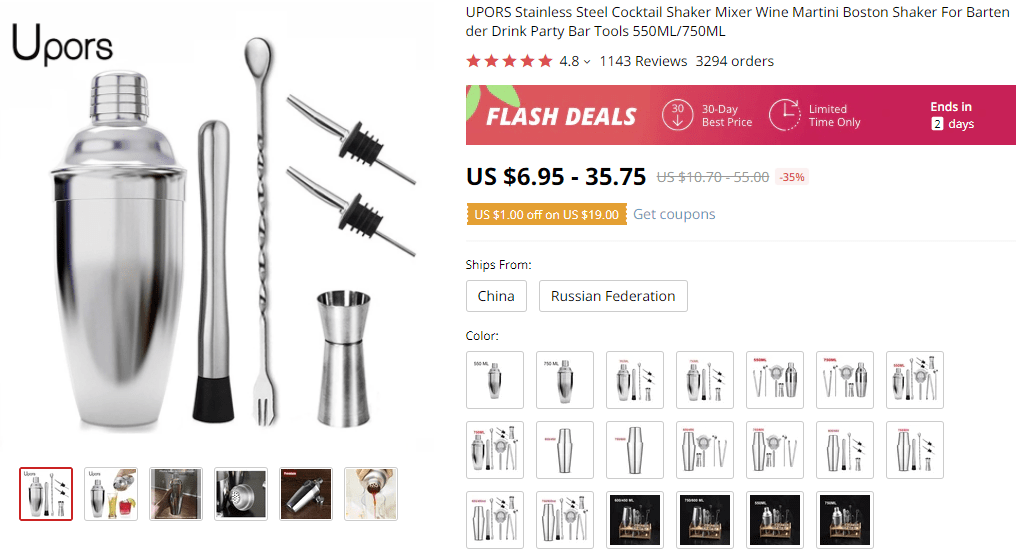 Drinking straws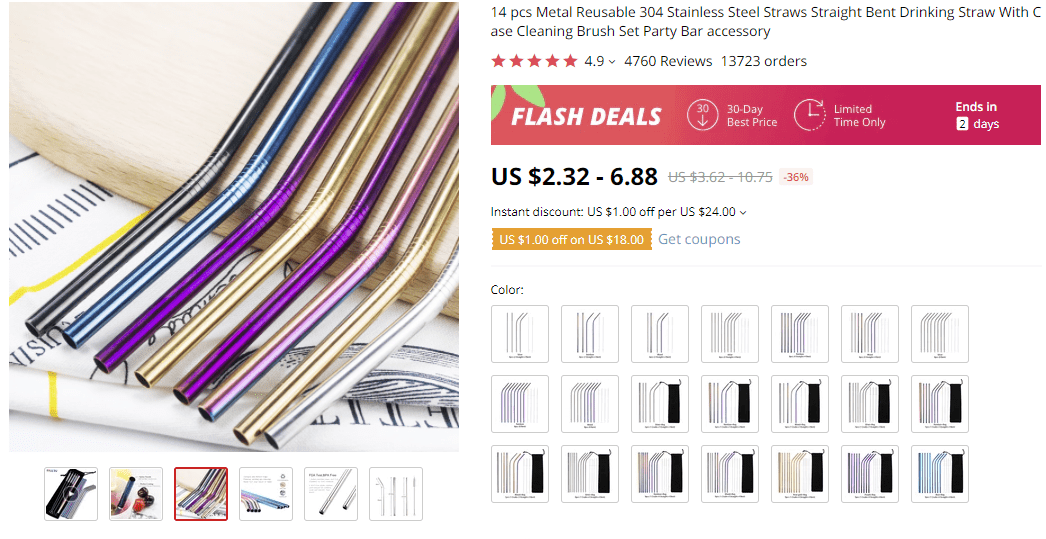 Ice holders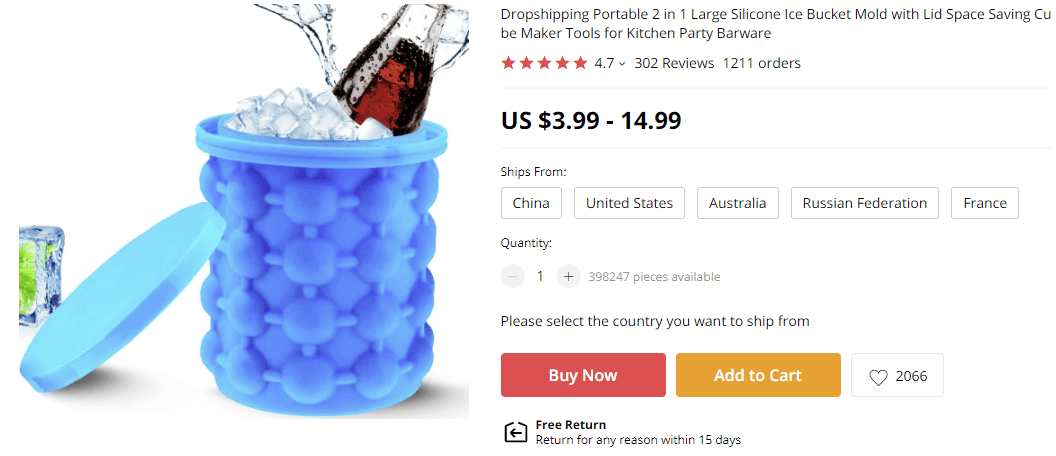 Kitchen scales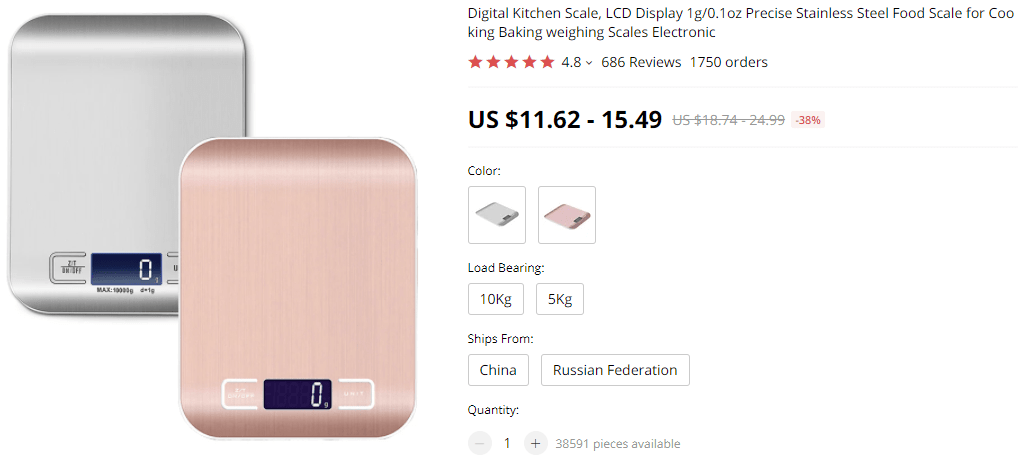 Kitchen timer alarms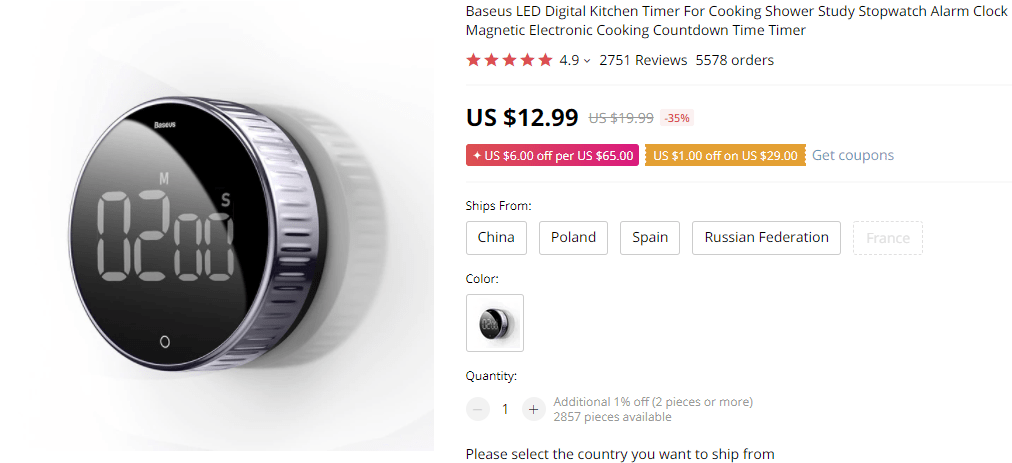 Measuring spoons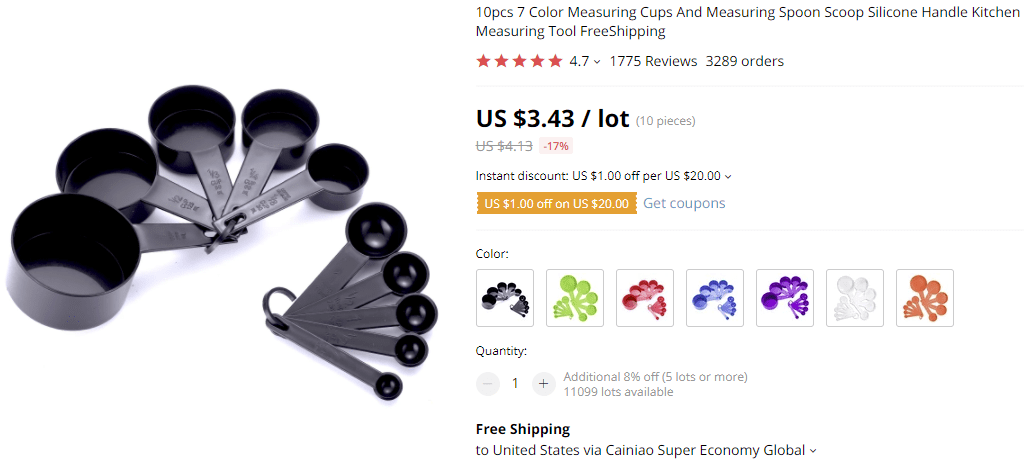 Oven mitts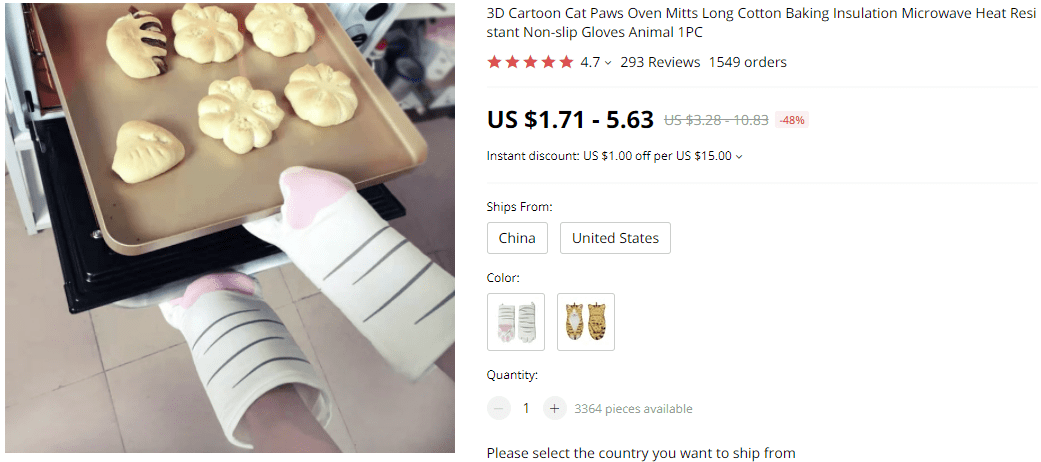 Spice jars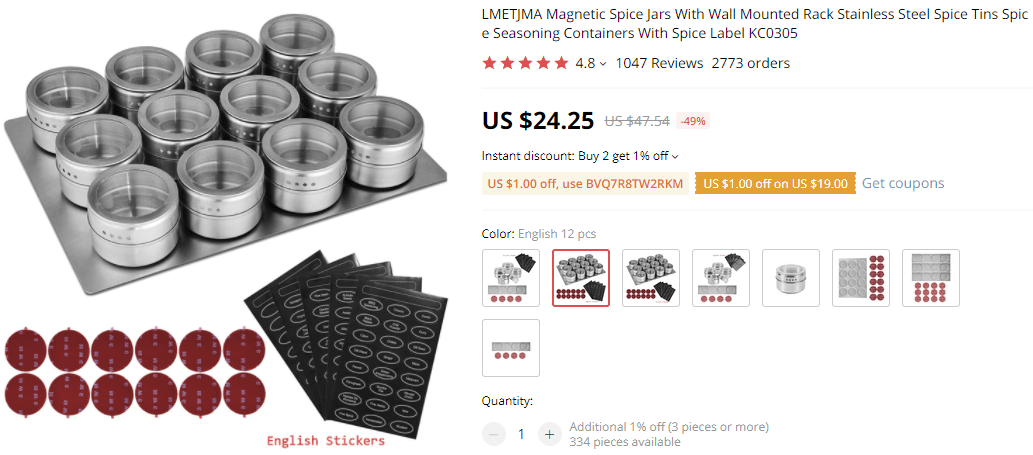 Spoon rest utensils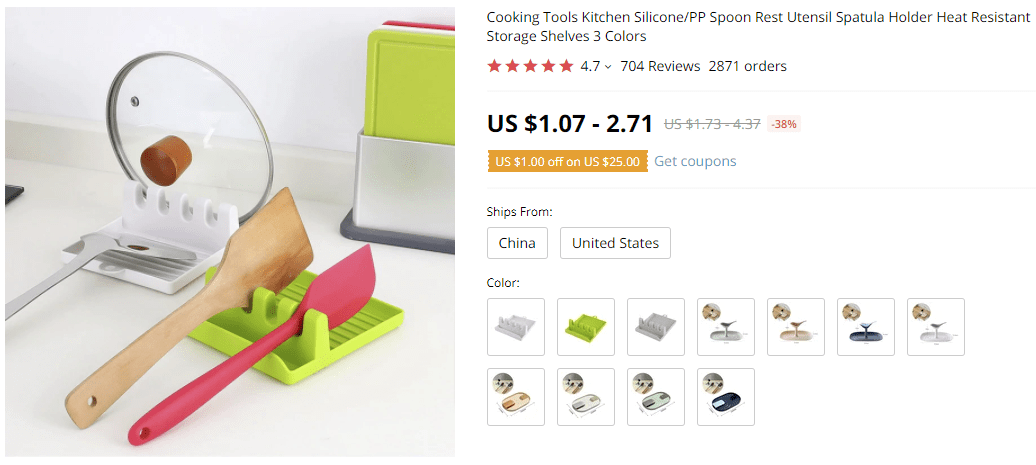 Washing baskets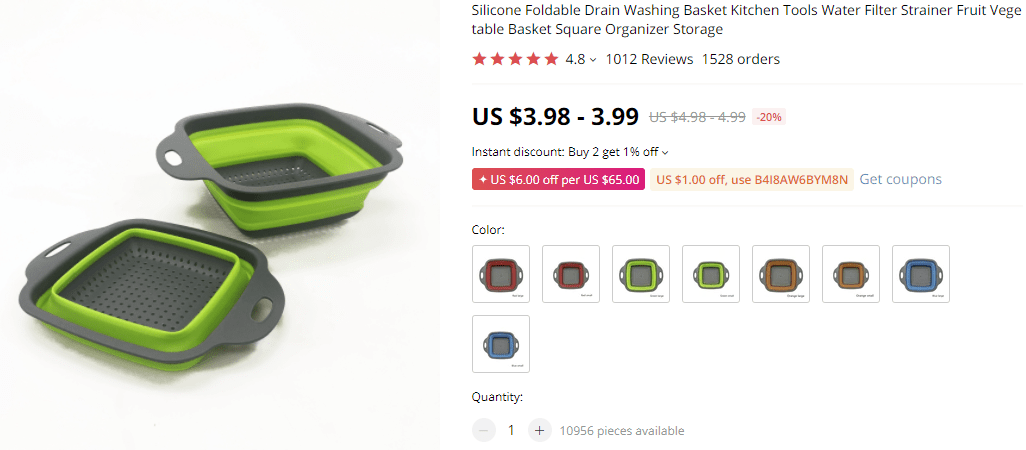 Fruit and vegetable products
Apple pitters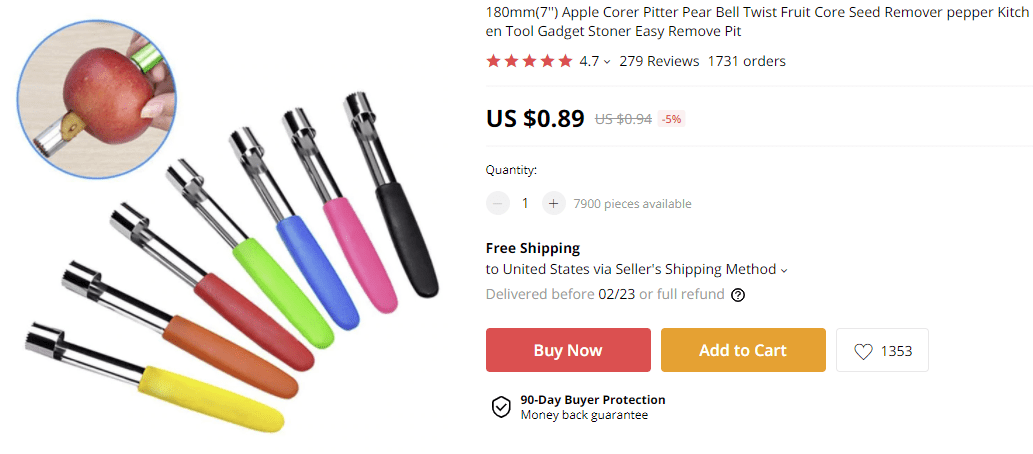 Cherry pitters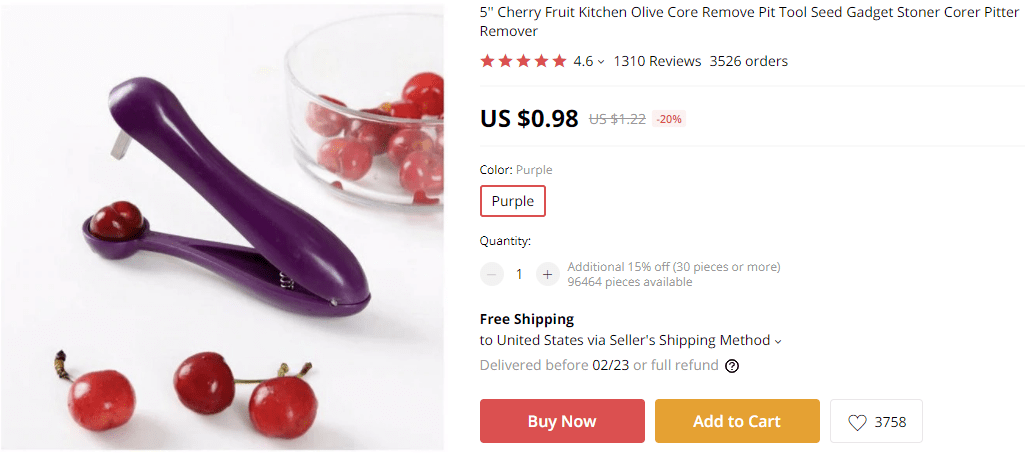 French fry cutters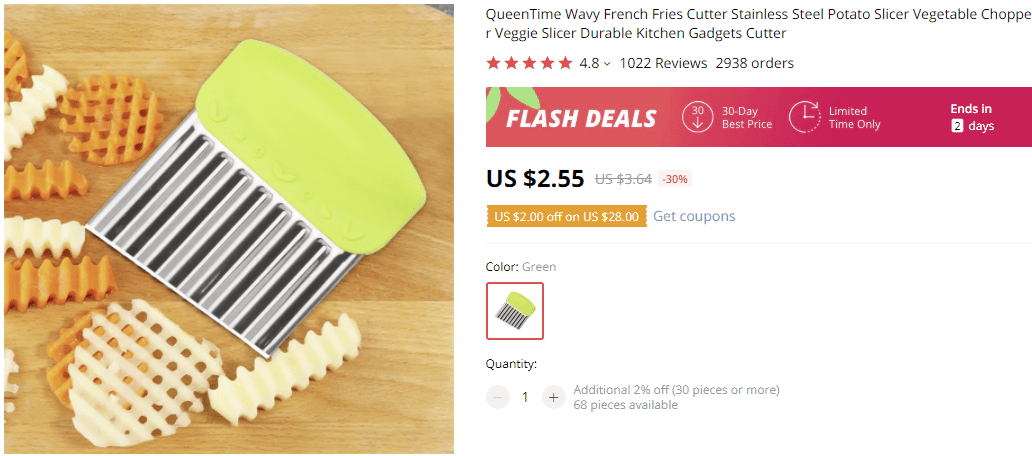 Garlic presses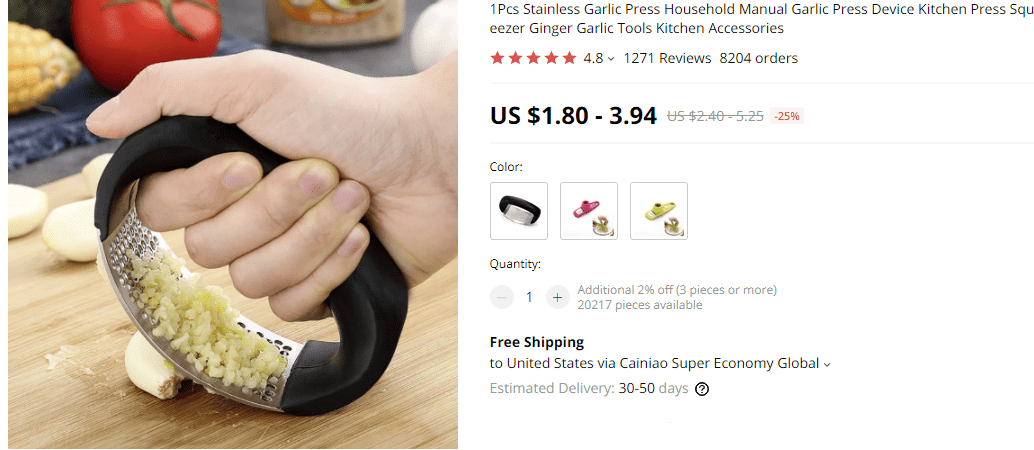 Graters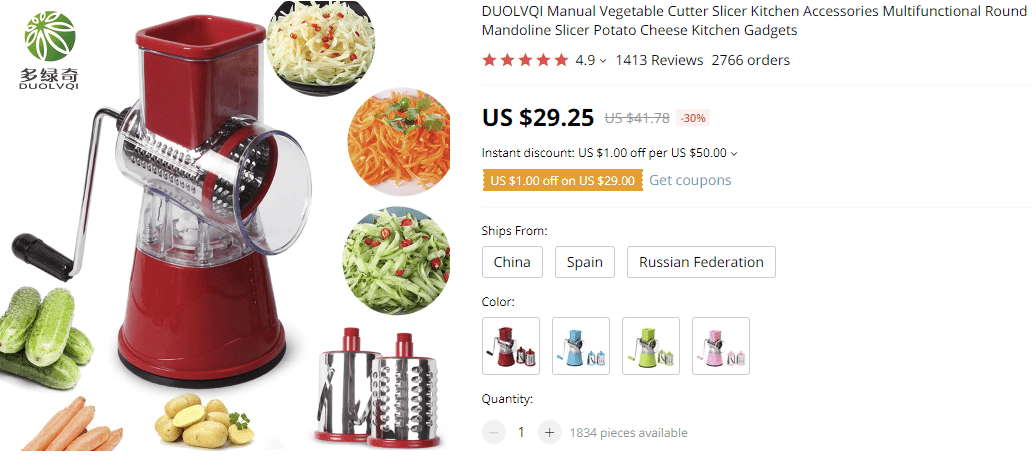 Kiwi slicers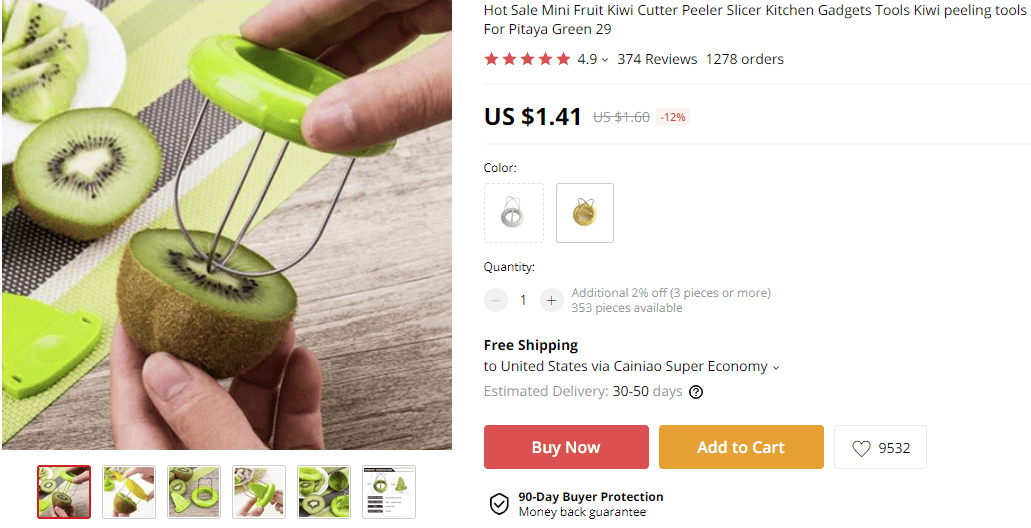 Nut crackers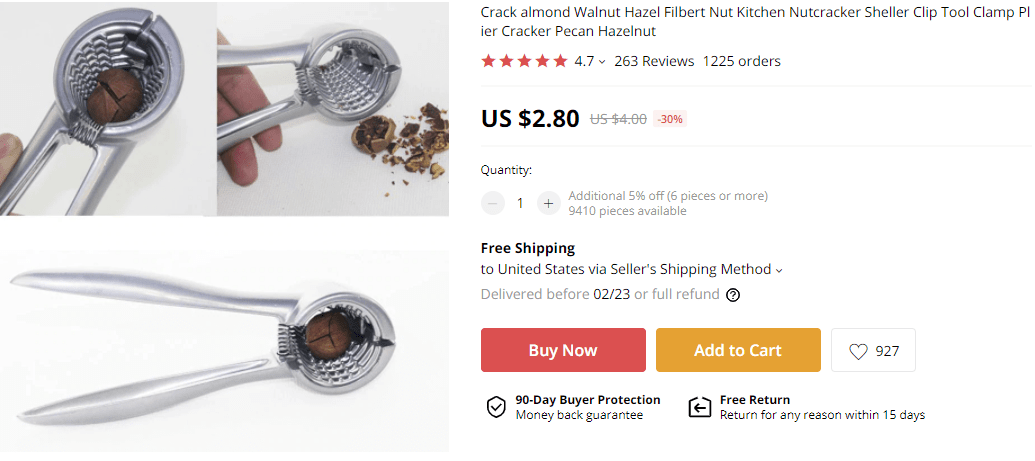 Peelers

Vegetable slicers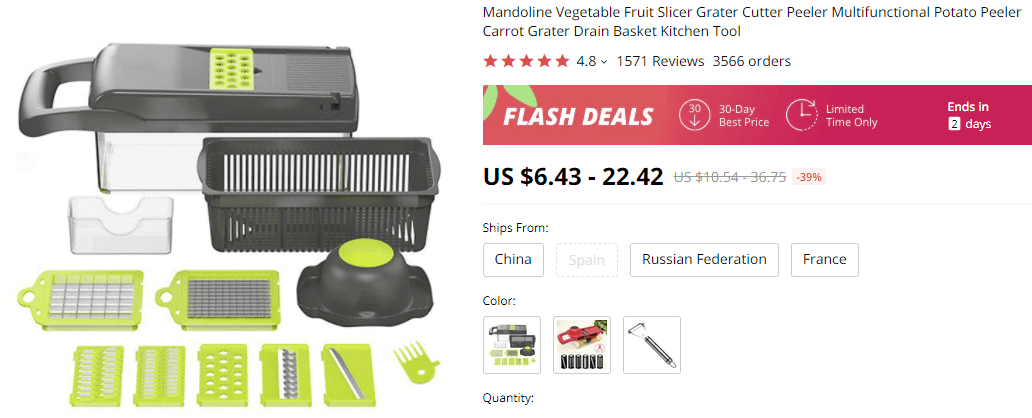 Coffee products
Reusable capsules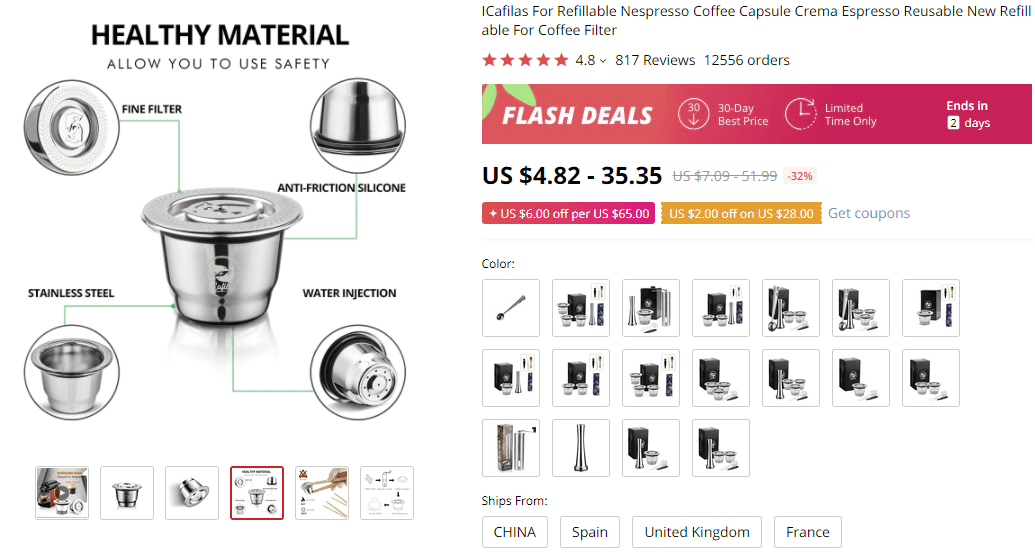 Capsule holders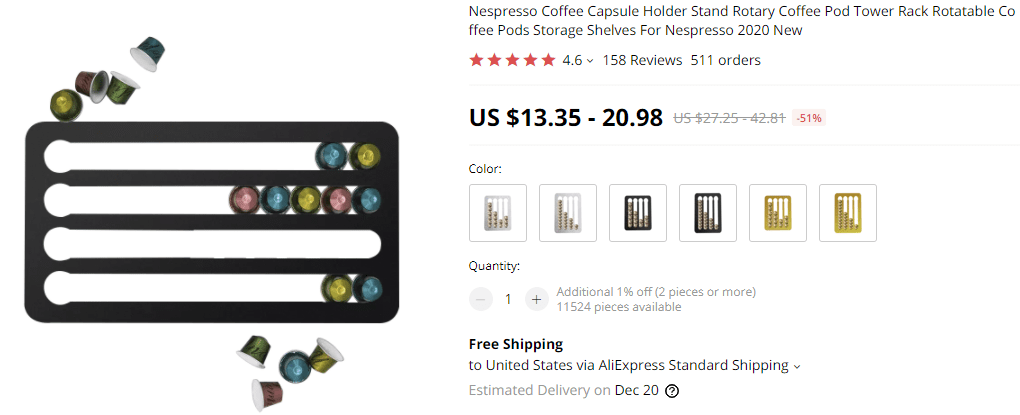 Pots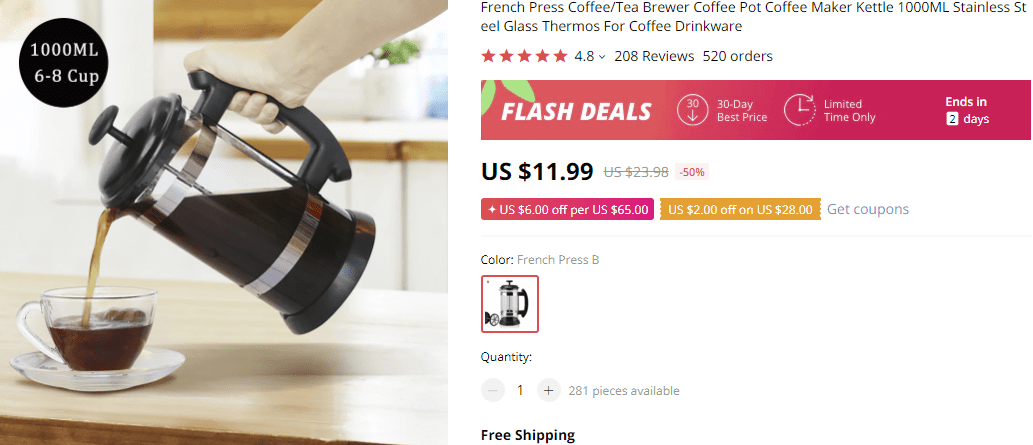 Spoons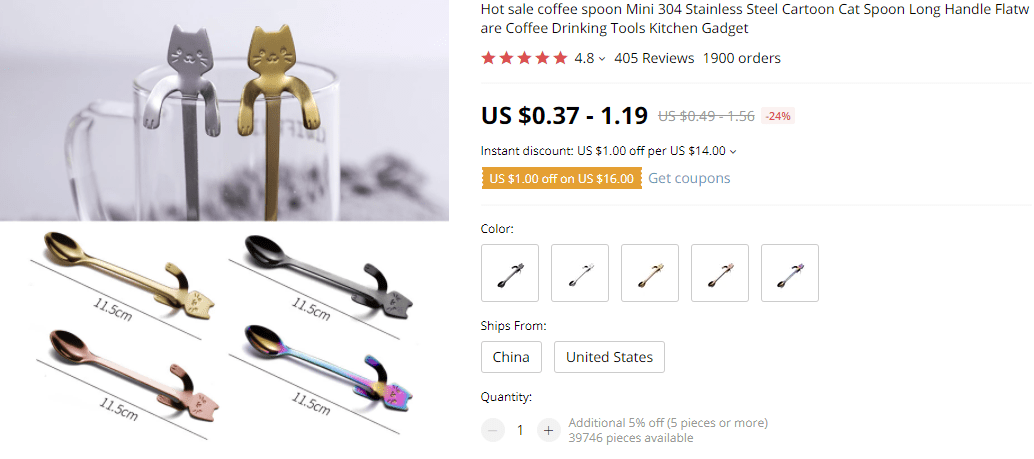 Manual coffee grinders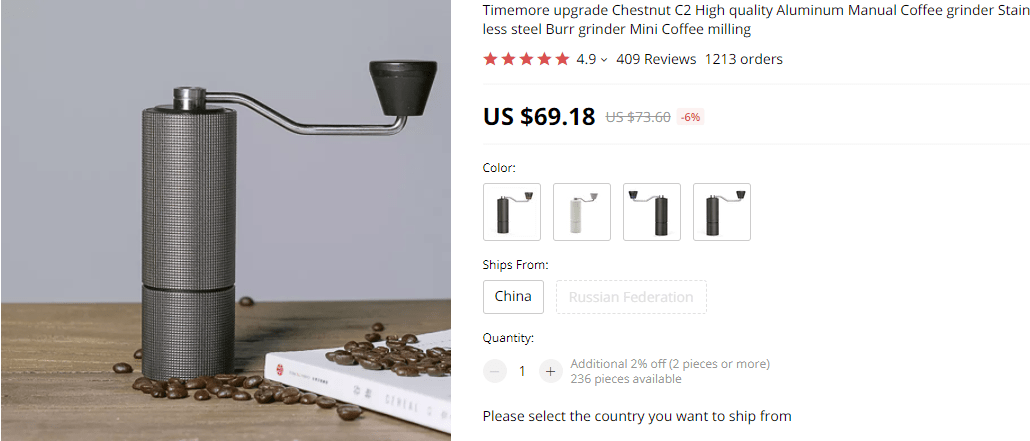 Milk jugs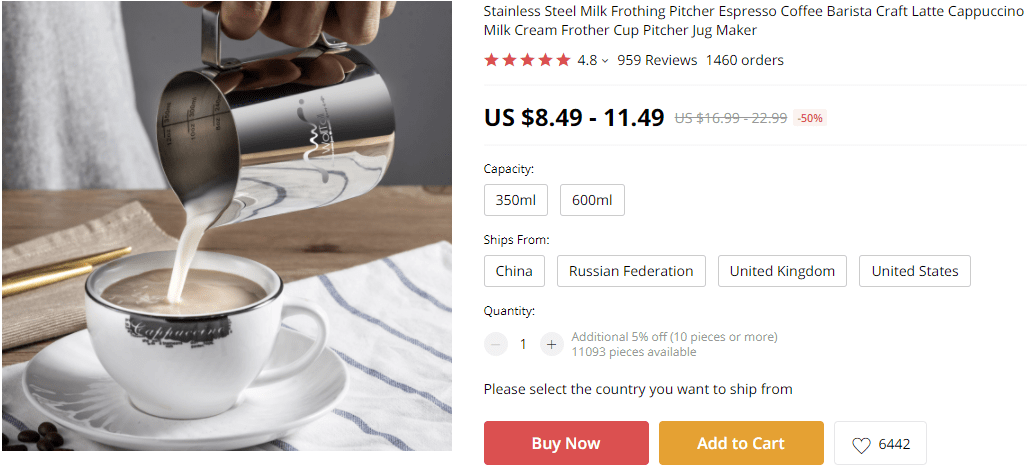 Tea products
Disposable tea bags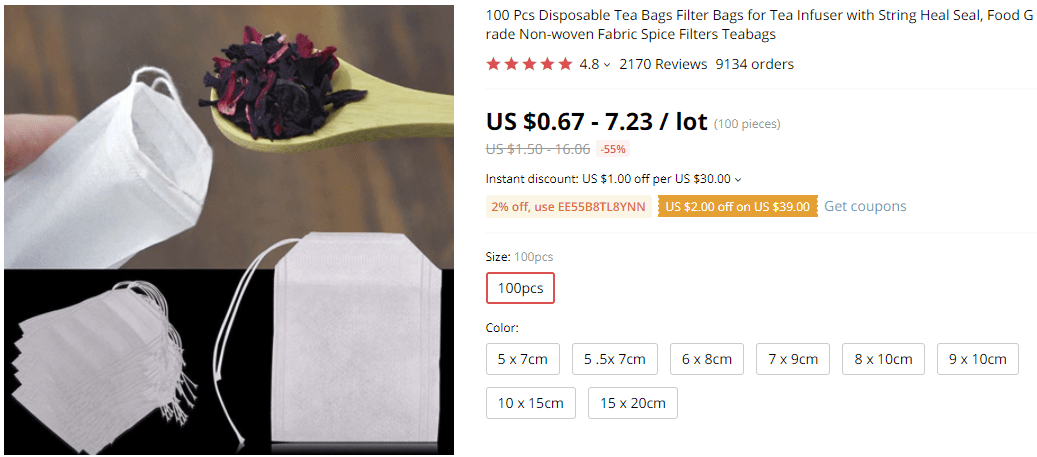 Tea brushes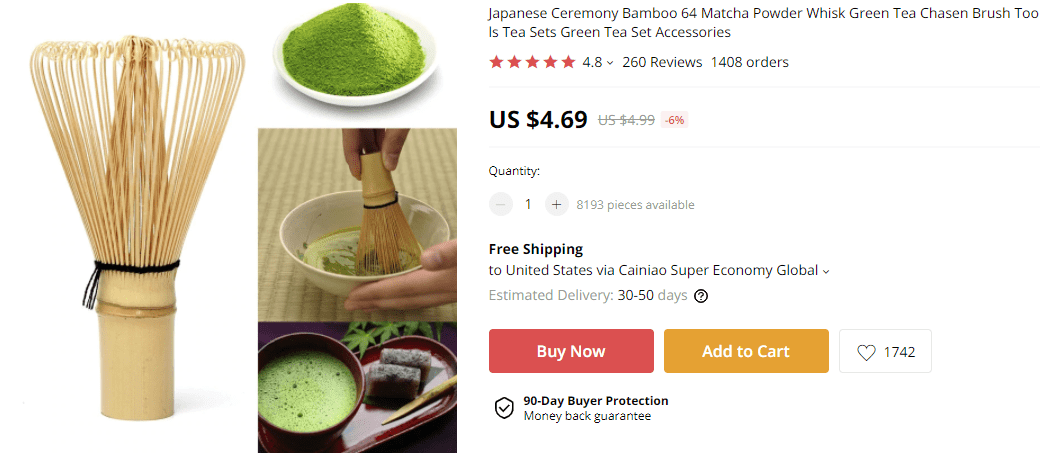 Infusers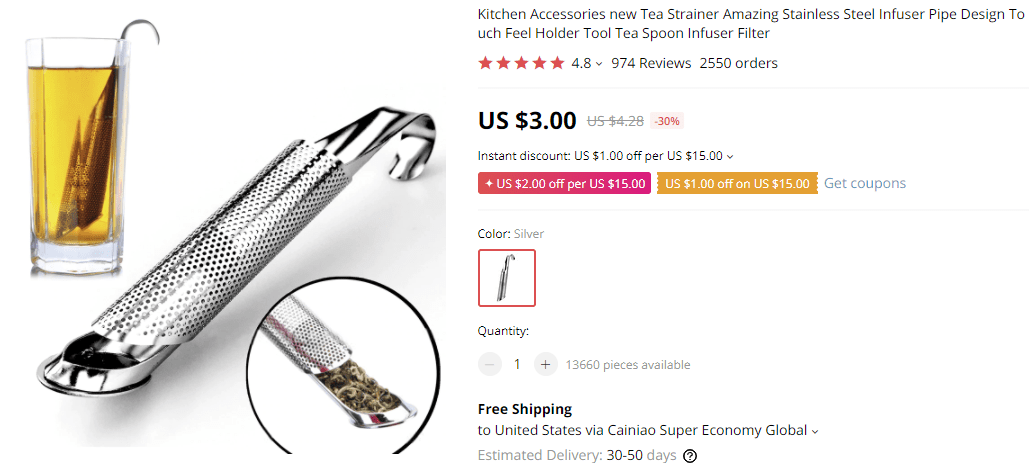 Strainers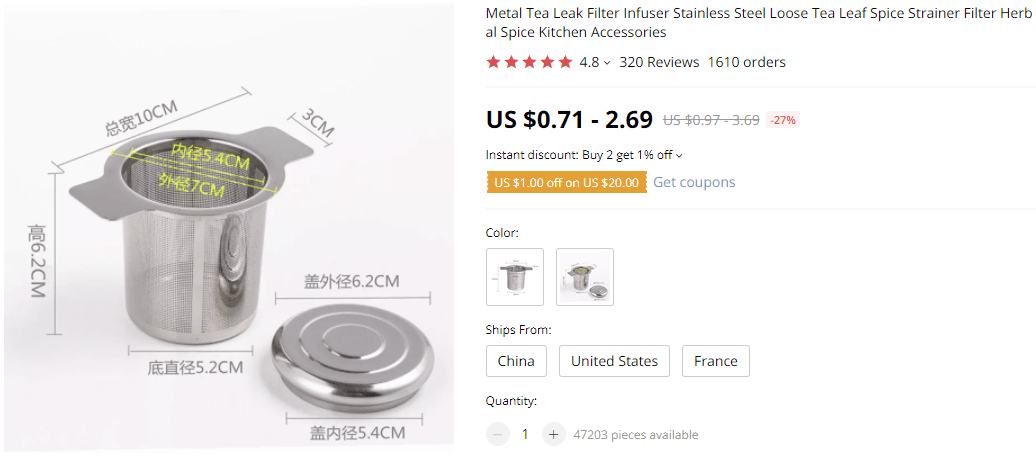 Teacups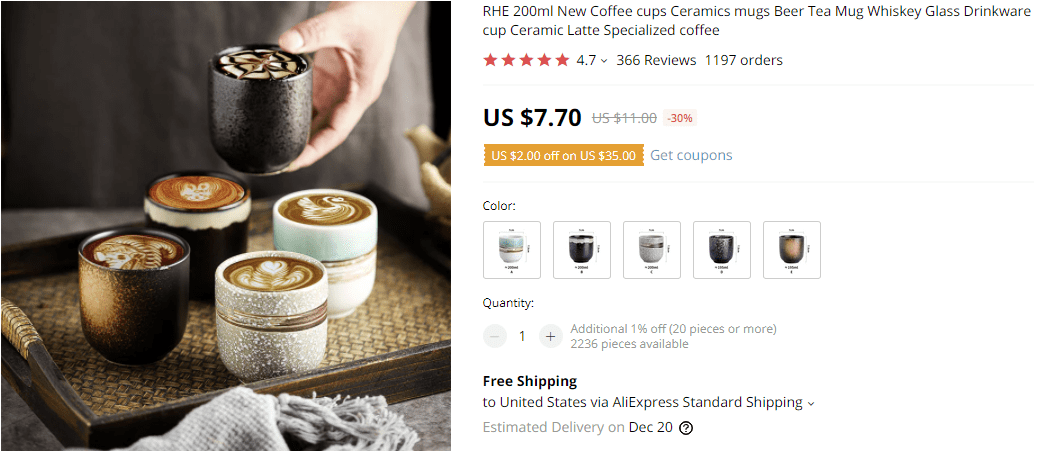 Teapots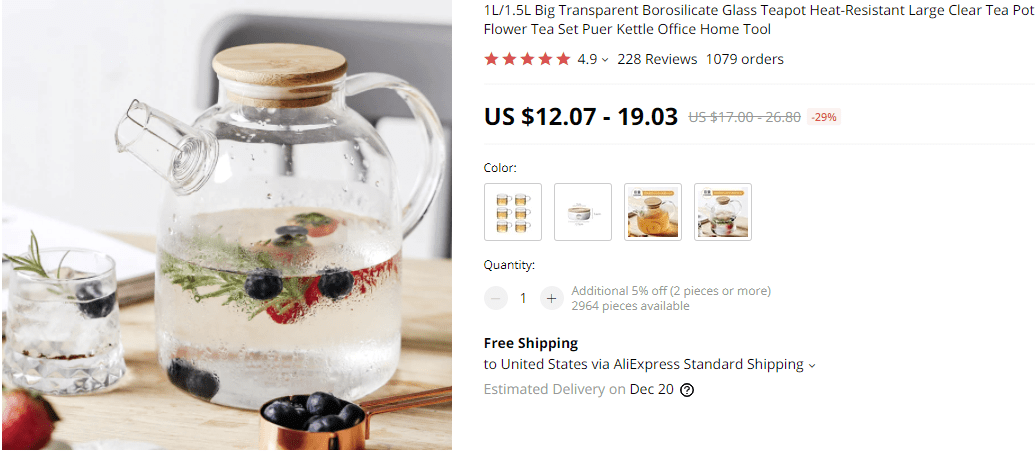 Teaware sets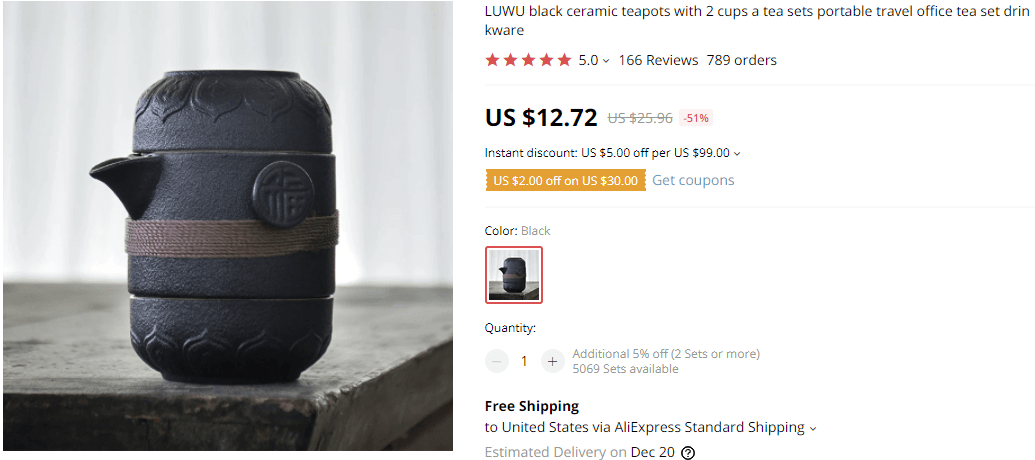 Wine products
Coolers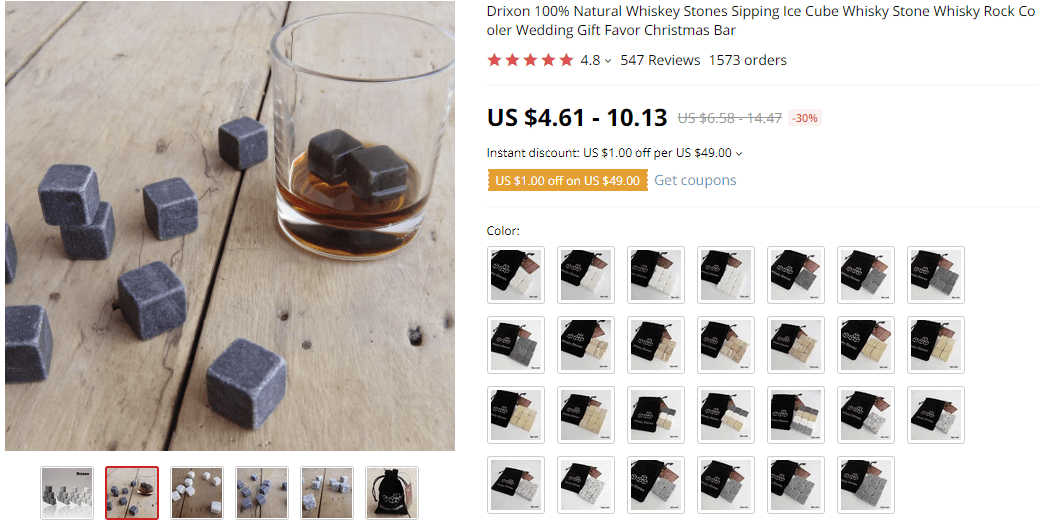 Pourers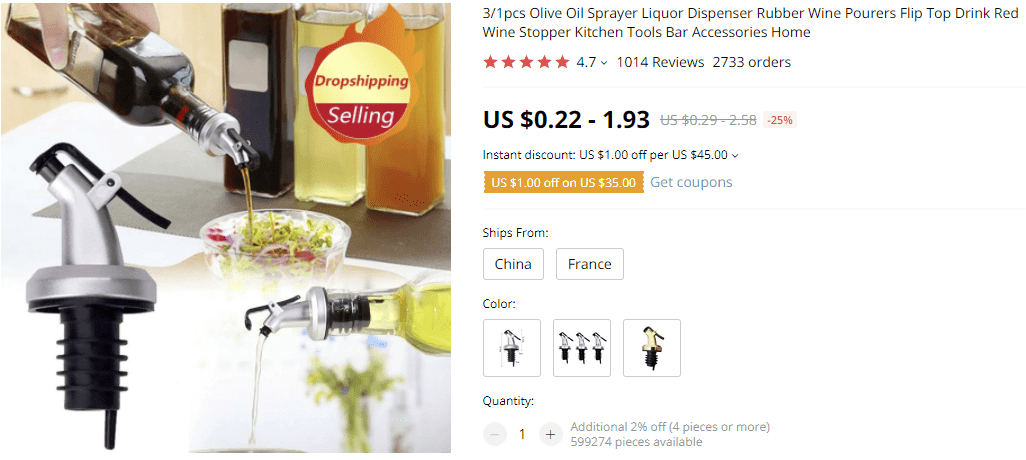 Racks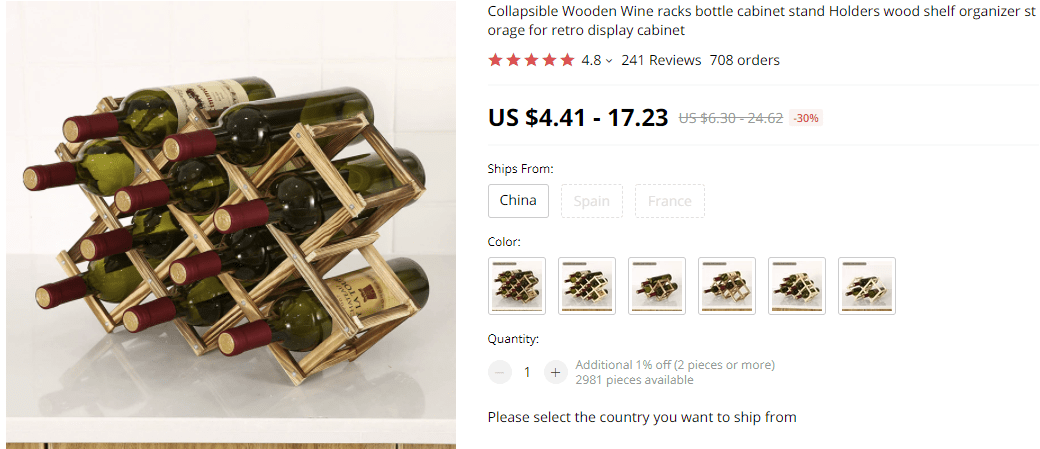 Stoppers
Dropshipping kitchen products: final thoughts
It's safe to say that if you choose to dropship kitchen products, you won't go wrong. The market is on the rise and there are lots of people that like to cook and want to purchase kitchenware goods in the near future. Furthermore, there are lots of products of high quality with a strong demand that you can offer, as you can see from this article.
Want to take your business to a new level? Try out our Amazon package and sell on the world's largest marketplace effortlessly!
Hopefully, these products will help you create a booming dropshipping store, with lots of satisfied customers!
If you wish to save your time and start a dropshipping business as soon as possible, try custom store solution! We will build you the perfect store that will work on autopilot and bring you profit for years to come.