How To Dropship Kitchen Products And Benefit From Essential Items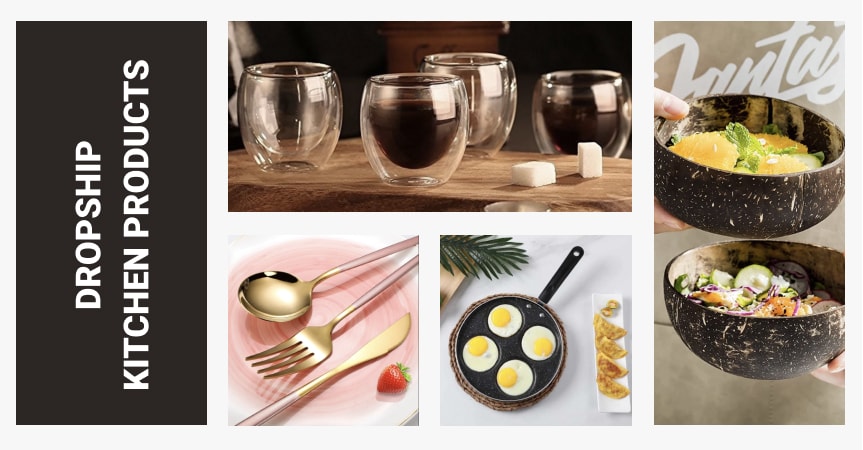 Do you want to start a dropshipping store but don't know what products to sell? Well, we've got an idea for you! Try to dropship kitchen products! It can be suitable for aspiring entrepreneurs and those who already have some kind of experience in ecommerce.
This is an incredibly popular niche and the products within it will always be in demand simply because food is a basic necessity. There are lots of people all around the world who enjoy cooking and preparing a tasty meal or two.
Given the popularity of this niche, you will have some competition out there. But don't get discouraged! By catering to the right audience and offering them high-quality products at an affordable price, you can be sure that your business will be a booming one. Also, if you are passionate about cooking yourself, this definitely the right idea for you!
At AliDropship, we always try to pick niche and product ideas that will be, first and foremost, beneficial to our clients. So, we scoured AliExpress to find the best kitchen equipment you can sell in your online store.
Nevertheless, in this article, we will discuss why dropshipping kitchen products can be a profitable business idea, how to do it, and what products you can dropship from AliExpress.
Let's get right into it!
Why dropship kitchen products?
Kitchenware is one of those product types that every household is not complete without. Let's look at some notable statistics about the kitchen equipment market.
Looking at the Google Trends results, we can clearly establish that there is a constant level of interest for kitchen products.
Furthermore, according to recent studies, the kitchenware market is worth $56,8 billion. It is expected to expand by 4.5%, and by 2025 it will amount to $77,4 billion.
The countries experiencing constant growth of demand for cookware are the United States, the United Kingdom, Germany, China, India, Brazil, and Saudi Arabia.
What's more, according to Statista, more than 30% of consumers are extremely likely to make a kitchen tools purchase in the next 12 months! And that's just in the United States alone. It's not hard to imagine that many other countries will have the same results. The main point of it all is that this market is growing and you can be a part of it!
Another reason why focusing on dropshipping kitchen products can be a success is people's interest in different cuisines. You can cater to them, as each has their own unique cooking tools and accessories.
Nevertheless, due to the worldwide coronavirus outbreak, many people still feel its impact on their everyday lives.
Governments all over the world are implementing strict health and safety regulations. This means that many public places and storefronts (like restaurants) are either closed or their working conditions are severely limited. And even if these places will start working normally again, some people will choose not to visit crowded places and come in contact with other people.
For this reason, people are more likely to cook at home even more.
Benefits of dropshipping kitchen products
We've shown you the statistics, however, what are the actual benefits if you choose to dropship kitchen products?
Low cost
Most of the products that you can add to your dropshipping store have a very low price.
First of all, this allows you to markup the price as you see fit. And this will ensure your high income! In some cases, you can double the price and still, it will be far less than that of the product that is selling in a brick-and-mortar store.
Second, a low price will be extremely appealing to your potential customers, making attracting customers much easier. Moreover, a great pricing strategy can distinguish you from the competitors and let customers choose your product offer over others'.
A great variety of products
Kitchenware is great not only because of the low initial price, but also because there are a lot of goods to choose from. As a result, this will allow you to target more potential customers.
And keep in mind, you don't need to offer all the products at once. You can start it slow, focus on one product category and as your business continues to grow, you can add more and more products.
Impulse purchases
Since most of the products you are going to offer are low priced, you can count on people making impulse purchases. Impulse purchase is a thing when a customer buys something they didn't plan in advance.
How to dropship kitchen products effectively
To make sure you start your dropshipping journey in the right way, we have prepared some essential tips you need to keep in mind before you start to dropship kitchen products.
Choose your dropshipping suppliers carefully
A major part of your dropshipping business lies in the hands of your suppliers. They are solely responsible for the products to be packaged and delivered. In terms of suppliers, AliExpress has tons of them.
To select a trusted supplier, we advise you to pay attention to the seller's AliExpress store rating, as well as the feedback left by real customers. Generally, if the store's been running for several years, has a sufficient amount of followers, and has a high store rating, you can consider cooperating with that seller.
However, if you don't feel like searching for a supplier, try our very own AliDropship Insights. It is a free database filled with the best products and time-tested suppliers.
Cautiously select the kitchen products
Some kitchenware items can be quite fragile. So, to avoid any unnecessary inconveniences, we recommend you to choose the products that won't easily break during the shipping period. Hence, you need to carefully select the items you are going to import to your dropshipping store.
If you wish to find the items on your own, we recommend you choose those that have a high rating of at least 4 stars, includes the free shipping option, and what's even more important, have at least a 1,000 orders or close to it.
Research the market to find the right target audience
Perhaps one of the most important aspects of any ecommerce business is finding your target audience.
We've pointed out the countries with the highest demand for this market, however, there are still certain aspects that you have to take into account. Such are the growing tendencies of the kitchen market. While there are different types of cuisines in the world, people have different lifestyles, as well. Some prefer to maintain a vegetarian diet, while others love to eat meat and so on.
Remember there are also different demographic groups: think about the age, gender, location and interests of your potential customer.
All of this will amount to your ideal customer.
Top kitchen product to dropship from AliExpress
Now, let's look at what kitchen equipment you can dropship from AliExpress. Keep in mind, we selected only the most popular products in each category. You are free to visit AliExpress and choose the products you like.
Cooking tools
Baking and pastry spatulas
Non-stick mats
Pastry and cooking molds
Cutters
Can openers
Cheese graters
Cookware lids
Dessert decorators
Egg items
Beaters
Separators
Slicers
Fast defrosting trays
Fermentation baskets
Frying pans
Funnels
Hamburger presses
Ice cream scoopers
Kitchen tongs
Oil sprayers
Pastry blenders
Wooden crepe maker
Rolling pins
Turntables
Dinnerware
Bowls
Chopsticks
Dinnerware sets
Spoons
Lunch boxes
Wooden plates
Drinkware
Soda dispenser
Thermocups
Transparent glass
Knives accessories
Finger protectors
Knife sharpeners
Knife strips
Table decoration
Leather coasters
Napkins
Table mats
Kitchen accessories
Adjustable and automatic mills
Bottle openers
Cocktail shakers
Drinking straws
Ice holders
Kitchen scales
Kitchen timer alarms
Measuring spoons
Oven mitts
Spice jars
Spoon rest utensils
Washing baskets
Fruit and vegetable products
Apple pitters
Cherry pitters
French fry cutters
Garlic presses
Graters
Kiwi slicers
Nut crackers
Peelers
Vegetable slicers
Coffee products
Reusable capsules
Capsule holders
Pots
Spoons
Manual coffee grinders
Milk jugs
Tea products
Disposable tea bags
Tea brushes
Infusers
Strainers
Teacups
Teapots
Teaware sets
Wine products
Coolers
Pourers
Racks
Stoppers
Dropshipping kitchen products: final thoughts
It's safe to say that if you choose to dropship kitchen products, you won't go wrong. The market is on the rise and there are lots of people that like to cook and want to purchase kitchenware goods in the near future. Furthermore, there are lots of products of high quality with a strong demand that you can offer, as you can see from this article.
Hopefully, these products will help you create a booming dropshipping store, with lots of satisfied customers!
If you wish to save your time and start a dropshipping business as soon as possible, try one of our ready solutions! By purchasing it, you receive a copy of a successful fully functional store, with which you can start your dropshipping business instantly!