"Hot Offer! A Dropshipping Business For Sale!": Why Owners Wave Goodbye To Their Stores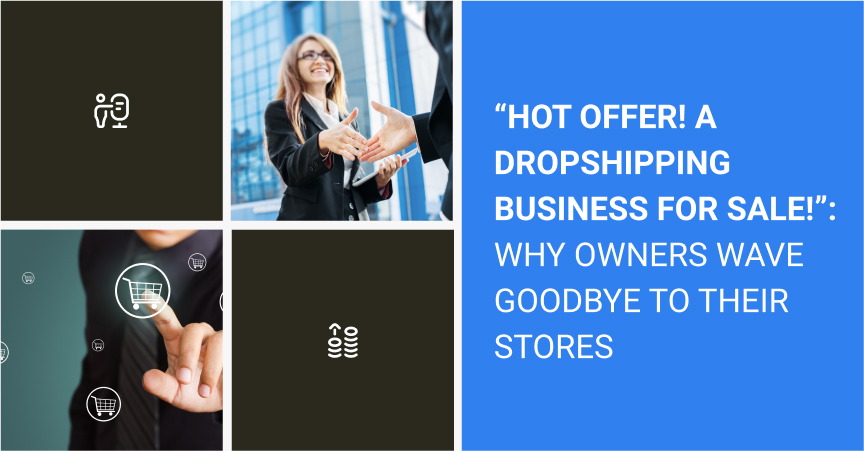 How to react to "Dropshipping business for sale!" ads? Where to look for a reliable pre-owned store, and how to choose the worthiest option? Why sell your hard-earned store to someone else? These and other questions are covered in today's article!
For some Internet users, finding well-built dropshipping websites for sale and buying one from the previous owner seems like an easy way to start a thriving enterprise. Others, at the same time, consider it to be a risky decision.
So, let's go through the most common queries and concerns typically related to the area of dropshipping business acquisition!
Why entrepreneurs put their own dropshipping business up for sale
It's not uncommon to see a dropshipping business for sale on a site or forum. A person sees an ad for a ready-made dropshipping website for sale and immediately thinks that something is deeply wrong with the store.
"Why, indeed, would the owner say goodbye to a reliable source of income? The store brings no money, I guess, and the seller just wants to get rid of it by tricking some lazy and inexperienced buyer."
This might be the case, of course, and this is exactly why you need to be really cautious while buying a 'second-hand' store (read the necessary rules below!)
But, even if a store runs perfectly and looks promising from the financial point of view, the owner still might want to sell it. There are numerous reasons for it:
Some owners treat their dropshipping stores as long-term investments. Instead of getting continuous (yet moderate) profit from processing clients' orders, they receive a huge one-time revenue from selling the whole store to a different person.
Indeed, if a store attracts lots of visitors, sees a stable flow of orders, and has high Google rankings, it has an incredible potential in terms of further growth. With wise management, the owner can turn a store like this into the main source of self-generated income. Understanding this, the current store owner can find a person who would love to get an established well-performing store and sell the site with a reasonable profit margin.
Through selling an already existing store, the previous owner gets the financial resources to support his/her further undertakings. Maybe, the store seller wants to try a different niche, or desires to launch a store with a different type of layout and design, etc.
It is a common scenario for recent newcomers. They order a ready-made store and don't pay much attention to the niche choice. They get a good-looking store with stable performance but don't feel any emotional attachment to the niche. As you can guess, they lose their interest in such a 'random' store quite quickly.
From this perspective, by putting a dropship website on sale, the owner gets an opportunity to grow professionally and to test alternative business opportunities.
As we can learn from the experience of our client Alex, the time factor has a solid impact on the decisions made by a dropshipping business owner. In Alex's case, it was challenging to keep up the outstanding performance across all the 5 stores he had. So, in order not to do a job of poor quality, he decided to sell one of his profitable online stores and to focus on the remaining sites.
Lack of time is not the only thing that can motivate the owner to resell the store. Sometimes, entrepreneurs get really excited about dropshipping business (which is perfectly understandable :)), buy or develop several stores at once… and find out that they now have more sites than necessary.
Our client Otto, for example, admits that he is 'too lazy' to work on all of his stores. That's why he doesn't pay attention to half of them. In this situation, indeed, the best decision is to sell these stores to someone else.
Some people, like our other respondent Daniel, solve the 'overstocking' issue by hiring virtual assistants. They are responsible for minor managerial tasks and customer support. But, as you can guess, it means additional expenses. So, if the owner wants to cut down the operational costs, the obvious decision is to put some of the ecommerce websites on sale.
In other words, if you see that a ready-made store is sold by the current owner, don't immediately assume that it's a fraud. Chances are the store owner is just rethinking his or her business strategy. So, maybe, you can heavily benefit from it and start a business with a ready-to-go store.
A dropshipping business for sale: pros & cons
Benefits of buying an online business
Many companies, including AliDropship, can build a dropshipping website according to your instructions. As a result, you will get a unique and fully functioning shop. So, why would anyone want to buy an online business from someone else instead of building a completely new website?
Well, a dropshipping business for sale has at least several benefits.
First of all, you don't have to build your website on your own, which saves you a lot of time. Even if you know how to do it, it'll take several days or even weeks if you're full of ideas! You'll have to create the store, set up payment gateways, all the necessary plugins and add-ons, import products, etc.
Second, you don't have to find, import, and test products. An established ecommerce website for sale already has an inventory of goods. And if the seller doesn't lie about the revenue the store makes, probably these products have proved popular. Of course, you will still have to find new products later (to refresh the offer). But it'll take much less time and effort.
Compared to new businesses, an established one already has a clear target audience, a social media presence, and perhaps even a certain number of returning customers. You could say that online stores for sale are more or less known brands – unlike completely new businesses.
Naturally, you can launch such a website and start making money much faster compared to developing a business from scratch.
Drawbacks of buying an online business
Nevertheless, there's also a number of cons. It doesn't mean the whole idea's not worth it. But one has to fully understand what he can and can't get when seeing a dropshipping business for sale.
First, you can't get the business of your dream. Since it was made by someone else, the site's design, name, and selection of products will be different from what you may want. If it doesn't bother you, then no problem!
The business you purchase may turn out to have reputation issues. Of course, the seller will most likely try to hide this information from you. And after the purchase, the business may require a lot of changes.
And finally, if you have little or no experience in promoting and running a dropshipping business, you may find it really challenging to keep this business afloat. A business never makes money on its own. It requires proper control. So, you may want to either start from scratch and learn everything step by step or find an affordable dropshipping business for sale. In this case, you won't spend a fortune and will still get a ready-to-go business for your experiments.
How to choose between several options of dropshipping websites for sale
So, you're looking for an already operating dropshipping store. What aspects should you consider before completing the purchase?
Pros and cons of the deal
Before you buy a 'second-hand' store, consider your reasons to do this. If you're buying an already functioning store just because you don't want to bother yourself with assembling a site from scratch, you can use a much more convenient option of ordering a ready-made web store from an expert team.
The purchase of a 'second-hand' store makes sense if you want to buy a store that already has a history of smooth functioning and already brings profit to the owner. Still, even if this is your core motivation, remember that you probably won't be able to fully customize the site. Basically, you will have to accept the majority of development / design / product decisions made by the previous owner, and adapt to them.
Dropshipping business niche
Personally, you might see no difference between selling pet supplies and kawaii stationery. But even if you don't really care what type of business to run, you need to at least make sure that this particular niche sees enough demand and won't go out of fashion anytime soon.
For this purpose, you can use our free niche evaluation tool. With its help, you will learn if you really can make money in this exact niche. It will give you a general idea about the profitability and overall potential of the dropshipping store you're going to buy.
In addition, you need to evaluate the niche potential in terms of SEO. It will give you a general overview of the level of competition and help you understand if people are interested in these particular dropshipping products or not. For this purpose, you can use Google Trends and Google Keyword Planner or focus on different social media.
To learn more about how to evaluate a niche from the SEO perspective and find the most profitable products to sell online, feel free to read our article.
Dropshipping store design
The quality of the store design influences the visitor's decision to make a purchase, and heavily influences the store's conversion rate – and therefore, your profit level. Most likely, you, as a new owner, will be able to change logos, banners, and other types of on-site images. But the overall structure and layout of the site will remain as is.
You don't necessarily need to be an expert in online store design to evaluate this component of the site. All you need to do is visit different pages of the store and take notes.
Is it convenient and understandable for you to navigate the web store? Can you easily guess where to find the desired product and how to place an order? Does it look like a modern site developed by a skilled expert, or does it look like a slow and outdated relic from the 2000s?
Website traffic and performance
Ideally, the seller should provide you with the screenshots of the admin panel that disclose the number of visitors, the sales volume, and other important performance indicators. Even our success stories' authors do this!
Here are 5 crucial factors influencing an online business value – check them out!
Additionally, you can make your own independent research, and, for example, check this website on SEMrush. Even though you won't see its financial performance, you will get access to important SEO indicators. They are organic and paid traffic, the number of backlinks, main organic competitors, etc. It will help you understand whether the ecommerce website is optimized, and this way, you will be able to roughly estimate how profitable it might be to run this particular site.
Does the current owner ask for a reasonable price for the store? Is this a fair price for the site's design features and performance peculiarities? Won't it be cheaper (and handier) to order a fully customized store from a trusted service provider?
Remember: you can only identify the true value of this store after thoughtful research of its core metrics, so don't be too fast in your judgement!
If the original owner answers your questions promptly and clearly, you have nothing to worry about. It proves that you've come across a decent person who just wants to change his or her business strategy.
If the seller seems impatient, leaves your questions unanswered, and refuses to show the 'inside' of the web store, most likely, this is not a really trustworthy person. So, you'd better stay away from the 'deal'.
Don't give up, even if you cannot find a reliable seller or a suitable web store right away. Somewhere in the world, there is a person that sells exactly what you're looking for.
Where to find an established ecommerce business for sale?
If you want to find a good dropshipping store for a fair price, you need to look for suitable deals on well-reputed platforms. We can recommend the following ones:
Flippa.com is an ecommerce business marketplace that is specifically designed to buy and sell online businesses around the globe. Since it's a regulated platform, it has a set of rules for the deals' participants. So you can expect a safe and fair environment.
If you have decided in favor of Flippa, we also recommend using their Escrow service. It will help you make the process of buying a website business more secure and will protect your interests. Moreover, they have great customer service! Therefore, if you have any issues, their support team will solve them as soon as possible.
On AliDropship forum, there is a special thread created for current business owners who want to sell their stores – and the visitors who want to buy an already operating site. Unfortunately, we cannot guarantee the honesty and professional ethics of each and every particular seller. However, we really hope that our forum, as a community of like-minded entrepreneurs with similar business goals, solely consists of friendly and reliable people. 🙂
AliDropship established stores
That's right: we're offering established businesses, too!
As you know, our team consists of people who have first-hand experience in dropshipping. Digital marketing experts, SEO specialists, social media managers, designers, and other ecommerce professionals are involved in creating, developing, and promoting our self-owned stores. And from now on, we're putting these established businesses on sale!
Already having a proven track record, reliable traffic sources, and stable profits, they make a great choice for any person wishing to invest in an online business.
AliDropship premium stores
This is a really interesting low-cost opportunity to buy a dropshipping business. Each one of our premium stores is a profit-making, good-looking, mobile-friendly dropshipping website that has a stable history of sales and a verifiable track record. And the thing is, any user can buy an exact copy of such a store for an affordable price and start a highly successful business immediately, with no guesswork or experimenting!
So, if you're looking for a dropshipping business for sale, which option will you pick? Will you order a turnkey store meeting your personal wishes and preferences? Or you'd rather prefer to look for a premium dropshipping store with proven profitability? It's only up to you to decide!