How To Start Alibaba Dropshipping? Meet Sezam – The #1 Solution!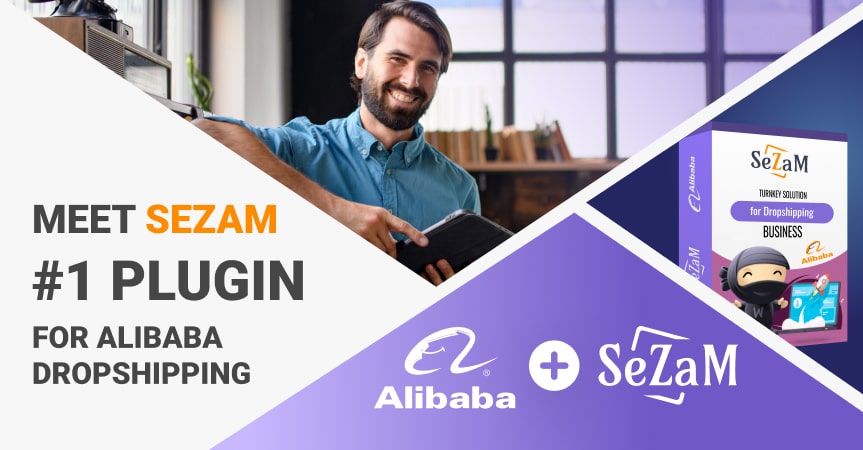 Do you want to start a dropshipping business and see what are the most promising options to choose from? If so, you can consider Alibaba dropshipping with Sezam!
Recently, Alibaba has expressed its desire to team up with dropshippers. Consequently, they have added the list of products that are intended for dropshipping exclusively. So if you know the benefits Alibaba ensures, and you have been interested in Alibaba dropshipping, here is good news: now you're able to use Alibaba as a source of products for your dropshipping business.
But wait a minute. Alibaba deals with B2B sales. So how will they work with dropshippers? Why is it so great to start dropshipping with Alibaba and what you need for this? Well, let's find it out together!
How does Alibaba work with dropshipping?
Actually, Alibaba deals mainly with B2B sales. However, recently they've decided to create a product range for dropshippers.
The first logical question is the following: will your customers have to buy in bulk only? No, they won't. Alibaba is interested in teaming up with dropshippers. So if you decide to use the platform as a supplier for your dropshipping store, you will act the same as when you dropship from AliExpress.
Is Alibaba trustworthy?
Alibaba is one of the world's biggest online marketplaces. Some strict rules and regulations keep most of the transactions secure on the platform. However, all online selling/trading comes with a degree of risk. You must keep in mind that Alibaba is an ecommerce platform that connects suppliers and buyers. So, essentially, it is the responsibility of both sides to do their due diligence when dealing with each other.
Nevertheless, is Alibaba safe? Keeping it short – yes, Alibaba is absolutely safe and trustworthy. However, the best way to avoid risks while dropshipping with Alibaba is to complete your research and find the right suppliers that meet your requirements and satisfy them.
When you study certain suppliers, their feedback, history of transactions, etc., you will get an understanding of whether the supplier is trustworthy or not.
Furthermore, to see if his products meet your quality requirements, you can order a testing sample of the product.
If you manage to carry out these short simple steps, Alibaba can be a safe and trustworthy experience for you.
Tips for buying from Alibaba
Now that you have an understanding of how to find trustworthy suppliers and have a safe experience, how to buy from Alibaba? Let's look at some tips for buying products from Alibaba suppliers.
Ask about minimum order quantities (MOQ)
Even though most suppliers will already have the MOQ's listed, if you need a lower number – it won't hurt to ask.
This way, you can buy a smaller batch of items that will serve both as a purchase and sample. If you show that you are really interested in the product, most suppliers will provide you with a lower MOQ.
Negotiate the pricing for samples
Samples are very important when it comes to dealing with Alibaba suppliers. They can be the deciding point when you choose the supplier. So, always get a sample before actually dealing with a supplier.
Most suppliers will ask you for the full price for a sample, but you can negotiate by asking for a discount on the product. This way, you can check the quality of the item without having to pay the full price. Moreover, some suppliers are extremely confident in their products and might even send you some free samples. Although, keep in mind that this is a rare occurrence, as many people abuse this.
Ask about production pricing
Asking about production pricing is one of the most important questions.
Alibaba suppliers will give you a range like $6-$8 per unit. However, you will require the exact amount each unit will cost, so you can understand and plan your margins accordingly.
Learn about production time
You need to understand when you can deliver the items to your customers, that's why you need to ask how long it will take to manufacture the products. Ask them to provide you with exact dates of production, to have an understanding of when your customers will receive their orders.
Compile a list of potential suppliers
There are plenty of reasons why some suppliers you contact won't work out for some reason or another. They may not meet your verification requirements. May not have enough stock or capacity to take on more work. Or won't offer unacceptable payment terms and refuse to negotiate.
So what is the best option to do?
It's simple, just compile a list of potential suppliers and then reach out to them all at once. This way, you can secure a suitable supplier much faster.
A trustworthy supplier will have the following features:
Sell the product you want
Offer a minimum order quality of at least 1 item
List reasonable prices
Be verified and offer Trade Assurance
Have excellent reviews
When you compile a list of at least 5-10 suppliers, you should try to contact them and offer cooperation.
Choose a payment method
When you collaborate with suppliers, you want to understand how you can pay them. There are several common payment methods and each one has its benefits and drawbacks for both you and your supplier.
Here are some of the common payment methods:
Bank transfer (Upfront TT)
Using this method, the supplier will receive a full payment before the start of the production.
This payment method includes a high level of risk for the buyer and is not recommended if you're dealing with an unknown supplier. The possibility of getting your money back if something goes wrong is very little.
There is little if any recourse to get your money back if something goes wrong.
This payment method is relatively safe for both parties. However, it carries some complex operations and is generally used for larger purchases ($20,000 and above).
This is a high risk payment method for the buyer that's not recommended when it comes to paying suppliers if the payment is not protected by escrow. WU is generally used when dealing with people you know well. There is no recourse if something goes wrong.
For many buyers this is a very popular method, as it has less risk, is easy to use, and has all around good buyer protection.
Nevertheless, although it's popular among buyers, it's less popular with suppliers due to difficulties with withdrawing money, high tax rates, and potential charge backs from less than honest buyers.
An escrow service has the buyer's money to be held by a third party and is only paid to the supplier after the buyer confirms satisfactory delivery of their order. It is a
When using an, the buyer's money is held by a third party and is only paid to the supplier after the buyer confirms satisfactory delivery of their order. Escrow is a reasonably safe payment method for buying and selling online because it protects both the buyer and supplier.
When you're starting out to buy goods from Alibaba, you'll probably prefer to look for or negotiate with suppliers to either accept PayPal transactions or some kind of escrow service to give you the highest possible level of protection.
Can you buy from Alibaba without a company?
As you know, Alibaba primarily deals with B2B sales. However, there is a way to buy products even if you don't own a company.
All you have to do is simply put your name in the "Company" field, when registering an account on the website.
Alibaba dropshipping and AliExpress dropshipping
1. On Alibaba, you deal directly with manufacturers. On the other hand, most of the sellers working on AliExpress are mediators between producers and end buyers.
2. The initial prices on Alibaba and AliExpress are considerably low. Above all, both platforms can boast a wide product range for you to choose from.
3. Next come shipping terms. The point is that the delivery times are similar for both platforms. However, there's cheap or even free shipping on AliExpress.
4. Both AliExpress and Alibaba claim that they have warehouses all over the world that are supposed to reduce the delivery time.
5. Alibaba is willing to team up with dropshippers. That is to say, the platform is ready to provide dropshippers with the benefits that will sharpen the edges of the dropshipping business model.
This is why Alibaba suggests product customization. So the manufacturers that act on Alibaba are ready to put your brand labels on packages. This is to let you develop your brand name, increase loyalty, etc.
6. According to Alibaba, if you partner with the platform, you can be sure you source products from suppliers that are certified by top independent inspection companies.
As you can see, both AliExpress and Alibaba dropshipping have their own pros and cons. On Alibaba, the majority of sellers you will find are the real manufacturers. Meanwhile, on AliExpress, there are lots of mediators. Most importantly, the product and shipping prices on Alibaba and AliExpress are similar.
And since the options of dropshipping with AliExpress and Alibaba are quite similar, it means Alibaba dropshipping deserves your attention.
How to automate your dropshipping business?
There's no secret that you need special software to let you run your dropshipping business with no effort. If we speak about dropshipping with AliExpress, this is clear. All you need is AliDropship Plugin or AliDropship Woo Plugin.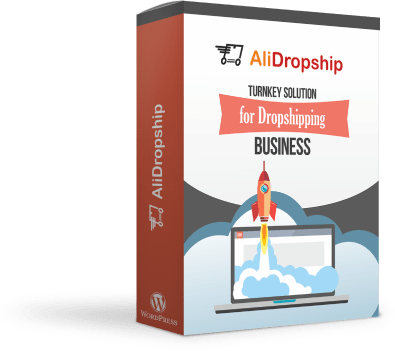 Please note that AliDropship has its solution available for Shopify.
AliDropship Plugin lets you easily import products to your website, set markup, place orders in an automatic way, and so on. So with this kind of software, you'll be able to put your dropshipping business on autopilot.
But is there a similar software offering for Alibaba dropshipping? Yes, there is!
Meet Sezam: the first Woo plugin for Alibaba dropshipping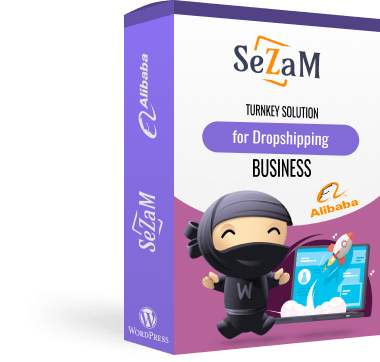 If you're going to start dropshipping with Alibaba, you need the same kind of software as AliDropship Woo Plugin. But it needs to be designed for Alibaba dropshipping only. Therefore, meet Sezam! This is the first official Woo plugin for dropshipping with Alibaba!
Sezam lets you easily import items from Alibaba to your website in one click. Consequently, all you need is to open the Alibaba dropshipping pavilion with the help of Sezam, choose an item you like, and click 'import' to add to your store. After that, the desired product will appear on your site instantly, including all images, descriptions, and variants.
The plugin has a built-in markup formula. So you don't need to consider the pricing strategy of your online store. All the products on your website will be marked up according to this formula. It has been used by hundreds of online stores over years.
Due to the constant connection between Sezam and Alibaba, the auto updating system keeps your product info relevant and corresponding to the latest data from Alibaba.
Automatic order placement
Sezam has an automatic order placement. That is to say, there's no need for you to order each item manually. Just click the 'Order' button, confirm the order on Alibaba, and get tracking once your order is processed.
How to run a business with Sezam?

Ok, now it's clear that Sezam is able to simplify dropshipping business management. But how does it actually work? How to run your dropshipping business with Sezam?
✅ Step one: you need to install Sezam on your website.
✅ Step two: you can start importing products from Alibaba to your online store.
After this stage, your direct involvement is no longer required.
✅ Step three: Internet users are surfing your website, choosing the products they like, and placing orders.
✅ Step four: Sezam transmits the information about the orders to your Alibaba suppliers. Consequently, they start preparing packages to ship to your customers.
✅ Step five: it remains for you online to keep the profit from the retail price. That's it!
Well, now it seems to be a lot more tempting to go in for Alibaba dropshipping with Sezam, doesn't it? Therefore, it remains for you only to install Sezam on your website and launch your online store based on Alibaba dropshipping. But are there any specific requirements to use Sezam on your website?
Sezam: what are the system requirements?
There are several conditions you need to meet in order to use Sezam for Alibaba dropshipping.
Firstly, if you want to start Alibaba dropshipping, you need to create a website. Before you go into building a site, you need to choose a domain name. You need just apply to the platforms that specialize in domains, for example, GoDaddy.
After you've chosen a domain name, the next stage is to get hosting. But what is hosting? In a nutshell, you need hosting in order to make your website 'visible' for all Internet users.
What hosting to choose? In fact, the Sezam plugin is supported by the majority of hosting providers. However, you may choose hosting from AliDropship: our solution is perfectly optimized for WP-based online stores.
The Sezam plugin is built for the WordPress Content Management System exclusively. Therefore, if you want to use Sezam for Alibaba dropshipping, you need to download WP CMS for your website.
Please note that Sezam is a WooCommerce-based solution. So you need to download WooCommerce to let Sezam work.
Actually, that's it. If you want to learn more about the system requirements, feel free to move to our knowledge base or contact the support team of Sezam.
Final thoughts on Sezam and Alibaba dropshipping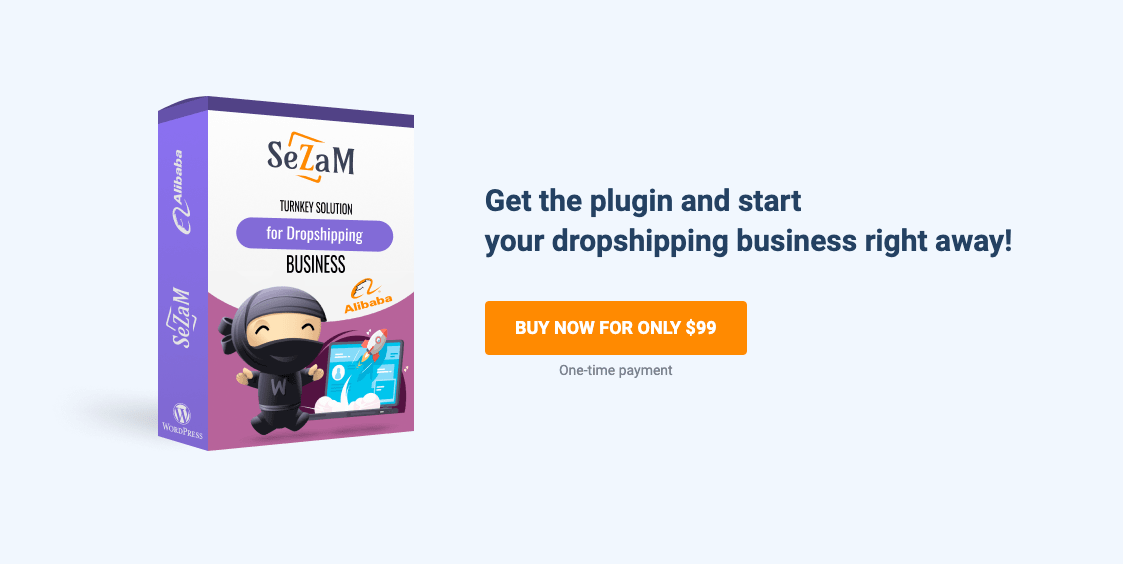 To sum up, Alibaba dropshipping is a worthwhile option to start a profitable business. If we compare it to dropshipping with AliExpress, it becomes clear that both have their own pros and cons, and, surely, both deserve your attention.
Meanwhile, our team has designed an ultimate solution for you to effortlessly run your dropshipping business with Alibaba – it's Sezam. This plugin will let you easily manage your store, save tons of time on boring and time-consuming tasks, and enjoy high profit from your online store.
So move to its website to learn more about Sezam, and check how to manage your dropshipping store with Sezam.
Would you like to launch a profitable ecommerce venture? Are you looking at Alibaba dropshipping? In this case, get Sezam and take your big ticket to get a smooth start in dropshipping!