Thank you
for sharing your thoughts with us as your feedback will help us to provide you with enhanced product quality.
Forget about manually adding various shipping methods to your store! From now on, you need just a second to do it. With AliShipping, you can easily import and customize all possible AliExpress shipping methods to satisfy your clients and boost their confidence. Use this hassle-free tool to sell more!
Price:
US $

29
*One-time payment
Overview
We always strive to make our clients' experience even more convenient. That's why we've created a simple and handy tool for automatic import of shipping methods from AliExpress to your AliDropship store.
Benefits
Import all the possible

AliExpress shipping methods in a click

Offer your clients 

a

wide range of shipping options

Provide the best shopping experience

for your customers

Save time on adding

shipping methods for your products manually

Get full automation and synchronization

with AliExpress

Enjoy free lifelong support

and updates
Features
Enjoy easy importing of all possible AliExpress shipping methods right within the AliShipping tool
To offer your clients various shipping methods, you don't have to set them up manually anymore – AliShipping will do everything for you!
Just push the button and shipping methods will be imported from AliExpress (for all products or only for the new ones) to your AliDropship store.
The delivery time and cost will be the same as on AliExpress, so you don't have to assign them manually. But if you wish, you can set up the price of each shipping method for each product and country according to your business strategy.  


Display all shipping methods right on the Cart page
When you add shipping methods from AliExpress, they will automatically appear on your Cart page. Clients can select the preferable one at checkout!
It will impart a feeling of reliability and boost your clients' trust level significantly.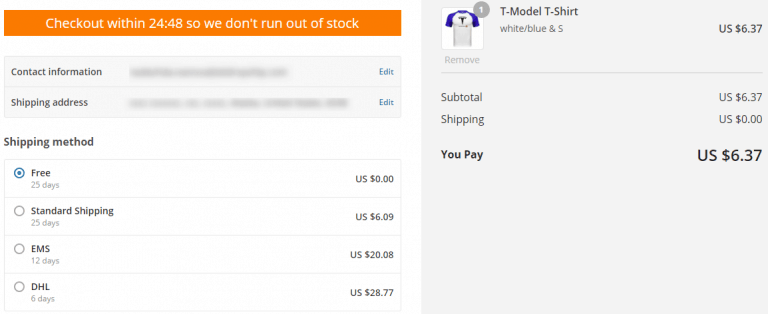 Easily remove or customize shipping companies names to make them more original
All the companies' names are already listed in an understandable, client-oriented way. But if you wish, you can easily edit them to make these names meet your business goals and style.
By the way, if you don't want to show some of them, just remove them from the list!

It's time to get a lot of reliable shipping methods without extra effort! Try AliShipping right now!
Any questions? Please refer to our Knowledge Base or feel free to get in touch with our support team at support@alidropship.com
Updates
Keep your finger on the pulse
To enjoy the full range of features, please download the latest version of the add-on
Version 1.1.7 – 26.06.2019 (current version)
Version 1.1.6 – 25.06.2019 
Woo compatibility added (Shopkeeper, Shopper, Storefront, Da Vinci 2.0 for Woo, Flatsome);
Minor optimizations
Version 1.1.2 – 31.05.2019 
Reviews
I must need this AliShipping plugin for Woo version. Could you please provide me very soon?
June 18, 2019
I am happy to get this tool. There is everything to fast import of shipping methods without extra time waste: intelligent interface and clear features
June 13, 2019
I am waiting for the Woo version.. please update
June 2, 2019
Nice that guys created such a tool. It became much more convenient to assign shipping methods to products with AliShipping. Thanks!
May 30, 2019