How To Sell On Facebook In 2021: How To Set Up A Facebook Shop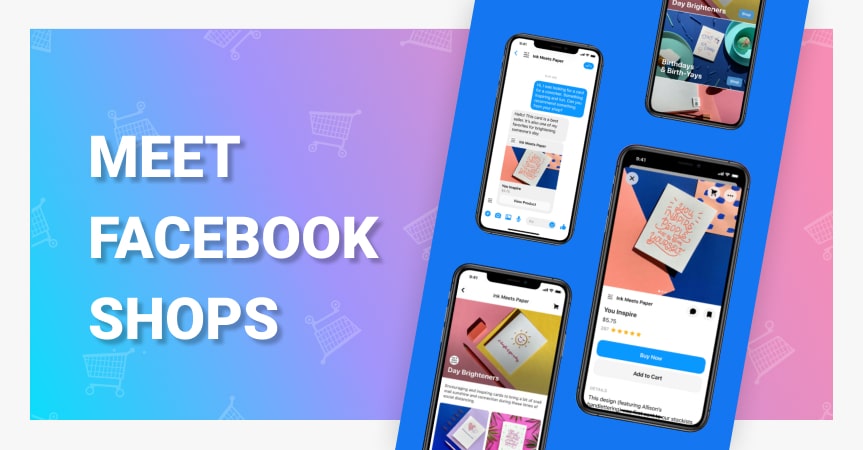 How to set up a Facebook shop – and what's that, in the first place? How can this recent innovation help in reaching your online business goals? Let's figure it out!
Everyone knows that Facebook is a place to catch up with friends and family, share your memories, and find like-minded people with similar interests. But it's also the perfect place to build your ecommerce business. All you need is an active Facebook account, and you can start selling on Facebook right away.
In the last quarter, Facebook's ad revenue was up by 53% over the same period of the previous year. Facebook reached more than 1.2 billion daily users, representing roughly 16% of the world's population — and this is simply incredible, especially considering that Facebook is banned in China.
With all these insights, it would be strange not to use Facebook for your own commercial purposes, especially when Facebook has several tools for your business, such as Facebook Shop or Facebook Page Shop.
If you are a newbie, this article will help you get started with selling on Facebook in 2021 – and see how to set up Facebook Shop for your business purposes.
What is a Facebook Shop?
A Facebook shop is a Facebook business page tab application where potential customers can buy your products directly. It allows your potential customers to get to know your brand, and also to share & purchase your products without leaving Facebook! A Facebook Shop gives you a 'storefront' so you can make it look more like your own site.
It is a simple & affordable way to show your store to the whole world thanks to the huge Facebook user audience. It can help you with engaging potential customers, driving new sales, building brand awareness, and offering deals and promotions. Facebook makes it quite easy for you to target users with specific interests, likes, and behavioral patterns — thus, allowing you to find your narrow audience.
However, keep in mind that the whole feature of Facebook Shops is only just starting to be rolled out now. Among other things, it has some geographic limitations, so make sure to check the supported markets and Facebook's commerce eligibility requirements.
What is so special about selling on the Facebook Shop?
So, what do Facebook Shops have to offer?
To online shoppers
An effortless shopping experience for your customers
Easy checkout experience
Personalized shopping experience as content is shown based on their searches, clicks, etc.
To online business owners
Seamless connections across Facebook Commerce Surfaces (a unified business space including Facebook Marketplace, Instagram Shopping, and more that offers you the opportunity to sell your products on Facebook)
A way to increase your conversion rate by offering your potential customers an opportunity to reach you easily via Messenger and Instagram Direct
An opportunity to boost your product views using live features (Instagram stories, posts, etc.)
The benefits seem to be lovely! So, how do you make Facebook Shops work for your business?
How to set up Facebook Shop?
If you're just starting out, you need to set up your account in Commerce Manager first.
Before you proceed with the Facebook Shop creation, make sure that:
You are a Business Manager admin
Your Facebook Page business account is connected to the same Business Manager account
You have managing permissions for your Facebook Page
If all the conditions are met, it's time to set up the Facebook Shop:
#1 Log in to the Commerce Manager.
#2 Click the Get Started button under the 'Get started with shops' heading.
#3 Select where you want your customers to complete their purchase: your website, Direct, or Checkout on Facebook or Instagram.
#4 Under the 'Choose your business' part, select the Business Page that you want to add your shop to.
#5 Fill in the requested information under the Account details.
#6 Under the 'Where people can view your shop' part, select whether you'd like your shop to be based on your Instagram business profile, your Facebook Page, or both.
#7 Under the 'Add a catalogue to showcase your items' part, select an existing product catalogue or create a new one.
#2 How to set up Facebook Shop: create a collection
To get the maximum benefit from Facebook Shops, you need your products to be grouped together into 'collections'. So, log in to your Commerce Manager: let's create a collection together!
Go to Shop Builder
Click on See all shop pages
Then, click + Add collection page
Click + Create new collection
Name your collection
Select items from your catalogue to add to your collection and click Confirm once you've finished adding items
Add a header image, title, and description to finish setting up your collection
Publish your collection
For each collection, you'll need to add:
A collection name: it can be up to 30 characters long and include emojis if you want
A collection description: you have 200 characters for making your customers buy!
Cover media: you need to have not only product images for each item, but also an image that can serve as the 'cover' for your collection (use 4:3 ratio and 1080×810 pixel size)
#3 Customize your Shop
Here, you can customize the store the way you want and make it represent your own brand, not Facebook's.
When customizing your Shop to make it ready for publishing, jump back into the Commerce Manager, click on Shops, and select the Shop you want to edit.
You'll see two options:
Layout — here, you can choose to show collections as featured, and add in carousels of other collections
Style — here, you can adjust colors, button size, and text to make the storefront with your branding perfect.
#4 Publish your Shop
If you are satisfied with all the modifications, have checked the visual appearance with the Shop Preview and reviewed the Merchant Agreement, simply click Create Your Shop. All you have to do now is wait for Facebook approval within 24 hours and that's it: you are amazing and have a great Facebook Shop!
How to market your shop on Facebook?
Making money is the core purpose of any business. And as you can guess, money comes when customers come! Customers, in turn, come thanks to site traffic. No traffic — no money. It's an easy system.
So, what do you need to do to drive traffic to your Facebook Shop?
#1 Create engaging content
Waiting for potential buyers to come and buy is the worst possible social media marketing strategy.
You have to collect real followers with the help of engaging content and mix your non-selling posts with the ones promoting your products and top deals. The best decision is to limit your promotional content to 3-4 posts a week.
So, what should you post?
Creative product showcase
Business backstage
Educational posts (e.g. if you're selling makeup tools, you may share your expertise on choosing cosmetics give tips on makeup, comment on the most recent makeup trends, etc.)
Relevant (!) memes that apply to your brand and to your products
Interactive talks with your customers (polls, quizzes)
Product comparisons
Don't forget about high-quality pictures and videos: customers love attractive visuals!
#2 Publish user-generated content (UGC)
It is a great way to sell on social networks for multiple reasons:
Your brand reaches the Facebook audience for free
You're getting content for you social media (photos and videos) demonstrating your product in use for free
Normally, customers also add a caption, describing their shopping experience, and it's for free, too!
#3 Run Facebook Ads
Although running ads on Facebook is an incredible and unpredictable adventure, it will eventually pay off and help you boost your sales and increase brand awareness. If you want to know more about Facebook Ads, check out our article 'How To Advertise On Facebook: Launching Your First Ad' or watch our free video course about Facebook Ads.
How to set up Facebook Shop to start selling on Facebook in 2021: summing up
So, Facebook Shop is a new feature that provides a storefront to Facebook Page shops, offering customers a more comfortable shopping experience and the chance to check out products without leaving Facebook. This tool is definitely a game-changer for ecommerce businesses as it offers a great way to grow your dropshipping business, tap into new audiences, and gain more customers.
Now, as you know how to set up Facebook Shop, you are welcome to explore its opportunities and benefits! And whenever you need engaging content for social media to drive visitors to your newly set up Shop, we're here to help you out and make it for you!