How We Found A Facebook Video Thumbnail That Got 93,700+ Impressions [Case Study]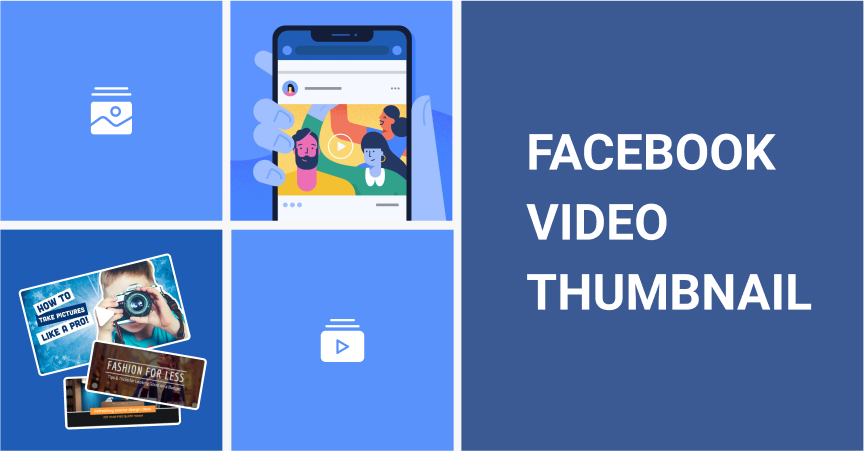 Like it or not, we all judge books by their covers. When creating video ads on Facebook, your goal is to convince people to watch something they know nothing about. That's why choosing an appropriate Facebook video thumbnail is of utmost importance.
What is a Facebook video thumbnail?
A Facebook video thumbnail is a cover image for videos. This is what Facebook or other social media users see before they click on the video. Marketers, bloggers and regular users can customize the thumbnail image by choosing the right video fragment, or a stand-alone image, or even adding texts.
As a result, the cover plays an important role in drawing potential viewers' attention and affects the video's click through rate.
What is the size of Facebook video thumbnails?
The dimensions of a Facebook thumbnail should match that of the video itself. The minimum dimensions of videos on Facebook are required to be 600 x 315 (landscape) or 600 x 600 (square). If you upload an image with different dimensions, it'll appear stretched or squeezed.
Facebook requires that texts on video thumbnails cover not more than 20% of the image. Otherwise, the ad will quickly get more expensive to run.
How to make a Facebook video thumbnail?
Facebook users who create video ads have three thumbnail options to choose from. First, you'll have to upload a video:
The easiest method (but not the most efficient one) is to choose a thumbnail offered by Facebook. After a video was uploaded, Facebook will pick random frames from the videos and use them as covers.
A smarter approach than using default thumbnails is to pick frames manually. You can do it by clicking on "Thumbnail" in the uploading window.
Lastly, you can upload a custom image. How you create it doesn't matter as long as its dimensions match the dimensions of the video.
Users can usually edit Facebook thumbnails afterwards. Simply click on Edit This Video in your video's Options. Note, however, that editing videos isn't always available. We'll cover this later.
As one can guess, a customized thumbnail is always a better choice than randomly or even manually picked frames from the video. But what kind of image should you use for advertising your dropshipping products?
AliDropship's team experimented with a number of options.
Creating posts
On Facebook, one can either create a video ad from scratch and start advertising it right away or advertise a previously created video post.
In this experiment, the team boosted existing posts for a number of reasons.
Posts can be used in different campaigns, so you don't have to make new videos each time.
Such posts accumulate views, likes and shares, thus, becoming more intriguing for potential viewers.
By getting more popular, video posts become cheaper to promote.
The team created and posted four videos on their account one by one. Each of them used a different thumbnail – one contained a manually picked frame from the video while the other three contained custom images of the advertised product.
The first video contained one picture from the gallery of the product page. For the second one, the team made a collage. The third one had a collage and a mark with the best price guarantee. You can find this mark in the Image Editor of the AliDropship plugin.
Creating video ads
After that, the team created four video ads by using the existing posts. I already mentioned that this way each of them can accumulate likes and shares if they turn out to be a success.
Each creative (i.e. ad) has a number of structural elements: the file name, the video's title, description, the video itself, the thumbnail and the call to action.
I would like to say a few words for the latter. Since we are going to boost the existing posts, we won't be able to change these elements including the call to action button. That's why the team recommends using "Shop now". In this case, it'll work for both "colder" and "warmer" audiences as opposed to buttons like "Learn more" designed purely for "cold" audiences.
You won't be able to change the video's thumbnail either since the post will be advertised.
We also recommend setting the Facebook thumbnail and video's dimensions to at least 500 x 500, so that Facebook could advertise it on Instagram as well. Don't forget that FB can ban your ad if it violates its advertising policy.
After that, the team started an ad campaign.
Creating ad sets
To test what Facebook thumbnail works better, the team started a campaign with four ad sets, one per each thumbnail type. The one with a manually picked frame was the first one. Not surprisingly, it showed poor results.
Then the team tested the three ad sets with customized thumbnails. We launched them the next day after creating to make sure the results would be fair. One day is enough for Facebook to approve the materials.
In order not to waste money, make sure the ad sets shut off after they reach a certain number of impressions. In this case, the team set it to 2,000 impressions which usually cost $3-7.
Getting results
After just 12 hours, the collage with the best price guarantee became the winner.
Its Click Through Rate (All) reached 1.06% as opposed to 0.43% and 0.37% reached by other video thumbnails. This metric reflects the percentage of all interactions with the video.
As for Click Through Rate (Link clicks), the winner got 0.46% while its competitors reached 0.27% and 0.21%. This metric shows how many people clicked on the call to action button and visited the store.
These two metrics are the most important to evaluate how efficient your Facebook video ad is. But you can also check the video's average play time (the more the better) and cost per click (the less the better).
The whole experiment cost us less than $15.
The team used this particular ad with the best price guarantee as its thumbnail in following campaigns. By now it has gathered 93,767 impressions.
Why our Facebook video thumbnail worked
First of all, as you can guess, clear product images always work better than random frames from the video. Just like any other visual content, pictures are great at catching attention. Besides, an image of a product tells people what is being advertised almost instantly.
Second, the best price guarantee creates a sense of urgency. Potential buyers don't want to miss this opportunity, so they often decide to at least check it out.
Lastly, the best price mark itself is visually prominent, which makes the ad even easier to notice.
As you can see picking the right Facebook video thumbnail directly affects the efficiency of your marketing efforts. This is how AliDropship's team creates advertising materials for our Established Stores – dropshipping businesses that are already functioning and earning money. By purchasing one of them, you can become a full owner of its content including marketing materials!