Top Ecommerce Trends of 2021 That Will Shape Your Business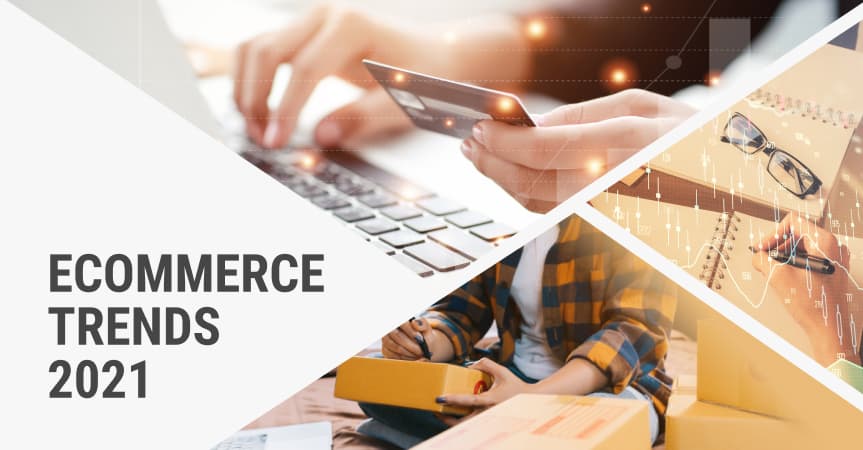 What ecommerce trends of 2021 should dropshipping entrepreneurs get ready for? Keeping up with the ever-changing world and foreseeing what is going to happen is definitely not easy. However, to achieve business success and stay ahead of the competition, you need to follow the newly appearing trends.
The ecommerce industry is changing rapidly. Once it was unknown and underdeveloped. Although, today, ecommerce businesses are taking over the world. Ventures that have no online presence risk losing customers and profits.
Today, you don't need a lot of money for an ecommerce business as it is highly accessible to anyone. Nevertheless, ecommerce entrepreneurs are required to search for new solutions that will help their venture succeed.
To help you make sure your business is at the top of the pack, we have gathered a list of top ecommerce trends to follow in 2021.
A general overview of the ecommerce market in 2021
Ecommerce is a constantly changing and progressing industry today.
Online shopping is one of the most popular forms of online activities in the world, and this can be seen by the way the market is increasing every year. In 2019, the total market sales have amounted to $3.53 trillion. By 2022, the total revenues are expected to almost double and grow to $6.54 trillion.
It is no wonder that the ecommerce industry is experiencing such growth spurts. It is becoming increasingly convenient for online users across the globe to simply purchase products or services online from any place and location. These are the world's largest markets for online shopping:
China ($672 billion annual online sales)
United States ($340 billion annual online sales)
United Kingdom ($99 billion annual online sales)
Japan ($79 billion annual online sales)
Germany ($73 billion annual online sales)
France ($43 billion annual online sales)
South Korea ($37 billion annual online sales)
Canada ($30 billion annual online sales)
Russia ($20 billion annual online sales)
Brazil ($19 billion annual online sales)
Apart from the buyers' physical location, it is also helpful to understand their shopping preferences and the typical behavior of the people who shop online the most. As 67% of millennials and 56% Gen Xers prefer buying online, they are considered to be the most active online shoppers out of all the other age groups. What's also interesting, during online shopping, men spend 28% more than women.
Now, when we have an overall idea of the industry in general, let's see which trends may influence ecommerce entrepreneurs' activity in 2021.
Ecommerce trends of 2021 to look out for
2-factor authentication
2-factor authentication will have an impact on ecommerce stores. From now on, payment system providers in ecommerce stores will have to comply with the 2-factor authentication directive for payments in the EU.
Essentially, this law is aimed at tackling online fraud and protecting buyers. The thing is, the risk of fraud is increasing and has been for some time now. Therefore, both the merchants and online shoppers will certainly appreciate this change as it makes the online shopping experience more secure for them.
Previously, online shoppers only needed a credit card and security number to complete a transaction. If they were using a platform like PayPal, entering their account password was also essential. However, now, an extra security factor like a fingerprint or a registered smartphone account is also required to complete a payment.
Summing up, the 2-factor authentication directive will be implemented by the payment service providers. Customers will simply need a second security factor to pay for the completion of an order. Online store owners, in turn, won't need to change anything in their orders processing and management.
Multichannel shopping
From what we've seen in 2020, large businesses are adjusting their strategies with the idea of multichannel shopping in mind. And this trend will become even more widespread in 2021.
Basically, multichannel shopping aims at creating and maintaining a business' presence on multiple platforms, for example, on a website, a messaging app, and a social media network. Your goal is to provide your customers with a seamless shopping experience across all channels.
The general thought is that it takes a customer about 7 touchpoints to make a purchase. So, the more channels you create and use to connect with a customer, the more likely you are to complete a sale.
Selling on social media
By now, every ecommerce entrepreneur knows how important social media is for their business. These days, social media isn't simply a way to connect with others and share our thoughts and photos. Serving as a full-scale marketing tool, it helps not only to promote your products and services but also to connect with your potential customers.
The most popular social media platforms are implementing various elements to provide a smooth shopping experience for online shoppers. Recently, Instagram and Facebook have implemented "buy buttons", which allow ecommerce businesses to conduct transactions right on the spot.
Moreover, social media platforms are still a great place for brands to expose their products and services. Because of social media platforms' strong influence, more people can become aware of a particular product or even a brand.
So, creating a proper social media marketing strategy has never been as essential as it is now.
The growth of voice commerce
Lots of users rely on voice assistants such as Alexa from Amazon Echo, or the Google Assistant from Google Home to help them with various tasks including online shopping. In fact, according to recent studies, 75% of US households will have a smart speaker by 2025.
Thanks to the improved convenience of the technology, voice assistants have become incredibly accurate in voice search demands. This led to a more coherent shopping experience for shoppers.
With that said, ecommerce entrepreneurs need to optimize their online stores for voice search. Here is what you can do to make your store more accessible for voice searches:
Optimize your content to increase your chances of appearing in voice searches
Offer voice-based navigation on your website and mobile app
Ensure your products can be purchased with a simple flow using voice command
The dominance of mobile commerce
With the rise in popularity of online shopping, consumers are becoming more accustomed to completing purchases through their mobile devices.
In 2021, mobile sales can amount to almost 73% of total ecommerce sales!
Furthermore, about 30% of online shoppers are more likely to abandon their shopping journey if the online store is not mobile-friendly.
Therefore, focusing on creating a mobile-friendly shopping experience is more important than ever and should be a focal point for many ecommerce entrepreneurs in 2021.
Personalization is key
72% of consumers point out that they are more likely to engage with personalized messaging.
One significant point that we'd like to emphasize on is that personalization, first and foremost, aims at creating a long-lasting relationship with customers. Hence why getting more information about your potential customers is key. For instance, think about features like the last time they made a purchase, the categories of items they generally purchase, etc.
Providing a personalized customer experience is crucial for any business that wants to create a long-lasting relationship with its customers. No matter how customers choose to interact, whether, through email, social media, or any other channel, you should be able to create the right experience for them.
Final thoughts on the core ecommerce trends of 2021
All things considered, you can see that many of the trends are aimed at providing a great customer shopping experience and incorporating new forms of technology into your business.
For customers, it's becoming easier than ever to find and purchase whatever they like on the internet. For this reason, it's the ecommerce business' task to provide a seamless shopping experience for online consumers no matter the place, device, or form of interaction.
If you want to start an online business this year, it's essential to make sure your store is made with all the ecommerce trends of 2021 in mind. You are welcome to turn to the skilled specialists at AliDropship who can create a store that meets both the latest industry requirements and your individual requests!