Drop Servicing: What Is It & How Can You Start This Business?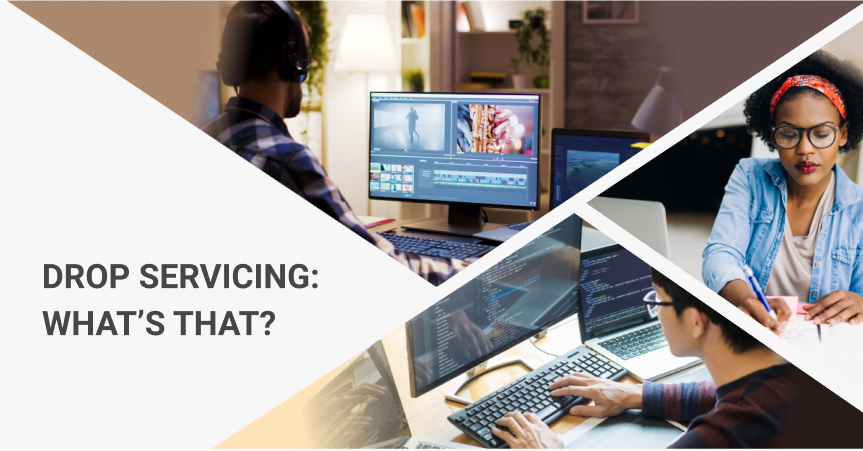 What does drop servicing mean? Is it the same as dropshipping? Can they be viewed as alternatives to one another? Today, we're explaining what's the difference between these two popular business models that get mixed up all the time – and what they have in common!
What is drop servicing?
Not to be confused with dropshipping (they honestly sound so similar), drop servicing is a business model where you sell services – but instead of being the actual person or persons performing said services, you have outsourced talent such as freelancers to do the work. You are essentially the marketer of these services and make money by selling the services upfront to people who need them.
How does drop servicing work?
With drop servicing, you create and market the service (or services) through a website and social media, as you would with dropshipping. The difference is once it comes time for the paying customer to be given what he/she has paid for (be it web design, SEO, or creation of pay-per-click campaigns), the labor you have outsourced will perform the actual work. You then present the finished work over to the customer. Once the customer pays, you pay the freelancer, and the job is complete.
What can you drop service?
Drop servicing is popular for online marketing, and services often available include:
Copywriting
Social media management
Graphic design
Data entry
Web design
Video editing and creation
Language translation
What is the advantage to drop servicing?
Drop servicing is great if you know how to manage and market a business. You are like an agency in a way, offering a range of services or specialization in one service to people who need it. If you have great relationship-building skills with clients and vendors, you can do well in recruiting freelancers to do your work. Drop servicing can also be a money-savvy business model if you depend on freelance talent hubs to assign your work to (as opposed to creating an entire website to market your service).
What is the disadvantage to drop servicing?
Drop servicing requires you to actually find freelancers or talent to perform the work (and there isn't a guarantee that they will accept). You have to essentially recruit talent – whereas with dropshipping, suppliers are generally open to accepting orders at any time since they already have inventory in production. Also, drop servicing can't always guarantee an exact turnaround time since for your service, it will depend on how busy a freelancer is. Plus, you'll have to build a website from scratch to market your service if you don't utilize talent hubs directly.
How do I start a drop servicing business?
Starting off is similar to any online business – you have to define what you want to offer and who your customer base will be. Once you figure that out, it's time to get to business, and there are two ways to go about this:
Using a platform like WordPress or Wix, you can create a website to market your business and its services. Customers hire you by finding your website, and then you scour talent to work on the tasks paid for. We generally recommend to go this route because having an actual website boosts your credibility as a business tenfold. It's also easier to run social media marketing and pay-per-click ads, as visitors have a place to actually land on and research.
Create an account on a hub
An alternative way to starting a drop servicing business is to open up an account on a talent-sourcing website such as Fiverr or SEO Clerks or Code Clerks. That account will act as your business front, and customers can hire you by discovering your account and seeing what you specialize in.
Once you are hired to complete a task such as coding a page or designing a landing page's banners, you can scour alternative sites such as UpWork or PeoplePerHour for people to perform your services for you. With this method though, it does take some work in creating accounts and setting up profiles, so there is a pay off as opposed to just building your own webpage as the storefront.
Note that no matter which route you take, you have to be aware of what a client who hires you is paying versus what you are paying the talent you hire to do the work. Generally, you want to charge more for your drop servicing but search for freelancers who aren't charging as much for their service so you can actually make a profit. But remember it is hard to determine how finished work quality will be from a freelancer, so always be sure to check the talent's portfolio or profile page on a talent hub to make sure they can create work up to your standards.
Where can I find resources for drop servicing?
We noted some great sources above, but some other popular ones include:
Also remember, some up-and-coming talent in the creative space generally take pro bono work (work for free). Reach out to family and close friends, as sometimes designers or writers or editors who are just starting out are more than willing to work without pay to add more work to their portfolio.
SUMMARY: Drop servicing is definitely a different business model than dropshipping, but it's a great business idea for someone who knows how to manage client/talent relations. If you know how to source talent and align jobs, you could make money by selling in-demand marketing or coding services.