Digital Marketing Courses For Free: 7 Resources To Check ASAP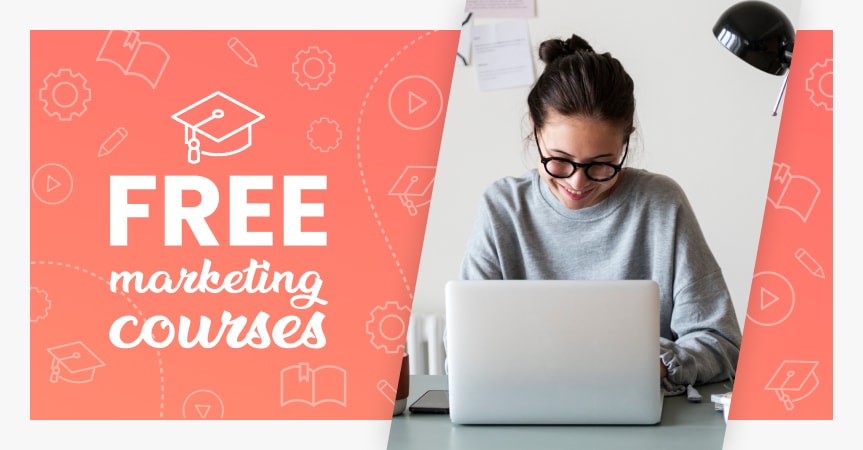 Are you running an ecommerce business? Do you want to grow your marketing skills and promote your business like a professional? If so, it's a good idea to check this article since today we are going to introduce you to the 7 best digital marketing courses for free and not only!
Nowadays, digital marketing skills are essential not only for those who deal with providing marketing services. In practice, they are also crucial for ecommerce business owners.
So what are digital marketing courses and how can you benefit from them? Which tips should you follow? And where can you find best and trusted digital marketing courses for free and not only?
Well, this is exactly we are going to talk about right now. That's why make yourself comfortable, and let's get started!
Why should you use digital marketing courses for free?
First of all, if you are still not sure what a digital marketing course is, let's find it out.
Digital marketing courses are the way experienced specialists share with you the most essential tips on how to promote your goods and services online.
In practice, lots of people succeed in one or another sphere of business every day. And while some of them try to keep their strategy a secret, others are glad to provide other entrepreneurs with the steps they take to achieve a positive result.
So, certainly, if you are an ecommerce newcomer, digital marketing courses for free can become your indispensable tool in getting an easy and promising start in this sphere.
However, you should understand that not all the courses on the Internet are worth using. That's why we have prepared for you the list of 7 best digital marketing courses for free that definitely deserve your attention.
7 best digital marketing courses for free
If you want to make the most of your online marketing campaigns, it's high time to check these 7 best digital marketing courses for free. Here they come!
1. Google Digital Garage
Google has lots of useful resources that it's ready to share with you. One of them is Google Digital Garage.
In this app, you are able to find a wealth of information on digital marketing from influential practitioners. Meanwhile, at the end of each topic you choose to learn more about, there is a quiz to test your knowledge.
2. Google Academy for Ads
If you want to use Google products for the benefit of your business, Google Academy for Ads can become a digital marketing course that is of your interest.
In this course, you can learn a lot about AdWords, Video ads, and so on. So after that you will be able to use them when promoting the products you sell!
3. AliDropship Premium Webinar
As few companies do, AliDropship always tries to share with you the most useful tips, tactics, and strategies you can use when running your dropshipping business. And since we have our own online stores in which we carry out the most promising business ideas and achieve huge success, we show you only TIME-TESTED methods of reaching your targets.
Recently, we achieved a $500,000/year profit milestone with one of our Premium dropshipping stores. Isn't this a good reason to tell you how we've done this so you have an opportunity to easily repeat our success?
That's how we got an idea to create a dropshipping webinar that is to describe you the following:
How to create a product page that is able to convert as many visitors into customers as possible
In what way you should use our winning multi-step strategy to promote your products on Facebook
Where to get a copy of a premium dropshipping store that brings $10,000 per week
Sounds appealing, doesn't it? So check this free dropshipping webinar and use our proven strategy to succeed!
4. PPC University
If you are eager to learn more about PCC, it's a good idea to visit WordStream.
WordStream is well-known since it provides its visitors with an opportunity to learn PPC marketing for free! Although most of courses are in text form, they can give you in-depth knowledge of PPC. So you could run ad campaigns in the most effective way.
5. Ahrefs Academy
Ahrefs also suggests its own digital marketing course that is called Ahrefs Academy. This course is absolutely for free and permanently updated so you can find new tutorials there almost each time you visit the website.
Ahrefs Academy lets you learn more on how to deal with keywords, how to improve your SEO positions, how to use link building for the benefit of your business, etc.
By the way, this course is not built on using Ahrefs tools only. You can get lots of tips on digital marketing that you can count on without getting paid instruments from Ahrefs.
6. Email marketing course from Mailchimp
Mailchimp is an email marketing service provider and it's also glad to show you effective ways of improving your email marketing. That's why they have introduced their own Email marketing course for ecommerce!
In this course, the Mailchimp specialist is going to three main concepts of boosting your business through email. The author of the course highlights that if following the techniques mentioned in the course, you have a chance to reach your customers more efficiently and increase your sales.
7. Email marketing course from Constant Contact
Constant Contact also designed its own Email marketing course so its blog readers could have an opportunity to learn how to create and expand email lists, etc.
In this course, Constant Contact experts focused on 5 steps of successful email marketing. Now you can feel free to learn more about them!
Final takeaway: digital marketing courses for free
In fact, due to the rapid growth of ecommerce, there are lots of different free and paid digital marketing courses on the Internet. However, not all of them can be considered as an authoritative source of information because they are not backed up by practical use.
That's why we have prepared for you the list of digital marketing courses for free and not only which are created by practitioners. The ones who are glad to share with you time-tested, interesting, and effective marketing skills.
So do you want to increase profits from your ecommerce business as much as possible? Are you ready to use only proven methods only? Then, this is a high time to check out this digital marketing course for free from AliDropship or any other one from the list we suggest!