How Ecommerce Is Doing During COVID-19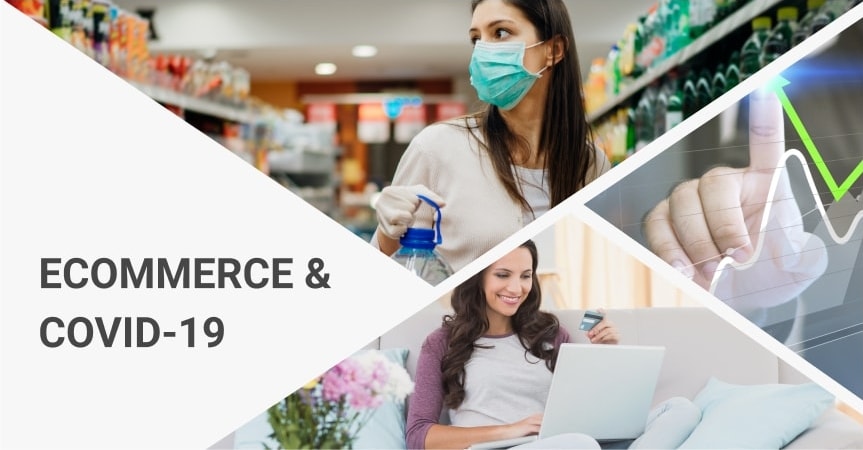 As the world continues to navigate the difficulties and daily challenges of the COVID-19 virus, it's important to keep abreast of how the retail environment is rapidly changing. With many major retailers across the world closing their brick-and-mortar stores due to the coronavirus and many stores facing shortages due to panic-buying, people have turned greatly to online shopping.
Today, let's take a look at how ecommerce is being affected by coronavirus and how you can possibly prepare your business for it.
COVID-19 ecommerce impact: what's happening right now
As you may have been able to guess, since the COVID-19 outbreak, ecommerce has surged. The reason is, people have increasingly been practicing social distancing or self-isolating indoors. Ipsos MORI reports that in March, highly-affected countries such as China and Italy saw 50% and 31% increase in the number of online purchases for items usually purchased in-store.
With the increase in online shopping, businesses like Amazon have even had to delay order shipments due to high order volume, instead placing emphasis prioritizing items such as medical supplies, essentials for home, pets, health, and such. Logistics and inventory operations are also seeing adjustments to prioritize necessity items as well.
In the time of limiting contact with people, delivery services such as food couriers – Uber Eats, Postmates, Instacart for example – have flourished with business as restaurants close for dine-in but remain open for deliveries. Contactless deliveries have become common, with services like Instacart delivering groceries without a delivery person ever coming face-to-face with a customer (in fact, the service has seen a 218% increase in downloads for its app).
Other big-brand names such as Walmart and Target have reported immense growth in their mobile app downloads for delivery, with 160% for Walmart Grocery app and 98% for the Target app.
An Instagram post by Instacart speaking to safety kits.
Companies have also stepped up measures to keep their employees safe. For example, Instacart has pledged to provide safety kits – equipped with face masks and hand sanitizer – to help its employees who shop for orders stay protected while inside stores.
How consumer behavior is changing
What these numbers signal is that consumers are increasingly turning to delivery services to do their errand running as measures such as stay-at-home orders go into effect in certain places.
Inside Edition news report on panic-buying at Costco
And as witnessed in international media in the past month, panic-buying has become a common sight worldwide. Consumers are worried, stocking up for the worst-case scenario of being locked inside by law. And this is exactly what is happening in states and countries with those stay-at-home orders. Demand for everyday necessities such as toilet paper, dry grocery goods, canned goods, paper towels, and more have skyrocketed. And of course, antibacterial items such as hand sanitizer and antibacterial wipes have been extremely hard to find for months now (in fact, CNBC reports demand for hand sanitizers increased by 313% in one week alone).
So consumers are absolutely purchasing necessities right now – and probably not on luxury items or nice-to-have non-essential items.
What's to come in the future
Due to the uncertain nature of COVID-19, it's hard to tell what the final impact of the disease will be on consumer spending power and availability.
However, what has become evident in the past months is that many people will be spending less on extravagant purchases due to mass layoffs and furloughs – in fact, Business Insider reports 18 big companies have cut down on their workforce, leaving thousands of people with little to no zero income.
If you're in online business, to cope with COVID-19 ecommerce impact, consider selling necessities for living. These include home cleaning supplies, kitchen accessories and chinaware, bathroom items, and more. And since many people will keep staying home at this time, it would make sense to try catering to home decor and home comfort with items such as mood lighting, cute pillows, essential oil diffusers, and such. Items that aren't too expensive would be ideal too due to the current global economy.
SUMMARY: While COVID-19 is far from being defeated, its 4-month reign on the world has caused immense drops in economies from employment to stocks and overall morale. People are panic-buying and investing more in essentials for food and health. Luxuries are far from mind. But during this crisis, there is an opportunity for online business owners to shift their product offering or focus as consumers turn (now more than ever) to ecommerce and mobile apps for delivery services.