AliDropship Vs. Wix & Shopify: Which One To Choose?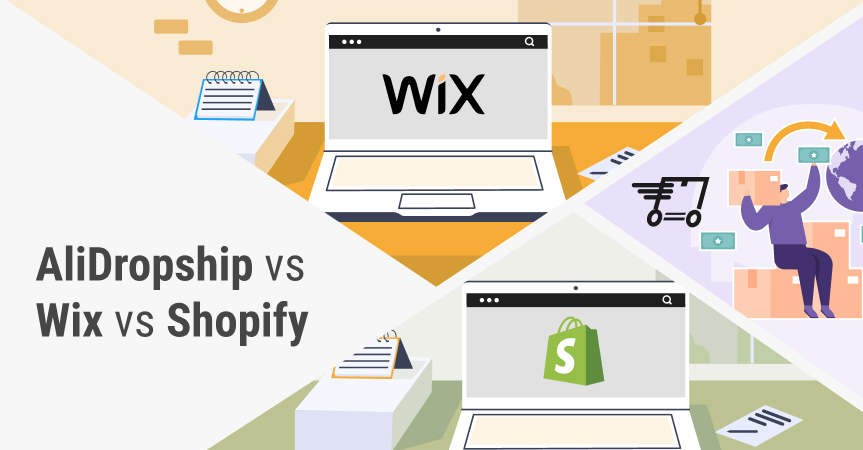 If you want to start a dropshipping business, there are several options to choose from. In this article, we will compare AliDropship vs. Wix and Shopify (Oberlo).
AliDropship, Wix, or Shopify: which one is best? If you're looking for a quick answer, you're welcome to go straight to the conclusion; and if you're interested in a more detailed review, keep reading!
When few people knew about dropshipping and this business model was still undeveloped, you had to do everything manually. Product import, order processing, buying goods from suppliers – everything.
Today, you have various tools that help you run an online store and even automate most of this work. However, with variety come the hardships of decision-making.
Let's compare a number of popular dropshipping solutions, namely AliDropship vs. Wix and Shopify. But first, let's give definitions to these brands.
What are AliDropship, Wix, and Shopify?
AliDropship is a WordPress plugin that is also compatible with WooCommerce. It is installed on a WordPress website and lets you build an online store designed for dropshipping products from AliExpress. It allows you to import goods in a couple of clicks, set pricing formulas, edit product pages, and automatically send orders to suppliers.
Wix is a website-building platform that can be combined with ecommerce functions. With this tool, one can create sites for different purposes (blogging, music, video, etc.) including ecommerce and dropshipping.
Shopify is an ecommerce platform that lets you create an ecommerce site and sell products or services. Oberlo is an application that allows you to import dropshipping products to a Shopify store and resell them to customers. In other words, Oberlo only works with Shopify.
Now, let's get straight to comparing them!
Comparing AliDropship vs. Wix and Shopify
Pricing
Let's start with the obvious – how much each option will cost you. While in some situations, entrepreneurs don't care about the price as long as they get higher quality services, for beginners this matter is important. People who want to start a business but have little experience can hardly afford to spend too much money.
So, let's take a look at what the three solutions have to offer.
The AliDropship plugin
Price is one of the strongest features of AliDropship. The plugin itself costs only $89 and (what's even more important) it's a one-time payment! One can also buy AliDropship's hosting service which costs $48, but that's optional.
The plugin imposes no restrictions on how many products you can import.
So, the cost of starting a dropshipping store with AliDropship is $89 (hosting not included).
Wix
Wix divides its plans into two categories.
"Website" plans define whether you can have a custom domain name, unlimited bandwidth, the number of video hours you can post on your site, etc. These options range from $14 to $39 a month and are suitable for general-purpose websites.
"Business and ecommerce" plans will suit business-oriented websites. The prices here range from $23 to $49 a month.
If you want a Wix store with access to Modalyst (a dropshipping suppliers platform), it'll cost you $27 a month.
Shopify + Oberlo
Oberlo has three pricing plans one of which is actually free. Another one simply gives you access to real talks with Oberlo advisors as well as trending products reports. For comparison, AliDropship offers niche and product recommendations in its blog absolutely for free.
To get the full functionality of Oberlo, one has to pay a monthly fee of $29.90.
But since Oberlo only works with Shopify, you'll have to join the platform to benefit from it. Therefore, you'll also have to pay for one of the three packages, with the cheapest one costing $29 per month.
Note, however, that Shopify also has a 14-days free trial. So, you can actually build a dropshipping store absolutely for free, but after 14 days, you'll have to start paying.
Shopify also offered longer trial periods (up to 60 days), but these options are no longer available. Shopify may offer a longer trial if you come to the platform from another service. But be aware of scammers!
Transaction fees
Another important thing to consider when comparing AliDropship vs. Wix or Shopify is transaction fees. These fees are charged whenever someone pays for a product on your website.
AliDropship
The AliDropship plugin is compatible with various payment gateways including a number of popular options such as PayPal, 2Checkout, and Stripe. Most of them charge no monthly fees but charge about 3-5% for each transaction. AliDropship itself, however, has no transaction fees whatsoever.
Wix
Wix is compatible with a large number of payment gateways as well. In addition, the platform has its own system called Wix Payments. It charges 2.9% + $0.30 for each transaction.
On the other hand, Wix Payments is available for 14 countries only, but that includes the UK and the US (largest ecommerce markets).
Shopify
Just like Wix, Shopify has its own payment provider called Shopify Payments which charges from 2.4% + $0 to 2.9% + $0.30 for each transaction. If you want to, you can use third-party payment gateways with your Shopify store. However, in this case, you will be charged twice – by your payment provider and Shopify.
What makes it worse, Shopify Payments is available for a relatively small number of countries, and the United States is not on this list (except for Puerto Rico).
Website building + ready stores for sale
AliDropship
Customers who purchase only the AliDropship plugin will have to install it on a WordPress site (as well as buy a domain) on their own. It's actually not as difficult as it may seem. Besides, there are detailed instructions on AliDropship's Help Center.
Still, some buyers may find this task too scary.
On the other hand, AliDropship's customers can order ready-made solutions and first of all Custom Stores. In this case, the company's team will take care of all the technical tasks, search engine optimization, provide you with a professional web design, logo, even find and edit a number of dropshipping products for your store.
Moreover, the team will make all this according to your preferences. Prices for Custom Dropshipping Stores start at $299, and again, it's a one-time payment for a turnkey solution.
Another option is to purchase a Premium Store – an exact copy of AliDropship's most successful self-owned dropshipping sites. Although these stores are not unique, their products enjoy high demand, which makes competition less fierce. Besides, customers can also get advertising materials and marketing recommendations.
The important thing here is that these are AliDropship's official services. You get your own personal manager who supervises the work of the team and gives you recommendations. Your site's design, structure, logo, store theme, and even products – all this is done by a single team for a single purpose (to make a profitable store for you).
Unlike other platforms, stores made with the AliDropship plugin are specifically designed for AliExpress dropshipping. Such sites cannot sell other product types. Instead, AliDropship solutions are tooled for this particular business type.
Wix
Since Wix was originally a pure website-building platform, making sites with its tools is very easy. In addition, the platform offers over 800 templates, which is more than what AliDropship and Shopify offer combined.
On the other hand, most of these themes are designed for content-driven sites, while the templates offered by AliDropship and Shopify were made specifically for ecommerce sites.
In addition, Wix doesn't offer site-building services, so you cannot order a store from the Wix team. What you can do is hire a Wix expert who will build a site for you. But keep in mind that these experts are freelancers who partnered with the platform.
In other words, you'll have to pick a developer and discuss the price, and Wix will have nothing to do with it. And if something doesn't work or breaks, you'll have to find this particular developer on your own since Wix won't be able to help.
Shopify
Shopify may offer not so many options compared to Wix, but creating websites with this platform is fairly simple. Still, you'll have to spend some time.
As for ready-made solutions, Shopify (just like Wix) doesn't have anything like AliDropship's Custom Stores. You can purchase a store created by someone else. But in this case, you're buying a site that can be very different from what you wanted. Or you could hire an independent developer for this task, but you'll face the same problem as with Wix: it's not an official Shopify service.
In addition, all three companies offer a number of add-ons for their solutions which can add new functions to your store.
While AliDropship's add-ons are mostly sold for a one-time payment, Shopify's solutions are mostly priced with monthly fees. As for Wix, it has paid and free apps (or apps that have a free plan).
Another thing to consider is their compatibility. AliDropship's add-ons are tested beforehand and are mostly compatible with each other. Also, customers are warned about potential problems before they agree to buy an add-on, and they can always consult the company.
As for Wix and Shopify, installing and setting up additional software can be difficult or could even break your store unless you have enough experience. Besides, you'll often have to pay monthly fees for these add-ons.
Products
AliDropship
The AliDropship plugin lets you import any goods from AliExpress in a couple of clicks. However, one has to edit product descriptions to make product pages good-looking. If you have ever tried it, you probably know that this work can take many hours.
If you compare AliDropship vs. Wix and Shopify, the former's advantage is that you can import best-selling products from the company's own database of over 50,000 pre-edited goods.
In addition, one can subscribe to Sellika, an AI-powered plugin that can automatically generate titles and descriptions for products.
Wix
Unlike AliDropship, Wix lets you import goods from a number of supplier platforms including Modalyst, so here you definitely have more choice. On the other hand, many sellers on these platforms are located in the US and Europe, so you should expect higher prices on such products.
Despite that, Modalyst is an official AliExpress partner, and you'll find lots of Chinese products in its catalog. Nevertheless, these products don't have any descriptions and even their titles are not edited. So, basically, it's the same as importing them directly from AliExpress but for a higher price.
Shopify
Shopify's Oberlo has the same problem: you'll have to edit all products manually – although the app does organize items according to their rating, which makes it easier to find goods.
Ownership
This is probably one of the most important questions a potential business owner can ask. Who's going to be the owner of this dropshipping website? Let's compare AliDropship vs. Wix and Shopify from this perspective as well.
AliDropship
In short, when you create a website with the AliDropship plugin or buy an AliDropship's ready-made website, you own it. You have 100% ownership of this business. It means that you can do whatever you want with it and if you make money with it, the company gets none of your profit.
Wix
According to Wix's terms of use, you don't really own your Wix website. Instead, Wix lets you administer this estate as long as you comply with the terms of the agreement.
Shopify
Same goes for Shopify. According to the company's terms of use, they can "modify or terminate the Services for any reason, without notice at any time".
AliDropship vs. Wix vs. Shopify: Conclusion
While Wix and Shopify undoubtedly have their own pros, I would like to highlight the advantages of AliDropship's products as compared to these solutions.
Since you are a full owner of your business, your website cannot be taken away or deleted. After building or getting your dropshipping store, you can modify it however you want, change hosting, give it to somebody else or sell it.
By contrast, both Wix and Shopify let you use your business as long as you pay and can take it away whenever they want.
You can purchase the AliDropship plugin and ready-made stores for a one-time payment. Although the price can be pretty high, you should always remember that you won't have to keep paying fees every month.
By contrast, with Wix and Shopify, you'll have to pay for using the platform and for additional software every month. In certain cases, you'll also have to pay for each transaction as well.
AliDropship's main product (the plugin) requires that you build a website on your own. However, by ordering a Custom Store or a Premium Store, you in fact get a ready-for-launch dropshipping site that even has pre-edited products in the inventory.
By contrast, Wix and Shopify offer easier-to-use tools for creating a site. On the other hand, you can't order a ready-made site unless you hire an independent developer.
AliExpress-oriented solution
When comparing AliDropship vs. other solutions, you will see that AliDropship's products were made specifically for dropshipping from AliExpress. Besides, the team experiments with their self-owned stores and tests new solutions and options to guarantee the plugin's efficiency and its compatibility with other AliDropship's products.
By contrast, Wix is a great platform for making content-driven sites. But the platform started working in the ecommerce sphere not so long ago and lacks well-tuned solutions.
Shopify, in turn, is great for building ecommerce sites. With Shopify, it's really easy to manage your store; it has a wide choice of plugins, offers direct Amazon integration, etc. But, although it does let you build an AliExpress dropshipping site with Oberlo, it doesn't specialize in this task.
AliDropship, on the contrary, was initially made for this purpose. And all AliDropship's solutions are designed to help you build a profitable AliExpress dropshipping site and promote it.
Another reason to start a dropshipping business with AliDropship is that the company offers a number of solutions for finding top-selling AliExpress products including Import Packages mentioned earlier and Premium Products.
Additionally, on AliDropship's blog, you will find plenty of articles dedicated to recent product trends and promotion methods. And finally, the team provides all-in-one support, which makes it easier to start dropshipping even if you have zero experience. If you face any kind of problem, all you need is to contact the team.
By contrast, Wix and Shopify can't solve all your problems. For example, if you ordered a ready-made store from an independent specialist, you can't expect any help from the companies' teams.
In short, if you compare AliDropship vs. Wix and Shopify, you'll see that the AliDropship plugin is the best solution for AliExpress dropshipping. The other platforms are not focused on this particular specialization. In addition, you can order a Custom or Premium Store from AliDropship to start your dropshipping journey effortlessly.