Alibaba 2021 Super Sale For Dropshippers: Save Up To 40%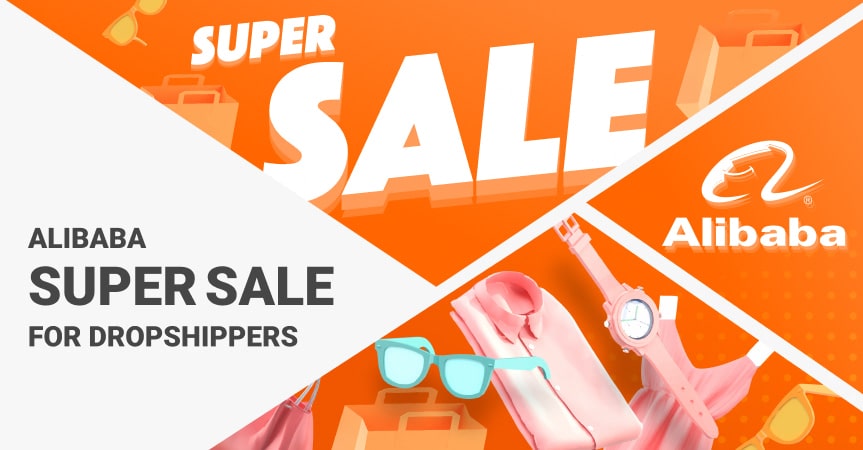 Haven't you ever heard about Alibaba dropshipping? If so, this is high time to start a dropshipping business with Alibaba: in September, due to Alibaba sales, you're able to save up to 40% on products you offer in your store.
Why start dropshipping with Alibaba
Ecommerce entrepreneurs mainly dropship goods from AliExpress. But recently, lots of alternative options for dropshippers have started to appear!
Fo example, business owners who target the US market can team up with Sellvia and dropship goods on quite favorable terms.
Sellvia is a whole network of trending dropshipping products, the fast shipping option, high-converting product pages, time-tested marketing materials, and more. Sellvia offers products physically located in the California-based fulfillment center. This is the reason Sellvia is ready to ensure fast US shipping (1-3 business days to any destination in the country).
And for those who target other regions than the United states — or even the whole world — it's a great idea to consider Alibaba dropshipping.
Alibaba dropshipping: pros and cons
Despite the fact that Alibaba mainly deals with the B2B segment, they've decided to collaborate with dropshippers. On Alibaba, you can now find a wide range of products specifically for dropshipping.
Although Alibaba is a wholesale platform, these products don't imply MOQ (minimum order quantity). So you get an opportunity to supply from Alibaba at wholesale prices, meanwhile, you don't need to buy them in bulk. Profit!
Besides, there's a long list of benefits you get if you team up with Alibaba.
You gain access to over a million dropshipping products that you can sell from your online store
There are more than 10,000 top-rated manufacturers you can supply from
All the orders are protected with Alibaba Trade Assurance program
How to start dropshipping with Alibaba
In fact, there's nothing difficult about starting a dropshipping business with Alibaba. The most convenient way to dropship from Alibaba is using Sezam.
Sezam is the first official Woo plugin for dropshipping with Alibaba. It's designed to automate your dropshipping business with Alibaba as much as possible and free you from the most boring and time-consuming tasks a computer is able to easily perform for you.
All you need to start Alibaba dropshipping is to install Sezam on your website and add the Alibaba products you like to the product range of your store. Actually, that's it. Sezam will do all the rest for you!
Each time an Internet user places an order in your store, Sezam transmits the order information to your Alibaba suppliers, and they start preparing packages to ship to your customers. It remains for you only to keep the profit from the wholesale price!
In case you haven't launched your own profitable business yet, it's time to order a custom dropshipping store that will be made with your preferences only. Beyond this, you can get a premium dropshipping store that is ready to sell from day one.
Note: if you order a custom store, you get one that is already filled with products. However, you have an opportunity to sell products from Alibaba easily by adding Sezam to your website and importing products from Alibaba.
Do you still have any questions? Feel free to read FAQ on Alibaba dropshipping and Sezam itself.
Why is it a good time to start Alibaba dropshipping: Alibaba sales
If you still don't have your own profitable business yet, or you're looking for an option to expand your venture, we recommend you start Alibaba dropshipping right now. What's the reason?
Although Alibaba offers dropshippers cooperation on favorable terms, recently they have started a September super sale for dropshippers. The point is that they give 10% OFF or more on the dropshipping products they offer. In fact, there're lots of items with really impressive discounts.
What's more, this sale applies not only to products themselves. In September, Alibaba is ready to cut the shipping fees up to $20 OFF. On-time delivery is, of course, guaranteed.
By the way, since Alibaba has firmly decided to collaborate with dropshippers, they are glad to provide your online stores with ready-to-ship products with fast customization.
Alibaba dropshipping & Sezam
As you can see, Alibaba now offers quite favorable terms to start Alibaba dropshipping. It really doesn't matter whether you're an ecommerce newcomer who doesn't have an online store yet or you'd like to expand the product range of your current store and enhance its capacity.
Alibaba looks like a great opportunity for anyone to unleash the potential of a successful business owner and get a stable source of income. This is really important not only nowadays but always.
For our part, AliDropship has done its best to ease the process of running a business and make your store work on autopilot.
Would you like to get a smooth start in dropshipping with Alibaba sales? Get Sezam and benefit from a fully automated ecommerce business!