Thank you
for sharing your thoughts with us as your feedback will help us to provide you with enhanced product quality.
Increase the credibility of your store and multiply your sales with Reviews Page!
After reading product reviews, your potential clients will definitely want to buy from you right away – because they will be assured of your store's reliability and the quality of your goods. Just imagine how many times your monthly profit will grow!
Overview
Do you want your sales to skyrocket? Add reviews to your webstore!
Consumers trust product reviews from other people much more than marketing descriptions and seller's promises.
Reviews Page allows you to collect photo reviews, build strong trust and boost profit with social testimonials! Show your products in action to potential clients, being used by real people just like them.
Benefits
Get more sales with the help of glowing reviews
Boost clients' confidence so they will buy from you
Showcase reviews on your store to attract more shoppers
Present social proof to inspire trust in your customers
Increase organic traffic and page ranking
Enjoy free lifelong support and updates
Features
Add a reviews page to your store with ease
How long does it take to add a reviews page to your web store? With our marvelous Reviews Page, you only need about five seconds!
We have provided an option to create a page and name it whatever you want. The page will be added to your main navigation bar immediately upon creation.
Don't want a whole new page? Review Page allows you to add reviews to any page you wish using shortcode!

Use a wide range of tools to customize the layout of reviews
Build strong trust with style. Edit your future reviews page to make it even more eye-catching and complementary to your webstore's design.
Reviews Page add-on features a number of tools to set up display and style options: choose the elements you want to add, their shape and color at the click of a button.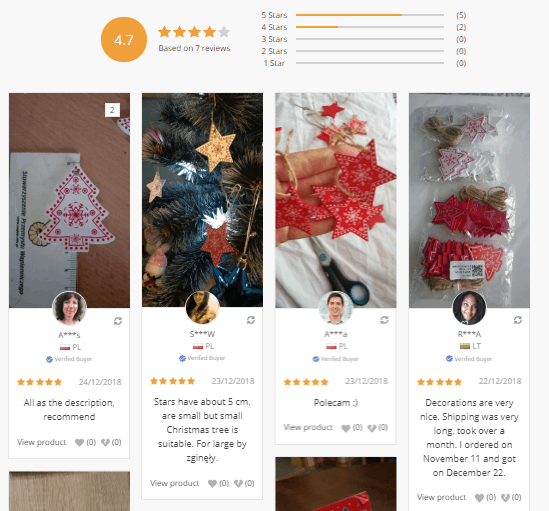 Decide what reviews to add to your page
Thanks to Reviews Page add-on's advanced filter feature, you can sort and select reviews to add to your store: by star-rating, by country, and reviews with or without attached photos. You can even adjust the ratio of male and female names and use only those names that relate to the country you work with.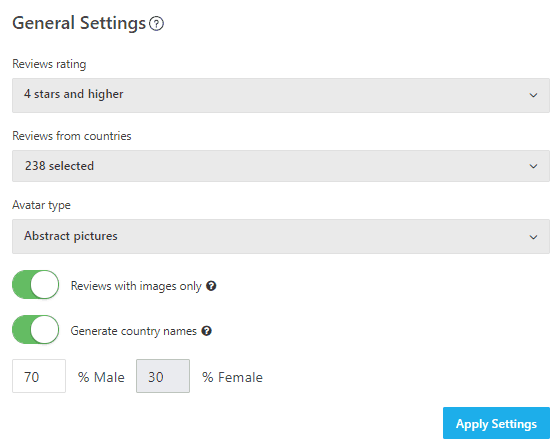 Are you ready to get a steady stream of sales and grow the trust level of your store? Try Reviews Page!
Questions? Feel free to check out our Knowledge Base or contact our customer support at support@alidropship.com
Some questions you might have
Is the Reviews Page add-on in supported by AliDropship Woo?
This add-on is compatible with both plugins: AliDropship and AliDropshipWoo.
Can I use the Reviews Page add-on on WordPress and WooCommerce sites without AliDropship?
No, this add-on doesn't work with WordPress and WooCommerce sites without AliDropship.
Where can I take reviews for my page?
You need to import reviews for your published Products from AliExpress to your AliDropship website. You may refer to
this guide
in order to make it.
What if I want to delete this page and create a new one?
It is easier than you might think. All you need to do is just click on the "Delete" button in the "Create Page" tab.
Do I need any coding skills to start using the Reviews Page add-on?
No! Don't be worry! After the successful purchase, you will get an email with the file you need to upload on your website. Check our
Knowledge Base
to learn more.
How long will my Reviews Page add-on license key be valid?
All our add-ons have a lifelong license key. You can use it as long as you want.
Is setup service included in the price of Reviews Page?
No, you can order the service
here
.