Starting A $50 Million Cute Baby Dropshipping Store: It's Easier Than You Think! [Amazon Case Study]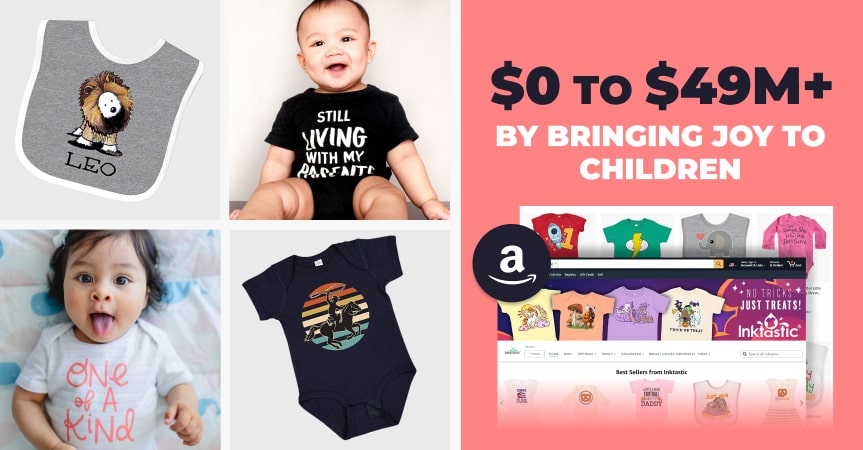 Ever heard those cool stories about folks who dive into business and suddenly make it big? Well, a lot of the time, it's all about finding that perfect thing to sell. For some, it's about setting up a baby dropshipping store and selling adorable clothes for little ones. Take the team behind Inktastic on Amazon, for example. They began with just a few items, added their personal touch, and voilà! In no time, they were counting profits in millions. Feeling inspired? We're here to guide you on how to set up your own shop and find those sweet spots in the market!
Why items with a heartfelt touch win big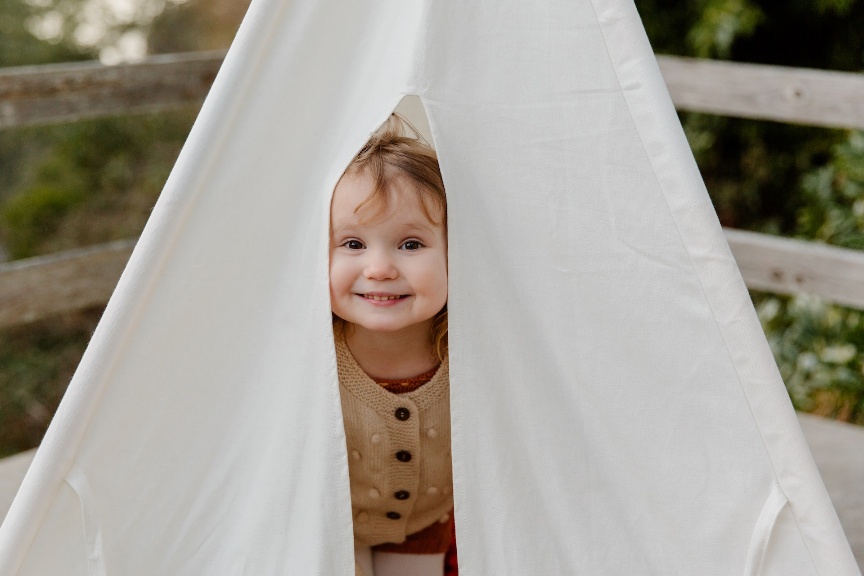 Ever noticed how some items just tug at your heartstrings? That's the golden ticket for starting a business you'd rave about to your friends. When folks shop, they're often looking for more than just a product, they're searching for a feeling.
And if you're aiming to kick off a baby dropshipping store or any venture, focusing on products that stir up emotions is the way to go. When your items make hearts skip a beat, trust me, shopping carts won't be left empty.
Now, wondering what these magic products could be? Spoiler alert: think baby gear!
Baby gear: The business goldmine you've been looking for
Got kiddos? Then you know the joy of dressing them up in the cutest outfits. Even if you haven't joined the parent club yet, here's a secret: folks go all out for their little ones.
It's like every time they glance at their baby, the world seems brighter.
That's the magic the Inktastic crew tapped into. Seeing the love parents have for adorable baby wear, they jumped in with their unique touch. And guess what? It totally clicked!
People, especially young parents, adore picking out special items that make their babies stand out. Just a quick online search will show you: the demand for unique baby products is soaring.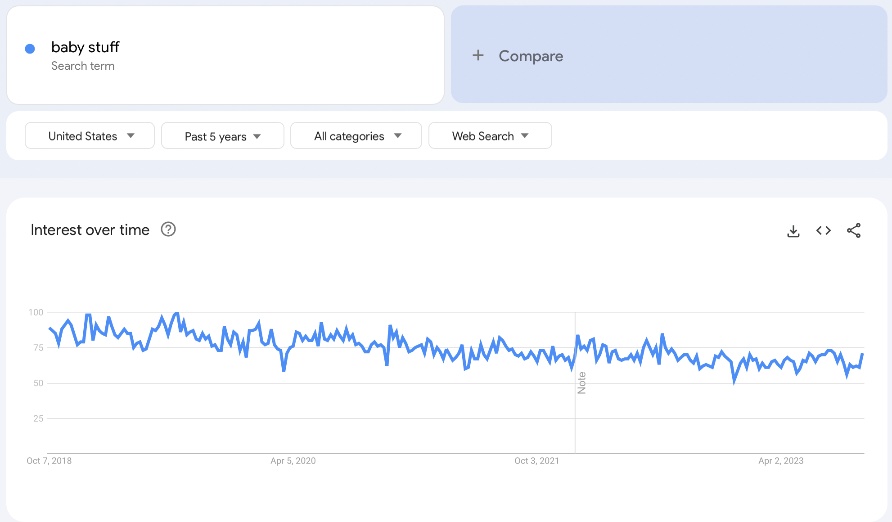 Diving deep into this world, Inktastic brought their flair, offering things like cute onesies, snug hoodies, trendy t-shirts, and drool-worthy bibs.
Though it might sound like they've got a vast range, it's more about variety than quantity. Their secret sauce? Over 10,000 designs, all centered on letting parents find that perfect outfit that screams "adorable" for their munchkin.
How to start your baby dropshipping store
Alright, so you're sold on the idea that baby stuff is where the gold's at. But, where do you begin?
Here's the cool part: diving into the baby product world is not just rewarding emotionally, but cha-ching, it's money-smart too! But how do you go from just thinking about it to actually doing it?
Lucky for you, we've got some insider scoop. There are these pockets called 'empty niches' in the baby product market. Imagine searching online for something super specific, but coming up empty-handed. Frustrating, right? That's what a lot of parents feel when hunting for unique baby outfits.
Now, instead of just shaking your head, what if you filled that gap? Step in, offer those hard-to-find items, and voila! Not only do you face lesser competition, but you also make loads of parents (and babies!) super happy. Talk about a win-win!
Kickstarting custom stores by AliDropship!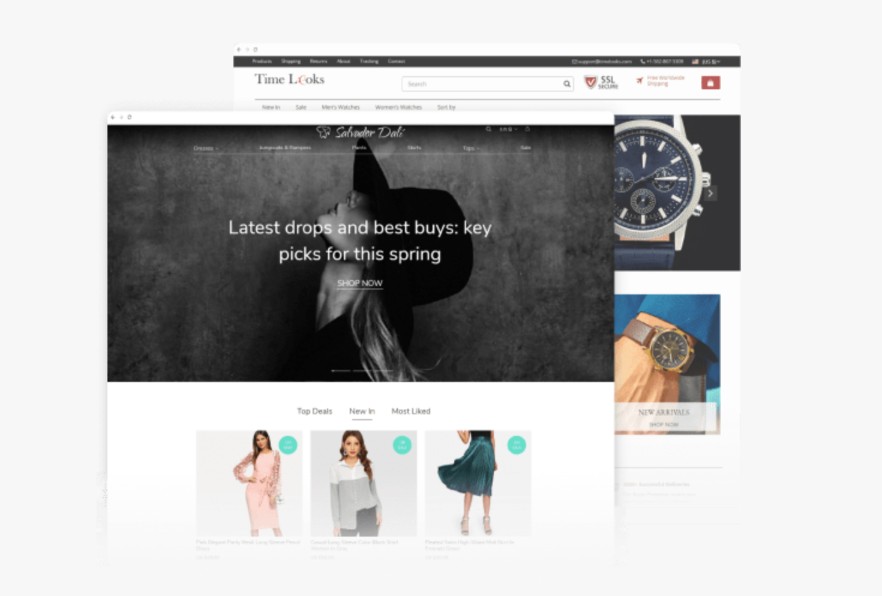 Hey there, ever thought about diving into the dropshipping world but felt a bit overwhelmed by the tech side of things? AliDropship's got you covered! Here's the lowdown:
Custom Stores? Here's What They Are:
They're online shops the AliDropship crew whips up just for you. Sure, crafting your own online space isn't rocket science, but it can chew up your time and needs a sprinkle of tech know-how. So, if you'd rather spend your time doing what you love and leave the nitty-gritty to someone else, just give us a shout. We're all ears and ready to help you pave your path to business stardom!
Getting Started:
Once you're on board, a friendly face (your personal manager) will get in touch. You'll chat about everything – from the kind of products you're dreaming of selling, to the look and feel of your store. Share your vision, and then? Just sit back and watch the magic happen.
What You Get:
A store that's uniquely YOU.
You pick the vibe, name, and style.
Options galore! We've got three packages: Basic ($299), Advanced ($499), and the fabulous Ultimate ($899).
Need some promotional pizzazz? Depending on your chosen package, we offer AI-driven promotions, SEO boosts, sassy social media setups, catchy videos, and more.
A Little Heads-Up:
While we hand over a sparkling new store, it's up to you to show it off to the world. A little promotion can go a long way to get those cash registers ringing.
So, feeling ready to dip your toes in the dropshipping ocean? Let's make it happen together!
Wrapping It Up: Dive In & Make Little Dreams Come True!
Hey, did you know? There's a world of parents out there on a quest for the perfect baby gear to make their kiddos stand out in the cutest way. But, sometimes, their searches come up short. That's where you could come in!
Ever thought about creating something that not only fills pockets but hearts too? Now might be your moment. Launch that dropshipping store, serve up those adorable baby finds, and sprinkle a little joy in the world. And, who knows? Your business might just be the next big thing parents rave about. Ready to jump in? Let's make some tiny toes wiggle with happiness!