New Zealand Dropshipping Experience: How To Make A Profit In The FIRST Month Of Owning A Store!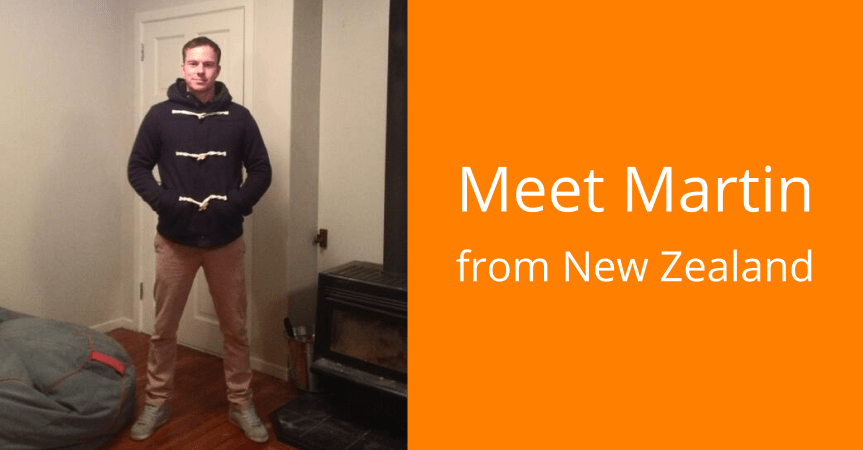 NZ dropshipping store owners continue to treat us with their inspiring business feedback! Several months ago, we welcomed Kitty, a web designer from Christchurch in our blog. And today, we're thrilled to share the joy of discovering a yet another New Zealand dropshipping story with you!
Despite having a zero background in dropshipping (he learned about this business model existence only a couple of months ago), Martin, our today's hero, managed to make up for his expenses in the FIRST MONTH of his store operation! Let's listen to his feedback – and learn what he did to make his first earnings so early.
Disclaimer: all the success stories published in AliDropship blog are the results of interviews conducted in the written form. Even though the editors may make some minor changes to the grammar, spelling, and/or punctuation, the respondents' writing styles, views, opinions, stores screenshots and personal photos are left unchanged.
Hi, please introduce yourself!
Hi, I'm Martin, a 35 yr old sports coach from England, currently living in New Zealand. I've travelled many countries coaching and playing semi-professional football.
How did you get the idea of starting a dropshipping business in New Zealand?
It all began around 7-8 weeks ago when I discovered Alidropship and fell in love with the business model it promotes. I had no previous experience in this exact field, I only bought products in bulk several times.
But, after watching dropshipping tutorials on YouTube, I became a fan of dropshipping and loved the idea that I don't have to touch the products – just keep the PROFIT :))))
So, I purchased the Basic package, and, after a 3 week process of getting my website set up with fantastic help, I am now up and running 🙂
What's your progress?
I am managing 1 store as for now, and here's how it's going so far:
Not a big deal of course, but making a profit right in the first month of the store life is still something, right?
Great! Can you tell us a bit more about the first sale you've made?
Yeah, it happened on the first week of the store operation. I was over the moon – I was jumping round the room as I doubled what I paid for it 🙂 Really, I worked hard to make it happen, and I think Alidropship pop ups played some part in achieving it. I use several Alidropship marketing solutions together with the store, and they're quite helpful, that's true.
What can you share about your store? How did you create the right offer to dropship in New Zealand?
Well, to choose the niche, I just researched what is popular in my target country.
I didn't have any concerns of choosing products or supplier yet because my ready store package comes with some imported items already 🙂 I just told my manager what I want them to add on my website.
But, there are only 50 products imported as of now, so I will need to add more in some time. I don't really have any specific strategy of importing new products, so I guess I will just figure it out as it goes.
How do you promote your store?
To begin with, I watched different YouTube tutorials to understand how to research my target audience and how to define it. I decided to focus on social media as the main marketing channel, and I chose Facebook for this. It works fine – I didn't change my mind about using this marketing strategy yet 🙂 My monthly ads spendings are about $70.
As a dropshipping store owner with no previous experience, what can you say about managing your business?
Every day, it takes me about 3 hours to check how things are going, think of a new promo method, and bring it to life.
My main and most difficult challenge, of course, is getting more sales. But, together with it, I also try to pay attention to the people who have already made a purchase in my store. I believe that a good customer service is the key to dealing with any difficult customer.
Once, there was a funny story: a lady couldn't understand why $39 came out of her bank account while she was buying an item with a $17 cost. Turned out, she was from abroad, and just didn't notice the original store currency.
What can you say about the legal side of NZ dropshipping?
My business is really young and I'm just getting to know it all. To be honest, I'm not even sure about the local legal requirements 😀 I haven't registered it yet, but I guess if my profits start growing beyond my expectations, I'll need to make things official.
How has your life changed?
Well, the earnings are too humble now to let me make any loud statements. Still, I like the way it's going, and it seems like I can become more financially stable if everything goes as planned. I really want to open more stores and, hopefully, improve the profits. Thankfully, I enjoy great support from my friends and family. They love these changes and can't even believe I actually did it with 0 knowledge and no actual skills in online business.
What can you advise our readers – those who already run their stores and those who didn't start the business yet?
Be prepared to work hard and do not be defeated!
That's the secret to a dropshipping success, for sure 😉 Work hard, educate yourself as much as you possibly can, and the financial results won't disappoint you! Judging by Martin's experience of dropshipping in New Zealand, that's a great beginning of a promising business journey.