Making Money In Retirement With Online Business: David's Story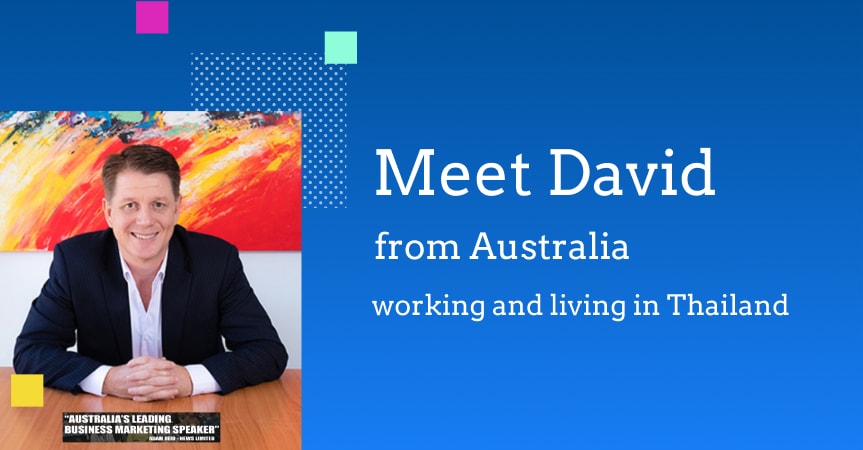 Do you already have an idea on how you'll be making money in retirement? It's a topical issue for hundreds of thousands of people all over the globe.
David, our today's guest, has found an elegant solution that works quite well for him. Let's see what he has to share with us!
Disclaimer: all the success stories published in AliDropship blog are the results of interviews conducted in the written form. Even though the editors may make some minor changes to the grammar, spelling, and/or punctuation, the respondents' writing styles, views, opinions, stores screenshots and personal photos are left unchanged.
Hi, please introduce yourself!
Hi, I'm David Caruso, a Professional Business Speaker from Australia, living in Thailand for the last 10 years. I travel internationally delivering Online Marketing workshops – check more at www.DavidCaruso.com.au
I've been a traditional business owner for 20 years. At 40 years of age, I retired and moved to Thailand in 2010. A couple of years later, after getting bored with being retired, I began business motivational speaking, teaching business owners how to work on the online market. At the end of 2018, after 6-7 years of travelling and speaking / teaching others how to do online marketing, I decided to dedicate a year to our own online businesses.
How and why did you start making money in retirement with dropshipping business model?
I thought it's a great stepping stone (fast and cheap) on finding a good product/niche to delve deeper into.
As a consummate reader and 'watcher/listener' for anything about online business activities and marketing, I came across AliDropship solutions eventually. Glad I did! Could not believe the team would build out complete websites from as little as $348 which included the hosting and SSL certificate.
I have tried most of AliDropship solutions. Using both AliDropship original plugin and Woo plugin, I have built multiple stores. Plus, I use the hosting & plugins such as GA Enhanced Ecommerce, Countdown timer, Abandoned Cart, Google Merchant, and Recent Sales Pop Up. Sometimes, I also just buy the plugin to use on small single product websites.
Living in a really small Thai fishing village, we have made a small Digital Nomad club here. There are now around 4 or 5 us doing dropshipping. We are using your products (I am an affiliate also), and it lets us grow together and learn from each other.
Do you remember the first sale you made with a dropshipping store?
I don't really remember the first sale … but with that said I am still excited today about every sale we make, about each new store gaining traction and developing. The buzz of selling online is real and not sure if it is something I will ever get tired of. Especially as we open more new stores … the buzz of those stores getting sales and growing is pretty cool.
The usual pattern for every store is to generate the first sale in around 4-6 weeks after launch. To make it happen, we design, tweak, and thoroughly test product pages. Once we have that done, we drive traffic to it as much as possible.
How does your business perform now?
We started the year (2019) with a couple of stores doing under $2K per month.
Today we have 40+ stores and we are still building more.
November, 2019 was our best month – $110K AUD turnover – which is a 55x increase from the start of the year.
We have bigger plans and turnover expectations for 2020.
I'll show some examples of these stores functioning:
Can you see that the currency is varying from screenshot to screenshot?
That's right: these stores are aimed at different geographic regions.
How do you create and grow these businesses?
We usually begin with creating a general store. Then, we see what 'rises to the top' and break that out into single product stores or specific niche stores.
To choose the right products, we view the supplier's star rating, see how long they have been operating, read some of their reviews, and check if they use ePacket. We do like to use stores that are not general but relatively specialised in the products they offer. We then assume they are not agents but the actual supplier.
We're always adding new products based on the feedback from customers as we track their questions and enquiries made on the site.
When it comes to pricing, we generally go with the default settings when the store is built. If we see a particular product rising to the top, we would start to do some further market research and perform a competitor analysis. We use ISearchFrom to see what type of ads in the country we are targeting are coming up and what is being offered.
Even though we are running online stores, the success of our business is still largely based on how well we can market. One of the most important aspects of marketing is knowing who your customer is and what their fears/motivations are when they are looking to buy a service or product from your offering. Most typically, understanding our customer segments basically goes through putting ourselves in the customers' shoes and then doing the competitor analysis on who is offering what and how much.
And how do you promote your stores?
Putting new stores into operation, we promote them with Google Shopping and Google AdWords only. Plus, we do basic on-page SEO, but don't invest much time into it initially. Only in 6-12 months after a store launch, if it's clear that the store has good potential, we start full-scale SEO efforts.
We're also delving into social media marketing, namely Pinterest Ads and Instagram, with a few specialist virtual assistants. I myself have spent thousands on Facebook marketing, but could not get a ROI on my spendings.
In November, we spent $15K on marketing. We have some stores and niches with as low as 7% ad spend to revenue – these results are achieved thanks to successfully working SEO. At the same time, for other stores and niches, this indicator is around 22%: these stores are new, and SEO has not started to work there yet.
What can you tell about your business routine?
Customer service is a time drain, but the most difficult challenges are inconsistency of suppliers and delivery times.
Here's what we do to fix this. Once we find a product/niche that is doing well, we bulk buy that product from a supplier on Alibaba, send it to Amazon, and then use their FBA services to ship form. It's also possible to get a few sales from Amazon directly, but we are mostly using their services to store and ship items more conveniently.
How do you deal with difficult customers? Are there any funny/sad stories?
We are polite but firm. There are great company policies clearly outlined, plus, we have plenty of 'set/pre-written' email signatures that our team regularly use.
And for the funny stories… Just the other day a customer in Australia complained that we had sent the wrong size product, and actually sent a picture of the product and them holding a tape measure against it. They said that they had ordered a 60cm wide item and that what we sent them was only 23 wide (you could clearly see the 23 on the tape measure the customer was holding). The whole office was laughing and in stitches as we politely told the customer to turn the tape measure around as the side they were using was measuring inches (23 inches) and the reverse side of the tape was in cm (60cm) and that is what they ordered.
Did you have to register your business officially to make money in retirement legally?
Yes, we have a company structure in Thailand and Australia. We run all our stores under the Thailand company structure, and we are pretty lucky that regulations (and even taxes) are pretty lax here at the moment.
How has your life changed?
The only thing that has changed is that we did not have to travel as much this year (my wife and I are almost 50). We used to travel constantly because of my speaking career, and even though it sounds exciting, it stops being so fun after a while.
As for the nearest business future, I'm planning to build the sites up and flip a few on Empire Flippers.
What can you advise our readers – those who already run their stores and those who didn't start the business yet?
Don't believe all the stories of people saying they make a fortune with only a few hours per day of work. Put the effort in and the rewards will be there. Get extra good at marketing … that is what will set you apart from your competitors.
Our success in a real world business and with our online businesses basically comes down to good business marketing acumen combined with a good work ethic.
So, if you've been looking for a safe, legal, and efficient way to make money in retirement, David's experience can be of great use to you! Maybe, you'll be the next person to share a new success story to share with the dropshipping community – who knows? 😉