Your A-Z Guide On How To Start Selling On Amazon In 2023: A 10-Step Plan To Build Your Fortune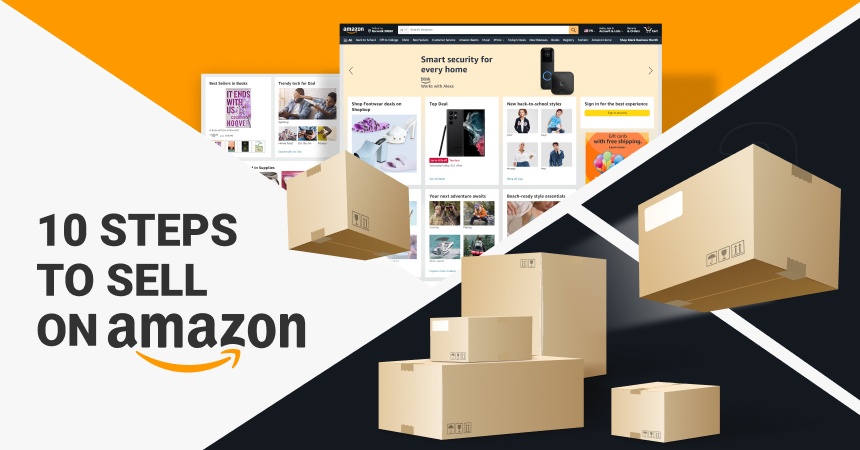 There are lots of ways to start a venture, but Amazon stands apart from others. Do you need a side hustle providing you with a financial independence you deserve? Then, we recommend you learn more on how to start selling on Amazon — it's provides both newly-minted and seasoned entrepreneurs with business opportunities nobody else can offer!
Amazon — most people immediately associate this term with the world's leading online shopping platform rather than the world's largest river. Such is the astounding dominance and popularity of Amazon.
What does it mean for you as a potential business owner? Certainly, this is #1 shopping platform in the USA, providing entrepreneurs with unprecedented opportunities for starting and growing their businesses!
If you're pondering how to launch an Amazon store, it's simpler than you might think! Check out our newest guide on how to start selling on Amazon smoothly — we are here to push you through the shortest path to your Amazon business that is just 10 steps aways from you!
Selling on Amazon: hot or not?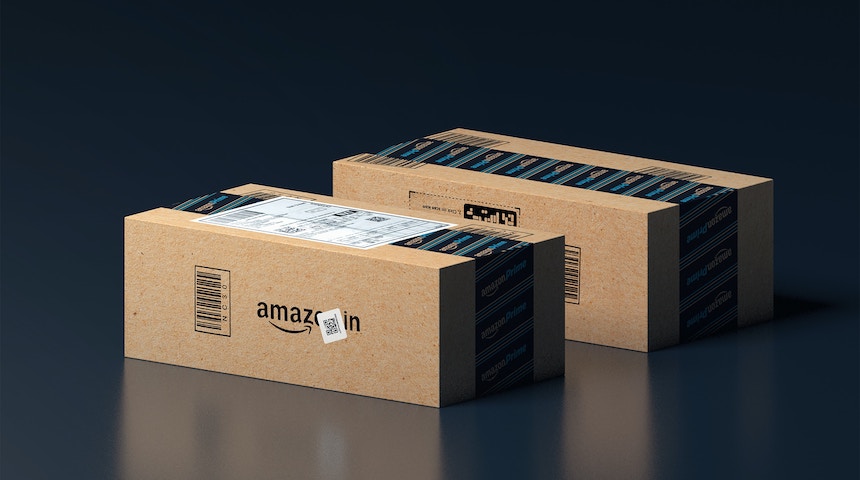 Ecommerce enthusiasts often dream about leveraging Amazon — one of the most profitable online-selling marketplaces in the world. There's no doubt that Amazon's profitability and convenience make it an attractive platform for sellers.
Amazon's breathtaking $513.9 billion annual sales in 2022 and #2 position on Forbes' Fortune 500 list naturally magnetize sellers, fueling their eagerness to start their Amazon journey. Launching a store on Amazon isn't as daunting as it seems, especially when you're armed with the right tools and guides.
How to start selling on Amazon in 2023: a step-by-step guide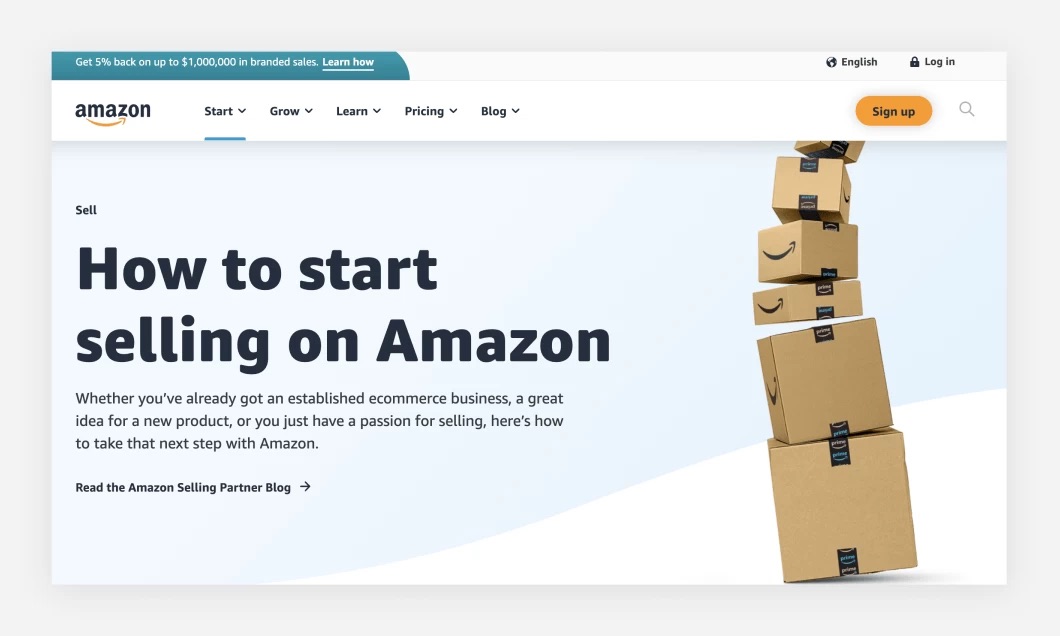 We've prepared a straightforward guide on how to start selling on Amazon in 10 steps and how to make your store pop with trending products that customers are already craving!
#1. Navigate to Amazon Seller Central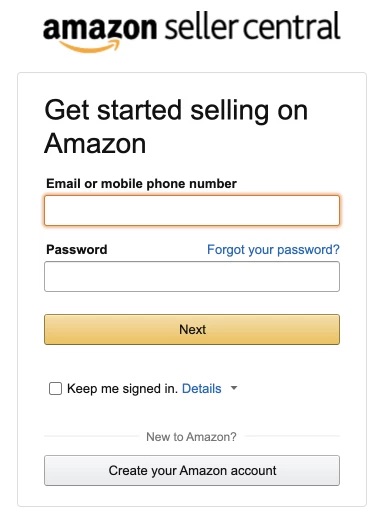 Starting your Amazon journey is simple. Head to the Amazon Seller Central page and click "Sign Up."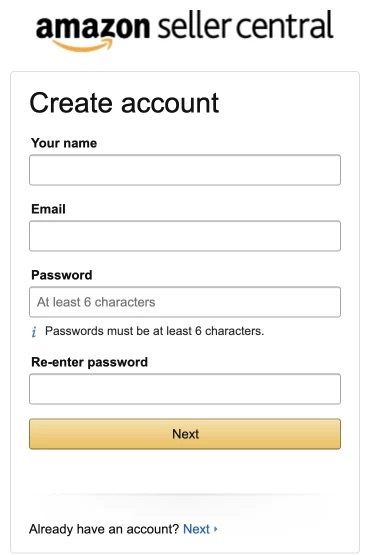 On the login page, find the "Create your Amazon account" button at the bottom and give it a click.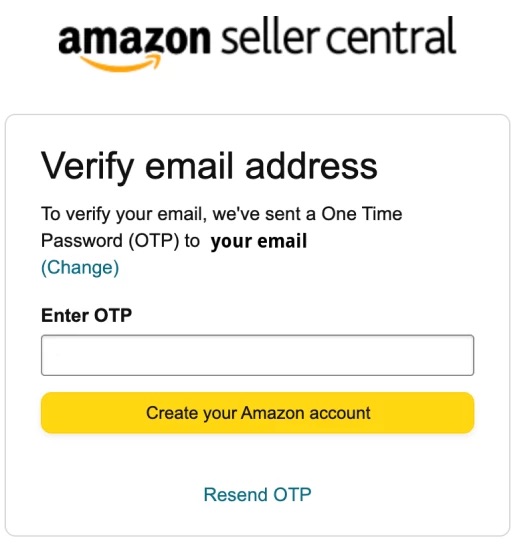 Create a username, an associated email, and a password, just like you would on any other website.
#4. Verify your email address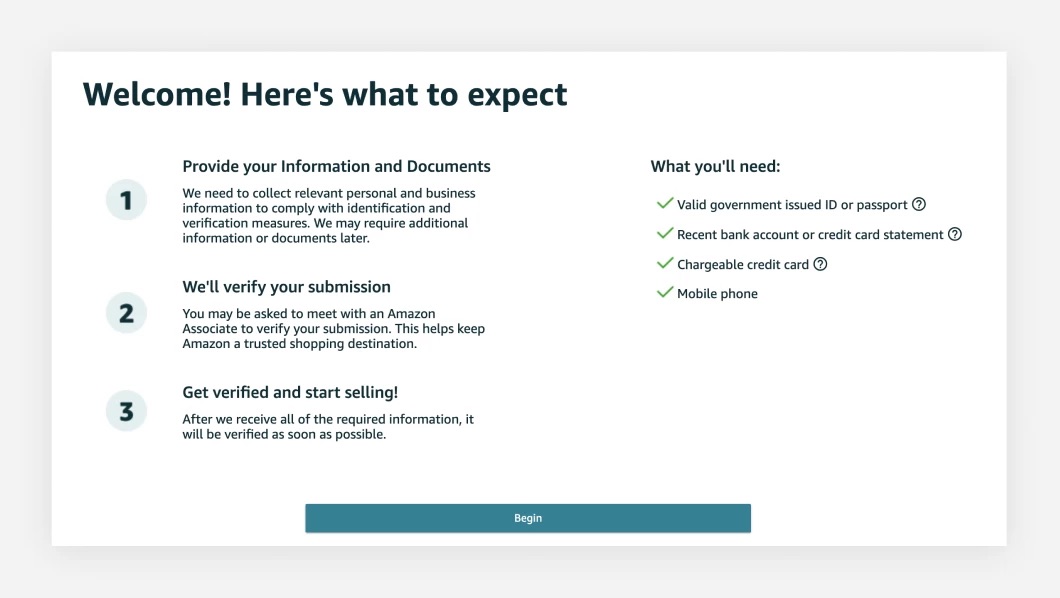 Amazon will send a verification code to your provided email to confirm your identity.
#5. Complete verification
Now you're all set for the moment. For all Amazon partners, Amazon mandates a verification process to ascertain that you're a genuine seller with an actual business. During this process, Amazon may:
Contact you to verify your ID and business.
Ask for business documents, your personal ID, credit card, and phone number.
After you complete this process, you will be able to log in and view your dashboard on Seller Central. Get ready to start selling on Amazon!
#6. Choose your plan type
The beauty of being an Amazon seller lies in the platform's flexibility and customization to your business needs. It all begins with selecting an Individual or Professional plan. Remember, it's not free to sell on Amazon. With the Individual Plan, you pay a $0.99/item fee, which is a great starter plan if you're unsure about your selling volume.
On the other hand, the Professional plan costs $39.99/month, with zero per-item fees. This subscription-based plan is perfect if you anticipate high sales volume and expect to earn over $39.99 a month.

#7. Familiarize yourself with Seller Central

Once you're verified, signing in will grant you access to your main control center — Seller Central. Here, you can manage your inventory, make product updates, process payments, glean insights from customer statistics, and much more.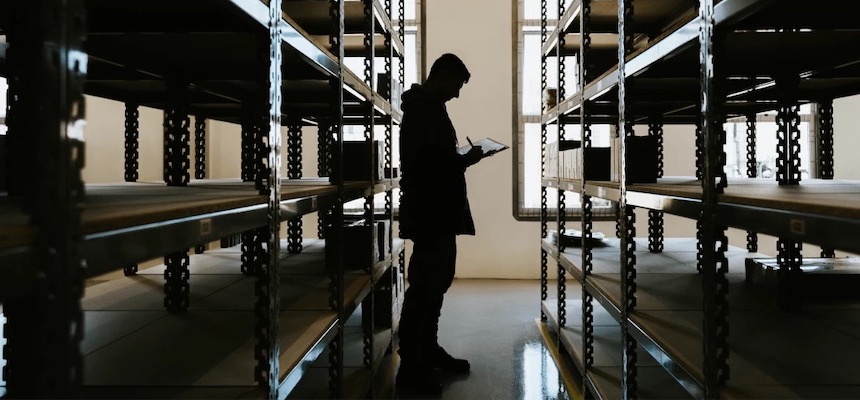 Now that you're comfortable with Seller Central, it's time to roll up your sleeves and start selling on Amazon by creating listings for your items. Your listings, from a catchy title to a detail-laden description, are your chance to differentiate your items from your competitors.
You'll also need to provide some specifics, such as SKU, Global Trade Item Number (GTIN), product images, and search terms and keywords.
#9. Select your fulfillment method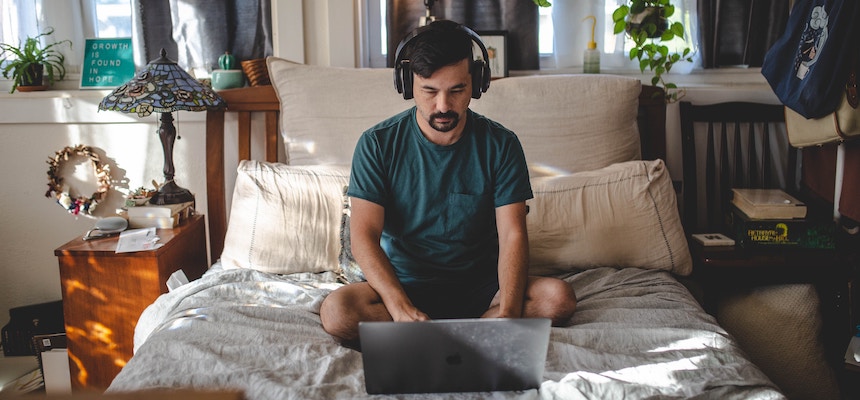 When selling on Amazon, you have two options to fulfill your orders:
1. Fulfillment By Amazon (FBA): This popular choice lets Amazon handle the packaging, labeling, and shipping of your products. You'll just need to coordinate with Amazon to deliver your inventory to one of its warehouses.
2. Merchant-Fulfillment: If you choose Merchant-Fulfillment, you'll be responsible for all the logistics of getting your orders to your customers. Amazon will charge you for shipping based on the product category of the sold item and the shipping service selected by the customer. If there's a difference between what Amazon charges and what the customer ends up paying, you'll be credited.
#10. Monitor your sales & stats in Seller Central
Once you've completed a sale, your earnings will appear in Seller Central. As you continue making sales, you'll start seeing trend graphs and numbers related to your fulfillment, customer satisfaction, and more. These stats will help you fine-tune your approach to become a better seller.
This is the basic path to starting a business on Amazon. Nothing challenging, actually. with the right tools and guidance from Amazon's Seller University, you're well on your way to success.
Are there any ways to make it easier for you to launch your venture on Amazon? Sure, there are some!
How to start a business on Amazon: the shortest path
Stepping into the world of online business, particularly on a platform like Amazon, might seem overwhelming. But AliDropship simplifies the journey with our Established Dropshipping Stores.
These aren't just stores — they are thriving businesses that have already been tested and proven to be successful and profitable. Even better, no previous experience is necessary.
When you choose AliDropship's Established Stores package, you access an array of impressive benefits. Here they come.
Hassle-free business launch
Starting an Amazon store on your own can be time-consuming and complex. Our team handles the intricate details for a smooth, hassle-free launch. Bypass the typical startup headaches and risks. With our Established Stores, you hit the ground running.
Instead of starting from scratch, you step into a successful ecommerce business that has a proven track record of stable profits.
Lifelong tech & marketing support
Our team stands by you, offering constant technical and marketing support throughout your entrepreneurial journey.
Your new business is all yours, giving you complete control over its direction and profits.
But we are speaking about starting a business on Amazon, aren't we? Sure! Our Established Stores go along with Amazon setup assistance!
Your turnkey Amazon business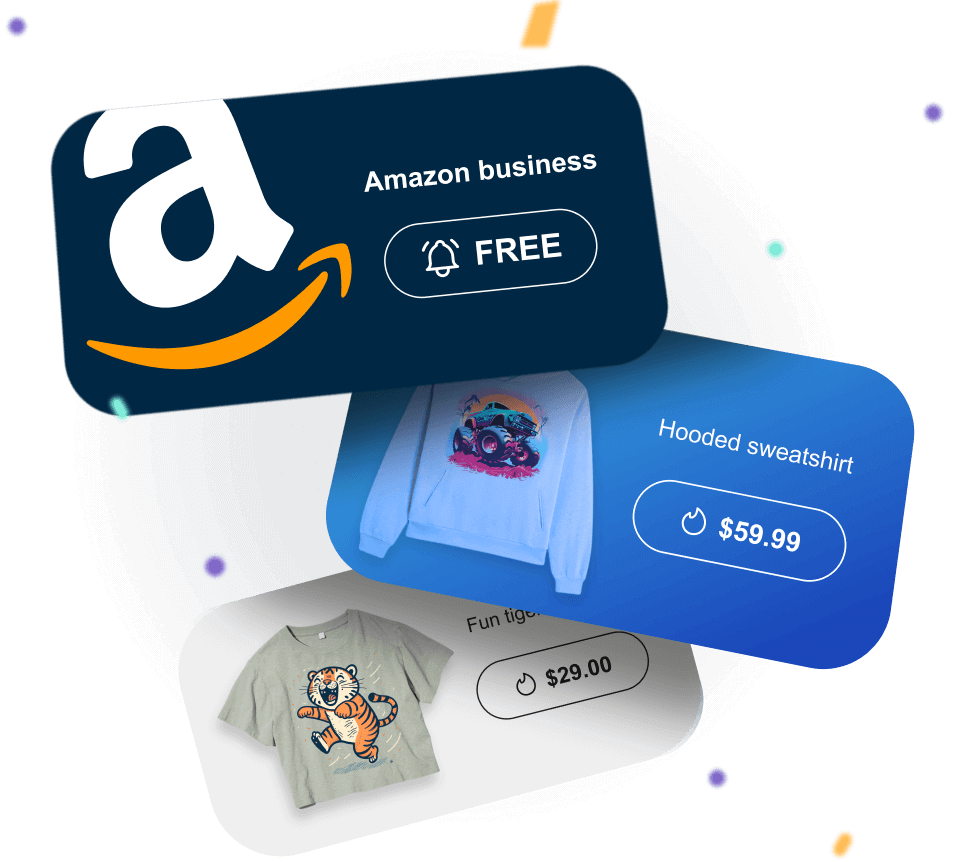 Each Established Store owner receives help in setting up their Amazon businesses.
Turnkey Amazon business as a BONUS
Not only do you receive an established ecommerce store, but we also set you up with a turnkey Amazon business. Our team helps create your Amazon Seller account and stocks it with hot-selling products from your store.
Your Amazon store will feature compelling product listings with professional photos and detailed descriptions, helping to attract potential customers.
We optimize your product listings for Amazon users' search requests, increasing the likelihood of your products being found and purchased without the need for additional promotion.
Are you interested in getting an established dropshipping business expanded to Amazon? Feel free to book a free consultation with our business advisors willing to give you details at any time convenient to you!
Additionally, when you join us, you're always in good hands. Your personal manager will work tirelessly to help you achieve your business goals. Plus, we offer numerous services to make your entrepreneurial journey smoother:
Store transfer assistance
Our team will transfer the business ownership to you quickly and efficiently, offering all necessary technical assistance to get your store running smoothly.
You can request one-on-one consultations with our Forbes-level consulting team to help you start making sales ASAP.
Free lifelong tech support
Our first-class support team is available any day, any time, ready to help with any technical issues.
Why start from scratch when you can take over a successful business on Amazon with AliDropship? With our Established Stores together with the turnkey Amazon business option, you're just one click away from stepping into the shoes of a successful Amazon seller. Are you ready to embark on your entrepreneurial journey?