How To Start An Online Business In Australia: Kelvin's First-Hand Experience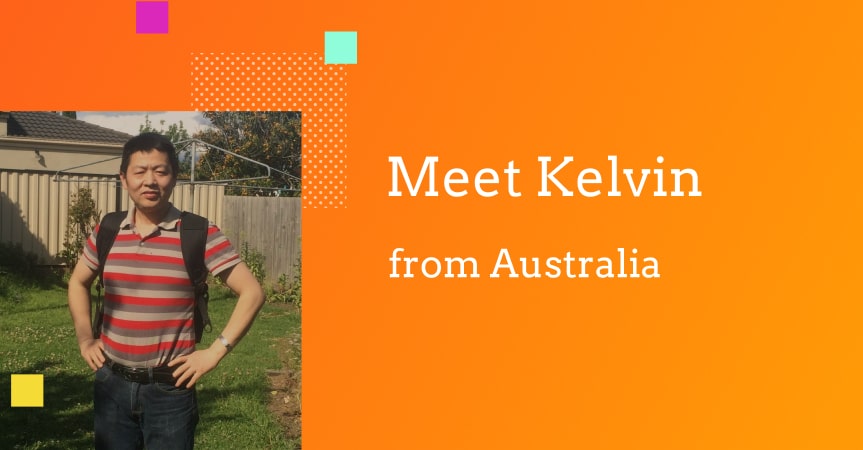 Almost every person wondering how to start an online business in Australia, or Bulgaria, or Canada – or any other country, for that matter – eventually discovers the dropshipping business model. Is it a good choice? Where can this ecommerce model take you? Let's talk to Kelvin, a newcomer to dropshipping business, and ask about his unique personal experience!
Disclaimer: all the success stories published in AliDropship blog are the results of interviews conducted in the written form. Even though the editors may make some minor changes to the grammar, spelling, and/or punctuation, the respondents' writing styles, views, opinions, stores screenshots and personal photos are left unchanged.
Hi, please, introduce yourself!
Hello, I am Kelvin, a first generation immigrant from China relocated to Australia to experience my life. I'm an accountant by profession – and since recently, an online entrepreneur.
Why and how did you start an online business in Australia? What's your background?
Actually, I had an earlier experience of launching and running an ecommerce startup and working for an online gaming company.
When Melbourne went in lockdown due to the pandemic, I suddenly found myself with much more free time and thought I could invest it in building a side business. This is how I started looking for the options and doing a website building up.
Among all the online business models trending now, I found dropshipping to be the winning one. It's relatively easy to create and it takes smaller startup capital, so I thought, why not?
What were your first business steps?
I was using YouTube to learn more about setting up and running an online business, and discovered AliDropship and the several opportunities it offers to start an online store.
The option that seemed the most attractive to me was getting a custom store and let a team of experienced developers do their job. But when the store was ready and handed over to me, I decided to further adapt it to my individual vision of a forward-looking online business.
You see, I wanted to connect this store to eBay, Amazon, etc. to try and expand this business at the next stage of its development and growth. So, I switched to AliDropship Woo plugin, and also synced my store with Shopmaster to help me with importation and listing for eBay activities in the future.
So, I would say that AliDropship gave me the initial knowledge and taught me how dropshipping works. It gave me the chance to learn further myself and grow my business the way I see fit.
How is your business performing now?
I keep running my only store, and I keep it synchronized with eBay. This strategy proves to be risky, but promising. My first sale happened in a week after I opened a eBay account.
And it felt great! I felt excited and understood that it could actually work.
There was a month when I processed 150 orders with the total count of about AUD 3K.
Even though I encountered a lot of issues while providing after-sales services and doing product listing, I believe this business model has a good potential.
These days, I have 5-10 orders per day on average, and I believe their number will start growing soon. I have much more confidence in this business model now!
To start your online business in Australia (and to make it so successful!), which product strategy do you use?
Considering products, I prefer to select something easy to ship, not easy to find on the market, and having a real value for a customer. Of course, keeping up with the trends is also important.
To pick reliable suppliers, I check their performance on AliExpress, their operating history, customer testimonials and the reviews on their shipping speed.
I expand my product range consistently to keep a larger niche portfolio. In general, to be added to my store, a product must:
Match my niche
Come from a reliable supplier
Have a good shipping policy
Show a long history of successful sales
See a strong demand
Have a high AliExpress score
To set the new prices, I start with analyzing the market and checking the shipping cost together with the seller's original price. Considering the data, I make a decision on the profit margin I want to get – and the final price, as the result.
How do you promote your business?
I use SEO and social media marketing, mostly on Facebook. These promotions don't cost me much: my business is still young and I can't spend a lot on advertising.
And the great part is that I don't have any problems with identifying and understanding my target audience. Basically, the product itself tells which groups of customers to target!
How to start an online business in Australia from the legal point of view? What can you say about the management part?
To do trading in Australia, you simply need an ABN (Australian Business Number). As long as you have an ABN, you, as an individual, are legitimate as a business owner.
And speaking about managing the business in general, I can say that it takes me 3-4 hours every day to keep the store running. I spend this time to search for new products, do product listings and process orders, provide post-purchase support and of course, promote the store.
Studying my competitors, researching products and evaluating suppliers takes most of my time. Customer service can also be challenging as customers are quite demanding and often ask for a lower price. But sometimes, their requests help me see what I can improve in my business practice! So, with good service and politeness, I can change their mind and learn something valuable for my business.
And yes, I'm still learning! I hired a freelancer to assist me, and I'm experimenting with the business a lot.
What's your general impression of running this kind of business in Australia?
I wouldn't say my life has changed much already: the business is still very young. But, I know it has potential, and I intend to work harder! I think it's a brilliant business idea, and it requires long-term persistence – and the ability to change your strategy quickly along your journey if it's necessary.
What can you advise our readers – those who wonder how to start an online business in Australia or elsewhere, and those who already run their stores?
Like I said, it is a long but promising journey. As long as you learn lots of stuff, keep going and trying, and adapt to changes and challenges, you're going to be fine!
You must be ready to view this business as a long-term activity. It is not a get-quick-rich scheme, and you need to be prepared for some challenges ahead of the road. But it has a great potential as well if you find out the road and walk it persistently. I'm in the process of learning myself!
That's the spirit! We are thankful to Kelvin for his kind and detailed insight into such an interesting way to start an online business, and hope his experience is inspirational for our readers!