This Guy Started An Electronics Dropshipping Store And Got His First Sales, All In Just 24 Hours!
Some people mistakenly think that ecommerce is hard and complicated. But this is not true. Ecommerce can be easy and fun. In fact, there is a guy who made his own electronics dropshipping store in just one day!
His name is Logan, and he has an amazing story of success and challenges in the world of social media and business. Have you ever wondered how some people can make money from nothing? Well, let's look at Logan's story and learn from him.
Logan the internet influencer
Logan was only eleven years old when he started his social media journey. He was a fan of action sports like snowboarding and skateboarding and he wanted to share his videos with the world. How would you feel if you got paid by brands to do what you love? Well, he felt amazing!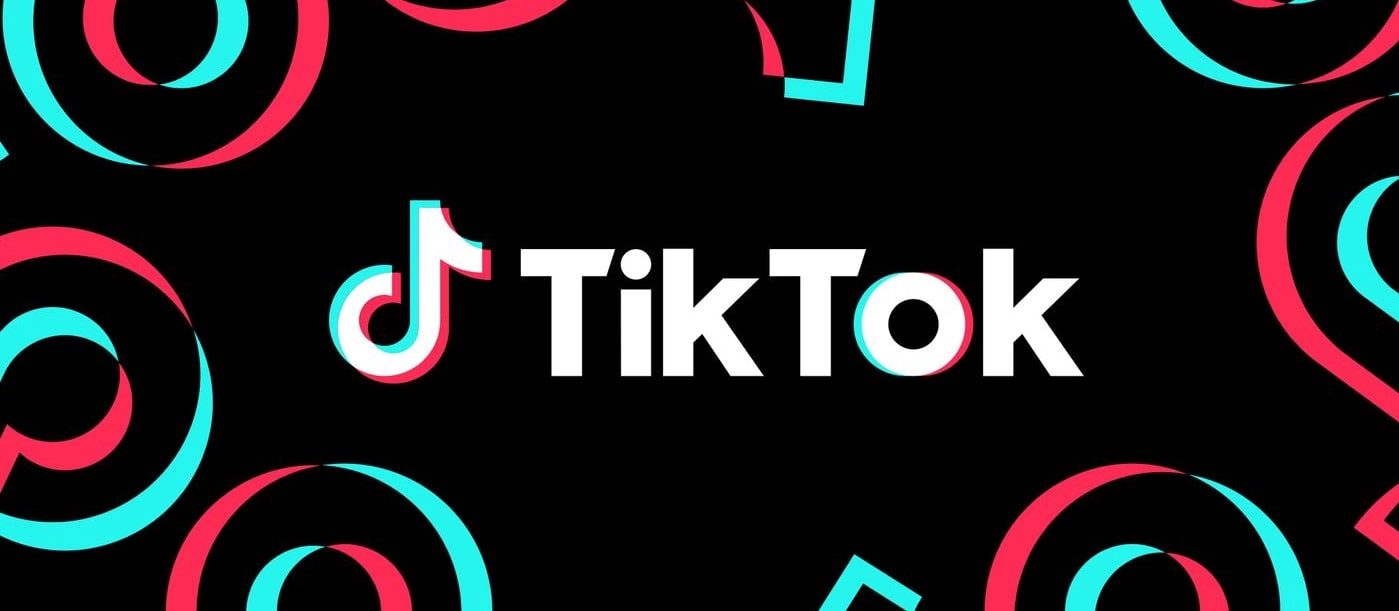 Some people might think that he was lucky, while others might say that he worked hard to get these deals. Logan thought that he had some talent, but he also saw some friends who were more talented than him but didn't earn as much. He understood that in today's world, your social media influence can make a big difference, so you have to master social media if you want to achieve your goals.
Logan's YouTube journey was not smooth. In the beginning, he had a few followers. But then he discovered TikTok in 2019. He was not a fan of it at first, but he soon realized its power.
His YouTube channel exploded, and he started earning more money from brand deals. But he was not arrogant. He appreciated his humble beginnings. He never forgot how happy he was when he earned his first $25. Sometimes, small beginnings can lead to great things.
The challenges and the lessons
Logan's success on TikTok was amazing, but he also had to overcome some big obstacles. Let's see what those challenges were, shall we?
First of all, his TikTok account was banned! But Logan was not discouraged. He even famously said that he made more money than TikTok that year. When he got his account back, Logan decided to post every day on TikTok.
Then Covid-19 came around and Logan lost his regular job. But despite what you may think, losing his regular job was actually a blessing, because it gave him more time to grow and to change his YouTube strategy. He tried reaction videos, which were not his favorite, but they worked well.
Logan tried himself in the prank genre, inspired by other creators. However, he soon found out that it was not his thing.
Finally, Logan joined the world of finance TikTok. Once again, he got banned, but then he quickly recovered and became popular.
So, he decided to focus on ecommerce, learning to adapt his energetic presentation style. 2021 was a busy year for him, but he learned a lot from his experiences.
Logan the entrepreneur
But Logan is not just a famous person on the internet, he is also a smart business person! He tried different ways to make money online. He did dropshipping with "sunfolds" sunglasses.
He made some profit from it, but he also learned some important lessons. Then, he had a big success with a Snapchat agency, using the platform's spotlight fund. But when the fund became smaller, his income also decreased. Have you ever wondered how important it is to adapt to changes in business? It was hard to balance TikTok, Snapchat, and ecommerce. Logan thought about what would happen if he focused on only one thing. But by doing different things, he avoided getting bored. Sometimes, doing different things can help you keep your energy and passion, don't you agree? So, Logan decided to do ecommerce full-time. The results? They came very soon.
The 24-hour dropshipping challenge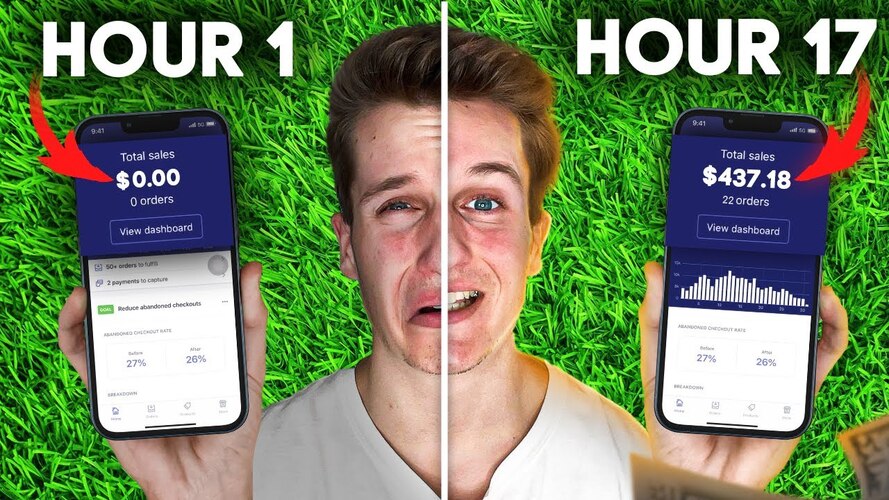 In an exciting experiment, Logan wanted to show that he could do dropshipping in just 24 hours. He had to find a good product, make an electronics dropshipping store, and sell it to customers. It was clear that he could not fail. The risk was high, because if he failed, he would have to shave his eyebrows. He was very nervous, but he also enjoyed the challenge. But he didn't want to use the usual online trends, he wanted to do something different. So he asked a neighbor who always bought cool things, and he showed him a picture of a very simple, but beautiful lamp. Even the most basic product ideas can give great results, if you market them properly.
Making the store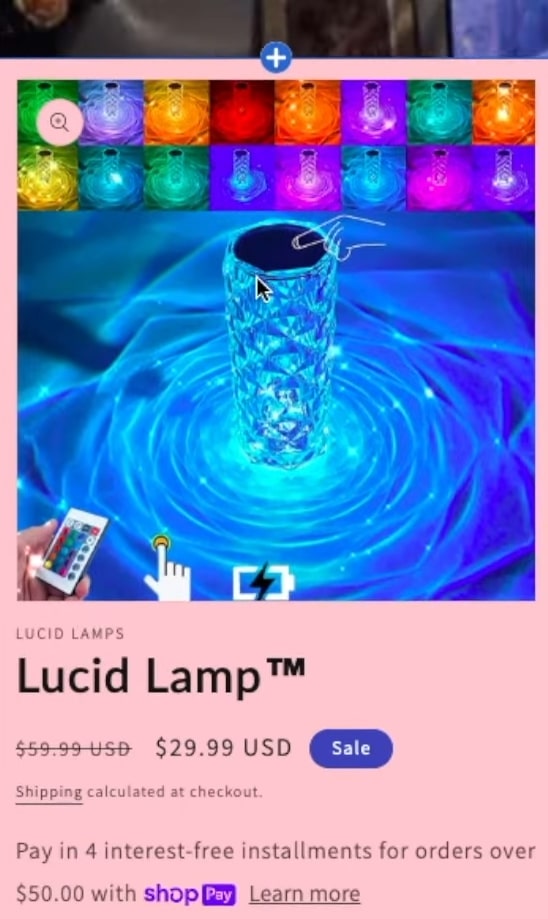 Taking the opportunity, he borrowed the lamp for a short time. He didn't have much time, and he had to think of a name for the store. He liked words that sounded the same, and he thought of a good name that matched his product. The name was Lucid Lamp.
The domain name that he wanted for his new electronics dropshipping store was already taken, but he chose lucidlampco.com, which sounded good. With the domain ready, he started to make the store and make money. He made a simple Shopify store with a free theme. This saved him time, and he could focus on making good ads and promos. He planned to make the store better later, after the ads and organic videos were working. The store had everything that it needed, including a countdown timer, a 50% off sale, and attractive gifts.
Logan used the Tidio support chat bot on his website, which made the customers feel easier and safer.
The best thing about the store was the positive customer reviews, which showed that the product was good. With the store done, the next important step was to make the TikTok ads and organic content. But there was a problem: he had to wait for the ad account to be approved.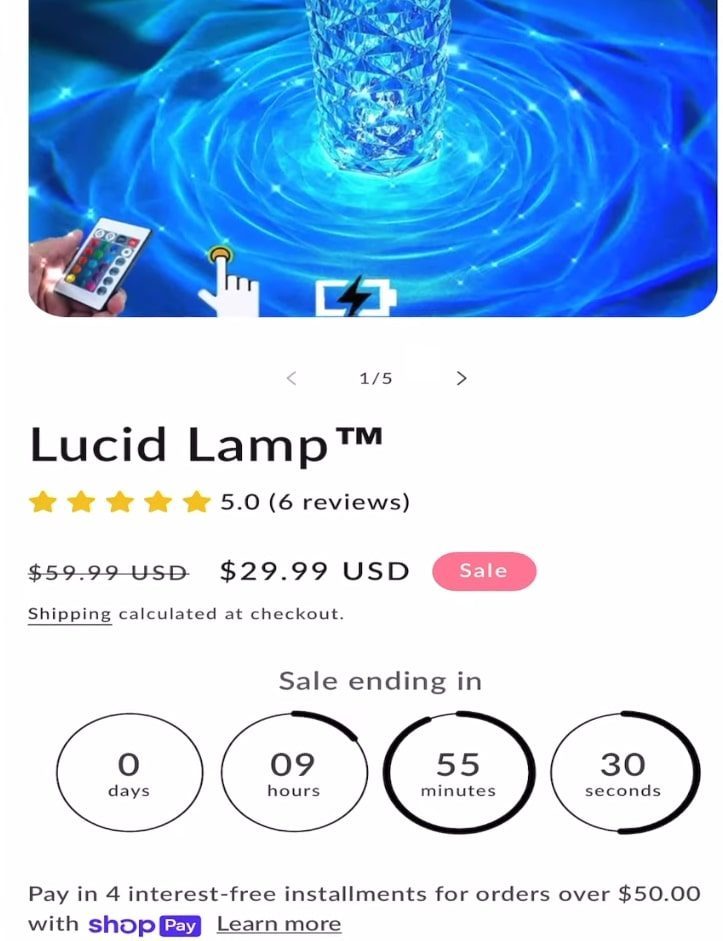 Quick marketing
He didn't have much time left, and the approval process could take a long time. He didn't give up, he wrote, filmed, and edited a great ad for the Lucid Lamp. The ad was very good, with a song that matched the pictures. But he was still worried. Would the ad account be ready in time?
To have a backup plan, he started to make some organic TikTok promos. He hoped that, by the time he finished making these videos, the ads account would be working. At last, the moment came. The ad account was ready, and he was very happy.
The TikTok ads were live, and he knew what he had to do for the rest of the day. As the day went on, he started to get some sales. The TikTok and YouTube shorts had a total of 5,000 views, and the challenge had only five hours left. He wanted to do his best, so he made some more TikToks, before the day ended.
The results
Finally, the 24-hour dropshipping challenge was over and the results were amazing. Logan's electronics dropshipping store finally sold its first product, thanks to the help of Tidio chatbot. The chatbots helped him to answer customer questions quickly and easily.
This helped him to sell products to interested people. He spent $109.44 for the challenge. And although he lost $49 at first, he could easily make more money later. With some changes and improvements, the store could grow and make a lot of money.
Start your own online store in 24 hours!
You may think that starting an online store is complicated and difficult, but as we've shown, it can be done in just one day. And with AliDropship, it can be done cost-free, too! Just get your own custom-made ecommerce store with FREE trial, import our high-margin products of your own choosing, set your prices and begin getting sales right away, with no risks or investments!
Start your own electronics dropshipping store in one day! With AliDropship's FREE Turnkey store, you can build your own business from scratch and start dropshipping right away!