These 12 Pricing Tips Will Skyrocket Your Profits From Dropshipping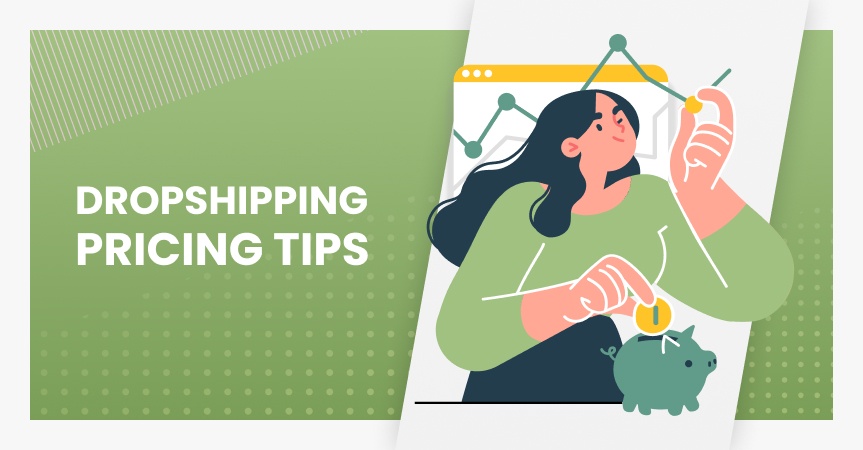 Why do you (and we) launch and run dropshipping stores? Well, it's simply because we want to get a solid income from the growing ecommerce industry. However, to make sure that your making money, coming up with a dropshipping pricing strategy can come in handy.
So, here is our list of the most important tips to enhance your dropshipping pricing strategy and to bring you the highest profits possible.
Tip #1. Mind your costs
That's the basics, and that's your starting point.
If your expenses are higher than the profits – well, this business simply doesn't make sense.
So, what are your expenses when you're running a dropshipping store?
The cost of the products you're buying from the seller

. That's the most obvious part.

The shipping costs

. We recommend to choose the items with the free shipping or ePacket delivery option because it's the most affordable and appealing alternative both for you and for your customers. Still, if you know that the seller will charge you for shipping, it's the best idea to simply include these costs in the final product price.

The branding costs

. As AliExpress sellers explain, it is possible for you to arrange some kind of a branded package. You simply pay the seller a bit extra, and ask them to include some promotional leaflets into the package, or to put a branded sticker on the envelope, or something like that. It certainly does a lot for your business reputation and image, but if you decide to go this way, calculate your costs really carefully.
Tip #2. Calculate your dropshipping profits
If you want a simple way to calculate your dropshipping profits, you simply need to find the difference between the two price points for the same product. As in, the price shown on your website and the price you bought the item for plus any overheads like shipping, returns, website maintenance, etc.
That might lead you to believe that the higher you price your products, the better your profit is. While this is the case for some items, it doesn't translate across the entirety of the dropshipping industry.
Nevertheless, your dropshipping profit is the difference between the two prices set for the same product: the price shown in your store, and the price previously specified by the original seller.
Tip #3. Do your research
If you don't want to go wrong with the prices you're setting, take a look at your competitors. Pay attention to the following:
Do you have any competitors

in your specific niche

? If you are focusing on a really

narrow segment of target audience

, or your products are somewhat

exclusive

, then the strategy of your competitors really defines your actions. But, if your offers are more generic, and you're working with a broad target audience, then you don't have to rely on your competitors heavily – they will just give you

a general idea about the market

.
Which markets have

the highest potential

for you? For example, the same phone case with the same design can possibly cost $15 on average on the USA market, and $30 on average on the Canadian market. Focus on the market that gives you

more opportunities for a price increase

.
Tip #4. Increase the dropshipping prices now and then
A healthy price increase is really beneficial for your business. Do you know why?
A super low price

won't help you stand out from the competition

. Price-conscious customers will anyway spend their time looking for an EVEN CHEAPER option, and you'll end up having no profits due to the unsuitable price. You're not targeting this segment of your audience; instead, you're focusing on

generating impulse purchases

.
A low price

doesn't generate much trust towards your offers

. Cheap products often look like very suspicious items of poor quality, and that's really not the reputation you want for your business.
If a product looks like a solid and classy item, why you should be humble about it?

Don't underprice the item

and set the price it deserves!
You can get a significant part of your revenue out of a quite small product group that is easy to monitor and manage. This product group consists of your

top selling items

. As soon as you understand which items see the highest demand from your target audience, you can optimize their price and see where it gets you.
Experienced dropshippers experiment with price increases quite often. For example, our highly successful customer Alex has mentioned it during one of our interview sessions. According to his observations, there was a great surge in phone cases' sales right after he increased prices for this product category.

Why not try the same strategy for your store?
Tip #5. Think of your customers
Obviously, sellers can increase their overall prices as much as they like, but does it match the customers' expectations?
As soon as you get an idea about your target audience, you can understand how exactly you need to plan your dropshipping pricing strategy.
What do your customers value the most about your offers?
Maybe their easy availability and accessibility?
Or, on the contrary, their exclusiveness and rarity?
When you know what exactly makes your store appealing for your target audience, you can modify your pricing in order to generate more sales.
Tip #6. Make special offers
It's not a secret – people like coupons, sales, and discounts. The more you offer them, the more likely customers are to make a purchase from you.
That's why it actually makes sense to set quite a high bar at the first stage of making your dropshipping pricing strategy. Later on, you will be able to announce a sale and set a discount for a number of products. Or, alternatively, you can act like our awesome forum contributor Kingpin who offers coupons for large-scale purchases.
Tip #7. Use AliDropship markup formula
When you have 20 items in your dropshipping store, you can obviously fix and change their prices manually.
Of course, it will take some time and energy; also, you will need to be patient, attentive, and able to memorize lots of numbers.
Doesn't sound that scary with 20 items, but honestly, what are you going to do when you have 50 products? 80? 100?
Here you will find a detailed instruction how to automatically change your products' prices with no headache. Adjusting and modifying your drops shipping pricing strategy has never been easier!
Tip #8. Make your customers act quicker
The super sale will be over tonight.
The offer is limited.
Last one in stock.
This price is only valid for the next 3 hours 52 minutes.
You definitely saw this before, right?
This is a wonderful strategy for generating spontaneous impulse purchases – when you know that this wonderful promotion will be over soon, you don't want to spend much thinking. Instead, you quickly add an item to the shopping cart, and proceed to payment.
Spoiler: most likely, your customers will do the same.
Tip #9. Use psychological pricing tricks
Researchers and analysts write tons of papers and articles about it, so we will be brief here.
There are 2 popular concepts:
People subconsciously prefer

prices ending in odd numbers

, especially 7 and 9. What's more, they often ignore the right part of the price and, for example, read $2.99 as $2.00. There's nothing bad about it; it's just psychology.
Choosing costly status items, people trust

round numbers

more. If your items fall into a higher-class category, $26.00 price looks more preferable than $25.97. Just because.
Maybe both of the strategies are efficient, or maybe they are just theories that work individually for every given store. Why not try it out yourself?
Tip #10. Use a fixed dollar addition
Sometimes it might be beneficial to use a fixed dollar addition. This is because even though you've set your profit margin, you still need to include consideration for the fees you'll have to pay to actually dropship.
A fixed dollar addition is a great approach if you're looking for an easy way to evaluate what potential profit you might make. So you have your product and you want to include a 10% margin on each item. But if you used a $5 fixed dollar addition, you'd be certain that you'd cover all your fees as well as any extra profit margins.
Tip #11. Don't forget about refunds and returns
Returns are a key factor in any business. This is especially prevalent in the dropshipping industry where sellers have less control over the quality of the products.
If people do want to return their items you need to factor in the cost for that to happen. Some merchants offer free returns, but obviously, this cost needs to be accounted for. You can do this quite easily by looking at the percentage of returns you have and add that on as a percentage of sales.
Before you make a sale, you should clearly outline your returns policy so there is no confusion in the unfortunate event a customer wants to return their item(s).
You might decide to only accept returns from certain items and some refuse to accept returns at all.
Tip #12. Experiment
You can read numerous clever books on dropshipping pricing, but all you actually need to do is make the first step.
Change the sales offers.
Rethink the overall prices.
Set discounts on a new product category.
Monitor your stats and think what you can do differently, and what can you do better.
Your highly profitable dropshipping business awaits you; what are you waiting for?