Journey To $3 Million: The Power Of Custom Printed Products For Newborns [Amazon Case Study]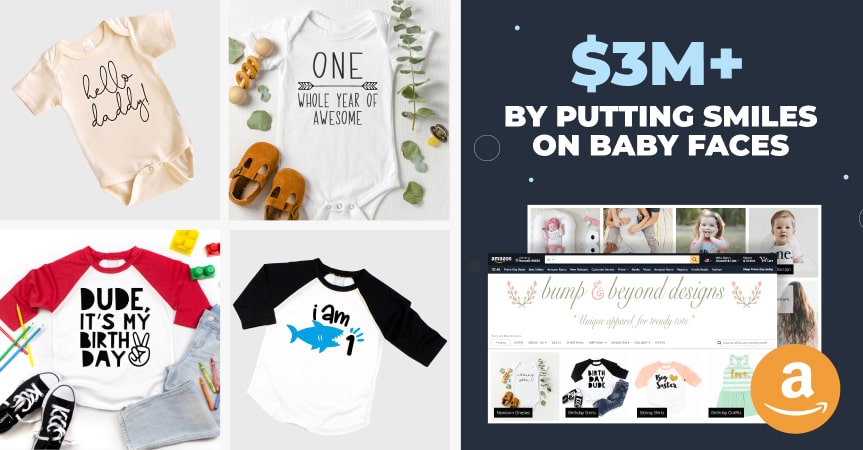 Ah, the joy of welcoming a new baby into the family. Everything else fades, doesn't it? It's just the baby and the overwhelming wish from parents to offer the best. A lot of this emotion finds its way into choosing that perfect onesie or those adorable tiny shoes. Enter the story of 'Bump and Beyond Designs' store. In a matter of years, they went from daydreaming to raking in a whopping $3,380,250. How? By blending the innocence of a baby's smile with unique custom printed products tailored for both munchkins and their proud mamas. And guess what? It's not just their tale to tell. With the right passion and drive, this could be anyone's story from anywhere around the globe.
The joy (and expense) of baby fashion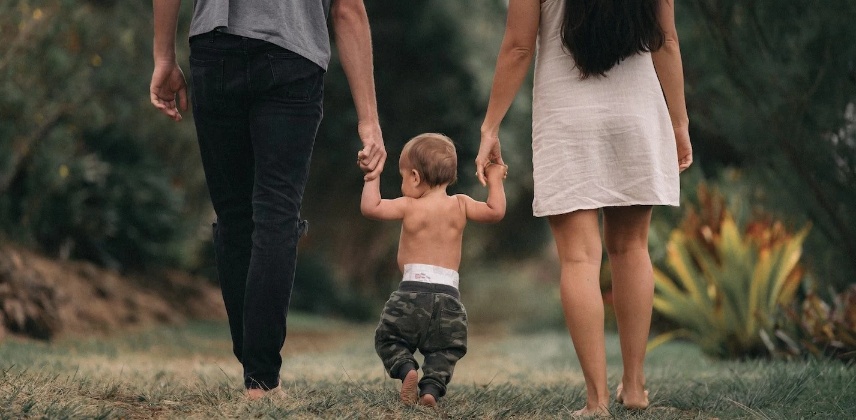 Welcoming a newborn? Well, there's nothing quite like it. As parents, our hearts and arms open wide. But, let's be real, so do our wallets! It's not just about the love and time we pour in. There's a lot of shopping involved. Especially when it comes to clothes.
You know the drill. Those tiny feet and hands? They don't stay that way for long. Babies are experts at growing out of their cute outfits, and it feels like you're buying new onesies and booties every other week. For those who want their little one to be the most stylish kiddo on the block? Well, that means shelling out even more.
Let's dive into some numbers.
The Baby Clothes market pulled in a staggering $41.66 billion in 2022. And it's on the up, with a predicted annual growth of 3.24%. The U.S. alone contributed a cool $7,400.00 million in 2022. Those are some big digits!
But here's a head-scratcher: even with such a bustling market, many parents scratch their heads in stores, struggling to find that perfect piece they had in mind.
The quest for unique baby swag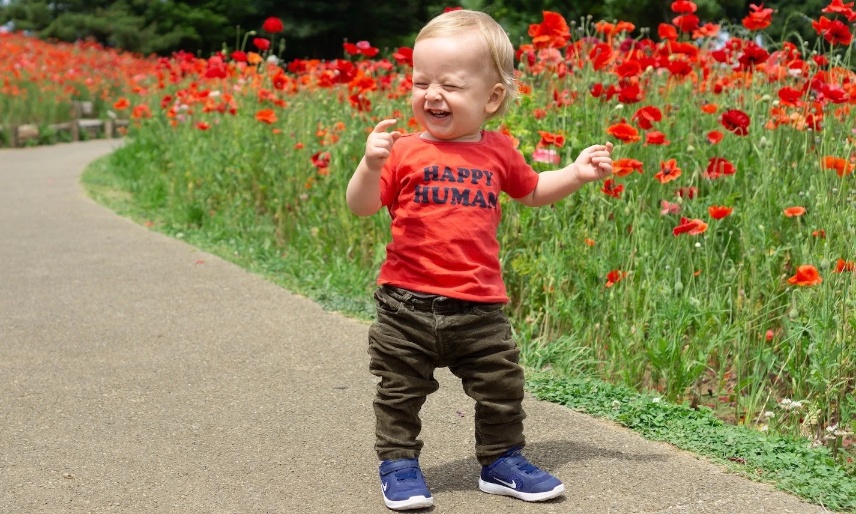 Alright, so every parent thinks their baby is the cutest, right? And, let's be honest, they're not wrong! Every tiny human is special in their own way, and we naturally want them to shine bright. One of the ways to make that happen? A killer wardrobe.
Everyone loves a cute onesie or a teeny tiny hat, but what if we want something… well, different? A piece of clothing that screams, "Hey, my baby's one in a million!" Sure, there's a mountain of adorable baby clothes out there, but finding that perfect, unique piece? That's where things can get tricky.
Ever tried searching the web for that specific thing in your mind and coming up empty? Yeah, the baby clothes scene feels a lot like that sometimes.
Parents are on the lookout for outfits that echo their baby's budding personality. The big brand names, though? They sometimes miss the mark. Every parent and baby deserves that special outfit, that piece which just feels right. Where's the special sauce in baby fashion?
Turning passion into profit with unique threads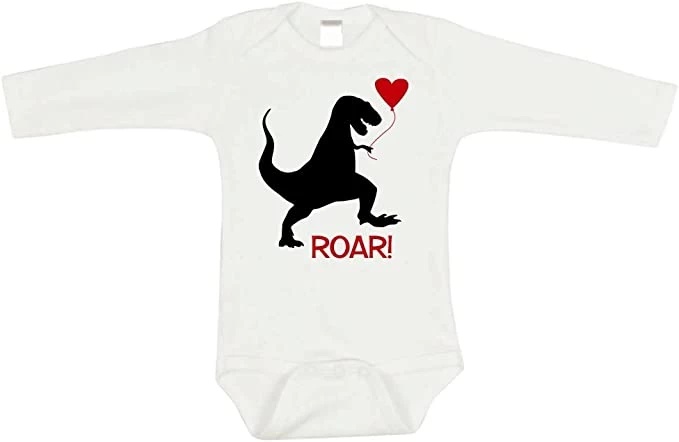 Timing is everything. Just as parents started yearning for something different, Bump And Beyond Designs stepped in with their snazzy custom printed outfits for little ones and their moms.
Here's a little secret: you don't need a gazillion different items in your store to be the talk of the town. With printing, you can sprinkle a bit of magic on a single design and voilà! Suddenly, you've got a ton of one-of-a-kind pieces. This isn't just about keeping those shopping carts full; it's about bringing those parent dreams to life. And guess what? Doing this doesn't make a huge dent in your wallet.
Wondering if there's real moolah in custom printed stuff? Let's look at the numbers.
Bump and Beyond Designs? They've shipped over 200,000 orders and cashed in a cool $3,880,250.00 with just 2,000 unique designs. And that's only counting their Amazon sales!
While Amazon is a pretty sweet spot to sell, these champs also have their own website. That means more orders, more smiles, and yup, more dollars. They're all about giving folks every chance to snag those delightful designs.
Building a Store with AliDropship: Ecommerce Has Never Been Easier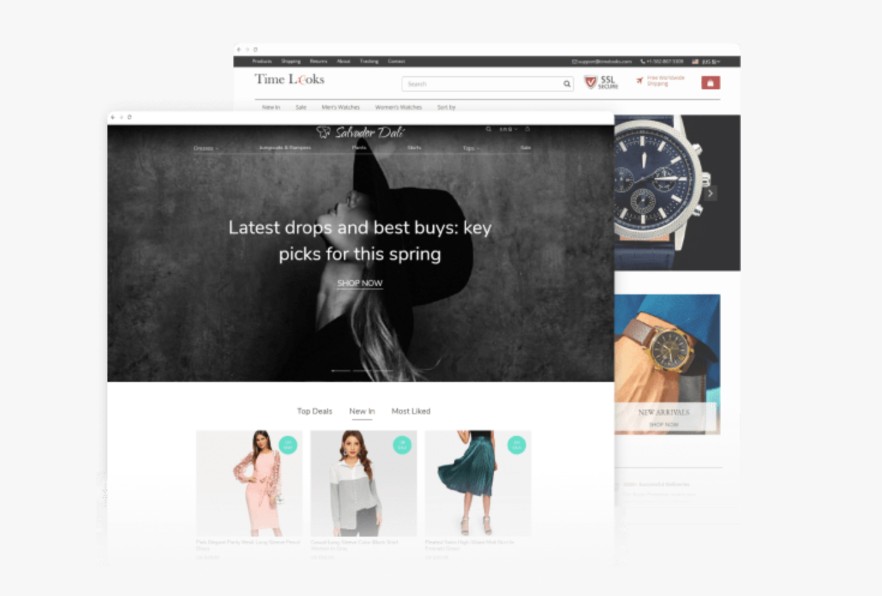 Ecommerce can be a wild ride, but the platform you hop on can seriously influence your journey. Here's where AliDropship comes into play – it's not just a tool; think of it as your online business buddy.
Starting from Scratch? No Problem!
Starting a business usually means splashing some cash, right? Well, AliDropship flips the script by letting you kick off a custom store without digging into your pockets. Say goodbye to tedious templates and plugins and hello to a store filled with products that everyone's talking about. And if you're still on the fence, take it out for a spin with a 14-day free trial.
Got Your Back from Start to Finish
Feeling a bit lost setting up your online store? AliDropship's got a crew of experts ready to guide you through the entire process. They're here to ensure everything's smooth from the get-go.
Style That Speaks Volumes
Good design is like a catchy tune — it sticks. AliDropship's design team works hard to make sure your store doesn't just work—it dazzles. From snazzy logos to eye-catching banners, everything's tailored to give your brand a little sparkle.
Dreaming of Amazon? AliDropship's Got the Goods
Targeting the top with Amazon? AliDropship's custom Amazon package is your golden ticket:
Stress-Free Product Picks
Take a breather and let AliDropship curate the perfect product line-up. No more late-night product hunts, just trust the pros to do the work.
No Time Wasted
Ditch the product pondering and leap straight into the fun stuff like promotions. Make every moment work for you.
Always Got an Expert in Your Corner
You've got a dedicated manager watching your back. With expert advice and 24/7 tech support, your climb to the top is in good hands.
Explore Sellvia's Hot List
Your products tell your story. Wondering which items will shine both online and on Amazon? Sellvia's catalog is packed with the hottest hits. Every item is more than just a top-seller — it's a peek into what the market's loving right now.
Sellvia is your one way ticket to a sell to one of the most lucrative markets in the world!
Final thoughts
Launching an online business might seem like a daunting task, but the tale of going from $0 to $3 million illustrates that with the right tools and mindset, the sky's the limit. If the story of unique, custom printed products for babies has inspired you, remember that turning your dream into a reality is closer than you think. With AliDropship's free offer, stepping into the e-commerce world has never been easier or more accessible.
Whether you're an aspiring entrepreneur or someone looking to diversify their income, there's no better time than now to begin your journey. Let AliDropship be your trusted ally, and watch as your business aspirations take flight.