Amazon FBA For Beginners Or Sellvia Fulfillment? Here's How To Start Strong In Ecommerce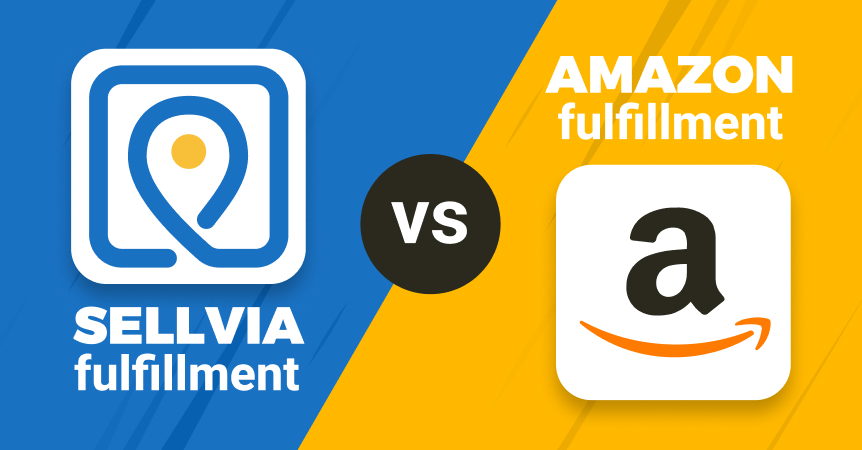 In today's booming digital age, the lure of ecommerce is stronger than ever. With more consumers preferring online shopping and the appeal of a 24/7 marketplace, entrepreneurs are racing to establish themselves in the digital realm. Fulfillment methods are crucial in ensuring that an online business doesn't just thrive, but dominates.
However, navigating the expansive world of ecommerce can seem daunting, especially for those taking their first steps. If you've ever wondered about Amazon FBA For Beginners, you're not alone. With the digital marketplace booming, understanding the intricacies of Amazon's Fulfillment by Amazon (FBA) can be your golden ticket to success.
Nevertheless, Amazon FBA is not the only solution aspiring ecommerce entrepreneurs can utilize – there's a multitude of options available.
Let's dive deep into Amazon Fulfillment and Sellvia Fulfillment, assessing which might be the best fit for you.
Amazon Fulfillment
We've all heard of Amazon – it's the behemoth that has transformed the ecommerce landscape. Amazon Fulfillment, particularly Fulfillment by Amazon (FBA), is a massive part of that. Many entrepreneurs seek Amazon FBA for beginners when starting their ecommerce endeavours.
When it comes to selling on Amazon, one of the biggest decisions merchants have to make is how to fulfill their orders.
The primary choices are Fulfillment by Amazon (FBA) and Fulfillment by Merchant (FBM). While they might seem similar on the surface, each has its unique intricacies and advantages. Let's take a detailed look.
When you're just starting out, one of the vital decisions you need to make if you choose Amazon as your platform is how to fulfill your orders. The prime contenders here are Fulfillment by Amazon (FBA) and Fulfillment by Merchant (FBM). Though they might appear similar at first glance, each has its distinct benefits and characteristics.
#1. Amazon FBA for beginners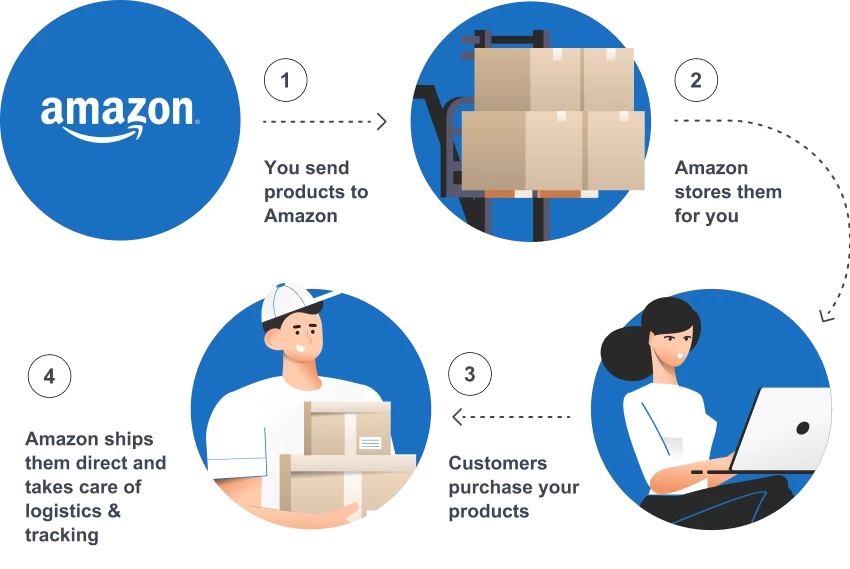 Amazon FBA allows sellers to store their products in Amazon's fulfillment centers. Once a sale is made, Amazon takes responsibility for storing, packing, and shipping the product to the end customer.
How does It work?
Product shipment to Amazon

: Sellers send their inventory to Amazon's fulfillment centers.

Storage

: Amazon stores the seller's products in their warehouses.

Order management

: When an order is placed, Amazon picks, packs, and ships the product.

Customer service & returns

: Amazon handles customer inquiries, returns, and other order-related issues.
With FBA, products have the golden opportunity to become Amazon Prime-eligible, which can skyrocket sales. By leveraging Amazon's expansive warehouse network, merchants can significantly cut down on their storage expenses. It's like having a silent partner in Amazon; they seamlessly take on the hefty load of logistics, right from storing products to customer service. And there's an undeniable trust factor: when products are fulfilled by Amazon, customers feel more confident, resulting in higher conversion rates.
But, as with all things, there's a flip side to this. The myriad of fees associated with FBA, from storage to removal, can put a dent in profits. And, if sellers aren't cautious enough to use "Stickered Inventory", they run the risk of their precious products mingling with those of other sellers, potentially compromising quality. Further, navigating through the vast expanse of Amazon's fulfillment centers to manage and monitor inventory can be quite the task. And oh, Amazon's rather generous return policy? It can turn into a double-edged sword for sellers if not navigated with care.
#2. Fulfillment by Merchant (FBM)
With FBM, sellers list their products on Amazon but handle the storage, packing, shipping, and customer service themselves or via third-party logistics providers.
How does It work?
List on Amazon

: Merchants list their products on Amazon as they would with FBA.

Self-Fulfillment

: When an order is received, the merchant is responsible for packing and shipping the product directly to the customer.

Customer Service

: All customer inquiries, returns, and issues are handled by the merchant.
With FBM, merchants wear the captain's hat, steering their ship with greater control over inventory, the nuances of the shipping process, and those all-important customer touchpoints. This direct handling can lead to a potentially richer bottom line as they sidestep those pesky FBA fees. Plus, there's the added benefit of flexibility; sellers have the liberty to handpick their shipping strategies, often offering customers a more diverse or cost-effective range of delivery choices.
However, being in the driver's seat isn't always breezy. The autonomy of FBM means merchants are diving deep into every business intricacy, and that can eat into their time. Moreover, in the vast ocean of Amazon, FBM listings can sometimes float under the radar, especially if they lack the allure of Prime eligibility. And while they're not juggling with Amazon's fees, merchants might find themselves grappling with storage puzzles unless they bring a third-party logistics provider into the mix. Not to mention, with great power comes great responsibility: managing every customer service hiccup rests squarely on their shoulders, and that can be quite a handful.
Choosing between FBA and FBM largely depends on a merchant's resources, business scale, and preference. While FBA provides a more hands-off approach leveraging Amazon's extensive infrastructure, FBM offers more control and potentially higher profitability for those willing to invest the time and effort.
What are other options for Amazon FBA for beginners? Let's take a closer look at Sellvia, one of the best alternatives.
Sellvia Fulfillment: A fresh perspective for beginners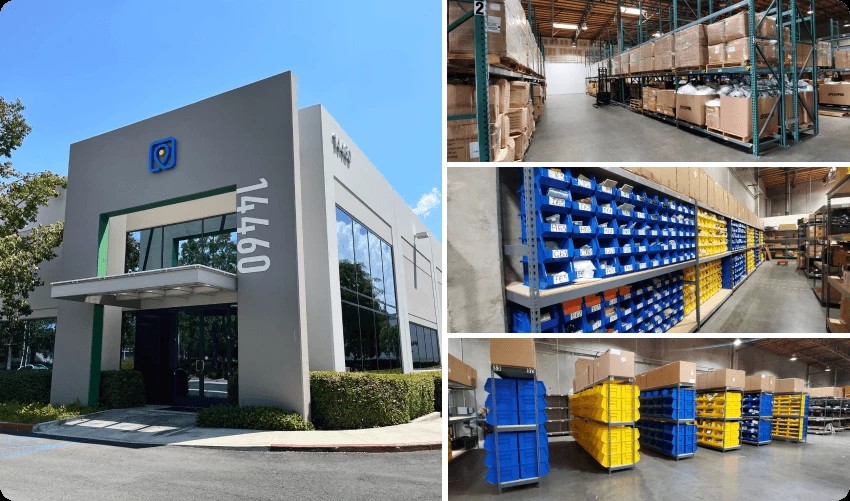 As the ecommerce world evolves, new solutions emerge to address the needs of experienced and beginner entrepreneurs alike. Among these, Sellvia Fulfillment has made waves, reshaping the game for online business owners.
But what does it bring to the table?x
What is Sellvia?
Sellvia is an ecommerce platform designed to streamline online business operations.
One of its standout features is the Sellvia Fulfillment service, which seeks to offer a hassle-free approach to order processing, stocking, and shipping – a vital aspect for any online store.
What does Sellvia Fulfillment mean?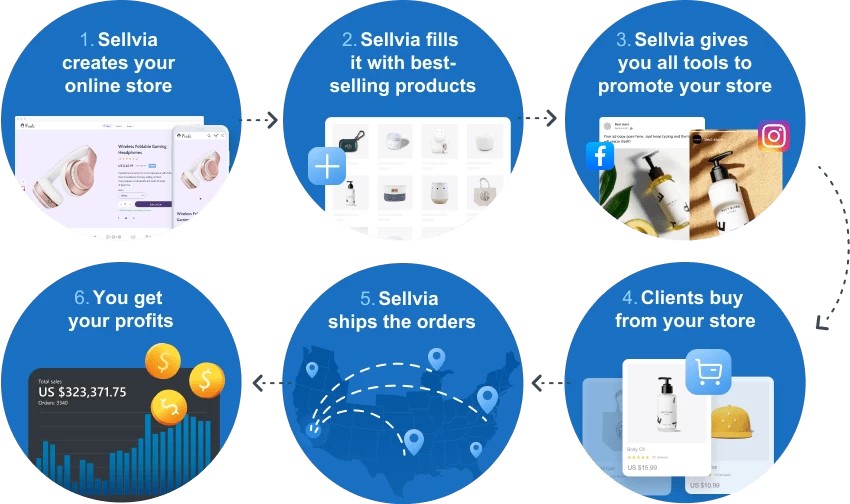 Sellvia Fulfillment isn't just another fulfillment option. It's an all-encompassing ecommerce ecosystem designed with online businesses in mind. Here's what it offers:
Robust ecommerce platform

: Sellvia ensures a smooth journey from the ground up. From crafting a functional online store to integrating the nifty Sellvia plugin for seamless product imports, they've got the technical aspects of ecommerce covered.

Swift US-based fulfillment

: With a dedicated warehouse in the US, any product from Sellvia's catalog can reach US customers in a mere 1-3 business days. Speed is of the essence, and they clearly prioritize it.

Strategic marketing assistance

: Every product on Sellvia is paired with a compelling product page, meticulously designed to turn a casual visitor into a buyer. Moreover, the library of promotional campaigns, vetted by expert digital marketers, ensures you have the tools to maximize sales.

Quality control with US-based manufacturing

: A significant portion of Sellvia's product range originates from its own manufacturing. This centralized approach ensures consistent quality, as Sellvia experts oversee every step of the product journey.

Ever-expanding product catalog

: Fresh, high-quality products are added to the Sellvia catalog, keeping the offerings trendy and up-to-date.
To put it succinctly, Sellvia shoulders most of the burdens of ecommerce, allowing you to focus on what's essential: reaping the profits.
What are the downsides?
With Sellvia, the main drawbacks include a limited product range, currently spanning several thousand variations and a yearly subscription fee.
However, perspective is crucial.
When weighing these minor inconveniences against the many benefits Sellvia brings, it's evident that the trade-offs are minimal. Especially when considering that, for a modest fee, you gain a comprehensive support system for your ecommerce venture from the get-go.
Choosing Sellvia Fulfillment could be the decision that propels your ecommerce business to the next level. With its all-rounded approach, it's an enticing choice for those diving into the world of online commerce.
Sellvia Fulfillment vs Amazon FBA: A quick comparison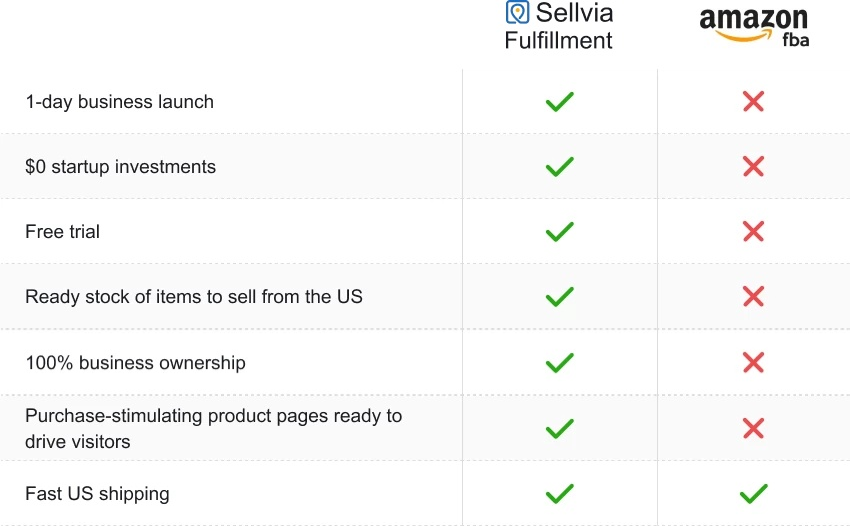 When considering Sellvia Fulfillment and Amazon FBA, the right choice heavily depends on your current position and business goals. Amazon FBA shines for sellers with ready stock, allowing for quick US deliveries. However, newcomers face hurdles:
Initial investment

: Expect to invest

$10,000-$15,000

for product manufacturing or purchase.

Wait times

: 2-3 months for product manufacture and US delivery.

Promotion costs

: Extra investment needed to increase product visibility on Amazon.

Customer retention

: Difficulty in retaining buyers due to lack of access to user data.

Amazon's control

: The platform can impose bans and has a strong hold over businesses using its services.
On the other hand, Sellvia Fulfillment is tailored for beginners:
Quick startup

: Start fast with an expert-developed online store.

Minimal investment

: Benefit from Sellvia's free trial and free store creation.

US-based stock

: Products are ready-to-ship.

Tested marketing materials

: Use promotional campaigns that are known to succeed.

Quick deliveries

: 1-3 days shipping within the US.

Continuous support

: Both technical and promotional guidance.
Conclusion: Making your ecommerce choice
Stepping into the expansive realm of ecommerce can feel overwhelming, especially with titans like Amazon reigning supreme. But what if we told you there's a smoother avenue tailored just for you?
Enter Sellvia: Your express gateway into the thriving world of ecommerce. Unlike the steep learning curve and high barriers posed by platforms like Amazon, Sellvia offers a straightforward and inclusive journey for aspiring entrepreneurs.
And here's the game-changer: AliDropship is your steadfast ally in this venture. With every store you launch with us, you gain complimentary access to Sellvia! This isn't just any ordinary inclusion; it's your golden ticket to tapping into the lucrative US market, known for its high-spending customer base. Picture this: a flourishing online business backed by a dependable supplier, maximizing your potential earnings. It's not just a dream; it's a reality awaiting your grasp.
So, as you weigh the options between Amazon FBA for beginners and Sellvia Fulfillment, reflect upon your aspirations, the resources at your disposal, and the level of support you desire. If a hassle-free commencement, minimal investment, and a robust safety net sound appealing, then Sellvia Fulfillment is calling your name.
Are you prepared to embrace ecommerce with a partner dedicated to guiding you at every turn? With Sellvia by your side, you're not just entering the online business world; you're primed for success right from the get-go. Dive in, and let's chart this success story together!