How To Start A Sports Business With Sellvia And Sell For Profit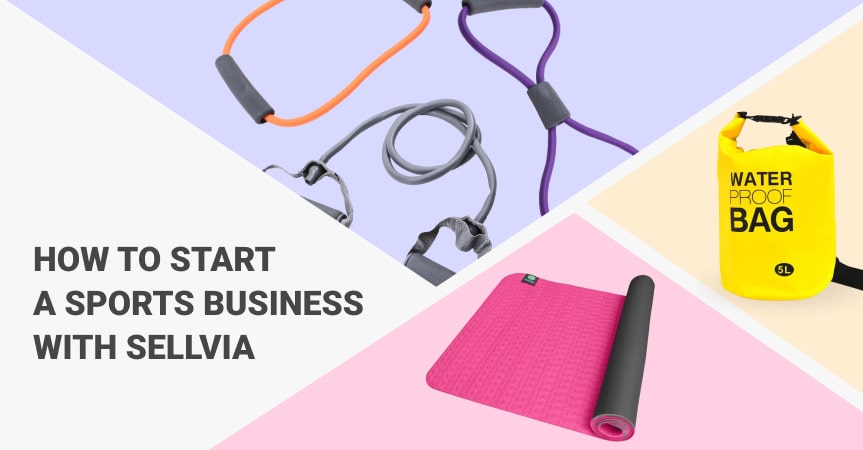 Are you a huge fan of sports? Would you like to turn your passion into profit? Don't you know how to do this with minimum investments & maximum potential? If this is all about you, learn more on how to start a sports business with Sellvia!
Is it really profitable to start a sports business?
It's widely accepted that you should enjoy your job. It must serve as a source of inspiration for you. This is why our team is sure that if you are in love with sports and feel strongly that you're ready to turn your passion into profit, there's the only way out for you – it's to start a sports business!
Do you still doubt that it's worth starting a sports business? Are you afraid of going under? Actually, there are no reasons to worry about this.
According to Statista, the sports market is increasingly large with its revenue that has been amounting to over $60 billion over the years. What's more, the analysts from Statista predict that the sports market will grow to $80+ billion by 2023. Sounds impressive, isn't it?
Besides, there are lots of other strengths of selling sports items.
As a rule, sports products cost a lot in brick-and-mortar stores. What's more, the ones made by world-famous brands are so expensive that lots of people worldwide can't afford them. So if you find a supplier with high-quality non-branded products at affordable prices, you're likely to win the competition.
Most sports products are consumables. This means that your customers will have to buy them again and again. So repeat purchases are highly likely in case your customers are satisfied with your products, shipping, etc.
Among sports stuff you will find lots of products that really play an important role in the training process and are a key to their success and physical safety. This is the exact reason why sports products are always in strong demand.
Actually, there's a lot more to come. Now it seems to be a lot more profitable to start a sports business, right?
How to start a sports business right with no effort?
Let's say you know nothing about ecommerce, dropshipping, etc. But you're eager to start your own profitable venture. So first of all, you need to build up an online store.
In fact, you're able to create an online store yourself. If you have some IT skills, this won't be a tough task for you. So you need a domain name for your website, hosting, and business automation software — it's AliDropship plugin.
However, there is an option that will let you save tons of time, money, and effort. So if you are an ecommerce newcomer, you don't have any IT skills required to build a website, or you just want to get a smooth start with your business, it's a great idea to order a custom online store from Sellvia.
Sellvia offers you the ultimate solution to start an ecommerce business. The team of highly qualified IT developers, designers, and Internet marketers will do their best to build a perfect customer store that is supposed to work on autopilot and become your stable source of income over the years.
Start a sports business right: choosing the products to sell
After you're finished with building a store and making it visible for all the Internet users, this is a high time to consider the product range of your store. Remember that your spotlight is the following.
High-quality sports stuff
Products with low initial prices
Items that solve the most thorny issues
Fortunately, on Sellvia, you'll find only the most trending products that proved to be high-converting. Of course, high quality and low initial prices are ensured.
Fitness equipment
Price: US $8.99
Recommended retail price: US $23.99
Your potential profit: US $15.00
Fitness equipment has always been in strong demand among those who run a sports business and those who are trying to keep fit themselves. Nowadays, due to the COVID-19 outbreak, the demand for fitness equipment has increased considerably because lots of people worldwide have to do sports at home.
Are you interested in reselling fitness equipment? If so, it's going to be a win-win for you: you'll provide people with the desired stuff and let them take care of their health. Meanwhile, this is a chance for you to succeed with your ecommerce business.
Yoga accessories
Price: US $29.99
Recommended retail price: US $69.99
Your potential profit: US $40.00
Along with fitness equipment, yoga accessories are also extremely popular on the market. If you address the statistics, you will see that both people practicing yoga and revenue of the yoga industry in the US have been steadily rising over the past years.
And if there is a demand, why not try to meet it and make a fortune with yoga accessories?
Cycling accessories
Price: US $3.49
Recommended retail price: US $26.99
Your potential profit: US $23.50
What should you know about the cycling industry? In fact, it's necessary to point out that there's a huge target audience for you if you're going to sell cycling accessories.
This refers to the broad popularity of cycling throughout the world. For example, in the USA, more than 40 million people cycle on a regular basis. It remains for you only to fill your store with tempting cycling tools and accessories and that's it!
Sports safety and other necessities
Price: US $8.99
Recommended retail price: US $37.99
Your potential profit: US $29.00
Beyond sports equipment and other accessories, there are tools that can be considered as sports necessities. This is all about sports safety products, water bottles, waterproof bags, compression tools, etc.
Have you any idea why these products are a must-have for your sports online store? The point is that items that are designed to solve the most acute problems are sold well and require a lot less time and effort to promote.If you want to win over your potential customers in a blink of an eye, then Sellvia's Premium Products is what you need! You'll have a team of devoted professionals find what people are searching for but can't find anywhere! You'll be selling unique products with little to no competition!
How to start a sports business with Sellvia: pros and cons
As you can see, it's increasingly promising to start a sports business nowadays. Due to a large target audience and strong interest in sports stuff, you have an opportunity to make a fortune with your online business.
However, if you want to get a smooth start in ecommerce, save your time, money, and effort, you'd better find a solution that will provide you with a ready-to-go business in the short term. This is exactly what Sellvia offers!
What's special about Sellvia? Actually, this is a complete all-in-one solution that ensures the access to hype ecommerce products (that proved to be high-converting) at low initial prices, fast US shipping option (1-3 business days), marketing materials, etc.
Don't you know how to launch your own profitable venture without large investments and specific skills required? Then learn more on how to start a sports business with Sellvia!