The Easiest Way to Start a Dropshipping Business
Let us build you a perfect custom store that will work on autopilot and bring you profit for the years to come.
VIEW VIDEO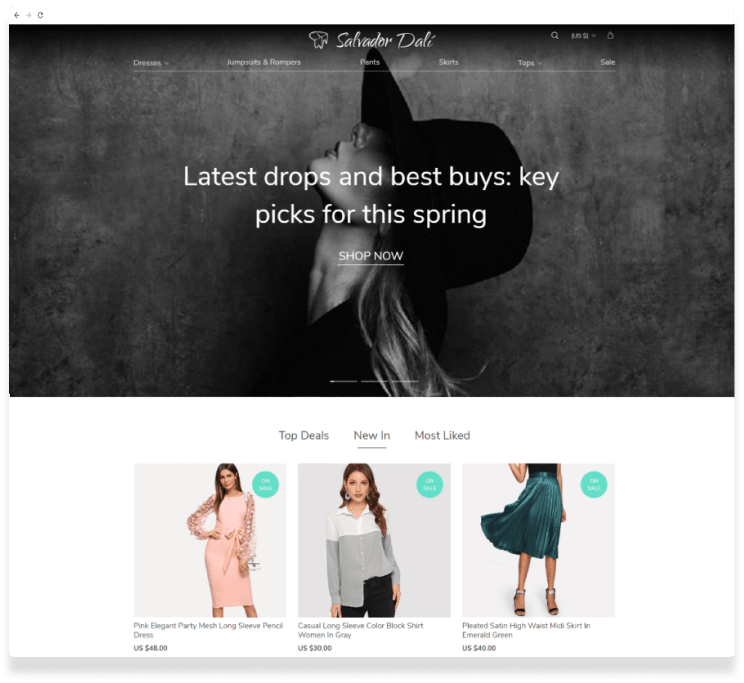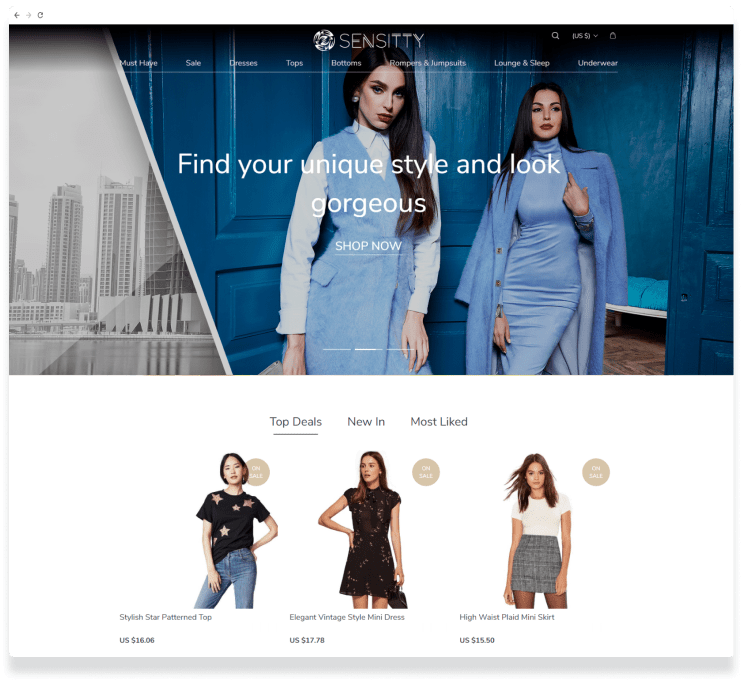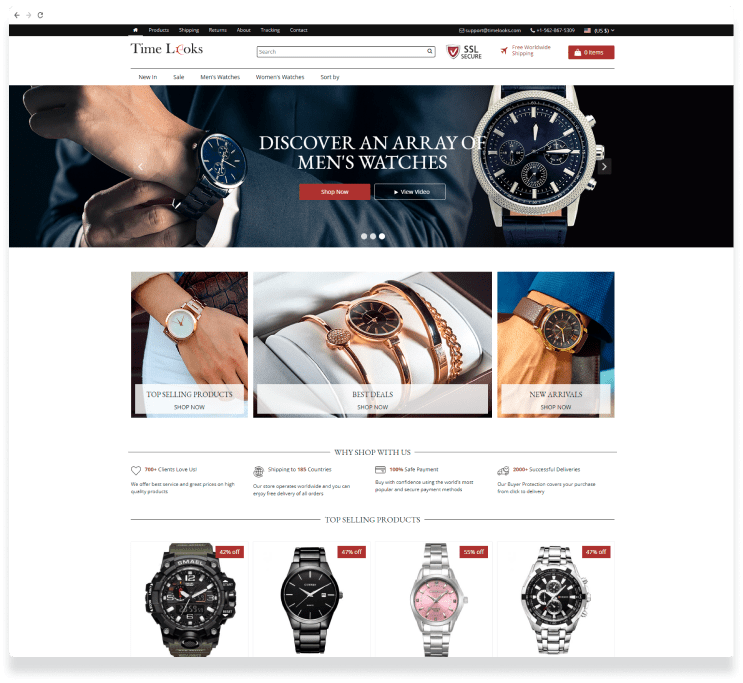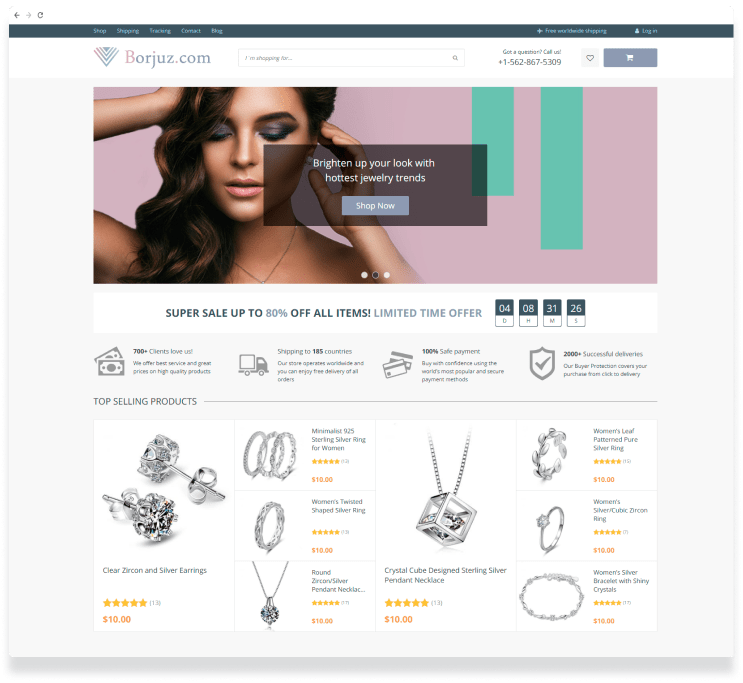 World's #1
in webstores creation
Overall rating
$27 mln.
– our clients' profit this year









How it works
1. Place an order
You select a package that suits you best and order a custom dropshipping store
2. Discuss details
Your personal manager contacts you to learn your requests and help with a profitable niche selection
3. Sit back and relax
Our team works hard creating a premium custom store according to all your preferences
4. Get your ready store
You become a dropshipping business owner without actually lifting a finger
Pick a package. We'll take care about everything else.
One time payment for all plans. No monthly or hidden fees.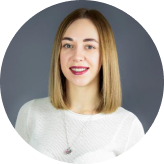 Your personal manager
Alena Goldyreva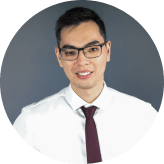 Your personal manager
Rasul Ayapergenov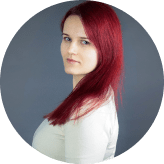 Your personal manager
Olga Levitskaya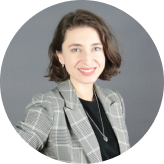 Your personal manager
Natalia Mirutenko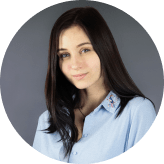 Your personal manager
Helen Gurneva
Basic
Advanced
Ultimate

US $

299

US $

499

US $

899
GET MY STORE

One-time payment

GET MY STORE

One-time payment

GET MY STORE

One-time payment

All the tools necessary for a fast and easy start to your dropshipping business
Includes additional features and marketing tools for your business rapid growth
Perfect for a 100% hassle-free start with a store ready to make immediate profits
Development
Niche research

We select a trendy, high-demand niche for you after analyzing it for stable long-term positions and a great potential in future.

Premium Domain name (.com)

We find and buy for you an attractive, search engine friendly domain name – relevant to your business and easy to remember.

Unique professional design

We create a unique and clean design for your website including a custom logo, header images, icons, favicon, banners, etc.

Mobile devices ready

Your website will have a perfect responsive design fitting the screen size of any device, whether desktop or mobile.

AliDropship plugin

The plugin allows searching, importing and updating products on your site directly from AliExpress quickly and easily.

Choice of products

You can select any products of any types and niches offered on AliExpress to be imported into your dropshipping store.

Unlimited
Unlimited
Unlimited
Number of products ready to sell

The number of products added to your website on development stage. Later you can upload more products. The number of imported products is only limited by the disk space you have on your hosting.

50
100
200
Monthly orders

You can get any number of orders per month and we won't take any extra charge, no matter how many orders you process - 1 or 1 million.

Unlimited
Unlimited
Unlimited
Real time order tracking

You can track status of any order for any client at any moment - all the necessary information is always at your fingertips.

Professional business stats

You get the most important stats integrated right into your dashboard – to keep you informed about the website's traffic, its sources, visitors' behavior, conversions, etc.

Payment gateways

AliDropship Plugin supports the most popular payment processors like PayPal, 2Checkout, Stripe, PayU.

PayPal, Credit cards
PayPal, Credit cards
PayPal, Credit cards
Delivery time

We need several business days to provide a full-fledge dropshipping business: 10 to 23 days depending on your package. If you choose a site powered by AliDropship Woo plugin, it will take more time to complete the work on your project.

10-13 business days
13-18 business days
18-23 business days
Promotion
On-site SEO

Our SEO services are designed to increase visibility within the organic search results and to deliver targeted traffic to your site.

Meta data, Google indexing, social bookmarking
Meta data, Google indexing, social bookmarking
Meta data, Google indexing, social bookmarking, home page SEO article
Social pages

We will create and add design to the accounts of your business on top social networks and integrate social buttons and widgets on your website.

Facebook
FB, Twitter, Instagram
FB, Twitter, Instagram, YouTube
Promo video

Video will help you to promote your webstore and tell your customers about all the advantages of your products and services.

Social media promo tool

This special plugin will automatically post your products and promote your business on Facebook, Pinterest, Twitter and Instagram.

GET MY STORE

One-time payment

GET MY STORE

One-time payment

GET MY STORE

One-time payment
This is how we help our customers achieve amazing results
Personal manager
Your dedicated manager will guide you through every step of your custom store creation, answer all your questions and take care of any technical issues.
Deep niche research
We will carefully select and analyze a product niche for you. We'll ensure your niche is in high demand right now and will stay profitable in the future.
Zero work from you
Our team of professionals will create your store from A all the way to Z. In just a few days you'll get a turnkey dropshipping business ready to bring you profits.
100% ownership
You don't depend on anyone else's rules or limits and can do whatever you want with your custom store. You can customize and upgrade your site — or even sell it.
Mobile and SEO friendly
We'll provide a cutting-edge responsive design that looks perfect on the screen size of any device — and even optimize your content for the search engines.
Lifetime support
Ordering a custom store from us, you can count on our technical help, advice and free software updates, no matter when you made your purchase.
Best selling products
We'll pack your store catalogue with the top-performing and high-demand AliExpress items from the most trusted and best-rated suppliers.
Amazing design
Our professional designers will make your store look unique and stylish. They will also create all the visuals like logo, icons, banners, images, etc.
Beautifully crafted custom stores for every client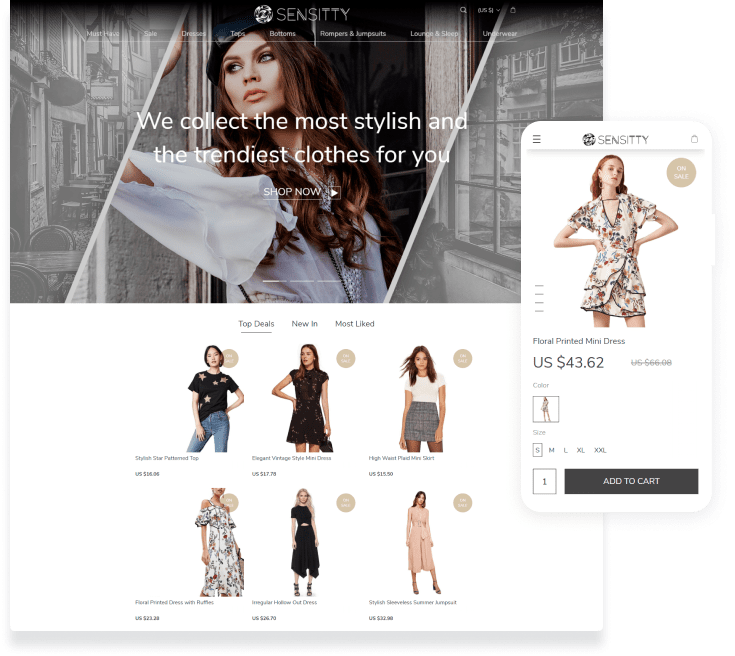 sensitty.com
This unique custom dropshipping store achieves the maximum aesthetic impact with the bold full-width imagery that leaves nobody indifferent.
Solutions: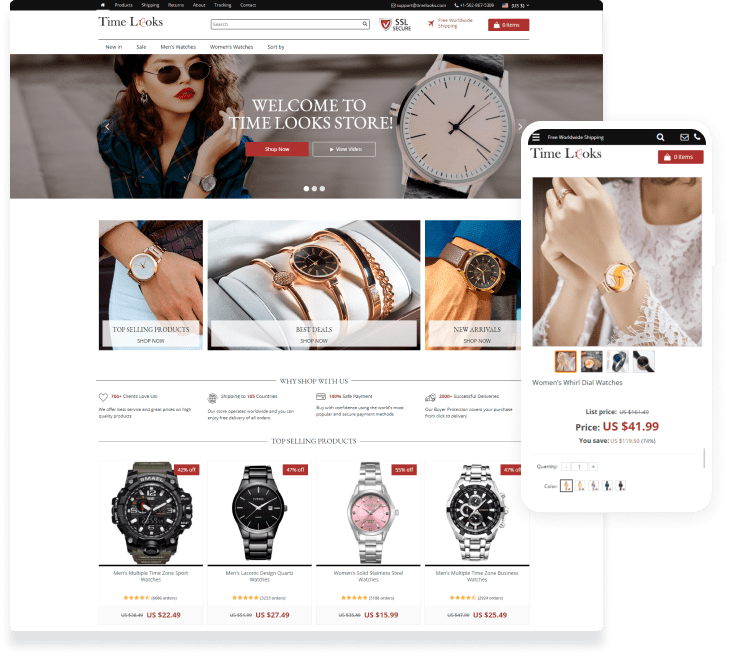 timelooks.com
This polished, professional layout shines the spotlight on the inventory and makes the store stand out among competitors.
Solutions: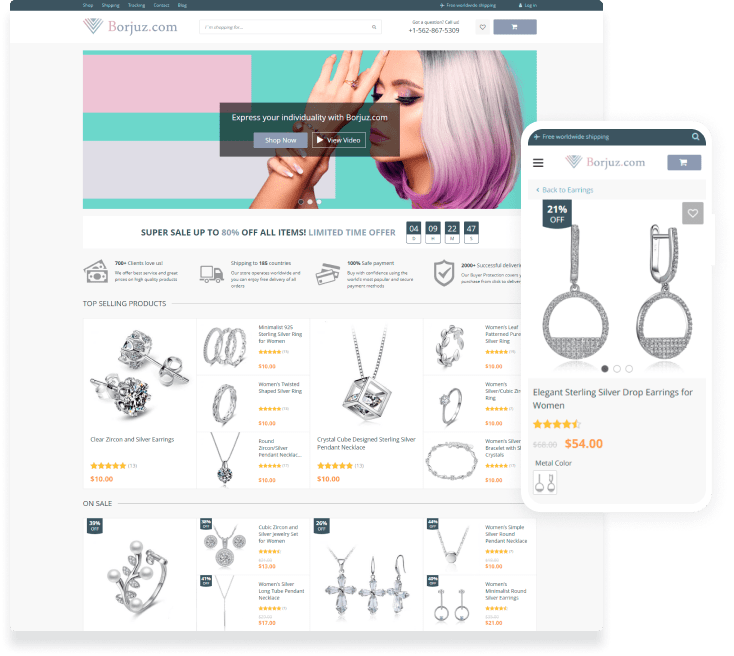 borjuz.com
This beautifully consistent design showcases the store items at their best and boosts customer engagement.
Solutions:
This is why 61000+ clients trust us
Jun 24, 2019
hey, want to share my experience with a custom store and a plugin. I had both options: ordered a custom store and built a store with the plugin by myself. In 2 weeks after my first custom store was made (I ordered basic package), I was able to reproduce from zero by my own. Win-win! Now I use one store for testing and one for selling. I can ...
Paul
Jun 20, 2019
I had experience with a custom store and lucky me.. it was good. If you're new in drop shipping business as was I it'd be better to order a custom store. You'll chat with specialist, connect your wishes with reality and get a ready store. Actually, I didn't chat, I wrote the big list of questions and send it to my manager. He contacted me in 2 ...
Rakesh Maghela
Apr 8, 2019
Olga and team are incredulously excellent!! They not only provide a fix to your issues but also follow up to confirm that it works. What baffles me is that they resolve what appeared really hard nut to crack in a seemingly effortless manner. Meaning that they know their job. I love the team...
shopJara store
Apr 1, 2019
I would say this is the best company with high quality customer service that I have ever seen. I got my site ready and had few difficulties and posted in the forum. Immediately a staff contacted me, asked for my login details and fixed the problem in just a blink of an eye. I really enjoy you guys . Also your blog is wonderful. Thank you...
alevtina valeriana
Mar 29, 2019
The service is great so far. I ordered a custom store (Ultimate plan). They contacted me throughout the whole process and they were very friendly. Loving the tracking and progress steps via basecamp and skype. Appreciate the communication :) I'm so impressed with the picture quality of the products and the overall layout and very satisfied...
Amie Sparks
Mar 13, 2019
I came over some websites made by alidropship and decided to start my dropshipping business with them too. I ordered a ready-made custom store with the basic option. Even with this option you'll have a well-designed store, domain, hosting, free theme (I use DaVinci theme), integration with social media and etc. I personally...
Elizabeth Grade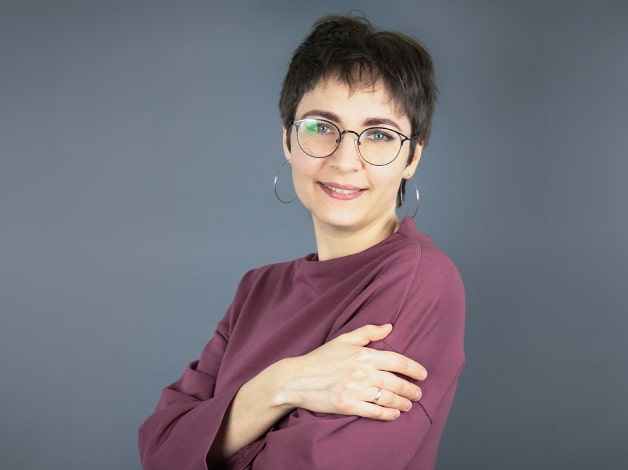 Interested in dropshipping business but still have questions?
Our experts will answer all of them!