Save Big On Your Dropshipping Business Launch
Use code

and SAVE UP TO $314 on your purchase!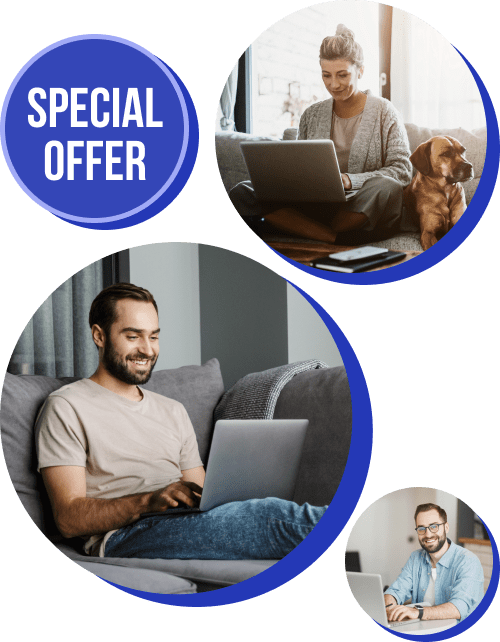 3 reasons you should start your dropshipping business today
BOOMING INDUSTRY
Every single day more and more people are shopping online. Global B2C ecommerce sales are expected to reach $4.5 trillion in 2021 (Hubspot, 2020). Ecommerce sales were up 104% in 2020 over 2019 (Signifyd, 2020). 80% of Internet users in the US have made at least one purchase online (99firms, 2020).
Low startup costs
Dropshipping business model does not require buying inventory, running a warehouse, shipping orders or other costly activities. All you need is launch an online store and promote it. Don't have much money to start a business? Dropshipping is your best choice!
Easy management
With today's cutting-edge ecommerce solutions, you can run your business almost on autopilot. All the hassle of shipment is also taken care of for you. That's why dropshipping gives you an opportunity to focus on growing your venture or just spend more time with your loved ones.
Real people. Real success
Now it's your turn!
Here's what you get with Alidropship:
Full ownership of your dropshipping business. You don't depend on anyone else's rules or limits and can do whatever you want with your store including: customization, expanding your catalogue, setting any markup and even selling your site.
One-time payment for the store. You only pay ONCE for your full-fledged dropshipping store. And forget about any further monthly fees!
A 100% hassle-free start – even with zero dropshipping experience. If you don't have time to build your store by yourself, order a custom one. We'll create it from A to Z according to your preferences. The cost of this service starts at only $299. And yes, this is a one-time payment, too!
Your personal manager will take care of everything
Sounds too good to be true?

See MORE feedback from the community:
Rated
4.7
out of 5 based on
1,050 reviews
on
Sparkle Jones
Nov 30, 2022
Volodya at AliDropship is one...
Volodya at AliDropship is one of the best!! They have the patience, great customer service, products and will help you with any and everything that has to do with your products and store. I am so very pleased with this company that I plan to purchase more stores. I have 2 now. Thank you Volodya and the team at AliDropship!
Andy Holt
Oct 13, 2022
This is how a customer help...
This is how a customer help service should be. I feel like we are working together. They know their systems very well. I would rate this service as excellent- very speedy- polite- friendly- 5 Star. Well done, AliDropship team!
Michele
Oct 3, 2022
Setting up the website with...
Setting up the website with the AliDropship plugin was fairly simple. They give lots of educational information to help with your website, marketing, developing and more. If anyone ever asks me about creating websites I send them to AliDropship!
DaeDae Fashions
Sep 28, 2022
I have been so pleased with...
I have been so pleased with the level of excellent customer support I've received from AliDropship on a continuous basis. They truly have a great team of experts that know the ins and outs of their products and services but also WordPress, WooCommerce, etc. I've always received professional support and great suggestions on certain matters.
Mian Waleed ul haq
Sep 23, 2022
I really like this simple...
I really like this simple yet functional platform! I can easily upload as many products as I want, edit them according to my needs, and then they are updated automatically, and I don't need to constantly monitor the availability of products from different suppliers.
Luca G.
Sep 2, 2022
I have used different plugins...
I have used different plugins in my wordpress to do dropshipping from aliexpress and this one is the only one that really work well. The support manager is the best ever! They are always online ( they have chat ) and they know everything to solve my problem!!
Dropshipper
Aug 31, 2022
I've been using its products...
I've been using its products since six years ago and I absolutely love how they are designed and executed and their efficient customer service. I wish other companies could create software as good as this. If you're thinking about dropshipping, this is the way!
Use code

and SAVE UP TO $314 on your purchase!
and save up to $314
on your purchase!