Learn How This Online Store Makes $500,000/Year. Now, This Strategy Is YOURS!

Are you excited to launch your very own six-figure dropshipping business - but unsure where to begin?
Do you want to skip the experimenting phase and go straight to winning products and top-performing advertising campaigns?
Buy It Carl is a shining example of an online business that meets the expectations of new entrepreneurs perfectly!
Today, we're sharing its story - and showing the difference it can make to YOUR life, too!
Introducing the Store
Buy It Carl is an online store that sells the widest range of items of fixed demand, from clothing and jewelry to consumer electronics and home goods.
You would call it a classic online shopping destination: with its catchy product offering, clean layout, and user-friendly navigation, it's a convenient and trouble-free marketplace even for a first-time online buyer!
There's no wonder the store's DAILY profit goes over $2,200!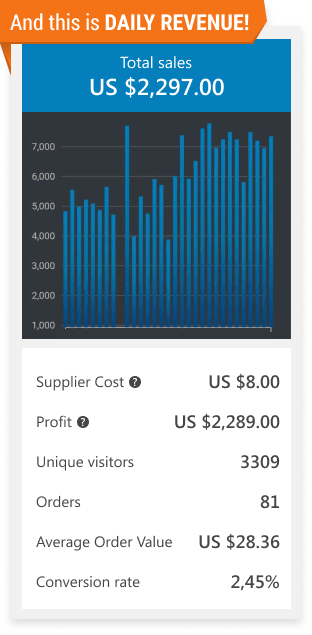 And you know what's the best part?
The Buy It Carl store is available for copying! If you want to try yourself in ecommerce, you can easily get an exact copy of this outstanding online store that's making profits already - and forget about the testing & research business phase!
What's the Buy It Carl's recipe for success?
This online store stands out thanks to its exceptional product pages that convert store visitors into buyers in no time. The top quality photos, detailed product descriptions, and true-to-life customer reviews just can't leave anybody cold!
But where do all these curious visitors come from, you might be wondering?
The answer lies in the unprecedented advertising strategy invented, polished, and brought to perfection by the store creators!
The team behind the Buy It Carl management and promotion has spent thousands of dollars on extensive market research, store optimization and marketing experiments to find an absolutely winning mix of money-making ecommerce techniques. And today, they're sharing these phenomenal results with you - and granting you the opportunity to get an exact copy of a thriving online store that makes $500,000 per year.
Free Webinar with AliDropship Team
How to create a
booming
online store
You are welcome to use the exact same business strategy!
Buy It Carl is included in AliDropship's Premium Store offering.
It means that anyone from any point on the globe - and YOU, too! - can get an exact copy of this profitable website turn it into your own independent business!
YOU can benefit from the expertise, knowledge, and effort of skilled marketers and developers - and go straight to using the strategies that took the team THOUSANDS OF DOLLARS to test and MONTHS to polish.
HOW?!
Join our FREE webinar and meet all the revolutionary strategies discovered during this jaw-dropping business operation! From making eye-catching product pages to setting up irresistible Facebook ad campaigns, we will guide you through every step of making your online store flourish.
Over 95% of success in ecommerce comes from running a high-converting, professionally-designed website. Why miss out on the opportunity to get one for yourself?
Free Webinar Replay
Complete this form to get yours!
*By signing up, you agree to receive dropshipping tutorials and special offers from AliDropship
JOIN NOW FOR FREE