Smart Theme Woo
Heaps of layout and design options, its clean look, and easy-to-use customization tool make this WooCommerce-based theme the ultimate solution for every online store. With the Smart Theme, you'll have the power to supercharge your online presence like never before.
Buy Theme
View Demo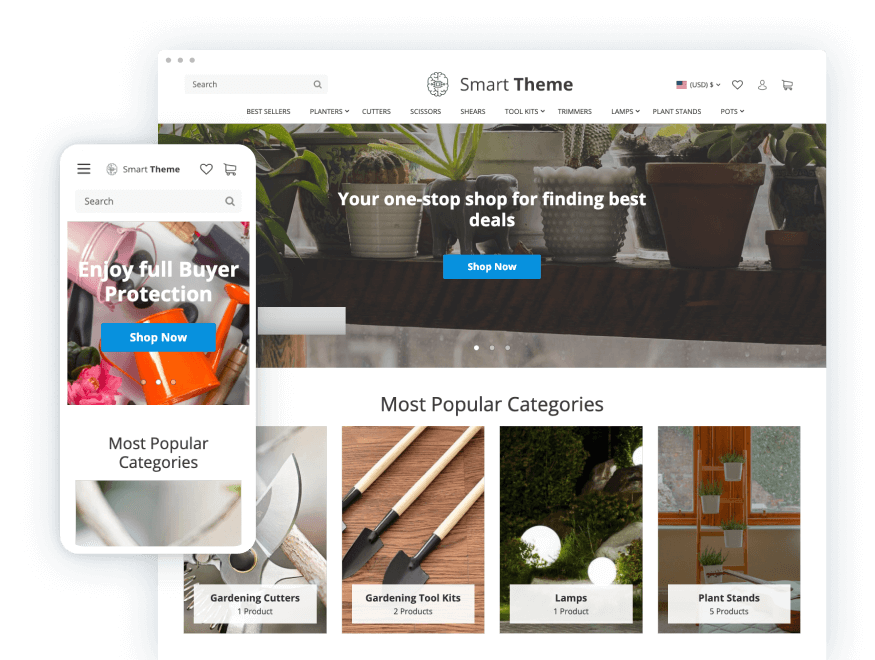 Version 1.1.9 - 19.09.2023 (Current version)
Compatibility with latest woo version Fix of the standard woo gallery
Version 1.1.6 - 01.02.2023
Compatibility with latest woo version Fix for php8 Autofilling updates Minor improvements
Version 1.1.2 - 14.01.2022
Update for compatibility with the latest version of WooCommerce Minor improvements
Version 1.1.1 - 06.12.2021
Update for compatibility with YITH Wishlist
Version 1.1.0 - 01.11.2021
"Scheme.org/Product InStock" bug fixed The delivery icon on the Single Product Page changed
Version 1.0.9 - 06.10.2021
iOS 15 support added
Version 1.0.8 - 27.08.2021
WooCommerce 5.6 compatibility added Broken product featured images fixed in blog posts
Version 1.0.7 - 27.05.2021
External/Affiliate product type support added Grouped product type support added Alt tag added to the logo Minor improvements
Version 1.0.4 - 02.03.2021
'More' link fixed the Header type #3
Version 1.0.3 - 05.02.2021
Google Analytics Enhanced Ecommerce add-on compatibility added WooCommerce Product Add-ons compatibility added 'Use average rating' option added for products without reviews Now you can edit the default 'Shop this story' and 'Further reading' heading in your Blog 'More' link fixed in the Main menu (Header type #3) Now you can replace the default payment icons in Footer type #3 'Sort by' select menu fixed on the Shop page
Version 1.0.2.1 - 01.12.2020
Blog posts added to Front Page Header bugs fixed Front Page slider improved on mobile
Version 1.0.1 - 20.11.2020 (Current version)
Minor improvements
Keep your finger on the pulse
To enjoy the full range of features, please download the latest version of the theme
Show less
View more
Theme features
Store features
Powerful value propositions that convert visitors into paying customers
Smart search
Show live search results for items and categories for better shopping experience
Font management
Customize theme typography to add a unique touch to your store
Featured products
A great way to promote and draw attention to specific items on your website
Three product gallery options
Choose the type of gallery that shows your product at its best
WooCommerce checkout
Adjust checkout flow to your needs
All AliDropship themes include
Free theme updates and new features
Free customer support
Wide range of customization options
Side Shopping cart
Shopping cart page
Blog section
Live search
Social media icons and widgets
Built-in cross-sell
Free translation platform
Why our customers love this theme
Zoya
Ethiopia
"Aesthetically beautiful theme. Plus, it has a lot of flexibility. It offers so much more than some other themes and we highly recommend it. The team behind is superb."
Aleksy Tashchy
Poland
"It is what i've been looking for. Just great! I built my shop by myself and it was so fun. I love it!"
Stefánia Z.
Hungary
"I've been using this template for a few months and I highly recommend it and working with the support team is awesome. This is my favourite AliDropship theme so far. It is just beautiful theme and has all the functionality I need. Thanks!"
Varun
India
"A great theme created by a great company. I chose Smart theme because I wanted my store to look professional and I am really happy I chose this theme! They have an amazing customer service, very quick and professional in all their replies! I'm totally satisfied."
Jared Keating
Australia
"The Smart theme looks very good in both mobile and computer screens and it is very easy to navigate and user friendly. Customer support have been great so far helping us customizing details in our store in a very professional and accurate way. Their documentation page for the theme is very thorough and complete."
Meghan
USA
"Incredible theme with loads of customization options. Very intuitive to set up and manage. 10/10"