Knowledge Base
AliDropship Woo guide
How to set up shipping zones in WooCommerce?
How to use pricing markup formula?
How to add product categories? 
AliDropship Woo built-in currency switcher
WooCommerce email notifications
HOW TO IMPORT PRODUCTS?
To start importing products from AliExpress, you need to install AliDropship Google Chrome Extension. With the help of Chrome Extension it is possible not only import products directly from AliExpress, but also update them, collect tracking IDs and process your orders automatically.
Once Extension is installed, go to AliDropship => AliExpress => Import Products. There are two importing options available:
1. Import products from your plugin settings: items can be filtered by category and keywords. It is possible to set price, purchase volume and feedback score ranges to narrow down search results as well.  To check the items you have imported to your website, use the Go to Import List button.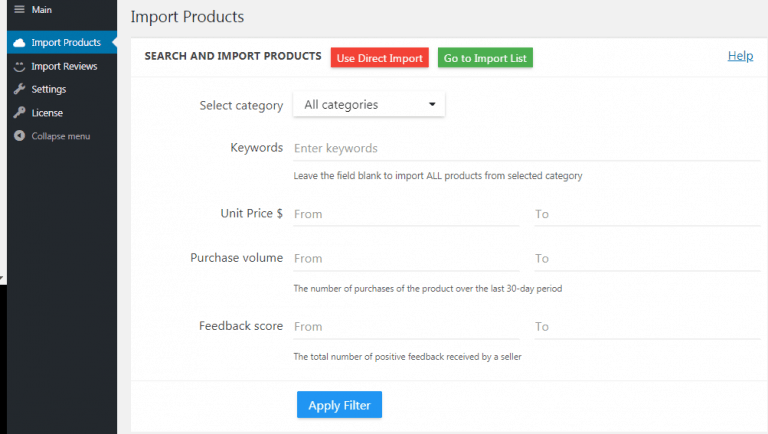 2. Click the Use Direct Import button to import products directly from AliExpress. You will be redirected to AliExpress in a new tab. If you authorized your site at Google Chrome extension you can import products without opening tab with AliDropship importing section, just go to AliExpress and select a category for import.
The Extension settings can be found on the red panel on a product category page of AliExpress. Click on the cog icon to set search filters by shipping country (any country / a set of countries), shipping method and product description type. You can also select a category you want the products to be imported into. On AliExpress category page the Extension will show you the processing time (how long it takes for a supplier to prepare the item for shipping) and shipping method available for each product.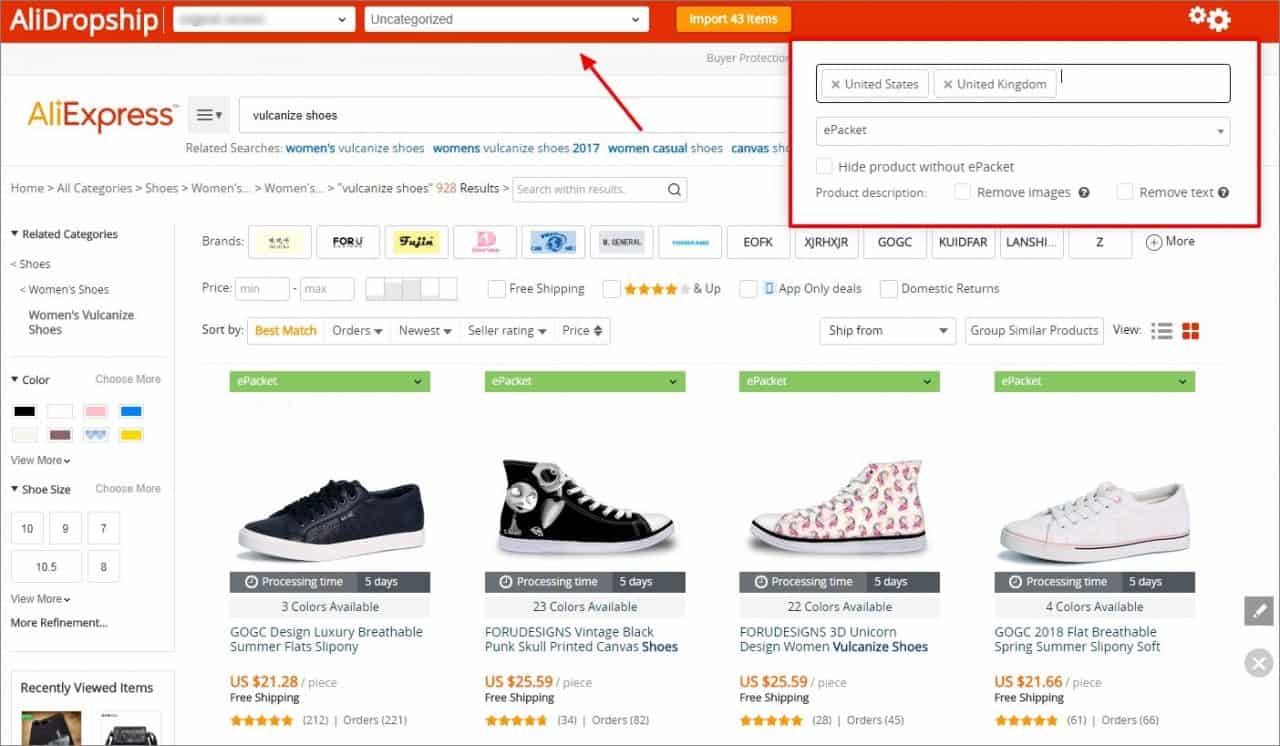 There are two types of products import at your choice: single product import and bulk import.
If you need to add only some particular products, click the orange AliDropship logo to import items one by one.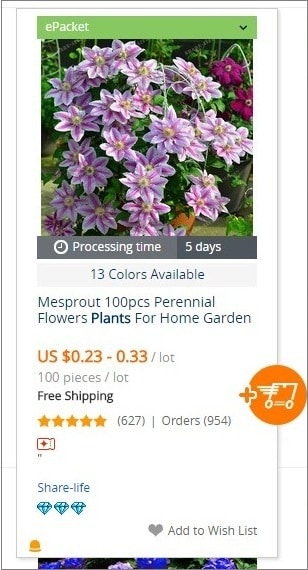 If the item has been already imported in your store, you will see a tick next to the cart icon. A grey icon will be shown in case there is no active web store found.
On a single product page there is AliDropship Seller's score available. It may differ from that of AliExpress since we use a more advanced formula: it is based on such parameters as for how long a supplier has been selling goods on AliExpress, his feedback, shipping time, accuracy of product descriptions, etc. It is recommended importing products with a score higher than 90%.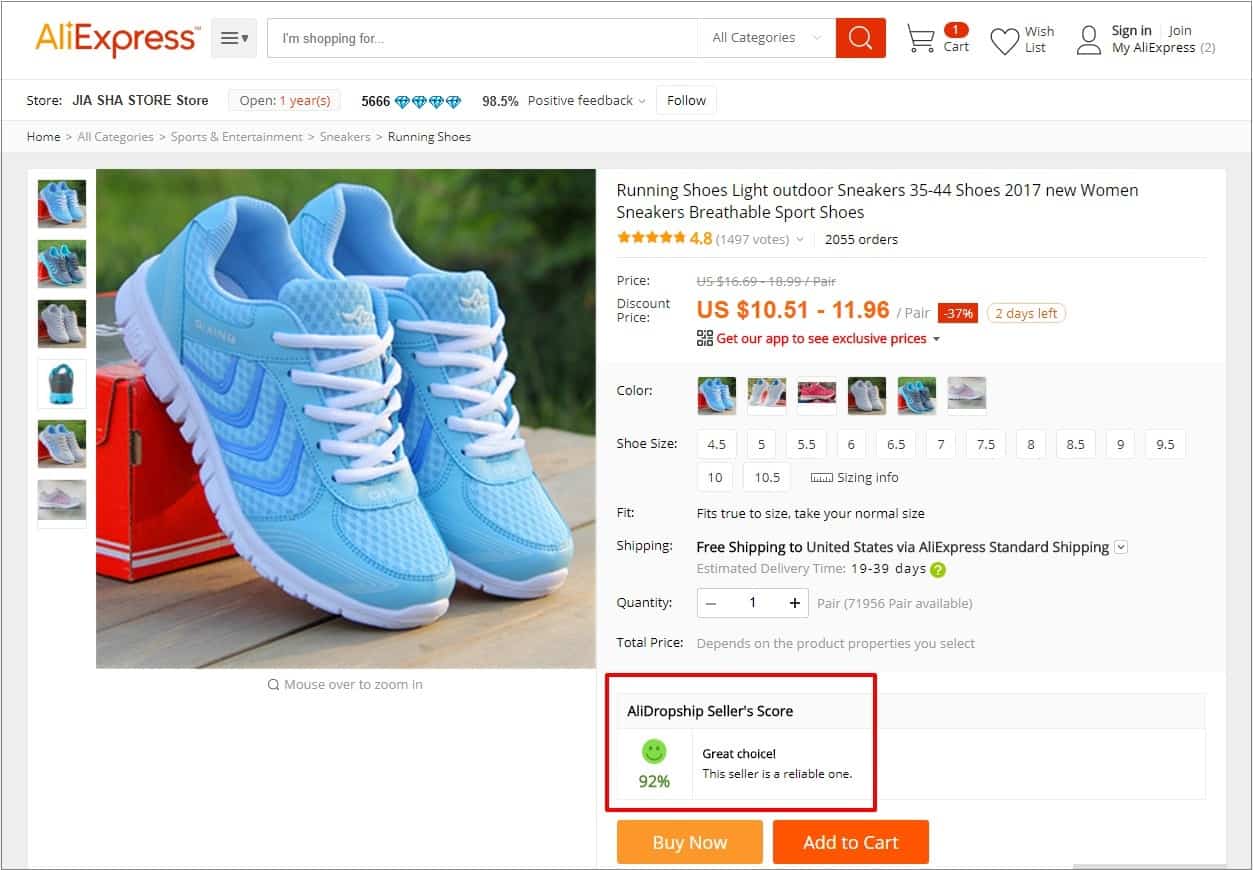 If you need to edit item details before adding it to your store, click Edit button on the red Extension panel.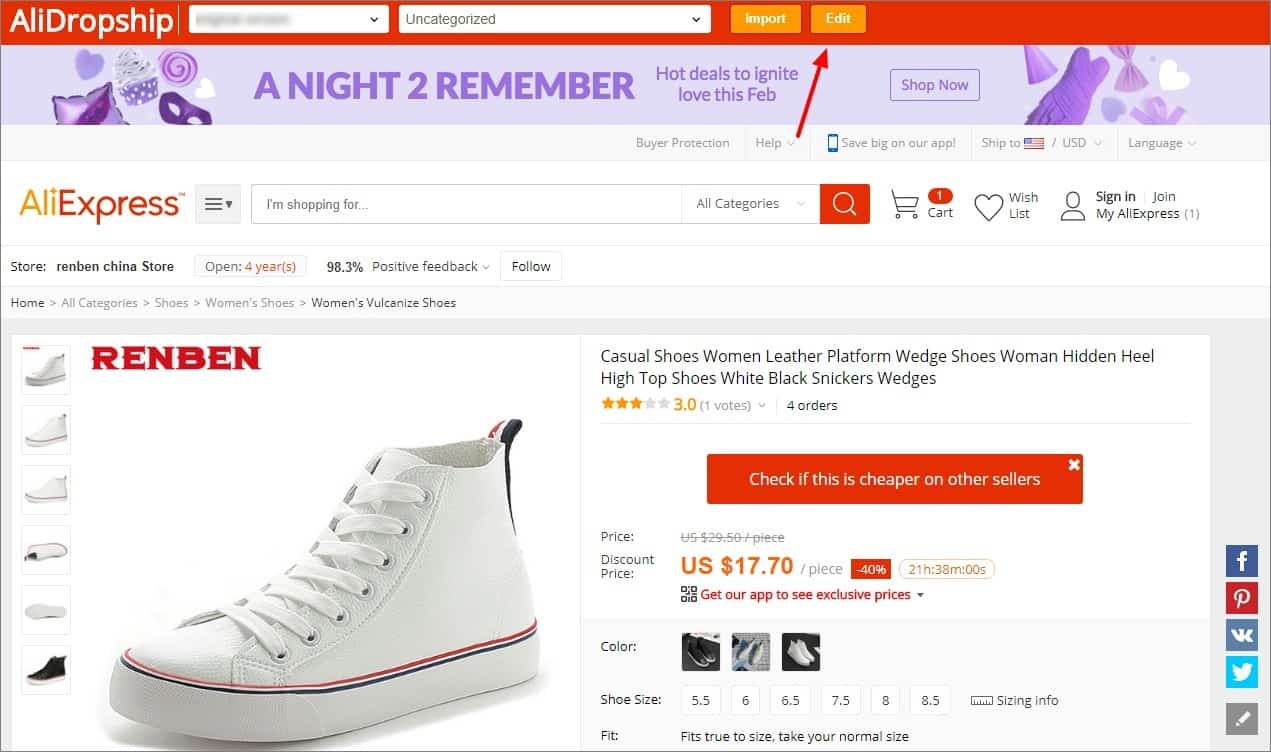 In the modal window it is possible to make some essential changes to the products. In General you can edit product title, its permalink and assign the item to a certain category.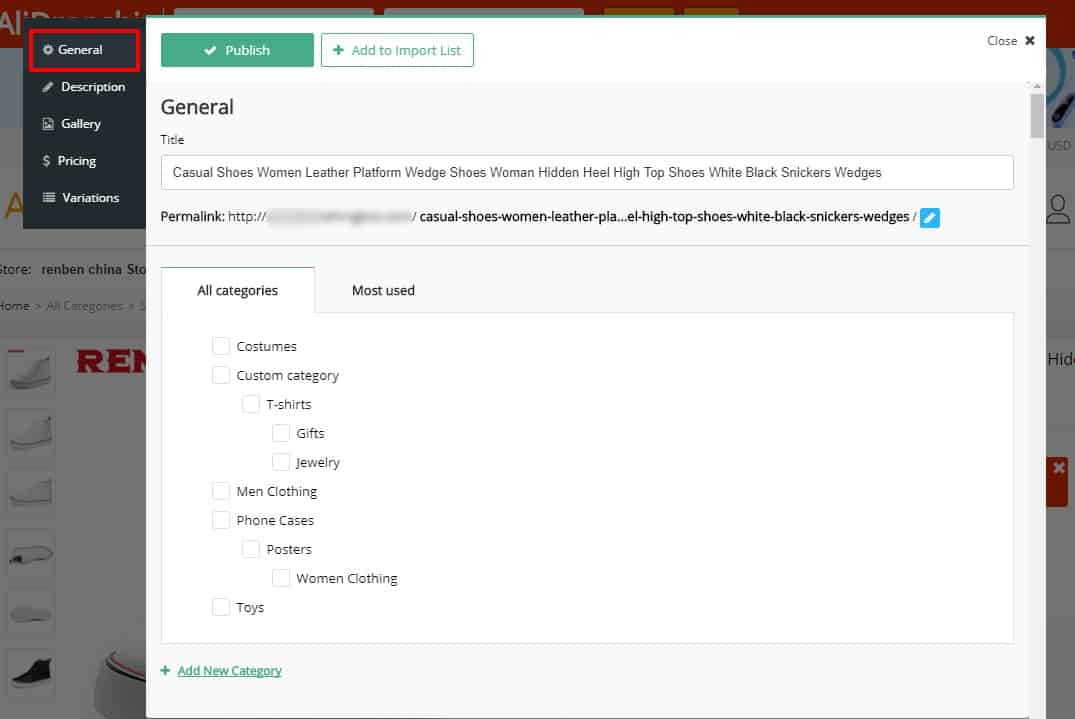 To edit product description, go to Description tab. Check Remove text and/or Remove images if you want your products to be imported without text and/or images. Images can be edited with the help of Image Editor, a powerful built-in tool. Click on the pencil icon in the top right corner of an image to start editing it. For more details refer to this guide.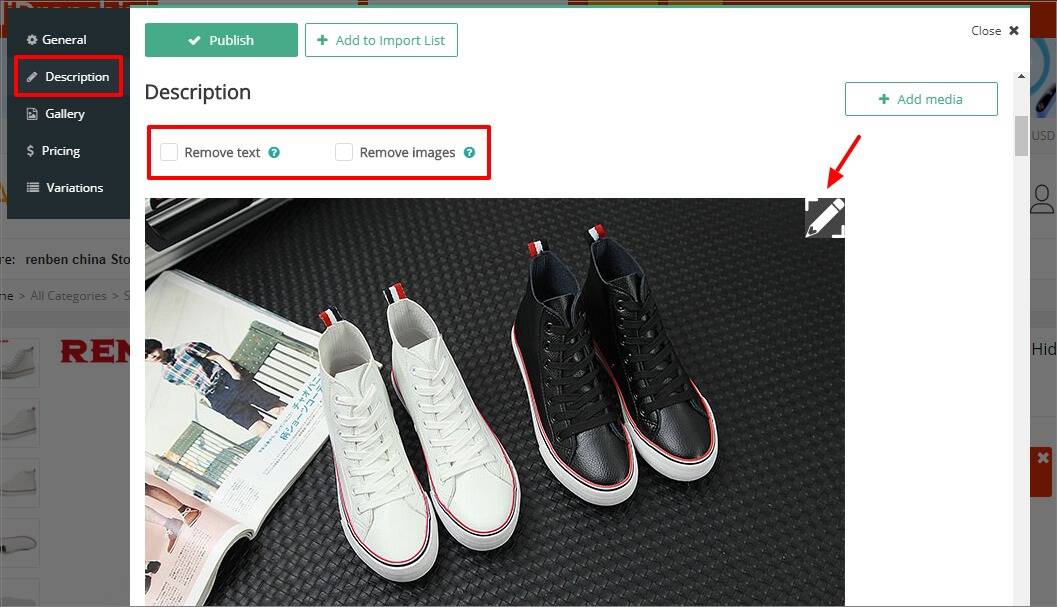 To change product featured image, add new images or edit them, proceed to Gallery.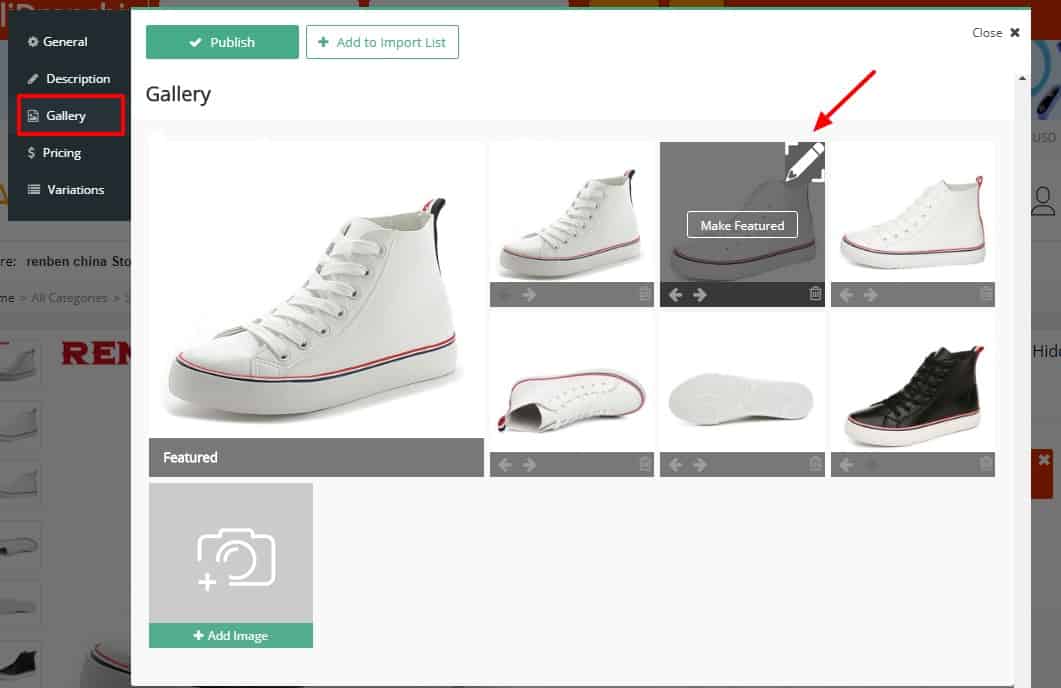 In Pricing you can set new price and apply pricing formula (product price will be recalculated according to the pricing formula you have set in AliDropship => Settings => Pricing).

In Variations tab you can not only edit or delete already existing variations, but also add new attributes and variations. Click Reset to Defaults in case you do not want the changes you have made to the product to be saved.
Once you have made all necessary changes to the product, click Publish or Add to Import List if you do not want this product to be visible to your customers.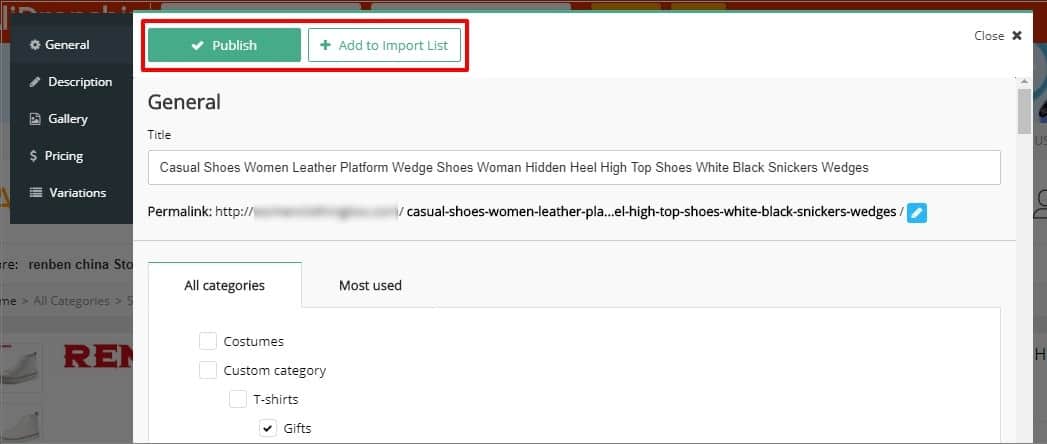 Hit Import button on the Extension panel if you want to import items in bulk. The number of products awaiting import is displayed on the Import button. Import progress can be checked on the Import button as well.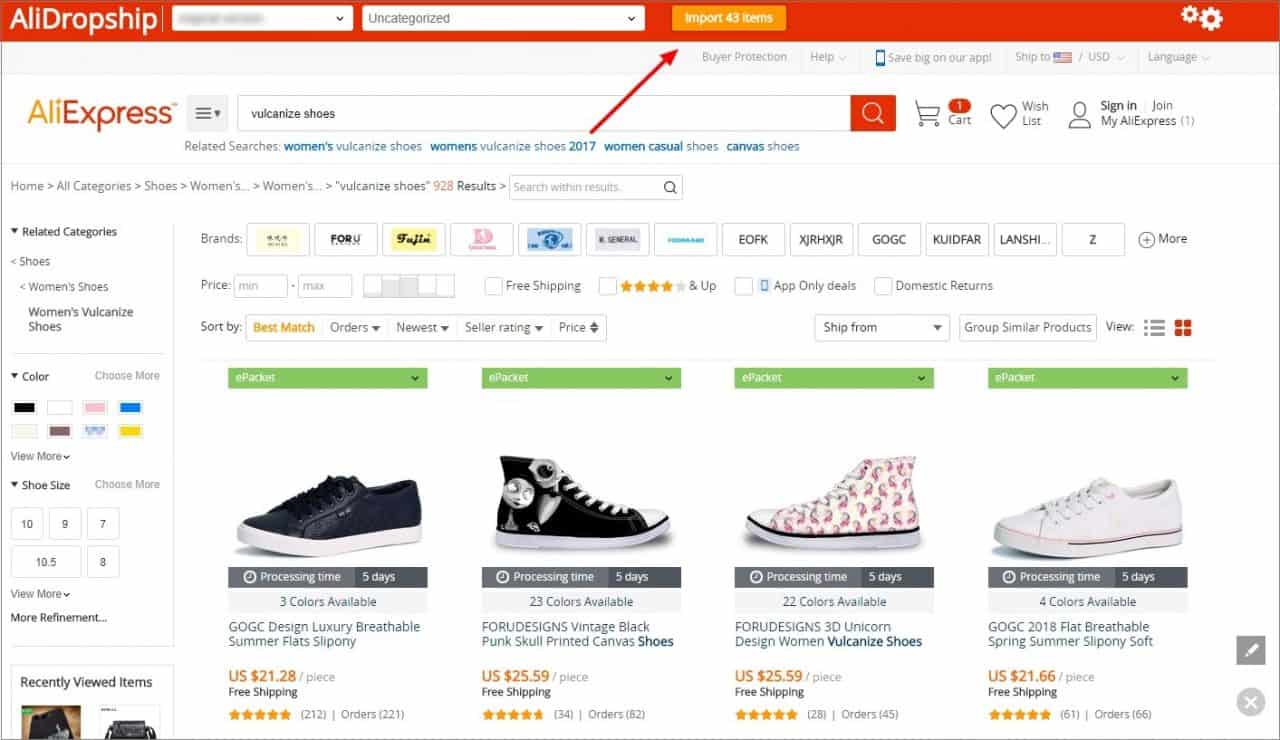 HOW TO EDIT PRODUCTS?
See the detailed information about managing your products in WooCommerce HERE.
Please remember you can't delete the whole attribute as Color, Size, etc., because plugin will not be able to update such product!
There are also 2 additional sections in Product Options that are created by AliDropship Woo plugin:
– Supplier Info:
Here you can find a general information about product: product ID, Product URL on AliExpress, Store URL on AliExpress.
Besides, you can Update current product individually using the same filters as you use in bulk update, if you don't want this product to be updated during the bulk update just tick off Update product option: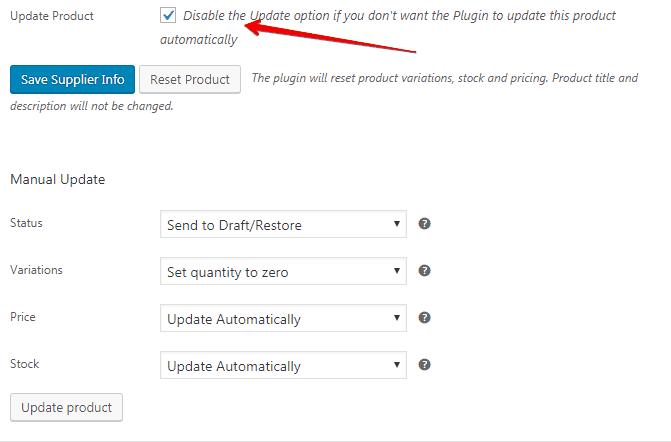 Use 'Reset product' option if you want to replace a current product with another one (for example, it is out of stock at your current supplier store and you have another supplier store link where this product is available).
Just insert new link in Product URL field and click 'Reset product'. The plugin will reset product variations, stock and pricing. Product title and description will not be changed.
– Reviews section:
Apart from bulk import, you can import reviews for certain products only.
HOW TO SET UP SHIPPING ZONES IN WOOCOMMERCE? 
Please refer to this guide to learn more about setting up shipping zones in WooCommerce.
HOW TO USE PRICING MARKUP FORMULA?
All products imported in your store from AliExpress appear with their original prices. To get profit from your business, you need to determine pricing rules and set markups/margins.
AliDropship plugin features a profound system for pricing markup – the amount added to the cost of goods to cover overhead and profit.
To add a new pricing markup rule, click Add New Formula. Select Supplier Cost Range (these are product prices offered by sellers on AliExpress). Assign an arithmetic operation: addition (+), multiplication (x) or equality (=) and enter the value of this operation. Click 'Save' to add your formula.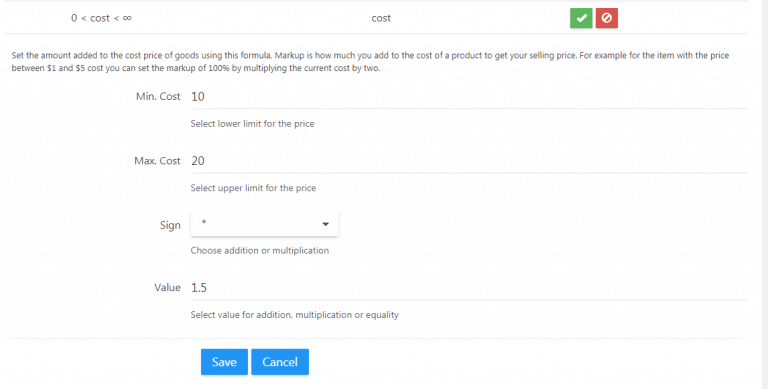 After your formula is added, all new products imported into your store will get prices according to your pricing rules. If you need to apply these rules to already existent products on your site, click Update Prices button. To change all product prices back to AliExpress original ones, click Reset Prices.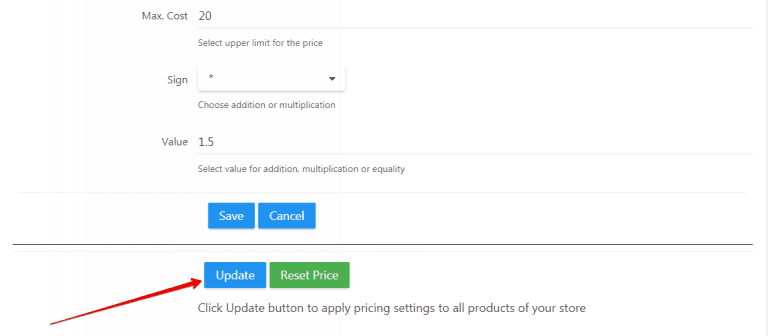 Please note, you can create as many formulas as you need, use x2, x3, x4 buttons for setting a formula fast and add Recommended formula with ready pricing markup rules.
HOW TO ADD PRODUCT CATEGORIES? 
Have a look at this detailed GUIDE.
HOW TO PLACE YOUR ORDER? 
Once you have received an order, you need to process it with AliExpress.  Go to WooCommerce -> Orders -> click order you want to process.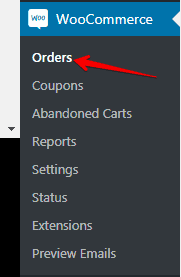 There are 2 ways to place your orders:
1. Place order automatically:
Click Place oder automatically to proceed with processing your order.

The plugin will visit AliExpress and fulfill the order for you automatically: select necessary product variation, add items to your shopping cart and fill your customer's shipping details on the checkout page.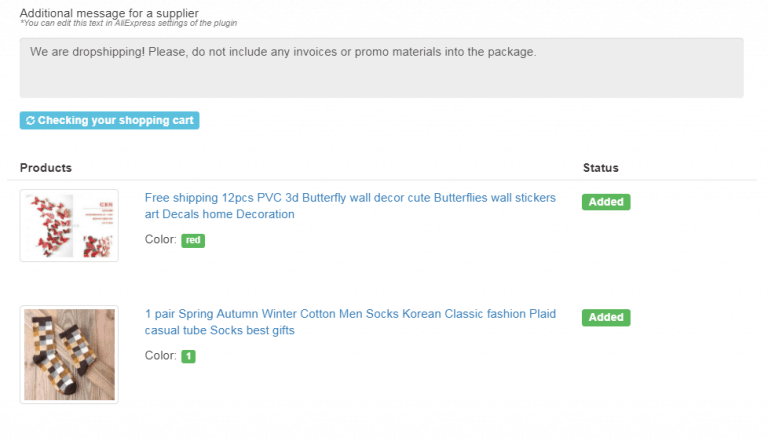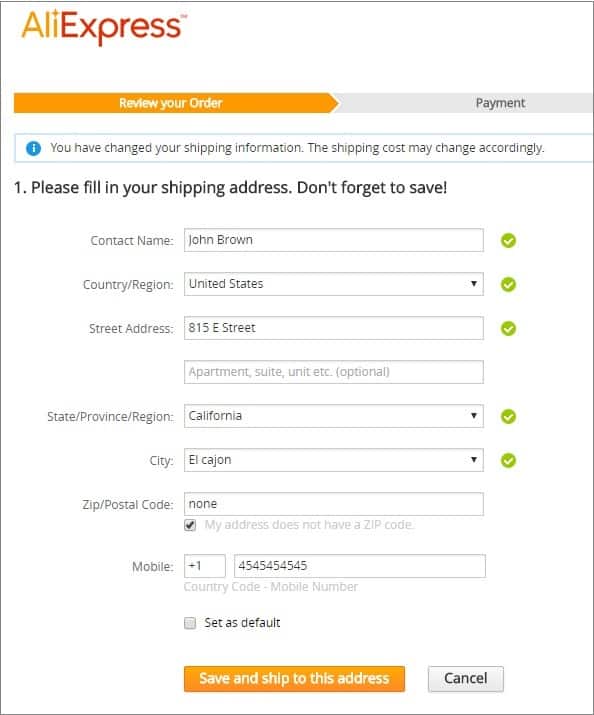 To complete the purchase, click Confirm & Pay at the bottom of the page. Please note that you need to have AliDropship Chrome Extension installed to be able to use this feature.
2. Place order manually: 
To place order manually, go to the order details and click Place order manually.

You will be redirected to AliExpress product page. Log in to your account, choose necessary product variation, click Buy Now and place the order using shipping details of your customer. If you do not have your customer's phone number, you can enter your own. To avoid any invoices or marketing materials included in the packages sent to your client, leave an additional comment for AliExpress suppliers: 'We are dropshipping. Please don't include any promotional materials'. Make sure all the fields are filled and proceed to the payment by clicking Confirm & Pay.
HOW TO COLLECT TRACKING IDS?
Log in your AliExpress account, go to My orders section.
Open another browser tab -> go to WooCommerce -> Orders -> click any Order -> click Get Tracking button (if you authorized your site at AliDropship Google Chrome extension, Tracking IDs will be collected automatically when you log in your AliExpress account and open My orders section):

Plugin collects all available Tracking IDs and paste them in Order.
If you enabled 'Order shipped notification' switcher in AliDropship Woo -> Settings – 'Order shipped notification' will be sent automatically once all tracking IDs are collected.

Tracking ID will be attached automatically to 'Complete order' notification. If you don't want to do this, just switch on this toggle:

HOW TO MANAGE ORDER STATUSES?
Have a look at this GUIDE.
HOW TO MANAGE TAXES?
Please find a detailed instructions HERE.
Also, you can use Avalara and  TaxJar tax services for WooCommerce to automate tax calculations.
ALIEXPRESS CASHBACK
The word cashback literally means "getting your cash back". Cashback system lets you get part of the money you spend online back. The cashback scheme works as follows: you click a special affiliate link and purchase the desired products on AliExpress. After the products are delivered, part of the cost is returned to you on your affiliate account. Then you can withdraw your money, getting an additional bonus to your main dropshipping source of income.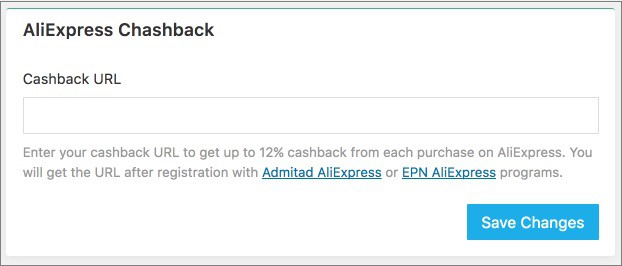 Our cashback lets everyone who is making purchases on AliExpress to buy things in a more profitable way regardless of the country they live in. Cashback size depends on the number of purchases. The more you buy, the bigger is the cash-back. You just click Place Order button on the plugin to process the orders for your clients on AliExpress and get commission on every purchase.
To start using a cashback system you need to register with Admitad or EPN programs, get your affiliate link and connect it to the Plugin.
Commission rate: up to 12%
Approval time: instantly
Payouts: once a week
Withdrawal options: PayPal, Wire transfer
Commission structure: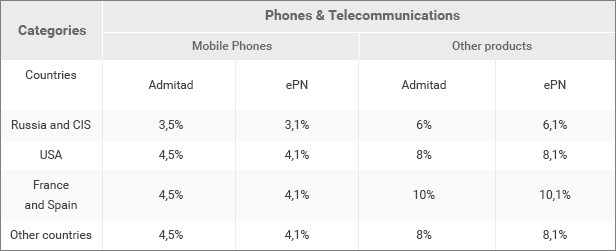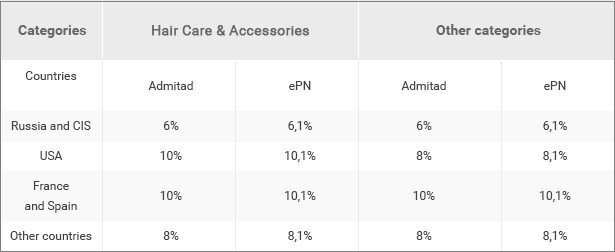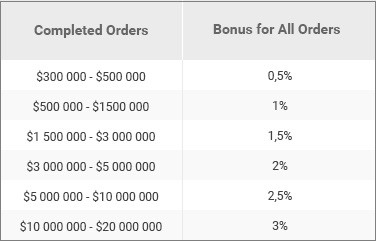 AliExpress Admitad cashback program
Go to AliExpress -> Settings in AliDropship plugin panel and click Admitad AliExpress link.

You will be redirected to Admitad site. Choose I'm a Publisher => Sign Up.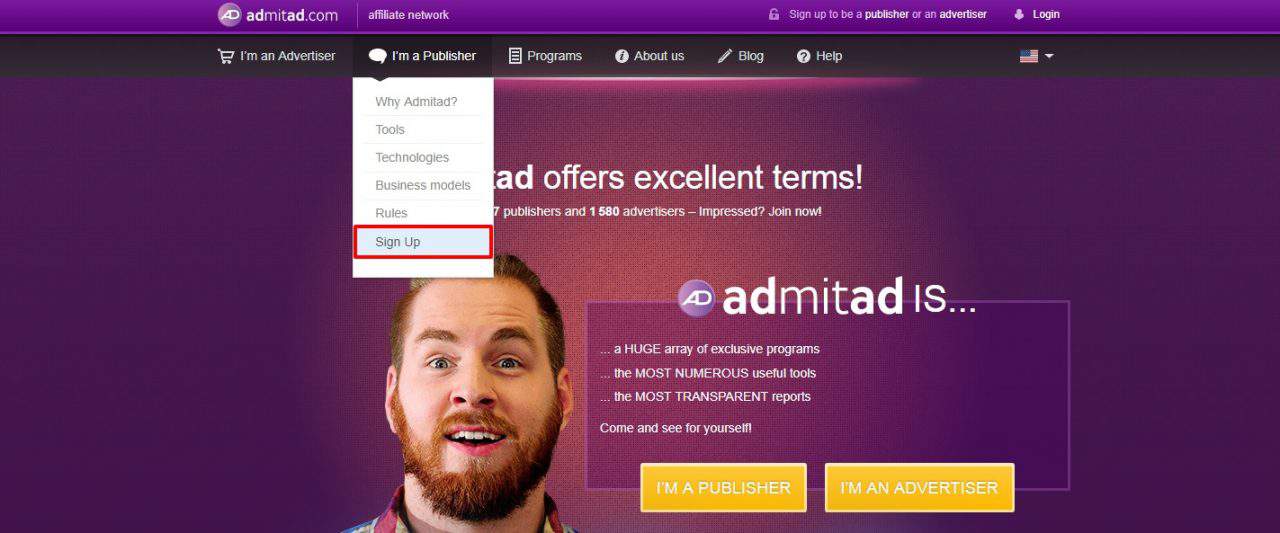 Fill out the form and click Continue sign-up.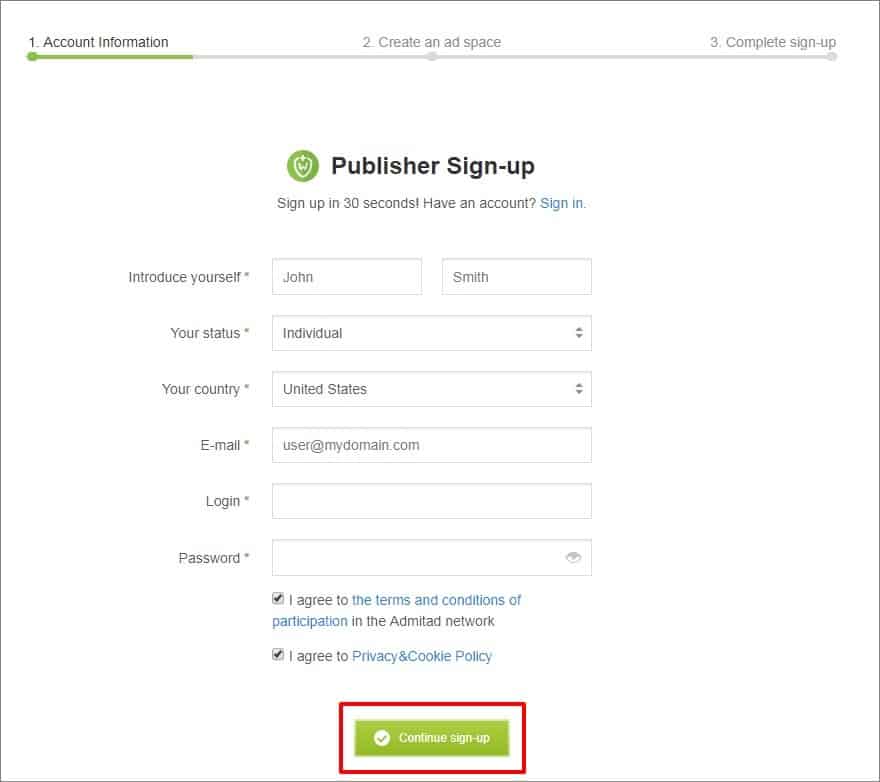 Select Arbitrage agency as your ad space type and Aliplugin as Arbitrage agency. Select any sales regions, categories and add some information about how you will promote the affiliate program. Then click Continue sign-up and you are done.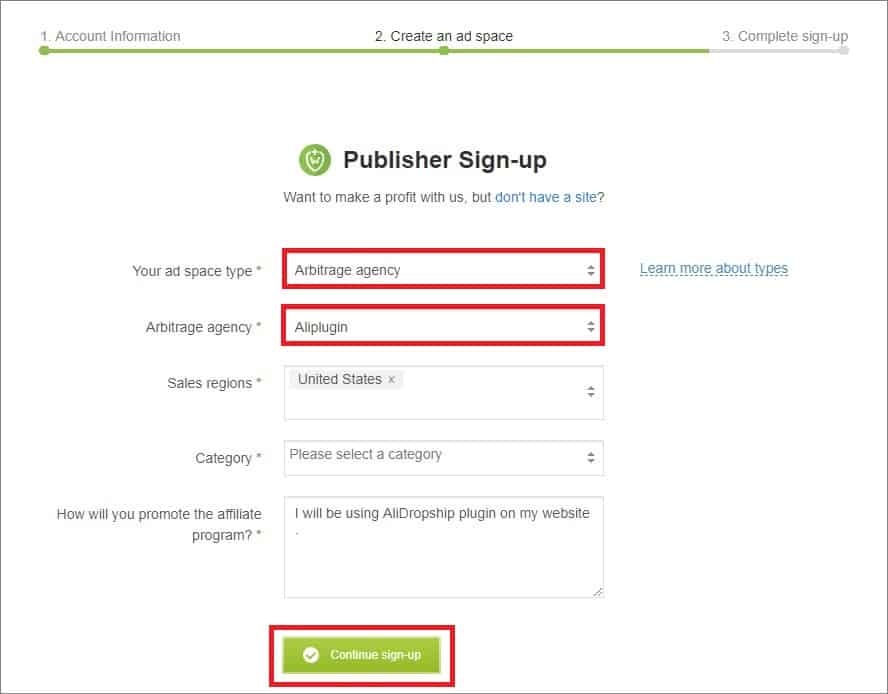 You will receive an email with activation link and further instructions.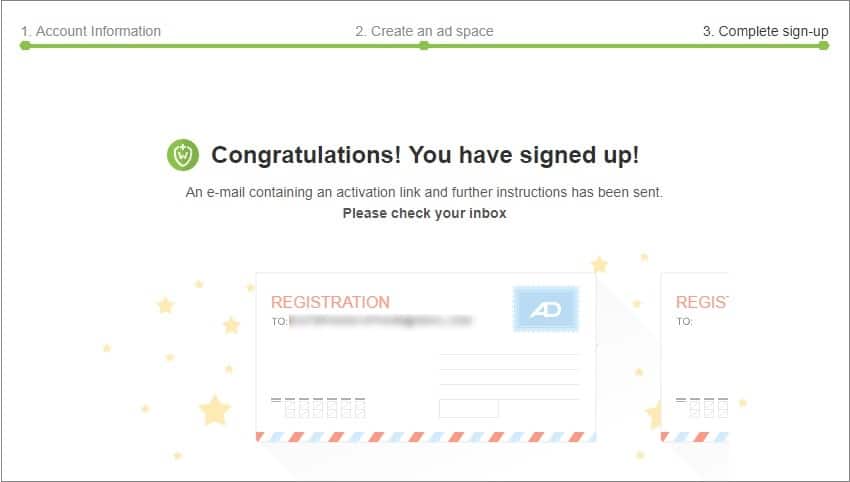 Visit your Admitad account and go to My Programs section.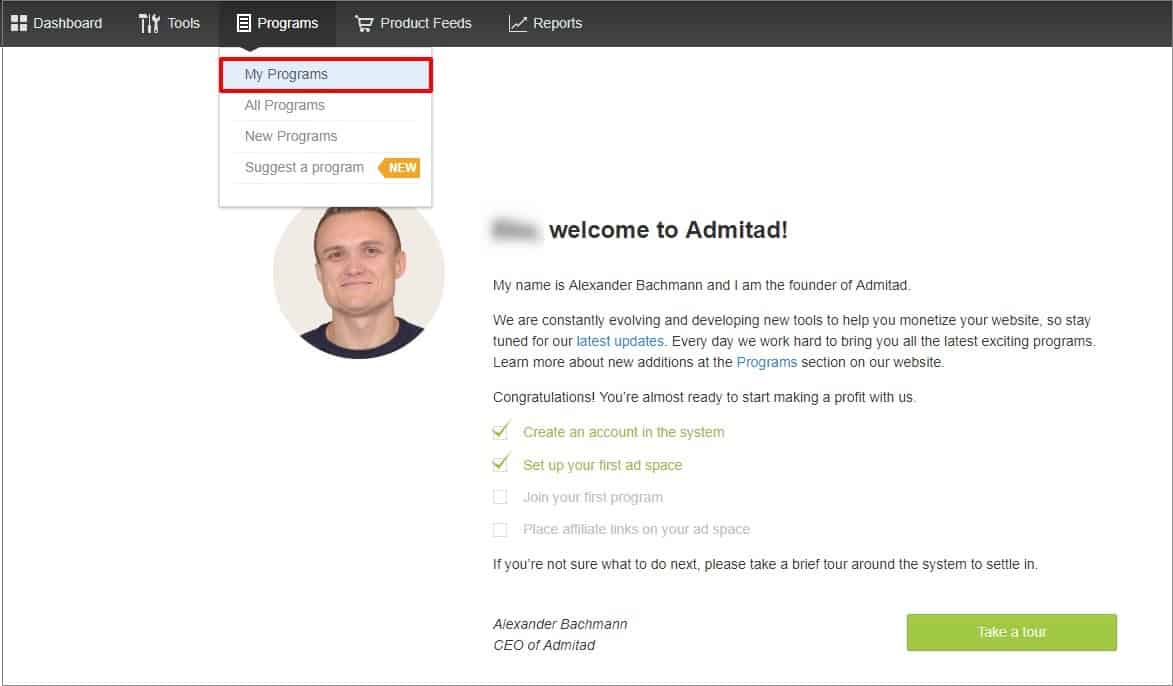 To get started, click Join programs.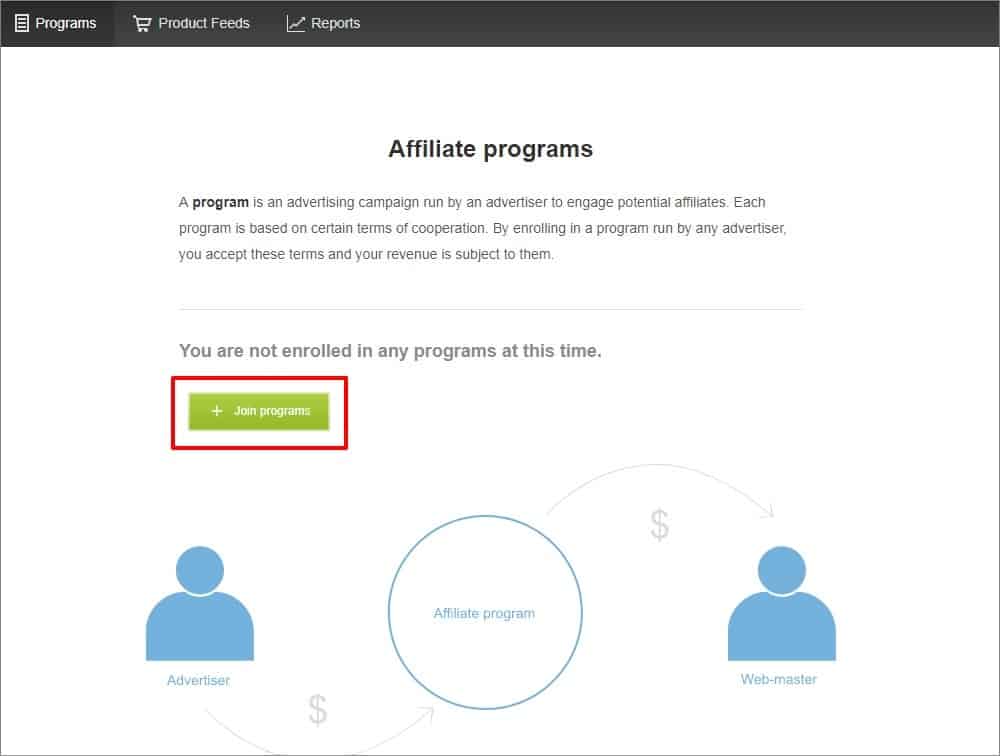 Go to the details of the AliExpress program.
Check the details and click the Apply button.

Once your application is approved, click Link on AliExpress program dashboard.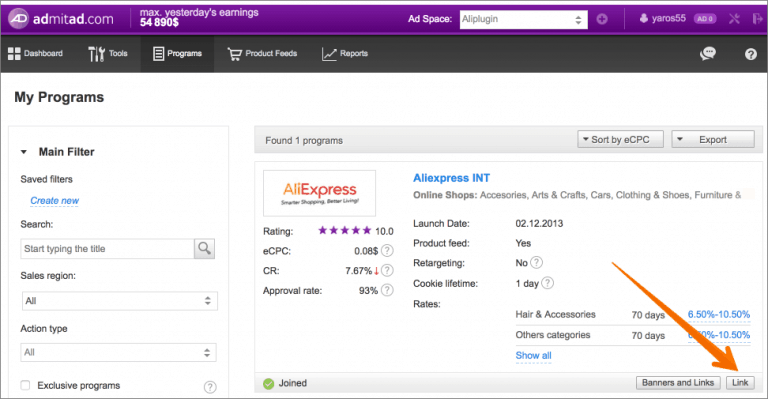 Copy your affiliate link and paste it in plugin settings.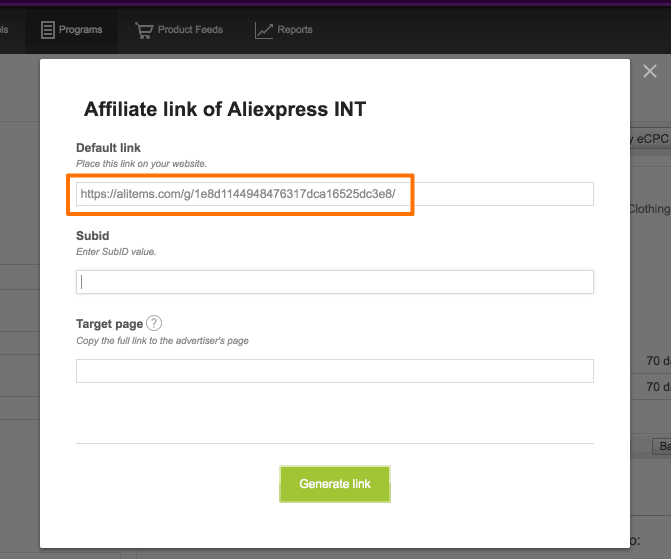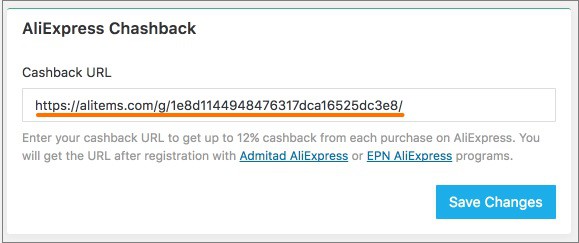 Once you entered the link and saved changes, all your orders placed on AliExpress will bring you up to 12% commission on your Admitad account.
Instructions on how to withdraw money from your Admitad account you can find HERE.
Learn more about AliExpress Admitad affiliate program.
AliExpress EPN cashback program
Go to AliExpress => Settings in AliDropship plugin panel and click EPN AliExpress link.

You will be redirected to EPN site where you need to click Sign Up button and fill details. Please note, you need to register as a webmaster!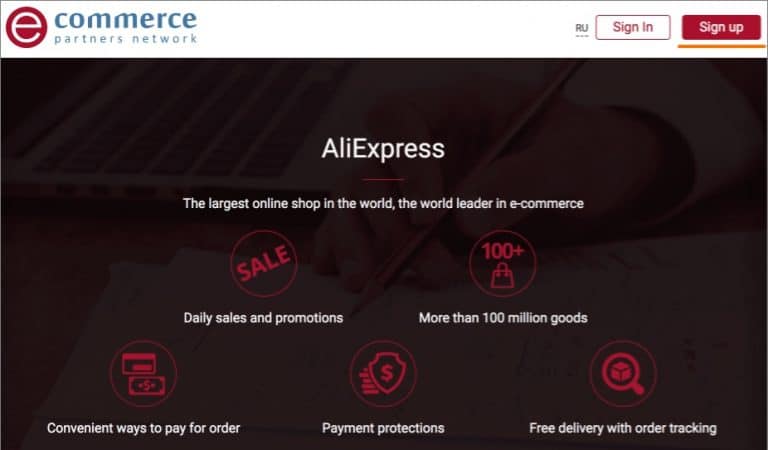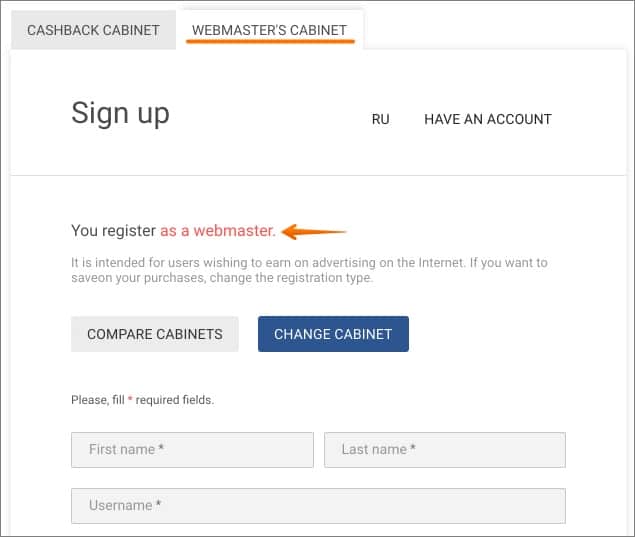 Enter your EPN account and go to Tools => Deeplink. Enter a name, select AliExpress offer and set the link to AliExpress.com. Click Create Deeplink.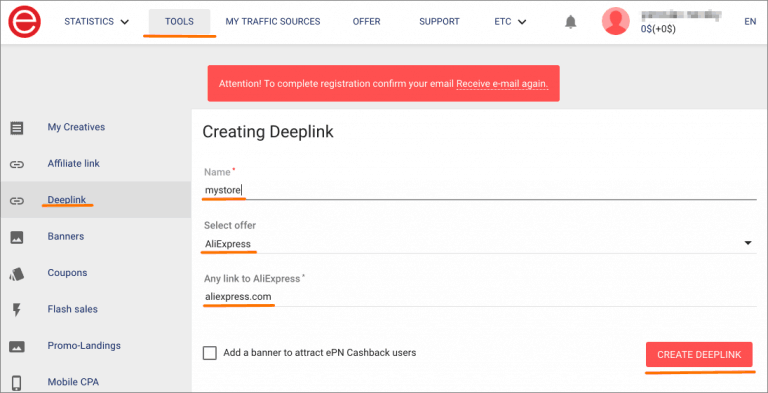 Scroll down the page and click Get Affiliate link.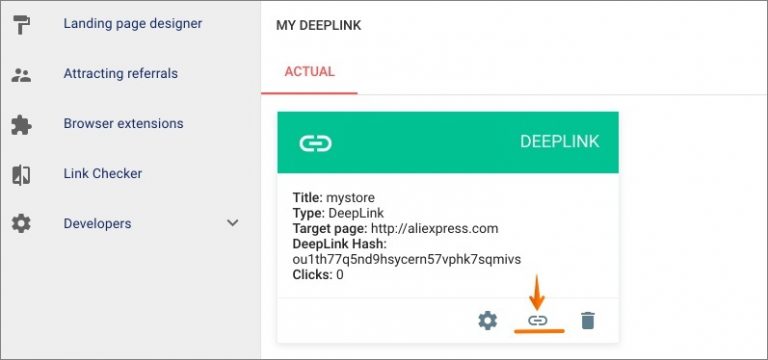 As a result you will see your Affiliate Link that you need to copy and and paste in Plugin settings.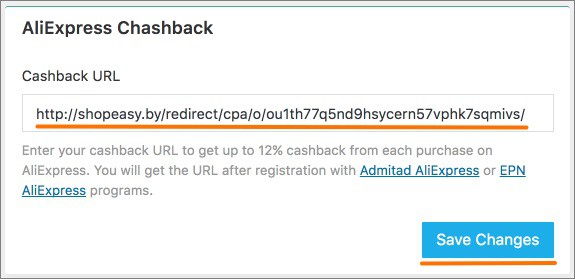 Once you have added the link and saved changes, all your orders placed on AliExpress will bring you up to 12% commission on your EPN account.
Instructions on how to withdraw money from your EPN account you can find HERE.
Learn more about AliExpress EPN affiliate program.
ALIDROPSHIP WOO BUILT-IN CURRENCY SWITCHER
Starting from AliDropship Woo plugin ver. 0.8.11 there is a new feature available: built-in currency switcher. It allows your customers to switch between the different available currencies.
Go to  Appearance -> Widgets -> AliDropship currency switcher.
On your right hand, you will find the designated areas where you can place this widget. Just drag 'AliDropship currency switcher' and drop in the area where you want it to be shown on your front-end.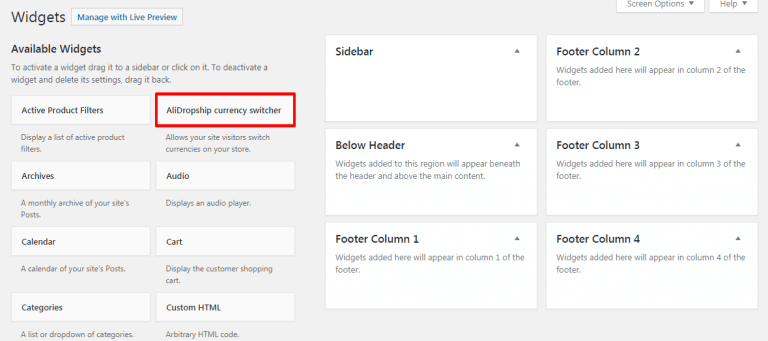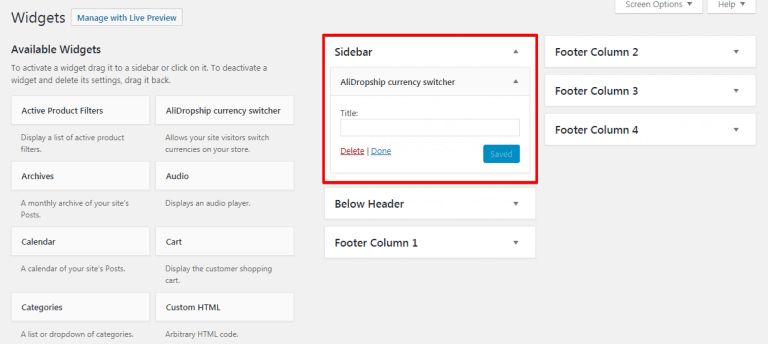 Default currency is shown the first. To add more currencies to the list go to AliDropship Woo -> Settings -> General -> Currency Settings – > Additional currencies -> Select currencies you want and click 'Save changes':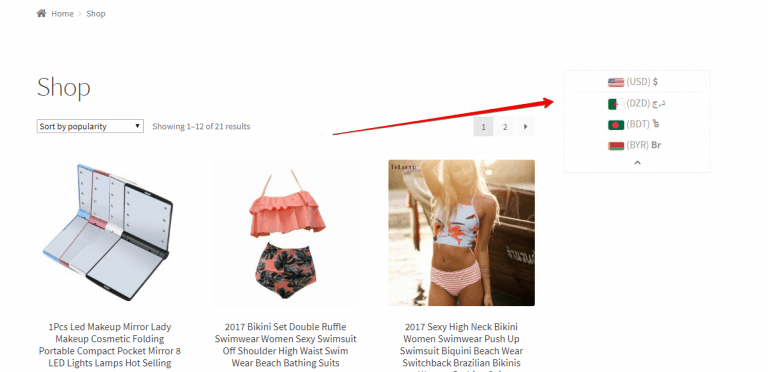 Please pay attention that Price rounding and assigning cents were moved to AliDropship Woo -> Pricing. Now everytime you change something in pricing formulas, in price rounding or assigning cents you need to click 'Update'.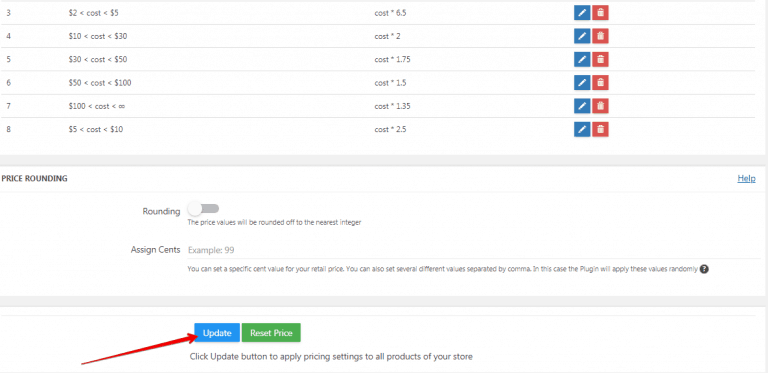 In this case all exchange rates will be calculated properly.
If you want to use some 3rd parties currency switcher plugin please disable AliDropship Woo built-in currency switcher: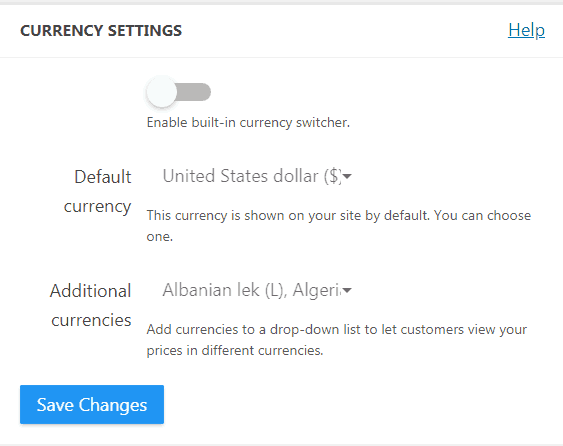 WOOCOMMERCE EMAIL NOTIFICATIONS
More details about WooCommerce email notifications READ HERE.
53% of people found this helpful
Contact Us
Have any questions or need to get more information about the product? Either way, you're in the right spot.